'Because of the impact the movement has had, people will think twice before misbehaving because you don't know who will turn out to be another Tanushree Dutta.'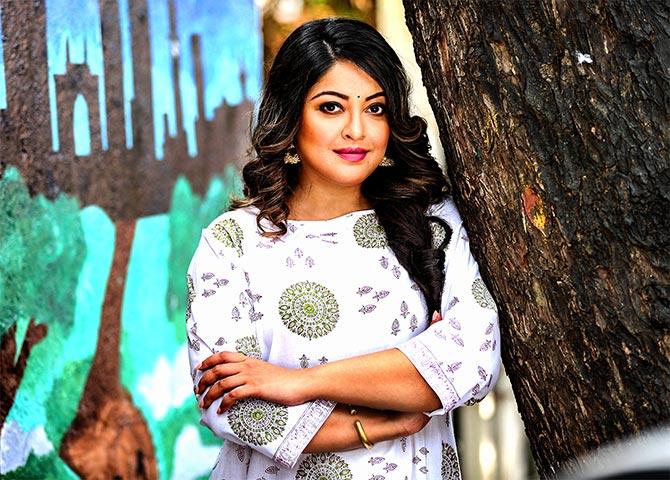 Tanushree Dutta is in a happy space now.
Calm, relaxed and at peace with herself and the world around her.
The only blimp in the horizon is returning to the US.
"My parents are so happy to have me around. I am so happy to be with them. Even if I am not always yapping with them, I am still in the house, you know," she says.
But home is New Jersey where she moved in 2010 when the events over three days at the film set of Horn OK PLeassss in 2008, prompted to her leave Bollywood.
"Everyone makes it about Nana Patekar versus me. But I want to make it clear there were three more people who harassed me -- the producer, director and the choreographer. An FIR has been filed against all four of them for sexual harassment."
She doesn't like to mull over the past, though it may seem like it, since she has been speaking about what happened to her 10 years ago.
"There was a time in my life when I would often look back and think about things that I lost, how I was wronged, how nobody heard me out and gave me justice. Then, people would say, 'Move on, rape toh nahin kiya na'."
Tanushree insists the #MeToo movement will never die.
"These cases can never be tried in a court of law. They have to be tried in social media. And society," she tells Swarupa Dutt/Rediff.com.
How does it feel to be the catalyst behind India's #MeToo movement?
I never thought of speaking out or being a catalyst to a movement, it just happened.
I came to India for a holiday and I was doing some press interactions when a journalist asked me why the #MeToo movement had not taken off here.
I said, 'How could it? I spoke up 10 years ago, but my grievances have still not been addressed.'
That interview went viral.
How does it feel? I guess, it feels good to be heard after 10 years.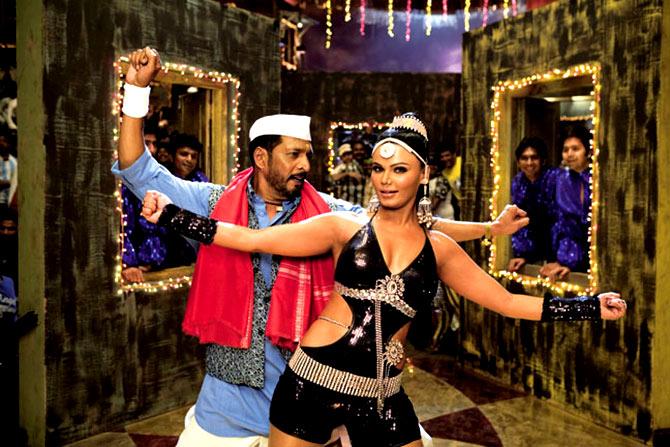 Has India changed over the last 10 years, or has the #MeToo movement abroad finally enabled women in India to call out their predators?
The environment 10 years ago was hostile.
When women in the film industry spoke up, they were slut-shamed. Because we paint our face, wear glamorous clothes, dance and entertain, an actress was never taken seriously if she had a grievance, as compared to say a female lawyer or a doctor.
Ten years ago, the reaction to harassment was, 'Haan toh theek hai, thoda pareshan kar diya, rape toh nahin kiya na. Forget it. (Yes, okay, so they harassed you, but they didn't rape you).
When you are new to the film industry, still finding your feet, when you are vulnerable, that's when you are preyed upon.
It's a different matter if you are an established actress and have won National Awards.
Ten years later, a section of the public slut-shamed me, but by and large the media and the educated masses said, 'Hey, don't mix her job with what she went through.'
Yes, I was doing an item song, but that doesn't warrant the misbehaviour or the bullying and the harassment.
In retrospect, do you regret your decision of doing the item song for Horn OK Pleasss?
No. Even if I choose to do an item song, my core identity comes from the fact that I was a Miss India (Femina Miss India Universe, 2004).
I chose to join Bollywood because I got good offers.
I chose to do item numbers just as I chose to do lead roles and guest appearances.
The makers of that film hired me for my market value and popularity. They were so humble when they came to meet me the first time -- 'Aap hamare film mein char chand laga denge' -- they pleaded with me to do the song.
I loved the experience of shooting an item song.
You also get a lot of stage shows thereon and it is a great source of income.
Upcoming actresses don't get paid much and this was a way to supplement my income and by doing something I loved the most -- dancing.
I don't think that a sari or a salwar kameez is more respectable than a short skirt or hot pants or a swimsuit. It is your mindset, your thinking that makes you respectable.
At any point, did you question or blame yourself as some women, who have been sexually harassed or abused, tend to do?
I have always come from a deep space of understanding myself -- a peculiar trait that I have not found in other people.
I have also spent a lot of time introspecting, so I never questioned myself.
I knew what was done to me was wrong.
I knew I didn't do anything to warrant it. I didn't ask for it.
I also knew that I handled the situation to the best of my ability.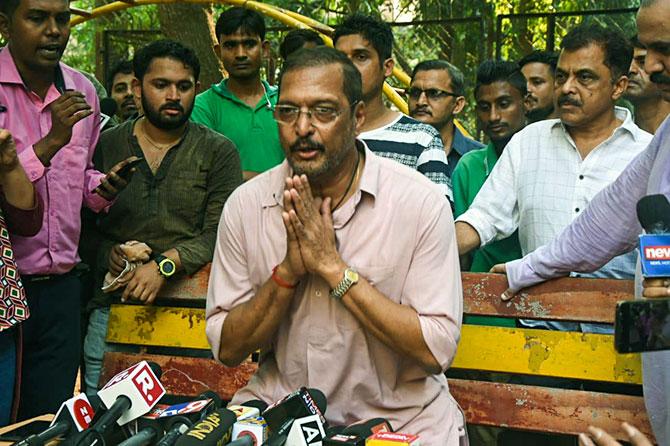 Has Nana Patekar reached out to you in the last one-and-a-half months? Anything by way of reconciliation or an apology from him that we don't know of?
Are you kidding me? Absolutely nothing!
You think it would have remained a secret if he had?
And not just Nana, it was the producer (Samee Siddiqui), director (Rakesh Sarang) and choreographer (Ganesh Acharya), who harassed me as well. They were like a team.
Nana's inappropriate behaviour on sets was one thing, but changing my steps to an intimate dance with him was a collusion between all four of them.
When did you realise something was wrong?
Well, these four guys (Nana Patekar, producer Samee Siddiqui, director Rakesh Sarang, and choreographer Ganesh Acharya) would go to the corner of the sets and whisper. I knew from day one something was amiss, it was the vibe.
Usually, I have a habit of going on set and exchanging pleasantries, even with people I don't know, to keep the atmosphere pleasant.
The first time I said hello to Nana Patekar, I didn't get any response from him. Nothing. He just kept staring at me.
A very dark, dense, look.
I looked away because I felt uncomfortable.
I also found it odd that he was on the sets in the first place since my song was to be shot that day and I told the director as much. (Senior actors like Nana Patekar are generally not on the sets unless they are a part of the day's shoot).
The director said he had to record a line from Nana and then they would ask him to leave.
But during the song rehearsals, he was simply there, watching me, staring at me.
It was very uncomfortable.
On the second day, he was still on the sets. I took the director aside and asked him, but he said Nana was a senior actor, so they couldn't ask him to leave.
Up until then, these guys seemed reasonable and I understood their dilemma.
But to answer your question, I knew from day one that things were not quite right.
Nana was not supposed to be a part of the choreography.
When I told them I was not comfortable with the dance steps, why didn't they listen to me?
On so many levels what happened was wrong.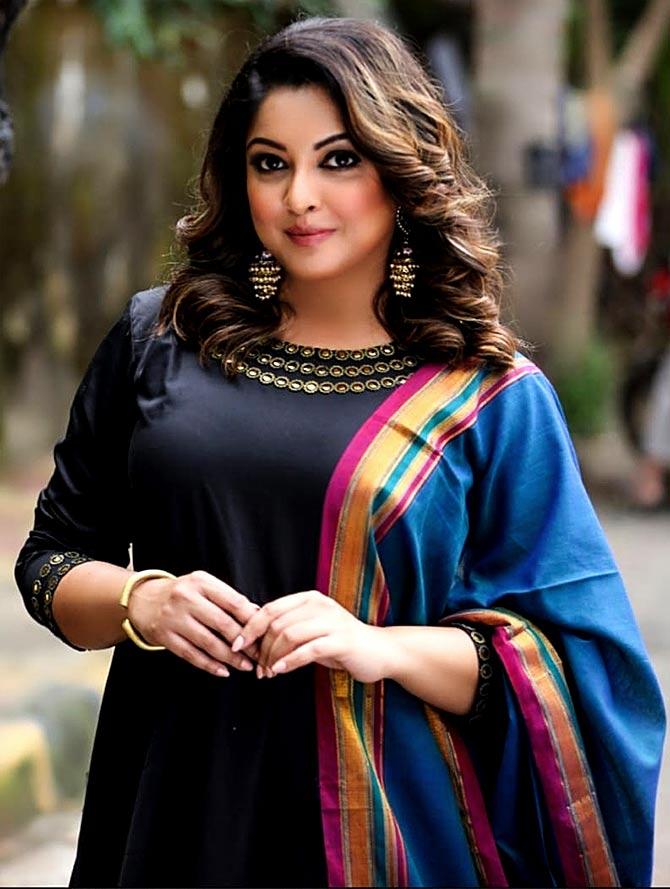 It didn't matter to me.
If he was just some random guy, I wouldn't have even noticed him.
But because he was the lead actor of the film, and he was not supposed to be there, and he was staring at me and there was this dirty vibe about him, I wanted him gone.
What happened on the day of the incident?
On the third day, Nana Patekar took the place of the choreographer and tried to teach me how to dance.
He grabbed my arm and pushed me around.
Repeatedly.
'Stand here, stand there, do this, do that'.
He was literally manhandling me.
Imagine my confusion.
Imagine my horror.
For two days, this guy was staring at me on the sets.
He was always around.
I am rehearsing, he's around.
Just sitting around, like a pest, with his weird vibe.
This guy, who is not supposed to be part of the song, who is not supposed to be on the set, is teaching me how to dance?
At this point, I was really alarmed because he had started touching me.
I got really uncomfortable, so I told the director if this guy came near me one more time, I was going to break his leg.
I was so shaken. I didn't know what else he would do.
I asked the director to come to my van and pleaded with him to make the work environment comfortable, to shoot his one line and send Nana home.
I also spoke to the producer and Ganesh Acharya.
After lunch break, I went back on the set.
I discovered that they had introduced a sequence in the song, where Nana has to feel me up.
I was like, are you guys kidding me?
I have been complaining about him for the last three days and you do this?
That's when I put my foot down because if I had any doubts about Nana's intentions, it became clear with this.
That's when these three went ballistic.
They started calling me names, threatening me.
They said I was unprofessional.
'Tumhara naam kharab ho jayega'.
They said they will call the media.
All the while, Nana was just sitting there, watching this unfold with a smirk on his face.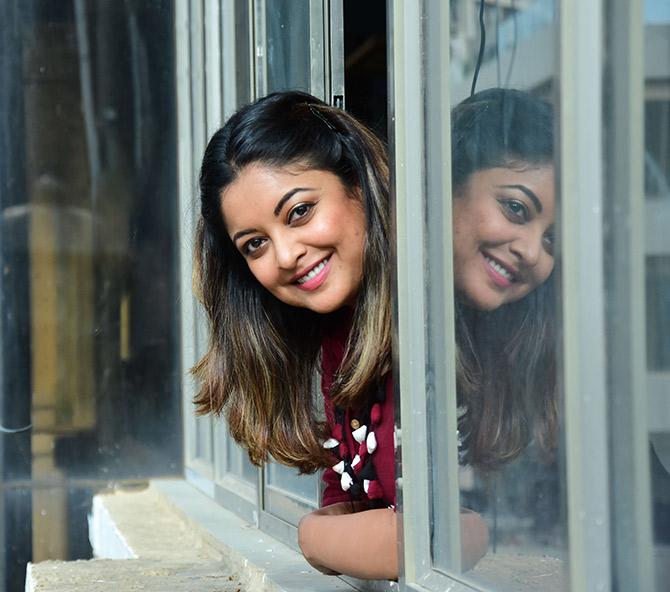 Then what happened?
I called my parents to the sets (Film City, Goregaon, north west Mumbai).
My manager and hairdresser were with me.
I wasn't alone at any point of time.
My dad had a word with them and they told me to come for the rehearsals, that everything had been sorted out.
When I went back on the sets, I saw that they had not changed anything. They had just changed the steps a little, but Nana was still part of the song.
They were still making me dance with him.
So I said I am leaving.
But if they had changed the steps, what was the problem?
This was a solo song.
I did not agree to a duet, my contract stated that.
I don't do duets.
When I am performing an item song, it is supposed to be picturised on me.
And what is the guarantee that they will not introduce some other step later?
I am not a fool to fall into a trap.
When I was clear about Nana's intentions, why should I be around him?
Have you done duet songs before?
Yes, Aashiq Banaya Aapne (the title song in the film by the same name) was a duet with Emraan Hashmi.
It had everything -- kissing, lovemaking...
I agreed to it. It was with my consent.
So it's not just about a step, it's about what I had agreed to do.
It's about the environment.
It's about Nana bulldozing his way in to do an intimate dance step with me.
Today, I would not have a voice to speak if I had allowed myself to go through that.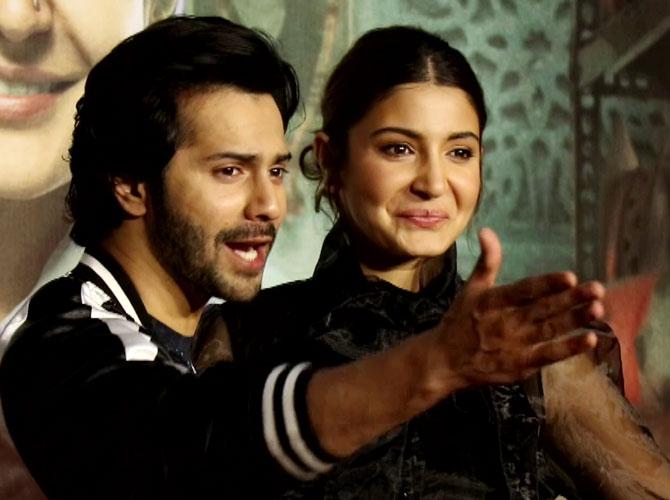 You have alleged that MNS (Maharashtra Navnirman Sena) activists were on the sets. How did they get involved?
Well, we realised they (film-makers) were not willing to budge.
They would make me dance with Nana because he wanted it.
They were going to give him what he wanted because he was the lead actor of the film.
My dad said, let's pack up. Thande dimag se sochte hain.
He said my daughter will not dance with Nana because that is not what the contract said.
We (my parents, manager and the hairdresser) were about to pack up and leave when we heard banging on the vanity van.
The thumping was so relentless that the van started shaking.
We saw media surrounding our car. There were also these people who were not the media.
From my spot boy and other people on the set we learnt that the MNS was here.
Nana Patekar had just joined the MNS. The producer called the media, Nana called the MNS.
At that time the MNS's tod phod was at its prime.
Nana called the MNS because he knew we would be intimidated.
How did you get away?
The banging stopped after half an hour.
We couldn't stay in the van forever, so dad said let us grab this chance and leave.
We told the driver to get the car just outside the van.
My parents and I went inside the car and these guys started hitting it with their fists, jumping on the roof, trying to break the windshield.
We were inside the car for at least half an hour, desperately trying to call the producer to help us, the police as well, but the network inside Film City is very poor.
At one point, I got through to the producer, but he didn't take my call.
I remember somebody screaming, 'Gate bandh karo, jane mat do (shut the gates, don't let them leave)'. The gate was barely 50 metres from the car.
That half an hour felt like forever.
I was beyond fear. I was numb.
The whole thing was being filmed by the media.
Nobody from the film set helped you?
The producer came, looked at the situation and told the guys, 'Lage raho (Carry on with what you are doing).'
Somebody called the cops.
There were a lot of media people, but I know now that they could not have helped because the MNS guys were there.
A police van arrived and they fired rounds in the air.
The people, who were jumping on the car, didn't even stop when the police arrived.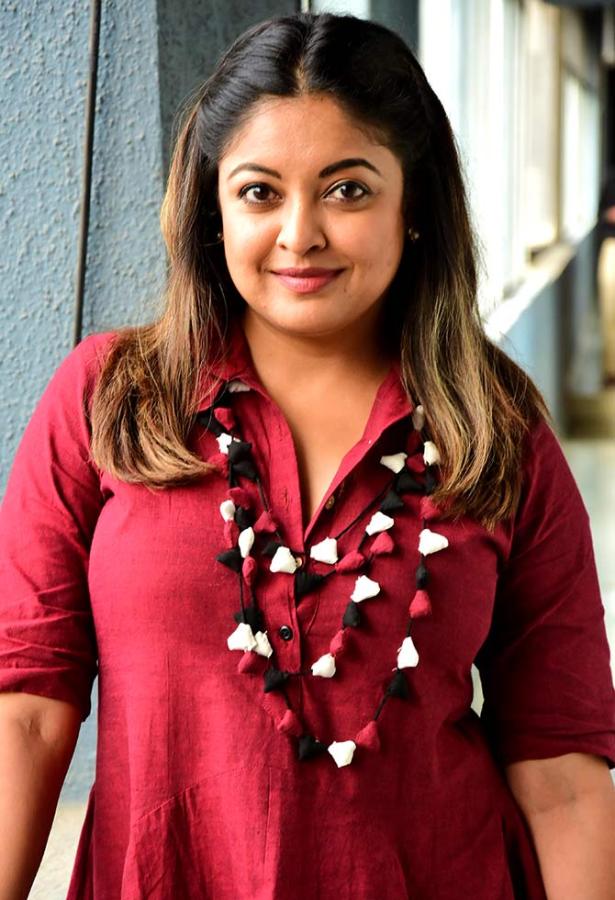 You filed an FIR then as well.
We filed an FIR, but they didn't take our full complaint.
Whoever was taking our complaint protected Nana and the others.
I told them the entire story, but they noted only the part about the car being damaged.
So my FIR became about my car being damaged by a mob.
How do you conduct an inquiry on a mob? The FIR did not mention the MNS either.
What did you say about Nana Patekar at the police station?
I told the cops everything, every detail.
The only mention of Nana they added in the FIR was that I was doing a film with him and there was some problem on the set.
The cop, who wrote the FIR, asked me, 'Do you want me to add Nana's name in it?'
I was crying by then.
He said if Nana's name was added in the FIR, my name would be added as well.
He said there was a counter FIR filed already.
I asked, 'What counter FIR?'
He said, 'Unke taraf se bhi log aaye hain counter FIR file karne ke liye (A counter FIR is being filed by people on behalf of the film-makers).'
The FIR was written in Marathi and I didn't understand it.
Finally, my dad signed the FIR.
The police did not put Nana's name or the director, producer, choreographer's names in the FIR.
What is the status of that FIR?
I don't know.
I just know my hairdresser and spot boy, who were named in the counter FIR, stopped getting summoned to the police station.
We were very disturbed, so we just let it go.
Did you ever go back on to the sets of Horn OK Pleassss? Did you get paid?
No, I never went back.
I didn't get a penny.
My payments were supposed to come in four parts -- I had got two cheques, two were due.
Interestingly, on the day of the incident, the first cheque bounced. The second bounced thereafter.
Who did you approach for redressal?
The film-makers complained to the Producers Association and tried to level damages of Rs 1 crore on me.
So I went to the Actors Association, and it called me for a meeting with their association.
At the meeting, the people called me 'unprofessional', 'uncooperative' and levelled all kinds of charges against me.
This from an association, which is supposed to protect actors from harassment!
You approached CINTAA (the Cine and TV Artists Association) as well, didn't you?
No, CINTAA called me and I thought they want to help me, but they don't do anything.
CINTAA has now apologised to you, saying your 'chief grievance of sexual harassment wasn't even addressed'. Do you accept their apology?
The apology means nothing unless you take action. Apologising and not doing anything is like receiving forgiveness, but not repenting.
CINTAA's public apology was just to save face.
They have not taken action against anybody.
They have not taken action against any of the people who have been named during this #MeToo wave.
They just appeared on TV channels, gave interviews, looked very nice, but did nothing.
Their excuse was that it was a legal matter.
Studios, big banners, actors and Netflix have dropped these people. Can't CINTAA do likewise?
What's the status of the FIR you filed in October 2018?
God knows! The cops were supposed to ask for our witnesses, but they didn't.
This FIR was filed at the Oshiwara police station (north west Mumbai), but this time, I was not made to feel like a criminal.
Since the first FIR was only about the car being damaged, this time, they took down all the details of what happened that day.
The same thing I said 10 years ago, I said again, in this FIR.
This FIR names all four of them for sexual harassment.
Nana Patekar has sent you a legal notice and asked for an apology. Several perpetrators have sued the women who called them out with defamation cases. Is this how it's going to pan out each time?
You know, when the MNS served a notice on me, even though I have experienced this kind of intimidation before, it was still scary.
Defamation is intimidation.
One way to get justice is to put out a list of lawyers who will take on the cases for these women free. That's what I did.
Nana sent me a legal notice to intimidate me, to silence me.
He and the other three should apologise to me.
I am hoping they get booked, that they pay for their actions so that it sets an example.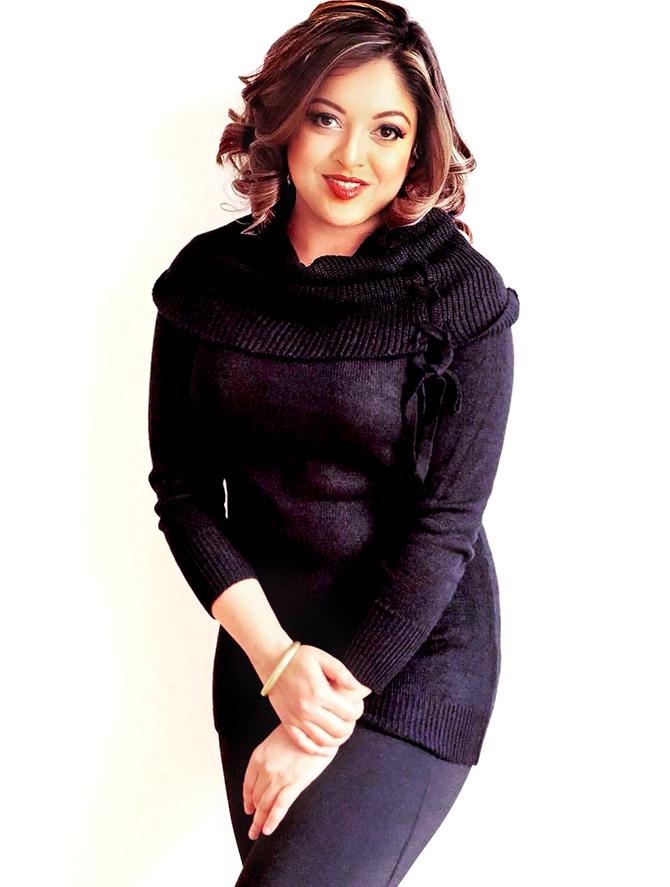 How do you fight a case in court without proof? You had a video recording of people vandalising your car, yet nothing happened to them. Is the #MeToo movement fated to die?
Predators don't harass everybody.
You think Nana, or the producer or the others would have dared to behave like that with a superstar's daughter or girlfriend? No, they behave the way they did because I was vulnerable, young and a newcomer in the industry.
My case is peculiar because not every case of assault, abuse or harassment will have video footage or eyewitnesses.
It is tough to get proof, that is why people don't go the legal way.
Do we have to wear cameras and walk around?
These cases can never be tried in a court of law.
They have to be tried in social media. And society.
But this movement will never die. Because of the impact the movement has had, people will think twice before misbehaving because you don't know who will turn out to be another Tanushree Dutta.
Survivors often find closure when they call out their abusers. Does time heal? Have you healed?
Time does not always heal.
God, on the other hand, can heal quickly.
My walk with God healed me.
How did the incident impact you? Would you say, your career didn't really take off because of the incident?
The incident left a very deep impact on my mind.
After the incident, I completed the films I had committed to, but I was unhappy.
I would much rather not be on a movie set.
The incident took away my faith from the industry.
It left deep scars because I lost my ability to judge people and to make sound decisions.
Nana Patekar is a National Award winner and his presence in the film played a role in my decision to do the song. So when he behaved like that...
Can you understand what it is to walk away from something you love the most?
If I had got kicked out of the industry, I would have spent the next eight years kicking myself back in.
But you have willingly walked out of your own choice because you realise the environment is very toxic. I didn't want to walk back in.
I was doing movies, shows, stage appearances, ad films... I had everything going for me. I was a workaholic.
Suddenly from that, I entered a life of anxiety, depression and low self-esteem.
I developed an anxiety of crowded places after the incident.
God helped me heal and now. I want to help people heal.
Coming back to the present, you live in the US, but what do you do for a living?
I live in New Jersey. I walked away from movies in 2010, but I never stopped working.
My movies are still on air. If you switch on TV, Hindi movie channels are still playing my films. So I am still alive in public memory and it still helps me.
You may be an actress, but if people don't think you have star status, they will not call you for events.
I do celebrity events, shows and appearances, dance performances on my hit songs, partner with companies and lend my brand value.
I am a public speaker.
I partner with brands and Indian companies because that is where my celebrity quotient comes into the picture.
I am well known in the Indian community in the US, so they partner with me to promote their company or their brand. So they give me a certain profile in the company, like a celebrity brand ambassador.
If you get a film offer, will you take it up?
I got an offer the moment I landed in India.
Balaji Telefilms called me for the serial Kasautii Zindagii Kay, but I turned it down.
Two producers and a movie studio called me, but I am not interested now. I am based out of the US and very happy with my life there.
At the moment, I don't feel I will return to Bollywood, but you never know.