P K Nair, the legendary founder-director of the National Film Archive of India, passed away into the ages on March 4. He was 86.
Nairsaab had dedicated his life to restoring and archiving films, and his life was documented in Shivendra Singh Dungarpur's Celluloid Man.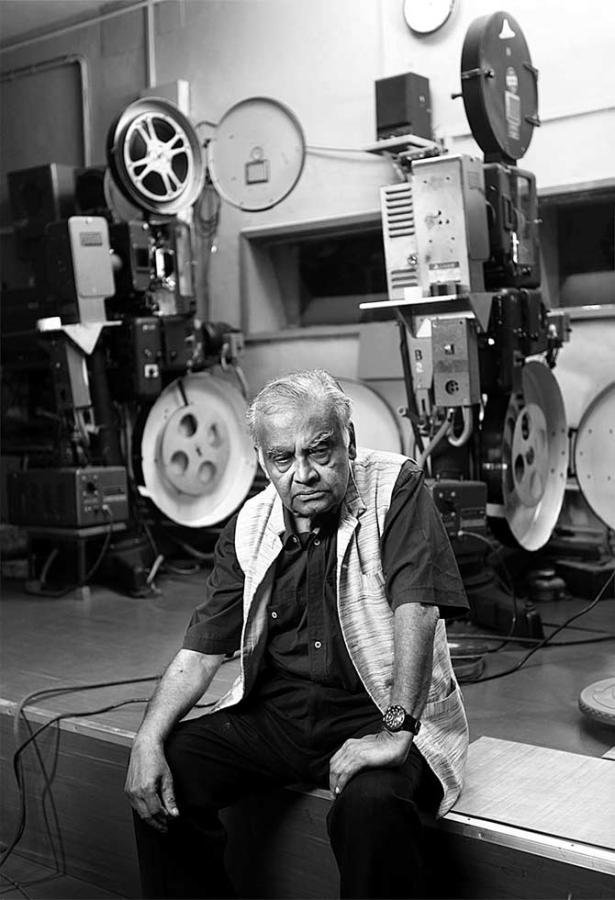 IMAGE: P K Nair is a god-like figure for many Indian filmmakers, says Shivendra Singh Dungarpur.
P K Nair is an Indian icon.
The legendary former head of the National Film Archives of India, Pune, was responsible for restoring and adding to the library's collection nearly 8,000 Indian films (including a few from the silent era) and another 4,000 foreign classics. He was also responsible for educating generations of Indian film personalities by showing them classic world cinema.
Mumbai filmmaker Shivendra Singh Dungarpur has documented Nair's story in Celluloid Man.
The film makes clear that Nair was truly loved by the students of the Film and Television Institute of India, Pune.
Significant Indian film personalities -- including filmmakers Mrinal Sen, Shyam Benegal, Girish Kasaravalli, Kumar Shahani, Santosh Sivan, Vidhu Vinod Chopra, Gulzar, Saeed Akhtar Mirza; actors Naseeruddin Shah, Shabana Azmi, Jaya Bachchan and Saira Banu (who narrates a fascinating incident where Nair hosted a screening of Mughal-e-Azam for Dilip Kumar) -- speak about Nair in the film.
Singh spoke to Rediff.com contributor Aseem Chhabra about the 'Celluloid Man' in 2012.
Was Mr Nair still at the archives when you were at FTII?
He had retired, but he was teaching there.
Nairsaab joined the institute as a librarian in 1961 and then he gave the proposal to build the archives. They didn't have a theatre of their own, so the institute gave him space.
Later, the government gave him a plot where he built the archives.
In the early years, since he was operating out of the institute, he shared a lot of the films with the students.
While he retired, he stayed on as a watchdog. He went to Kerala, but after his wife died, he returned to Pune, saying his heart was there. Now he lives in Pune. You see his big house in Kerala and yet he prefers to stay in a small room right next to the archives.
There must have been a myth about this man.
Oh yes, it was huge.
As you can see from my film, he was a god-like figure.
When I started this film, every filmmaker wanted to talk about him. (Actor) Om Puri came to me at the Kerala Film Festival and he was upset that I hadn't interviewed him. Sadly, I couldn't interview Mani Kaul (who passed away in 2011) since he was ill.
When did you decide to make this film?
A few friends were asking, 'Where is Nairsaab now?' and the idea was floated to make a documentary on his life and work. This was 2009.
A couple of us went to Pune and saw the condition of the vault. When we saw the state and condition of the prints, that was a turning point -- I realised the appropriate temperature was not maintained.
Then I also got to know that Nairsaab was not allowed inside the archives, because he would speak his mind all the time. That made me aware of the fact that something needed to be done.
Of course, he was a huge influence on all of us. Many wanted to make a film on him, but I managed to make it.
When did you interview Mrinal Sen? I had heard that he was really unwell, but his mind is still in good shape and he is very articulate. Then you got filmmaker Ritwik Ghatak's widow for the film.
Yes, both interviews were a real coup.
It was almost impossible to get Mrinal Sen. He was not willing to give an interview earlier, but when I told him it is about P K Nair, he was all set. Because he told me that Nairsaab helped him with casting many times, with scripts, and when he made his segment of Hundred Years if Cinema -- French legend (Jean-Luc) Godard also contributed to it also -- Nair helped him put it together.
I interviewed him last year. This film was important to Mrinal Sen, because of the archives and the footage you see from silent era that many people have not seen.
To me the film itself is like going to an archive. Did you self fund it?
I started in 2009. We just completed the post production this summer. I self funded it from the money I made in advertising. I shot it on 16 mm and blew it up on 35mm. It had to be done on film, since it is the story of a man who collects film cans.
What were some of the hurdles in making this film?
The fact the Nairsaab was not allowed to enter the archives. It's not the present director, but the previous director.
They let you enter?
They let me enter. I was trying to get permission for 11 months, making many trips to Pune. But when I took Nairsaab first time to the vault, I was told 'How dare you bring Nair there? What if he steals some prints.'
They said I should shoot Nairsaab on green screen and superimpose him. The reason for that was he criticizes government policy, because he is only interested in preservation.
Finally Saeed Mirza and Shyam Benegal had to call in. Then suddenly things started changing.
Tell us about the scenes of Mr Nair walking through the vaults and remembering what reel has what song and what scene...
That was shot in the archives. He knows each can. You can call him and ask him about a particular scene in Citizen Kane, which reel it is in. Ask him about Tokyo Story, La Strada or Pyaasa and he will tell you which can or reel number.
There are a couple of scenes in the films where Mr Nair sits with three other men in an Irani restaurant talking about old Hollywood films. Who were they?
One is the film critic Rashid Irani. The other two people are passionate film lovers who Nairsaab used to meet and talk about cinema.
There was amazing research done...
I was helped by my research assistant Manju Iyer. Eleven cameramen who shot it with me, including Santosh Sivan, Ravi Chandran (Dil Chahta Hai, Paheli and Fanaa), and Aveek Mukhopadhyay (Raincoat and Choker Bali). They were all from the institute and in their own way they wanted to contribute to the film.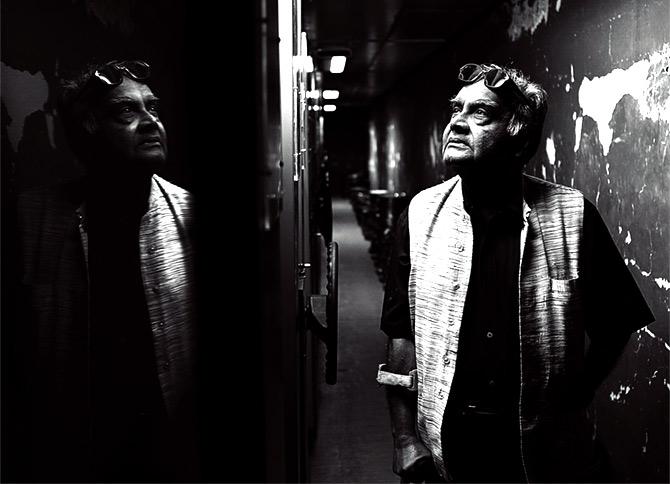 IMAGE: The National Film Archives of India has thousands of films, and Mr Nair knew each can. He could even tell which scene is in which reel.
I like the way you shot many scenes where Mr Nair is speaking with films playing in the background. How was that decision made, what films to show?
I sat with Nairsaab and made a list. Obviously I chose what I thought was important from different time periods, sometimes I listened to him, sometimes I made my own decisions.
We knew silent films in India were neglected. About 1,700 silent films were made and very few remain. Overall with small clips we have about 20 films in the archives, but only seven complete films have been saved.
When Nairsaab retired the archives had 12,000 complete titles, out of which 8,000 were Indian films and the rest were in foreign languages. Now they must have about 15,000. But now there is hardly any effort to add films to the archives.
How does the work the National Film Development Corporation is doing to digitally restore films and release them on DVDs compare with Mr Nair's work?
I was involved with the restoration of Uday Shankar's Kalpana. Look at that restoration where film scholars are involved in saving the film. NFDC or other film restorations in India can never match that level.
We just don't have enough film people who love cinema to do that kind restoration.
Cleaning up and digital transformation is not restoration. It is like constructing a building. The guys who are restoring films in Palonia, Italy, (where Kalpana was restored under Martin Scorsese's guidance) are like those who have studied architecture. They have so much knowledge.
India has the funds, but they do not know how to put them to good use. NFDC's budget is Rs 600 crore (Rs 6 billion) and that is only for the films that they produced.
Do you know if the films NFDC is restoring will also be screened in theatres?
We have managed to restore Kalpana, but we haven't been able to show it in India. The fact that Kalpana was stuck at the customs is a clear indication of lack of interest.
That print belonged to the government. It was national heritage. Shouldn't they be looking at the fact that it is stuck at customs?
After all, Uday Shankar was a national icon.
And the film had just been shown at Cannes.
Right. So, that is what I have done with my film is to show the problem as it exists in India. Of course, I am a filmmaker and I want to make films, but I feel my role is also to emphasize the importance of preservation.