'Alkazisaab trained innumerable actors to be good human beings.'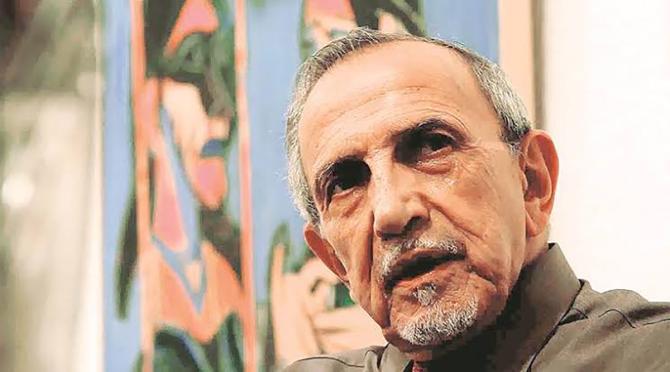 Theatre doyen and legendary teacher Ebrahim Alkazi passed into the ages and film folk and his students paid the great man rich tribute:
Anupam Kher: What can I say about a human being who has taught me everything worth learning in life? We've lost the doyen of Indian theatre.
Ebrahim Alkazisaab was not only my guru and mentor. Everything that I know about acting, I learnt from him.
He not only gave me the raw material as an actor, but also shaped the way I look at life.
Alkazisaab was much more than a theatre director. He trained innumerable actors to be good human beings.
He elevated the status of theatre and its products like us. In fact, we -- his disciples -- think of ourselves as his miniature clones.
When I opened my acting school, I modeled it on Alkazisaab's vision of art.
He introduced me to art, culture and literature.
He shaped my thoughts my opinion on life and acting.
Naseeruddin Shah: My book And Then One Day contains many thoughts on the great man.
He was too huge a personality to be described in brief cliches.
Shabana Azmi: He was the last of the giants in theatre.
I have always been envious of the students who had the good fortune of being trained by Alkazisaab.
He was not just an acting coach, but a teacher, who taught you how to live life because an actor is her own instrument. My deepest condolences to the family.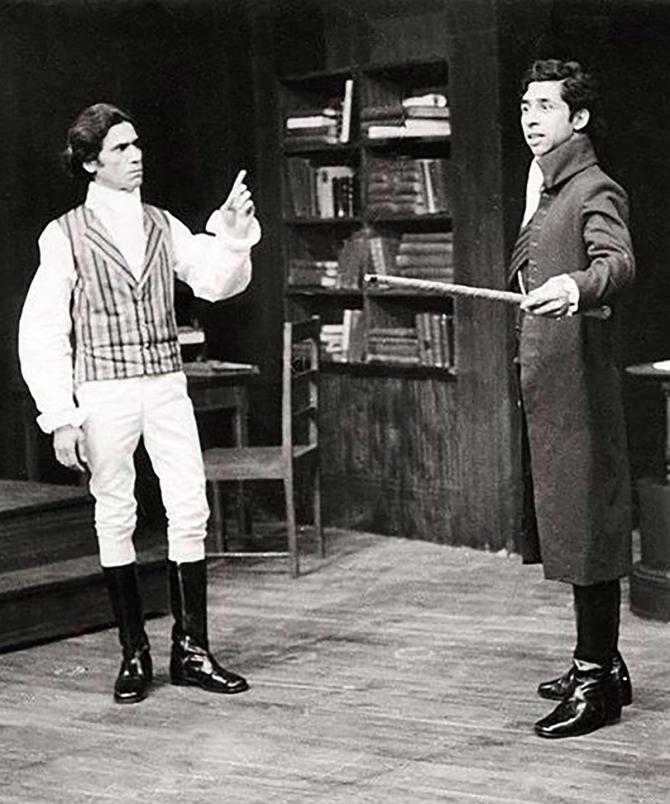 Nawazuddin Siddiqui: Ebrahim Alkazisaab was knowledgable on every aspect of life and drama, and the drama of life.
To be trained by him meant you were being schooled by the best possible teacher in the school of life.
Neena Gupta: I joined the National School Of Drama only so I could learn acting from him. Unfortunately, he had quit NDS before I joined.
But he was, and will remain, a legend of stage direction and acting.
While I was at the NSD, I kept hearing so many stories about him. He was considered not only a drama coach, but a life coach.
His students came out as complete human beings.
He not only taught acting, but also took keen interest in other aspects of his students' lives.
For example, he personally checked the finger nails and other hygiene details of his students.
I wish I had the privilege of being taught by Alkazisaab.
Manoj Bajpai: A teacher, a theatre legend, who made teaching and acting so scientific!
He made his students realise that theatre requires extreme dedication and hard work and turned NSD into a respected centre of learning, art and culture.
I never had the opportunity to learn from him, but I saw and experienced the impact of his teachings at NSD and in all the students who joined or passed out from the institute much after he retired.
He will always be irreplaceable.
Kumud Mishra: I never got the chance to work with Alkazisaab. But I got to see his plays and they were incredible experiences.
I know Alkazisaab's students. They are brilliant actors.
They say they learnt everything from him.
His contribution to modern Indian theatre is tremendous.
Actors like me are undisciplined. He brought discipline into theatre. I can go on about him.
He was a great teacher. He brought clarity of purpose to Indian theatre.
Satyadev Dubey and Ebrahim Alkazi shaped Indian theatre into what it is.
Abhishek Sharma: He has inspired so many of us who never got a chance to meet him or interact with him.
We got inspired just by hearing stories about him, his personality his knowledge his methods.
I wonder what magic it would have been to learn from him!