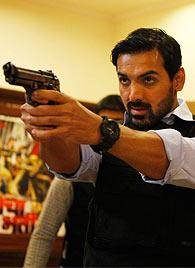 John Abraham's new film Madras Cafe promises to be a hard-hitting, political spy thriller.

Directed by Shoojit Sircar and co-starring Nargis Fakhri, the film has been courting controversy lately due to its portrayal of the LTTE.

John, of course, stands firmly
by his film.
So just how honest the film will be, we'll know when it releases on August 23.
Meanwhile, you can win some cool prizes from the film.
All you have to do is answer this simple question:
In which country is Madras Cafe set?