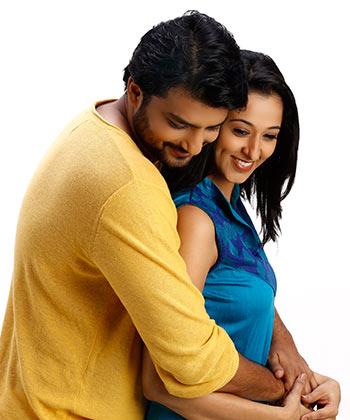 'A week after RangiTaranga released, multiplexes and single screen theatres were cutting down on the shows despite good collections. Luckily for us, the film spoke for itself and social media helped us a lot.'
Meet the Bhandari brothers, who scored a critical and commercial hit with their debut film while the biggest movie of the year was dominating the box office across the country.
Left: Nirup Bhandari and Radhika Chetan in RangiTaranga
Kannada film RangiTaranga, a mystery thriller written and directed by debutant Anup Bhandari, has turned out to be a hit despite tough competition from S S Rajamouli's blockbuster Baahubali.

Good word-of-mouth and positive reviews from critics have played a major role in its success.
According to the grapevine, Bollywood filmmaker Ashutosh Gowariker has shown interest in the remake of the film but Anup refused to comment on the rumoured deal.
RangiTaranga released in Europe earlier this month and is all set to release in the US on August 13.

Interestingly, Anup's brother Nirup Bhandari makes his acting debut with the film.

The brothers discuss their journey to silver screen glory and beyond with Rediff.com contributor Rajul Hegde.

Tell us a bit about yourselves.
Anup: We are originally from Puttur (Dakshina Kannada district, Karnataka).

We grew up in Mysore (Karnataka). I wanted to become a music director and then a filmmaker even before I became a software engineer. I used to do lot of short films even while I was working in India and abroad.
Our dad (actor-director Sudhakar Saaja Bhandari who is also the executive producer of RangiTaranga) was in the television industry and although I never went on the set with him, we, as a family, were always interested in films.

As kids, Nirup (also an IT professional) and I would pretend to be in the movies and cook up stories.
Nirup: As kids, we brothers would discuss only two things -- cricket and films.

I was always interested in film making and acting. I have acted in several of my dad's serials as a child artist.

But my parents insisted that our focus should be on studies and getting a degree.

I got actively involved in writing and directing skits in engineering college.
How did RangiTaranga happen?
Anup: My last short film Words, which starred Hollywood actor Russell Harvard, had an all-American crew and cast. It was screened at 13 international film festivals and won a few awards too.

One of our common friends showed Words to H K Prakash (producer of RangiTaranga).

He was impressed with the story of RangiTiranga but he was more amazed when he heard its song lyrics.

Being a fan of late veteran actor Raj Kumar, he loved the fact that all the songs were purely in Kannada.
What's the best compliment you have received for your film?
Anup: The best and the very first compliment after the release came from actor Rakshit Shetty. He has been supporting the film right from the beginning. He said it's a brilliant film and if this movie works, it'll inspire more such movies.

He also said that RangiTaranga is the best Kannada film he has seen in the last 15 years. He promoted this movie on social media and that helped us a lot.
Nirup, were you thrilled about making your acting debut in a feature film directed by your brother?
More than excited I was skeptical, as it was Anup's first film.
My father was skeptical too. He was in two minds whether to have me act in it or not as there would be too much at stake if both of us were to start our careers with the same film.

But Anup was confident from the beginning and probably knew he could mould me the way he wanted to. My dad consulted a few seniors for advice and all of them gave a positive response after seeing my auditions.
It never felt like a launching vehicle for me. It was more about a story that Anup wanted to tell. I always believed that story and the director should be the hero.

How challenging was it for you to work in a film?
Nirup: We did a workshop before we started shooting for the film.

It was considerably easy because I knew exactly what Anup wanted as we have similar taste in films and he knows my strengths.

Anup is a director who uses the strength of an actor. He allows the actor to improvise while shooting. He is a disciplined director and was excellent in time management since my father was around too.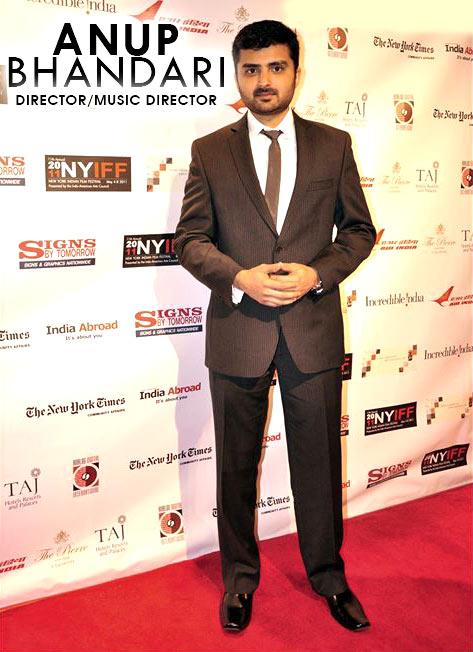 Image: Anup Bhandari
There were some issues when multiplexes cut down shows of the film to accommodate the non-Kannada film Baahubali.
Anup: Right now it's sorted out to an extent.

A week after our release, multiplexes and single screen theatres were cutting down on the shows despite good collections.

The new non-Kannada film was allowed to screen in as many as 150 centres across the state. So we lodged a complaint with the Karnataka Film Chamber of Commerce.
Luckily for us, the film spoke for itself and social media helped us a lot.
Nirup was your first choice to play the lead in the film?
Anup: He has been my lead actor ever since the age of five-six (smiles).

He has been a theatre artist for the last five years and is a part of a dance group. He was ready to be an actor.
We knew that we can not afford a star so we thought we will approach someone who is just making a mark in the industry. Nirup suggested actor-director Rakshit Shetty whose first film had become a big hit.

We reached out to him through Facebook and he responded immediately but his dates were not available for the next four months.

The producer suggested Nirup's name as he had seen his cameo in the Kannada serial.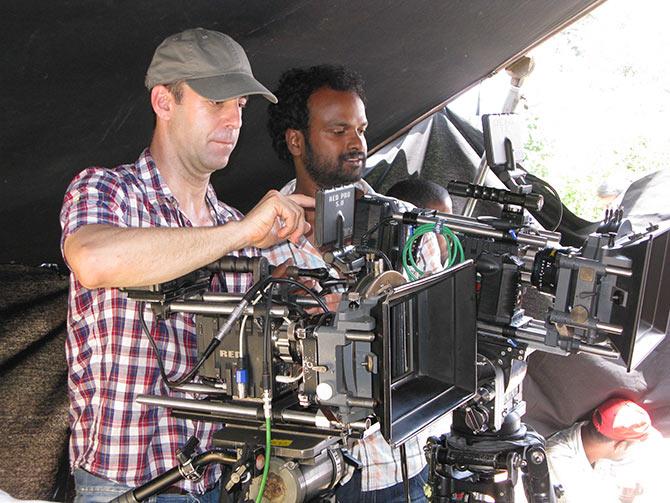 Image: Cinematographers Lance Kaplan and William David at work on the sets of RangiTaranga
Since the movie did well, you must have made a quite a lot of money...
We have made more money than we have invested with only the theatrical releases in Karnataka.
Are you back from the US for good?
My wife Neeta and three-year-old daughter are still in the US as Neeta continues to work there.

I must have just spent five months with them in the last two and a half years.

It's pretty hard for us but my wife supports my passion for films.
Anup said you are a part of his next project which starts in a couple of months. How will you balance your IT work and films?
Nirup: I was supposed to get back to work in July but we never expected this kind of response to RangiTaranga.

Also, we never expected to cross the hurdles we did, like the big budget non-Kannada film release around the same time. That meant we had to promote our film even harder.

Since we didn't have the budget for promoting our film on television, we had to reach out to people on a more personal level. I have lost count of the number of theatres we have visited and the people we have interacted with.

The way things are, I think it's time for me to take a call on the career front. I don't want to do injustice to either.