'I have learnt what I shouldn't do with my children -- like, not check their phone.'
'I have really wanted to check my kid's phone, but I have controlled myself.'
'It would mean going over the line.'
'So I make best friends with her friends, and in this matter, I use my stardom to the fullest.'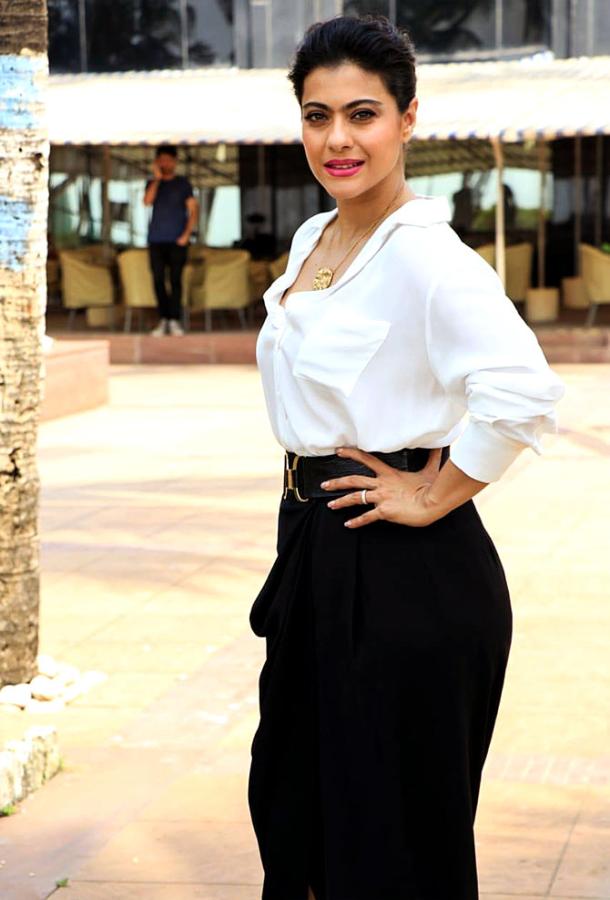 Kajol plays mum to a teenager in Helicopter Eela, but she says she's not a helicopter mum to her own kids, Nysa and Yug.
"I would say I'm a drone!" she exclaims, drawing much laughter.
"You cannot understand how much your mother loves you till you have your own child. As children, we don't value and appreciate them. So everyday I tell my son, I stayed up with you, I washed your bum, didn't sleep for six months..." Kajol tells Rediff.com's Patcy N.
Are you a helicopter parent?
No, I would say I am a drone!
I believe parents should have faith in their children.
The world has changed, kids know so much at a small age that you cannot keep an eye on everything.
It is not possible to do so much helicoptergiri.
If you want to be a balanced parent, you have to have faith that you have taught your children the right things and that they are smart enough to take the right decision.
Kids usually revolt in their teens. How do you make them understand?
My kids haven't revolted yet; but we have had wars.
Yet, there has never been a situation where my kids and I are at opposite ends.
My kids are smart. They know they cannot demand something wrong from their parents.
Do you relate with Eela?
Eela is the kind of character everybody can relate to. Whoever sees it will say 'I am like this' or 'I can be like this' or 'this has happened to me.'
My decisions in life are personal for me, and Eela is a totally fictional character.
We have a lot of women like Eela who have given up their careers and not been able to get back to it because they are stuck in a rut and -- and that rut is such a comfortable and happy place that you just don't want to get out of it.
A lot of them are scared of trying something they wanted to try when they were younger and had youth on their side.
What we are trying to say with Eela is to find something that makes you happy, something that is yours.
In the trailer, her son says, 'Tum sirf meri maa banker reh gayi, woh Eela kahan hai jo gaati ti hi aur music videos banati thi, jo apne liye kuch karti thi, woh Eela kahan hai?'
You lose so much of your personality that you don't know how to find it again. You don't know how to stand up for yourself and say, 'I want this for myself.'
There are fights and drama in the film, no doubt, but we have also shown that the child is the mother's best friend. He wants his mother to have a life apart from him.
He wants her to have her own identity.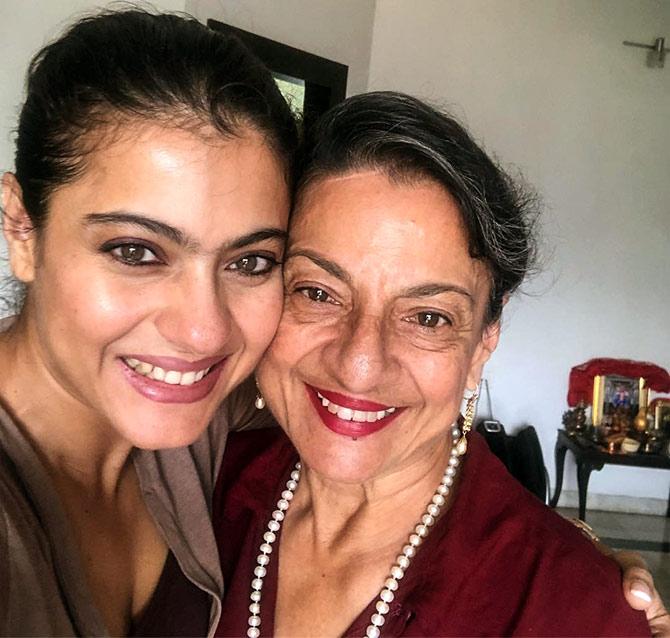 You have had very strong women in your family. Your grandmother Shobhana Samarth, aunt Nutan, your mother Tanuja. What have you learnt from them?
One important thing that I have learnt is that women cannot be empowered by anybody else but themselves.
When we talk about women empowerment, we tell women to speak out.
If you believe in yourself, that is the biggest empowerment.
If I go to work, hopefully, my son grow up to realise that women are like this and they are capable of this and that is normal.
Every mother should teach her son to expect better from the women around him and that's how women's empowerment will happen.
As mothers, we have the power to change the world because we are taking care of the next generation.
We have the power to change their thinking by not taking crap and standing up for ourselves.
We don't need to say anything. We need to show them.
What have you passed on to them?
Lots!
After three months of having my baby, I called up my mother and said, 'Mom, I never realised how much you loved me and how much you have worked on me. I can never thank you enough for taking care of me the way you have.'
Having children is a completely different feeling.
You cannot understand how much your mother loves you till you have your own child.
As children, we don't value and appreciate them. So everyday I tell my son, I stayed up with you, I washed your bum, didn't sleep for six months... (laughs)
Motherhood is an ungrateful job.
Yes, but immensely rewarding.
When we say we want our children to be happy, they think we are lying; she must be expecting something from me.
But it is not true.
I read somewhere, 'The only true definition of unselfish and unconditional love is between a parent and a child.'
Every other love has conditions, whether it is of best friends or a partner. Even between siblings, there are conditions.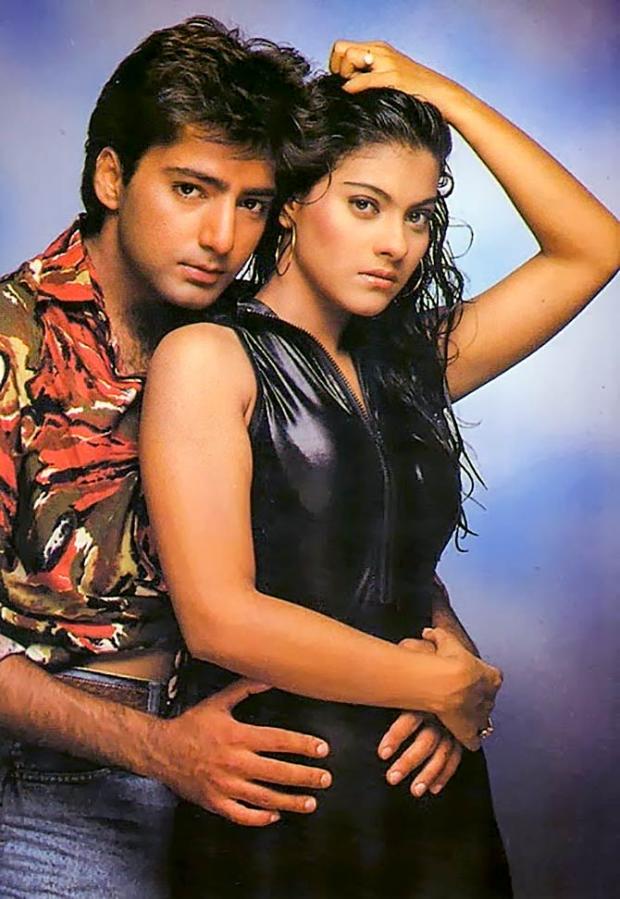 Was your mother Tanuja over-protective?
Definitely not. My mother is the complete opposite of Eela in every way possible.
She is one of the most forward thinking women; she brought me up with a lot of bravery.
It takes a lot of courage to bring up your children in a way that is not the same as everybody else.
We would have breakfast together on weekends.
Once in a while she would make food for me, but it was not like as soon as she came home, she would send me tiffin.
I have not seen all this in my house.
As a child, I would get a lot of beating, but the biggest thing my mother did was that when I was 12, she told me, 'You will be 13 soon, you are becoming a teenager from today. I will never raise a hand on you again. Now is the time to take responsibility for your actions. You have to practice whatever I have taught you till now.'
'I will guide you if you make mistakes, but I will not shout or beat you henceforth.'
What kind of a daughter were you?
You have to ask my mum that.
But I think I was a very good daughter.
I never back-answered my mom. Mujhe bahut darr lagta tha apne maa se. Mujhme himmat hi nahi ki apne maa se zor se aawaz mein baat karne ki (I'm very scared of my mother. I don't have the courage to speak to my mother in a loud voice).
I was 16 when I signed Bekhudi. I had to go to Canada for two months.
Mickey (Contractor) was doing my make-up, Gautam (Rajadhyaksha) had written the film and Rahul (Rawail) uncle was directing it.
We had a family friend named Neela aunty. She travelled with me to Canada, not my mother.
It was a 40-day schedule and my mother came later.
It takes a lot of courage to send your child out.
When I sent Nysaa to Singapore to boarding school, I was worried. For a month, I felt there was a problem with the world, something is missing.
I felt empty because she was not around.
It's a big deal for a parent to send kids somewhere. That way, my mother was brave.
Do you try to be like your mother?
I try, but I don't know whether I am as courageous.
My mother practised what she preached.
And she led by example.
Such learnings always stay with you and you can act upon it easily because you know your mother has done it, so it is possible.
I try to be as brave as her, but sometimes, I don't succeed.
The world has changed and because of that, our parenting style must also change.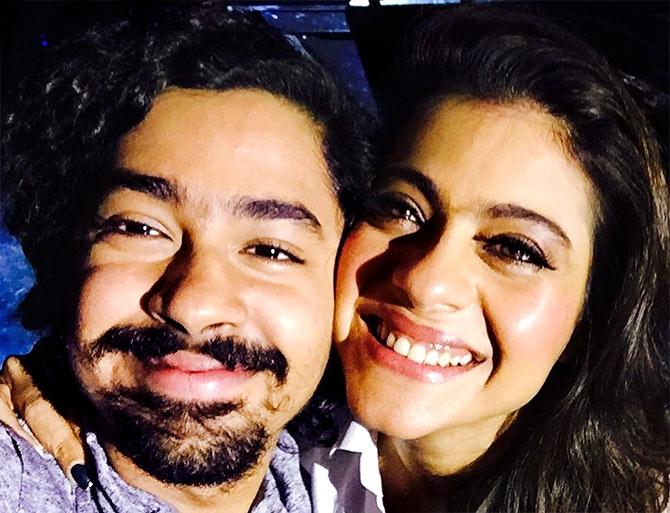 How was the experience working on Helicopter Eela?
I feel you should do a film only if you like the script and you are 100 percent convinced.
You have to spend 100 days with the film and the people who are connected with it, so it is very important that they are good people. Only then can you do amazing work.
What have you learnt from Helicopter Eela?
I have learnt what I shouldn't do with my children -- like, not check their phone.
I have really wanted to check my kid's phone, but I have controlled myself.
It would mean going over the line.
So I make best friends with her friends, and in this matter, I use my stardom to the fullest.
I meet them, talk to them nicely and then say, ''Beta, give me your mobile number na.'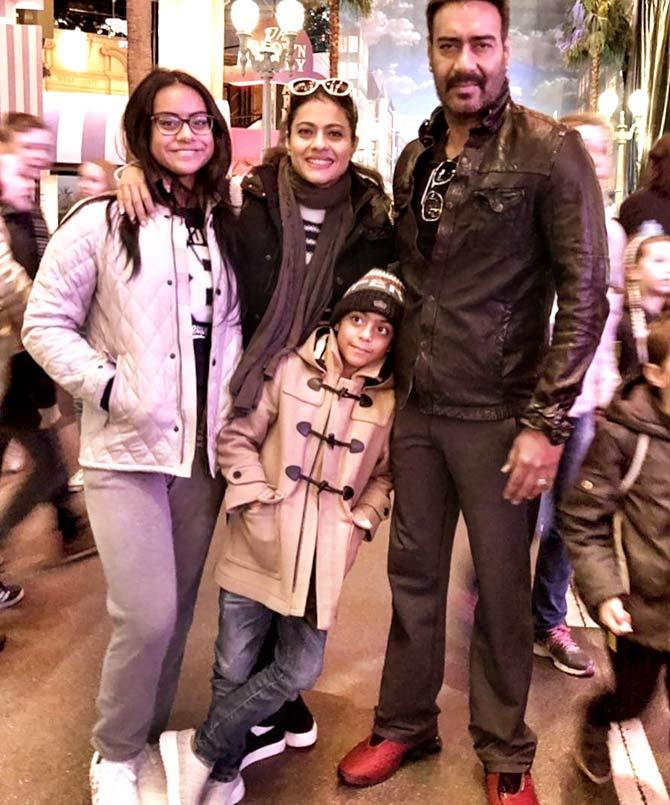 Do they spill the beans about your daughter?
No, they are very loyal, but meri koshish jaari hai (I'm still trying).
A lot of parents disapprove of their children's friends. I have never disapproved of her friends.
I think my children have so much sense.
I think it's very important to understand that your child will not turn out like anybody else's child; that child is your child and you have taught them well.
You have to believe that if you taught them, they will remember it. If you haven't done it, your kids won't do it either.
Since Ajay Devgn and you are actors, will you suggest this profession to Nysa?
I will never suggest what she should do and what she shouldn't. She will make her own decision.
In today's times, there are so many opportunities available. You can do anything, specialise in anything.
I mean, something stupid like Web designing... I won't say 'stupid', but something as small as Web designing has become a company.
Earlier, people did this job from the comfort of their homes. Now, there are companies and you can hire people to work for you.
I keep telling her she should work for herself, and make her own money.
Spending your money and spending others' money is a very different feeling.
If you buy Prada with your money, the feeling of that Prada is different (laughs).
Has she told what she wants to do?
No, she is only in Class 10.
Her concern is her board exams in March. She is stressed on another level about it.
Is she a bookworm like you?
Yes, touch wood.
Thank God, there are two people in our family who are bookworms.
I wanted my son to be a bookworm, but he is not.
Did you read parenting books?
Never! I hate the 'how-to' books except for crochet and knitting books.
Who is the good cop and bad cop at home?
I am definitely the bad cop.
My voice is enough for the children.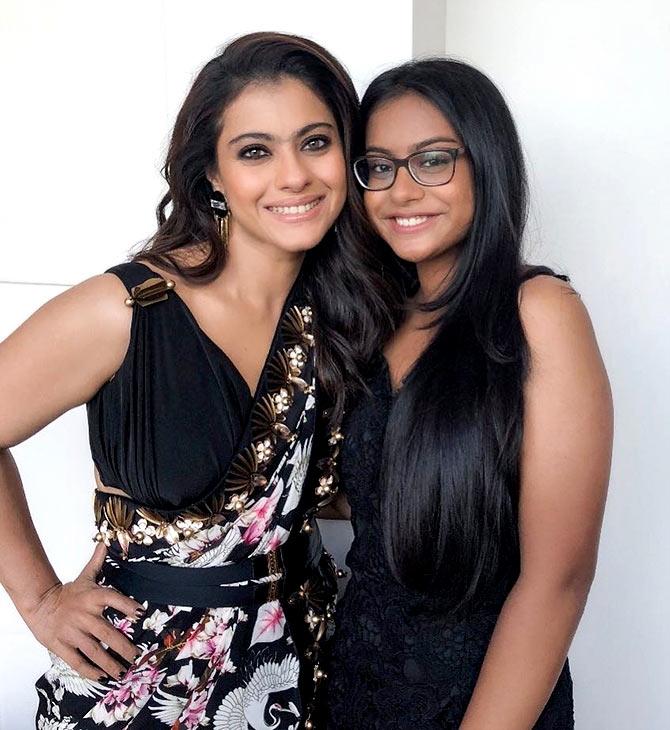 You have started looking more beautiful after the birth of your children.
Thank you very much.
You should look at yourself more kindly.
We are our biggest critics. We judge ourselves -- call ourselves fat, ugly, hair is not nice, nose is not right, I wish I had a figure like her, I wish I could talk like her...
That mentally changed after Nysa was born, not that it was there a lot before, but I started being kinder to myself.
Do you cook for your children?
I don't cook at all.
I order or I get my cook to cook or I get my husband to cook.
Does Nysa cook?
She cooks very well. She has magical fingers -- whatever she makes, it's tasty. She has learnt on her own.
She learnt baking on her own.
She looks up recipes of cookies and cupcakes.
She has her own equipment drawer.
She made sushi at home for my birthday because I like it. Sushi is difficult to make, she not only made it but she presented it well too.
I have never helped her, but I watch from afar so that she doesn't burn herself.
My mother would say I can even burn water!
I know how to make coffee though.
Helicopter Eela is about discovering oneself. What did you discover about yourself at this stage in your life?
I did not have any startling, big enlightenment, process. I think it's a slow journey. You learn small things like patience, tolerance, compassion...
Earlier, in an airplane, if I heard a baby cry continuously, I would want to bang my head against the wall.
Now, I want to go and help the person. Poor mother, imagine sitting with a crying baby and the whole plane is listening to you.
So I am tolerant in some ways and intolerant in others.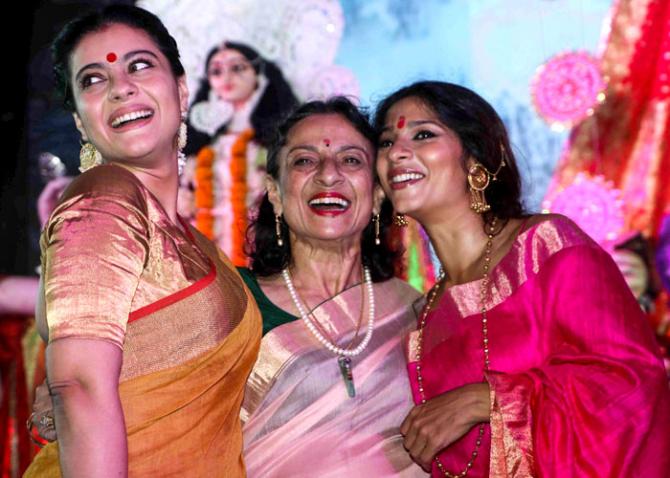 Why don't we see you in more films?
I would love to, but at my own pace.
I can't work so hard.
I can't do four films in a year, that's out of question.
Do you miss not being on the big screen?
Not at all.
I have such a full life.
Work is just one part of my life, there are other things too, which complete my life.
Now, I spend a month in promotions.
After this, I want to take my kids on holiday.
After that, there is Diwali, Durga Puja, so there are a lot of things in my life.
Relationships are very important. I would like to spend time with them.
What did your kids think of Helicopter Eela?
They haven't seen the film, but they loved the trailer.
They do not like to see me cry, they get most upset.
They ask me, 'Why are you doing films where you cry all the time? Ek toh picture kiya karo Golmaal ki tarah, papa ko dekho (Do a film like Golmaal, look at dad).'