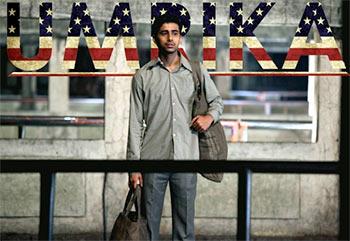 Umrika, which won the audience award in the World Cinema Dramatic Competition section at the Sundance Film Festival in 2015, finally releases in India.
Aseem Chhabra spoke to its director Prashant Nair before he traveled to Sundance.
Prashant Nair was trained as an electrical engineering at Purdue University and then worked in New York City in the Web agency world. He later started a social media company in Paris.
Nair had long held the desire to make films and finally at 32 he quit his work to direct his first project, Delhi in a Day. That film traveled to a number of small film festivals and also got limited theatrical release in India.
IMAGE: Suraj Sharma in Umrika.
Nair, left, below, had bigger goals set for his second film Umrika, which had its world premiere in the Sundance Film Festival's World Cinema Competition section.
Sundance wrote this about Umrika: 'When a young village boy discovers that his brother, long believed to be in America, has actually gone missing, he begins to invent letters on his behalf to save their mother from heartbreak, all the while searching for him.'
Umrika is produced by Manish Mundra (Ankhon Dekhi and X – Past is Present) and Swati Shetty. It stars Tony Revolori (The Grand Budapest Hotel), Suraj Sharma, Adil Hussain and Prateik among others.
Aseem Chhabra spoke to Nair via Skype. The filmmaker, who lives in Berlin, was then on Reunion Island in the Indian Ocean, working on the final edit of Umrika.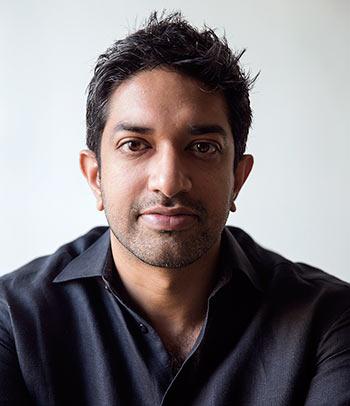 Congratulations Prashant, this is such good news. How did the idea for Umrika come to you?
The origin of the film for me was two things. It was this notion of how cultures perceive each other, a lot of stereotypes that people have in the US about India or any country about another country.
I wanted to play with that idea little bit and view the idea of America through this very remote village lost in the middle of nowhere.
And the second was about illegal immigration. I had seen a lot of films about how difficult it is for illegal immigrants once they make it to a place.
How difficult that voyage is and I wanted to make a film about the decision to immigrate up until that point.
But you are talking about illegal immigrants in the US, or just about anywhere?
Anywhere. In this case it is more specific about the US. It's more general about illegal immigration. So from there the story developed.
When did you start to write the script?
It was early 2012 or rather late 2011. I was part of the Sundance Mahindra Lab and I developed the story with a bunch of amazing mentors. And then from there it took a while since I also released Delhi in Day around that time.
Did you go the lab at Sundance or was it in India?
It was the first one in India. Margarita, With A Straw and Sonali Cable were at the same lab.
Who were your mentors at the lab?
I had Jose Rivera who wrote The Motorcycle Diaries. Asif Kapadia, Audrey Wells, Anjum Rajabali and Marcus Bernstein who wrote Central Station.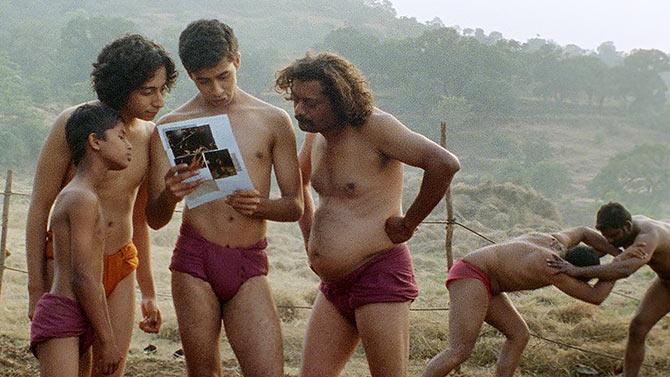 IMAGE: Suraj Sharma, Tony Revolori in Umrika.
So you write the script and then at what stage did Swati step in as a producer?
Swati joined the project last year. I had first set it up as a French-German-Indian co-production, which did not come through. Timing wise, it was wrong and a complex beast to manage.
At one point I thought this film will never get made. Then Swati stepped in. It was a tough shoot since we did not have all the financing until the 42nd day when Manish Mundra joined the team.
Swati met Manish over Twitter and Manish became a producer on the film as well and he has really made it happen.
It's interesting how Manish also met Rajat Kapoor over Twitter and then produced Ankhon Dekhi for him.
He has been very supportive.
How did you get Tony Revolori in the film?
I was looking for the character Lalu and had seen a lot of people. And then I saw The Grand Budapest Hotel trailer online. I watched it literally two minutes after it came online and I saw Tony. I initially thought he was Indian.
I know. I thought he was Indian.
I looked him up and realised his name was Tony Revolori. He is Guatemalan-Italian and he lived in LA. I thought let's be crazy and I wrote to his manager randomly and asked whether Tony would be interested in a film set in India. And he wrote back two days later that they had read the script and loved it.
We got on Skype. He is such an adorable guy and has such a screen presence. So I couldn't see anyone else as Lalu.
But then there was the whole problem with the language, and he is playing a village boy. He had studied Arabic for Wes Anderson for the role of Zero. Originally Zero was supposed to be a Bedouin. But then it changed.
He was comfortable with languages and the first thing he recorded wasn't that bad. Everybody had doubts about the viability of the idea, but they loved him so much. He started dialogue coaching over Skype.
He came to India and had some more dialogue coaching in Bombay. And he and Suraj really got along well, even though Suraj is a couple of years older.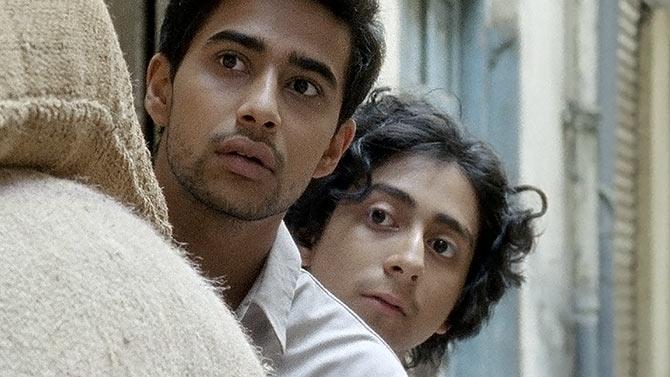 IMAGE: Suraj Sharma, Tony Revolori in Umrika.
Is the film in Hindi or part-Hindi, part-English?
The film is entirely Hindi, and it is all shot in India -- in a small village and then in Bombay. The film takes place from 1975 to 1986.
And what village is it?
It's a fictional village in Madhya Pradesh in the Satpura Range.
It's an Indian story and we paid attention to the authenticity in terms of the setting.
The production designer (Rakesh Yadav) is the guy who worked on Ship Theseus. The crew was very international and we tested it along the way with international audiences.
The editor (Patricia Rommel) worked on Lives of Others. The sound designer (Christian Conrad) is based in Berlin and worked on The Last King of Scotland. The DoP (Director of Photography Petra Korner) shot The Wackness.
So while it is a very Indian story from the outside we focused on telling it the way that it will appeal to a larger audience. And also in terms of tone. it has a fable-like quality to it.
So going back to Tony, was his Hindi flawless?
Well, we had to work on getting his lip movements right. Of course, we ended up dubbing it since it was unreasonable for him to learn the entire language within two months. But to his credit he got everything right.
I think Suraj Sharma is a very interesting actor. Not just in Life of Pi, I thought he was very natural in Million Dollar Arm.
He's a phenomenal actor. Everyone just loved him. He's a sweet kid and really works hard.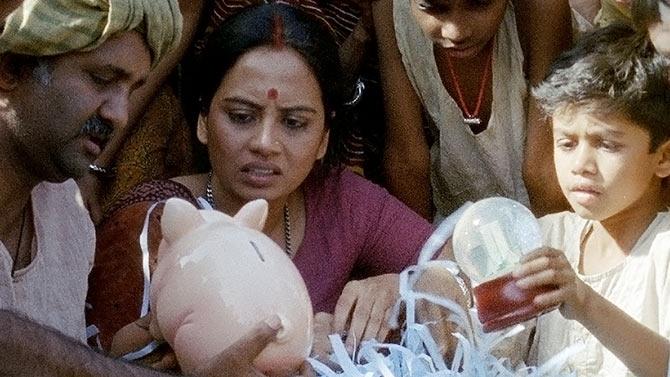 IMAGE: Pramod Pathak, Smita Tambe in Umrika.
Why do you think Sundance doesn't show more Indian films? I know they had Liar's Dice in competition in 2014. Gangs of Wasseypur and Lunchbox were just special screenings.
Some festivals tend to reserve space for a few Indian films --- festivals like Toronto and Berlin. I am not sure, but I don't think Sundance takes that approach and they only have 12 slots in the World Cinema category.
The impression I get it they don't look for films from a particular country.
What did you learn from making Delhi in Day that took you to this second level?
Delhi in a Day was a like a film school for me. I had just decided that I wanted to make films and everybody told me go and do that. I didn't really think it through that much. I made in less than a year. It was my first time on set.
The thing I learned the most was that film is a collaborative medium. At least from my perspective I realised that you are as strong as your team is.
Having the best people in the business versus doing it all by yourself.
You see that with The Lunchbox. It was such a huge collaboration and it made the film strong with different voices from different environments and background.
In Delhi in a Day I just went ahead and made the film. With Umrika I focused on setting up the right team, and the right environment.
Is that the advice you would give to young filmmakers? There are so many new and fascinating scripts being written. I met many young filmmakers in Goa at the Film Bazaar. And they want to take their films outside India as well.
The whole NFDC (National Film Development Corporation) set-up is amazing. So while co-production is complicated it does help in making the film travel.
The other thing is to test the film while you are editing with people from different countries, because Americans react very differently to Germans and the Indians. Testing it during the editing process hopefully results in a film that would appeal to different nationalities.