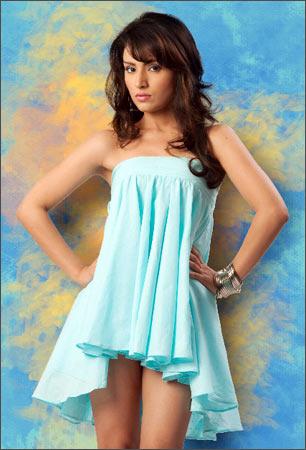 Kanden Kadhalai, the Tamil version of the Bollywood movie Jab We Met will have another heroine besides Tamannah [who plays Kareena Kapoor's role].
The heroine in question is Sapan Saran, whose debut was SRK, a Bollywood movie by Warner Brothers. You may have also seen the actress in ads like Kit Kat, Scooty Pep, Dish TV, Kinetic and Unibic Cookies.
Kanden Kadhalai is her first foray in South cinema. She says she is happy to enter the Tamil film industry and is looking forward to a great career through the most awaited film of 2009.
She plays Preethi, Anjali's (Tamannah) cousin who advises Anjali to elope with Shaktivel (Bharath).
"The role was there in Jab We Met also but has been enhanced in the Tamil version. Bharath and Preethi meet at the Theni station, and what happens then is the entertaining part of the film", says the COO of Moserbeaer, the producer.