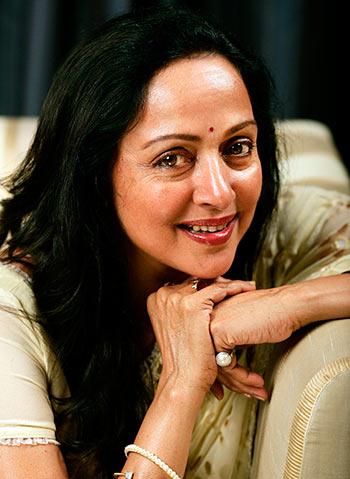 Birthday girl Hema Malini considered Dharmendra to be the most handsome man on the planet when she met him.
But the Garam Dharam has met his match.
Hema feels her grandson -- daughter Ahana's newborn named Darian -- is a natural heart-breaker.
"Darian is a Greek name, and my grandson is definitely going to be a Greek God, just like his grandfather," says the proud grandmother, who turned 67 on Friday.
"All of us are together. My husband, daughters, sons-in-law... What better birthday can I hope for? And this birthday I was gifted with another Greek God in my life. Darian is going to be a heartbreaker," she gushes.
She reveals she has always been shy.
"I was never the kind to throw parties for my birthday. I remember how embarrassed I used to be when they'd make me cut a cake on the sets and the unit would sing Happy Birthday. When my mother was around, she would insist on celebrating my birthdays. But now I like nothing better than being with the family," says Hema.
Any birthday wishes this year?
"I just want my daughters and their families to be happy. And I want Darian to grow up with the fine values that Dharamji has always believed in."
In the picture: Hema Malini ' Photograph: Kristian Dowling/Getty Images