'When the camera rolls, he is Salman Khan and he is Aayush Sharma.'
'No family comes into the picture.'
'That became quite a challenge for Aayush because he knew this film will make or break his career.'
'Mahesh sir also told him: "When you're shooting, you have to forget you are related or that he's a superstar".'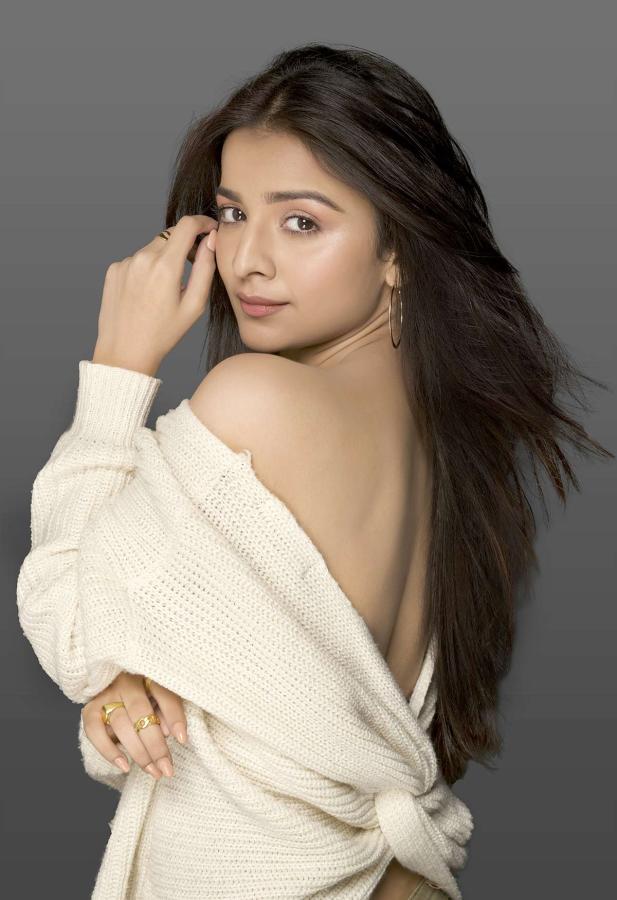 Mahima Makwana, all of 22, has already been working in showbiz for 12 years.
She has done quite a few television shows like Sapne Suhane Ladakpan Ke, Adhuri Kahaani Hamari, Rishton Ka Chakravyuh, Mariam Khan - Reporting Live.
Mahima is making her big Bollywood debut in the Salman Khan starrer Antim: The Final Truth.
Directed by Mahesh Manjrekar, she is paired opposite Aayush Sharma.
Understandly, Mahima is in awe of Salman, and tells Patcy N/Rediff.com, "I kept pinching myself and asking myself if it was really happening. Was I really working with the Salman Khan?"
What's going on in your mind right now?
A lot of things!
This is everything I've dreamt of all my life. Finally, it will be out in front of the audience.
We have been waiting for this film to release for a year.
We finished with whole filming process in February.
This is my first film, so it is extremely special.
I am nervous.
I am hopeful.
I am extremely excited.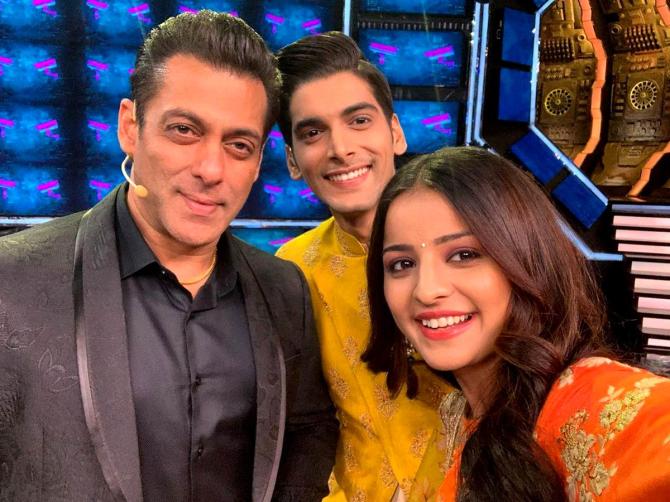 It's a dream for every actor to share screen space with Salman Khan. How was the experience working with him?
I would be a fool if I tell you that I was not intimidated or nervous. I was.
Just being casual around him is a big thing.
When you work with him, you realise the kind of stardom he has.
The kind of knowledge he has, the experiences he's had...he's a magnum opus!
During the brief period of the filming process, I kept pinching myself and asking myself if it was really happening.
Was I really working with the Salman Khan?
I had met him a year before, on the sets of Bigg Boss 13. He told me later that there was something he had noticed about me while I was promoting my television show.
I am so thankful that he gave me an opportunity to make my transition from the small screen to big.
It's not just about sharing screen space with him, it's also about him putting the spotlight on me, giving me an opportunity and seeing my potential.
It's a big opportunity, but at the same time, it comes a lot of pressure because I don't want to let him down.
Mahesh (Manjrekar) sir and Salman sir are institutions in themselves.
Aayush and I would go on the sets even if we did not have scenes, just to observe them.
I have grown up watching his films. It's like watching your idol, saying his lines or creating magic.
It felt unreal.
Did Salman recommend you for this movie?
Like every other actor, I gave auditions.
While I was doing television, I was simultaneously auditioning for Web shows and films.
This was just another project that I got a call for.
I had no idea that Salman sir was starring in it, but Mahesh Manjrekar sir was taking my audition.
I thought there would be little chance of me getting the role.
When an actor is trying to make it big on the big screen, he or she faces so many rejections that you always get apprehensive about auditions.
You don't want to get attached to what you're testing for because if you get rejected, you feel bad.
I just gave it my best.
Somehow I cracked it and Mahesh sir liked my audition.
What have you learnt from Salman Khan?
His peculiar vision.
There's something about his aura that none of us can match.
There is something about him that I can't describe in words.
His faith in people, his humility... that's something I will take away from working on this film.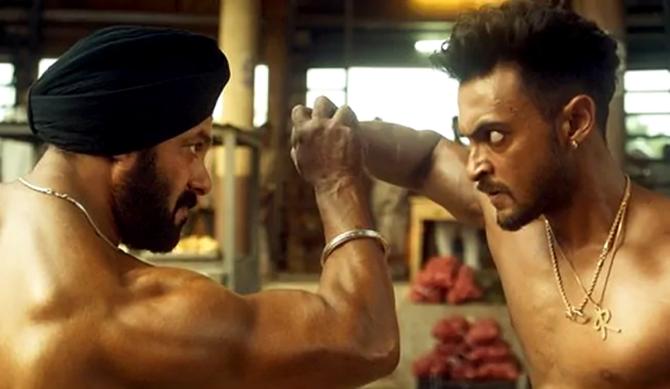 How was Aayush Sharma's equation with Salman on the sets?
They are friendly, obviously. They are family.
But when the camera rolls, he is Salman Khan and he is Aayush Sharma. No family comes into the picture.
That became quite a challenge for Aayush because he knew this film will make or break his career.
I saw him getting so nervous before the action sequence because Salman sir doesn't like to use a body double.
Mahesh sir made it a point to not to keep the action sequence larger than life.
Salman sir told him before the shoot: 'When the camera rolls, we are not related. You are Rahulia and I am Rajveer Singh. Even if it takes 50 takes to get the shot right, you have to hit. You can't take it easy. You can't cheat in the shot.'
Mahesh sir also told him: 'When you're shooting, you have to forget you are related or that he's a superstar.'
Aayush has worked really hard.
Not just his physical transformation, but there's a lot that goes beyond that to be able to look like a gangster, and to leave an impact.
Mahesh Manjrekar is a good friend of Salman's, Aayush is his brother-in-law. Did you feel left out?
Not at all! Whether they are related or friends, ultimately what you do in front of the cameras is what counts. That's what I have learnt from Salman sir.
In fact, they made me feel like family.
They welcomed me with so much warmth.
My character has her own voice; she's not in the film just for the sake of it.
I knew there might only be four scenes, but I have tried to make those four scenes impactful.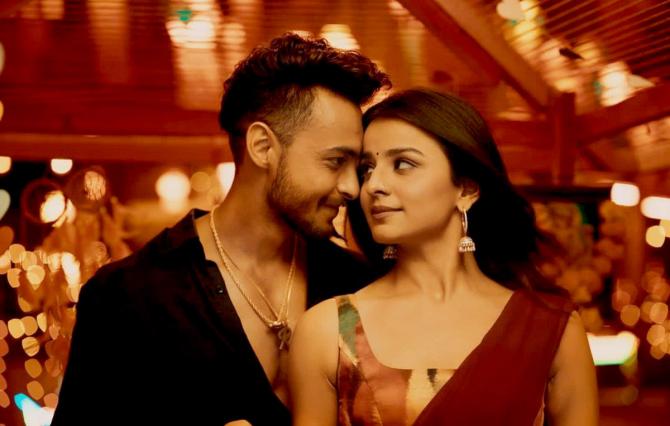 Mahesh Manjrekar is not only a talented directed, he's also a very good actor. What was it like working with him?
He doesn't like to restrict his actors.
He would never enact and show his actors what to do. He he wants them to bring in their own views, preparation and observation to the table.
He would just tell us the tonality of the scene.
He's one of those directors who likes to collaborate with actors and not put them into a box.
I have been a huge fan of his because of the films he has done, like Vastav, Astitva, Natsamrat...
He believes in spontaneity.
He doesn't like it when actors are monotonous.
What was the most difficult scene to shoot?
There is a scene between Rahulia and my character Manda, which is the turning point of the film.
These characters are in love with each other, but there comes a point where Rahulia loses it.
He thinks he has become God.
Under the influence of greed, money and power, he thinks he can dominate everything.
So there comes a point where he thinks he owns Manda too.
But Manda holds her ground, and voices her own opinion.
This scene happens in a market, and was a tough scene for me.
I remember I was really scared.
I knew it would be an important scene for my character. I had Mahesh sir with me in that scene; he plays my father.
I was really nervous and by the end of it, there were tears in my eyes.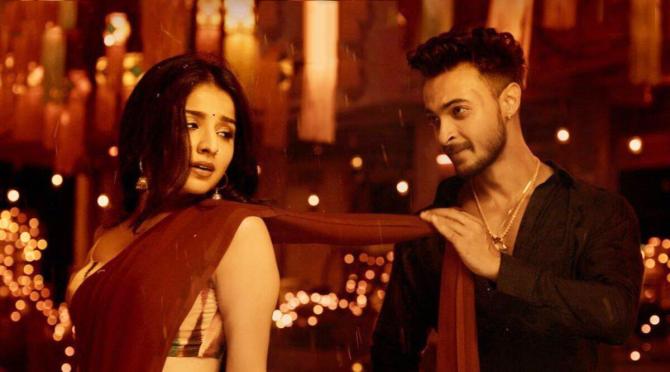 It's difficult for television actors to get a break in films. Do you agree?
Television actors get stereotyped.
We get typecast for the roles we do on television.
And yes, there have been times when people have looked down upon us.
It takes time for change to happen.
I always knew that I have to get out of my comfort zone.
I don't have to give up the television space but I had to expand my horizon. That's why I simultaneously auditioned for films.
It has taken me a lot to reach here.
I have auditioned for so many films.
People have rejected me because I come from television.
But it's all about consistently trying and not giving up.
Television has helped me to perform. Those experiences helped me to have confidence in front of the camera.
If I had not done television, I don't think I would have been the actor I am today.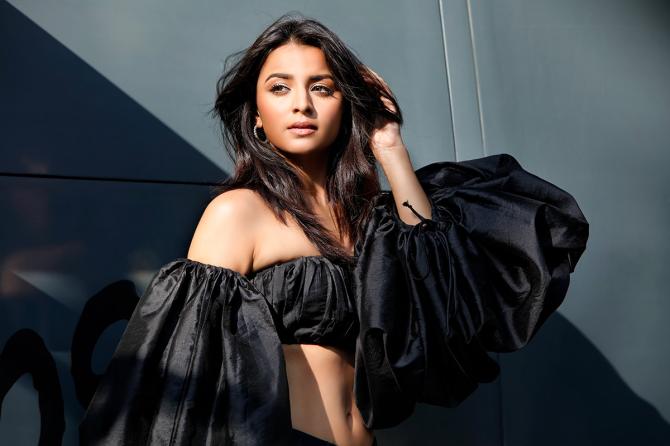 Tell us about yourself.
I lost my father when I was just five months old.
My brother Chetan was nine then. He is an accountant today.
My father was a builder.
My mother Meena was a social worker. She used to work at a NGO and also do some tailoring.
She used to work from home because she had two children to look after.
My mom and I made sure that even though I started working from a very early age, I don't lose out on completing my studies. I have done my graduation in mass media.
It was my mother's dream to be an actor, but because of the circumstances, she thought her daughter should live her dream.
I started auditioning at the age of nine. Work didn't happen, and I was rejected.
Slowly, I started getting work -- ads and television.
I was running the house.
I also did two Telugu films -- Venkatapuram and Mosagallu -- and two Web shows, Rangbaaz Season 2, Flesh and a short film, Take 2.
Life must have been a struggle.
It was difficult.
I have built my career from scratch.
I'm proud of my journey and there are no regrets.
I think the struggle, experiences and hardships has made me the person that I am today.
It was a long journey of 12 years.
Shit happens to everyone, there is nothing that we could do about it.
It's just about how strong a fighter you are.