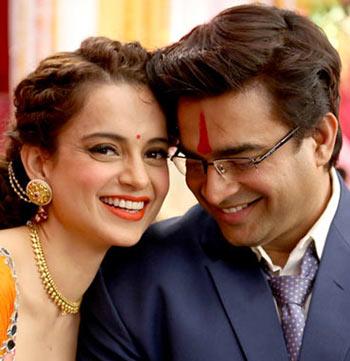 Marriage isn't just about role-playing anymore.
Bollywood has realised the value of portraying the complexity, necessity and changeability of modern-day marital unions.
And when it's not entirely dismissive of the institution (Shuddh Desi Romance, Queen) it's doing rather well in busting all the myths and stereotypes as well acknowledging its hard truths.
Here's a look at Bollywood's depictions of the contemporary shaadi in recent times.
Dil Dhadakne Do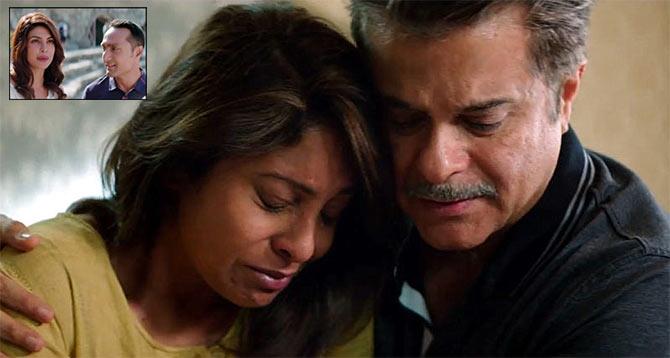 Anil Kapoor and Shefali Shah play a married couple celebrating their 30th anniversary on a lavish cruise in Zoya Akhtar's new movie.
She maintains a brave front regarding his history of philandering but doesn't miss an opportunity to cut him down to size when he criticises her overeating. Even when he's being genuine, she doesn't buy it.
Yet, the minute he has health issues, she's the first to panic.
Their marriage may have lost all steam but the duo still cares about one other.
On the other side, their independent but undervalued daughter (Priyanka Chopra) is revolted at the sight of her bigoted hubby (Rahul Bose) yet cannot find the strength to end their incompatible marriage until an ex-boyfriend (Farhan Akhtar) appears on the scene.


Tanu Weds Manu Returns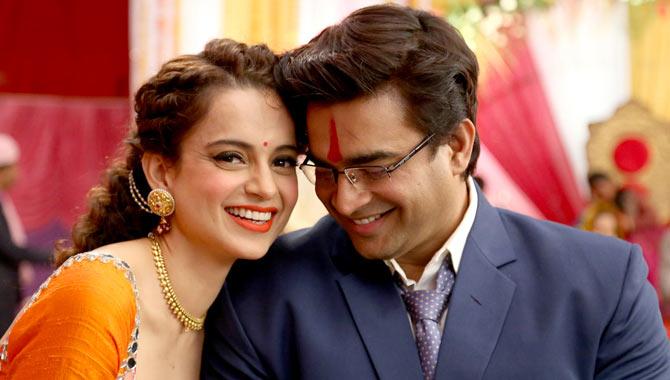 Kangana Ranaut and R Madhavan's Tanu and Manu aren't exactly a match made in heaven. She's a rebel without reason and he's just meek meat.
Four years later, they are at loggerheads, landing one of them in a mental asylum. While Tanu instantly moves on to interact with her former flames, Manu finds an anchor in Tanu's athletic lookalike Datto implying he's only looking for an upgrade.
Only Tanu isn't the kind to take things lying down and shames her previously undesirable husband into a reunion in her inimitable brazen style proving the wacky couple is perfect for one another.
Dum Laga Ke Haisha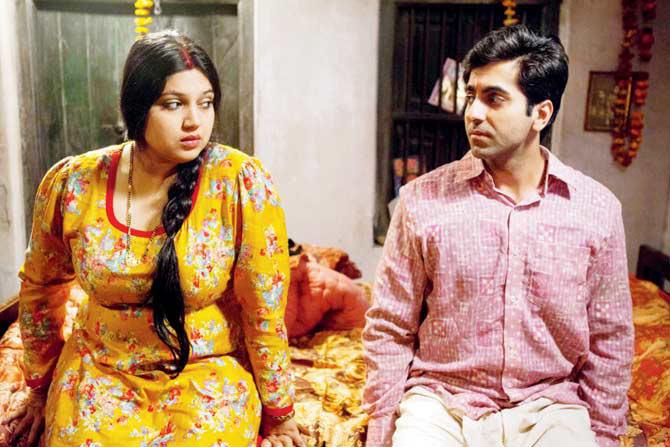 Now here's a refreshingly odd newly married couple from 1990s Haridwar -- the puny, petulant Ayushmann Khurana and his plus-sized, better educated half Bhumi Pednekar.
At first, he loathes the sight of her while she's just interested in getting him in bed by hook or crook.
But things go from bad to worse after an ugly row between them, where she doesn't take her husband's bad behaviour lying down.
Pednekar's spirited retaliation and Khurrana's subsequent remorse highlights the intricacy of marital bonds when the twain realise nothing will them happier than carrying this responsibility lifelong -- figuratively, literally.
Shaadi Ke Side Effects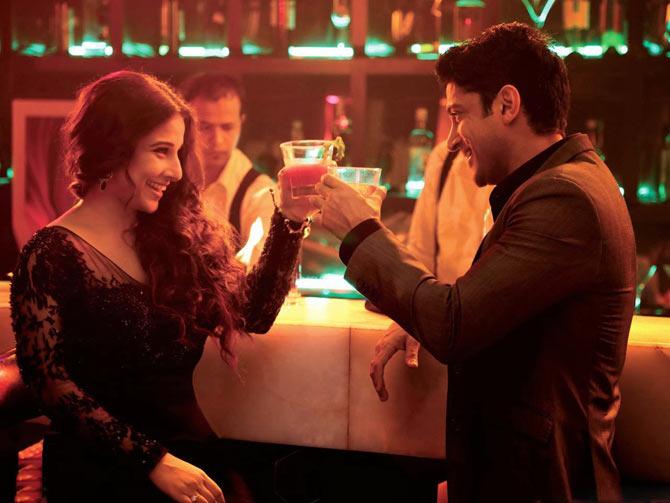 Shaadi Ke Side Effects explores the change that follows in a married couple's lives once they have a baby.
Farhan Akhtar and Vidya Balan convey the conflicting reactions to the same scenario, their altered expectations from one another and how they eventually tide over rough weather.
In the beginning, FA runs away from the pandemonium while Vidya is preoccupied by the demands of recent motherhood. Yet SKSE underlines it's not only a woman's job alone to raise the baby and that her husband should accommodate his word schedule to take care of their child when she's away pursuing her professional endeavours.
Mardaani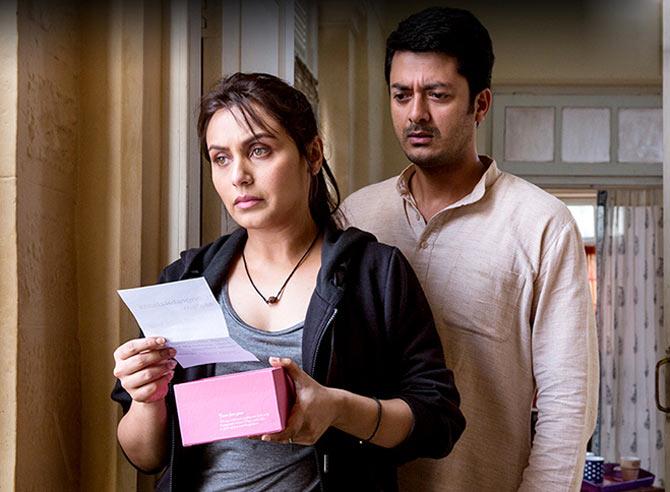 Bollywood is so obsessed with macho men; it fails to highlight the heft of strong women. Mardaani scores on this front.
Rani Mukerji plays a cop with a fearless personality and demanding job. She visibly overshadows her soft-spoken husband (Jishu Sengupta) and the latter is more than comfortable with it.
At the same time, her quiet grace and understanding in the face of his humiliation implies how much space they offer each other.
Dolly Ki Doli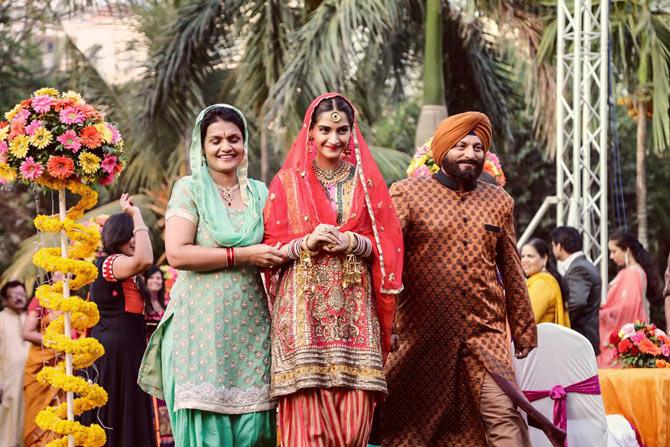 Despite its flippant tone, Dolly Ki Doli is quite telling of why many young women are turned off by the business of marriage.
Here, Sonam Kapoor's con woman and her pretend family avenges their lot by swindling hapless bachelors (from all castes and communities) only to disappear in thin air the next morning of the wedding after robbing them off completely.
Technically, Dolly has a zillion husbands but the film doesn't judge. Nor does it bat an eyelid when she consummates her marriage of the heart yet dumps him like the rest because she refuses to change who she is.
Mary Kom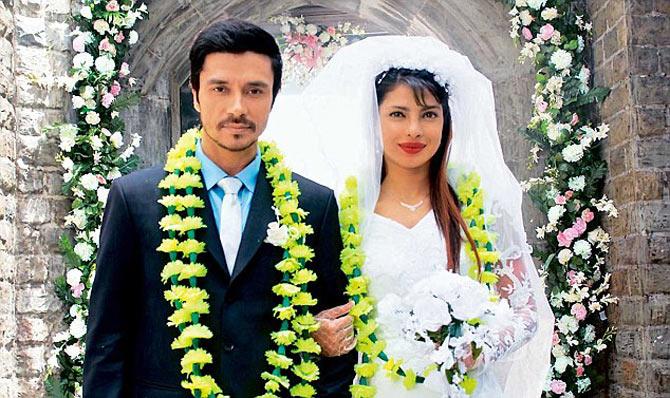 Supportive spouses are not simply an urban phenomenon.
The biopic about Manipuri boxing champion Mary Kom, starring Priyanka Chopra, will tell you that.
Acting as a pillar of strength and unconditional motivation is her husband Onler (Darshan Kumar) who realises playing second fiddle to his talented wife doesn't put a dent on his male pride but boosts it tenfold.
Rab Ne Bana Di Jodi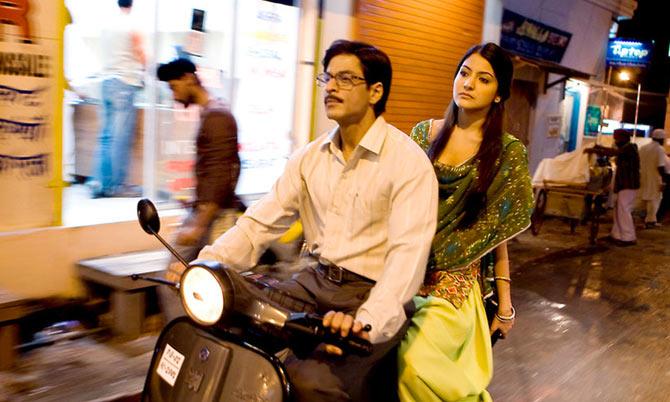 More often than not in our movies, it's the women who engage in dolling up or makeovers to entice their man. It's also the women who make all the changes.
And so it's quite a relief to see Shah Rukh Khan's grand gesture of love as he transforms from boring, stiff Suri to flamboyant, jiving Raj to please his new bride Anushka Sharma in Rab Ne Bana Di Jodi.
Despite its farfetched ideas, Aditya Chopra's film gets brownie points for writing an ultra romantic, understanding character eager to win over his withdrawn significant other.
Kabhi Alvida Naa Kehna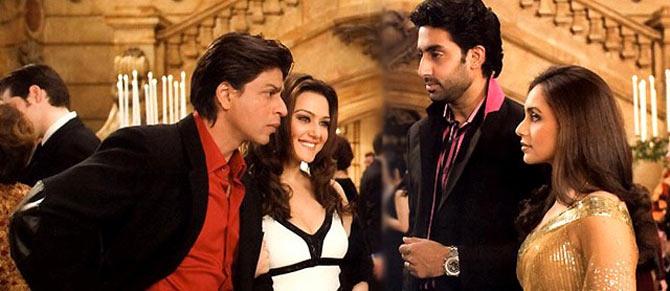 Muddled marital relationships form the core of Karan Johar's extra-marital affairs story in Kabhi Alvida Naa Kehna.
On one hand, Preity Zinta is the more successful breadwinner while SRK's bitter husband mumbles disapprovingly under his breath.
On another, there's Abhishek Bachchan trying to understand why his family friend-turned-wife won't sleep with him.
Regardless of the facade, both marriages are cold and coming apart especially after Rani and SRK find they are perfect fit for one another. And like in a lot of real-life Bollywood relationships, exes are magnanimously supportive of such second marriages.