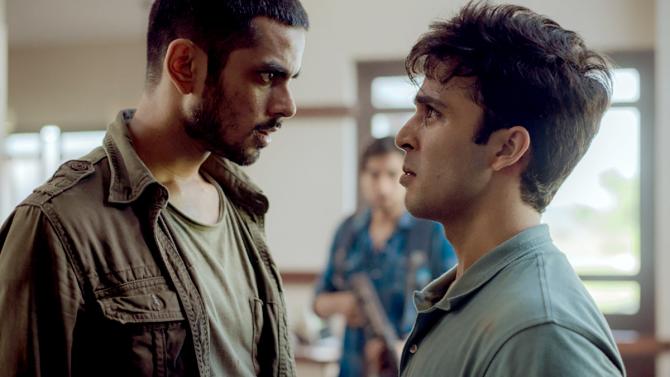 Hansal Mehta's Faraaz is about that horrific night in Dhaka in July 2016 when terrorists linked to Islamic State attacked a cafe and killed 20 foreigners.
Playing the lead roles are two newcomers with impressive family credentials.
Zahan Kapoor is a fourth generation actor and his middle name -- Prithviraj -- is a tribute to the patriarch of the Kapoors acting dynasty, Prithviraj Kapoor.
His grandfather was, of course, the legendary Shashi Kapoor. His paternal grandmother Jennifer Kapoor was a luminiscent actress herself whose parents Laura and Geoffrey Kendall popularised Shakespeare across schools in India.
From his mother Sheena Sippy's side, Zahan is related to the Sippy family of movie-makers; his maternal grandfather Ramesh Sippy directed Seeta Aur Geeta, Sholay, Shaan, Shakti, Sagar, Buniyaad.
Aditya Rawal is Swaroop Sampat and Paresh Rawal's elder son.
Zahan may be a debutant, but the young actor is very eloquent as he fields questions from the media.
Aditya, who was seen in the OTT film Bamfaad, makes his big screen debut in Faraaz.
While Zahan weighs his words, Aditya is enthusiastic and talks freely.
Afsar Dayatar/Rediff.com captures the young actors, who look so different and yet, have the same hunger to make their own mark in the movies.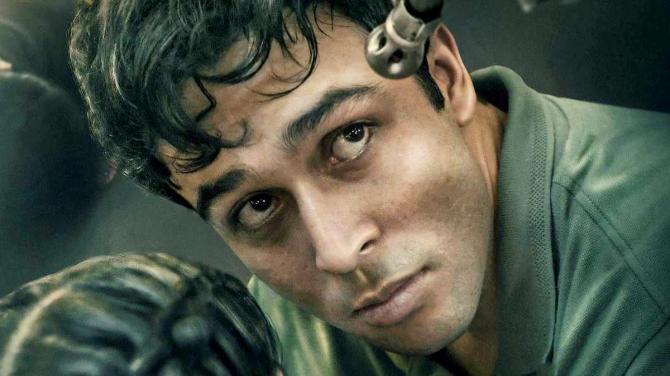 "I jumped into the deep end with Hansal sir because he's made characters over a long period of time... Scam, Aligarh, Shahid, stories about someone's life," Zahan says, adding that Faraaz was a "complete reversal of our expectations because how do you create a character, within a certain constriction? How do you explore a single location and inhabit it? That's what we did."
Zahan is referring to the fact that Faraaz unfolds over a single night.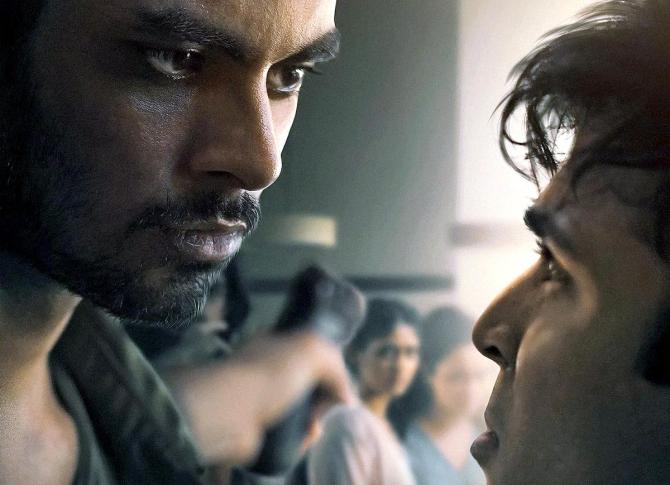 Hansal Mehta has always made hard-hitting films that get good reviews. But is he scared of the box office?
"Zahan Kapoor's grandfather -- the legendary Shashi Kapoor -- has been an inspiration for an entire generation, particularly the films that he produced at a time. At a time when he was making commercial blockbusters with Mr Bachchan, he produced films like Junoon and 36 Chowringhee Lane. He's left behind a legacy way beyond how much the film made that weekend," Hansal Mehta says.
"I make commercial films too," Mehta insists, then adds the "But..." in this video.
"Mein hamesha mere films ko thoda door se dekhta hoon. In this film, I have not judged Aditya's character nor Zahan's -- that one is a villain and the other is mahaan. I don't believe in antagonists and protagonists. Both are humans but their compulsions are different," Hansal says, and explains his point of view beautifully here.
Hansal explains the film's title, which means 'stand tall'.
"There is a lot of bigotry in these times. We are polarised more than ever before. We are one world, and yet so divided. We are united by the internet because we are no longer from this country or the other. So it is time for people like us to stand tall," Hansal says.
"All the actors received (religious) training. They prayed together, recited verses together, and they remembered the verses and the meanings. One entire part of the workshop was the indoctrination so to say, into understanding Islam," Hansal says.