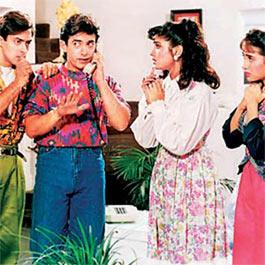 The prolific Rajkumar Santoshi has no recollection of the day Andaz Apna Apna released!

"Has that film completed 20 years? Wow!" Santoshi exclaims incredulously.

"Its reach, appeal and impact are beyond anything I'd ever expected. I still remember when the producer Vinay Sinha had come to me with the idea of doing a film with Aamir Khan. Vinayji used to look after Aamir's work. He convinced me to do film with him through my stomach. I remember he had brought delicious food for me. I had just done two back-to-back serious films, Ghayal and Damini. So we thought, why not a comedy? Little did we know Andaz Apna Apna would become such a laugh riot," he adds.

It was decided that Santoshi would script a laughathon about two warring buddies, human avatars of Tom and Jerry.

After Aamir came on board, Santoshi brought Salman into the picture.

"Both were big stars by then. They had no problems working together. During the shooting, they became better friends. There would be constant laughter on the sets," Santoshi adds.

Santoshi clears the misconception of the humour in the film being improvised.
"Not at all! I don't work that way. I direct my actors very closely," he says. "I work out all the scenes with dialogues well in advance. There is very little room for improvisation. All the jokes and gags in Andaz Apna Apna were worked out beforehand. People think Aamir and Salman decided to call themselves Amar and Prem to celebrate the movie Amar Prem. But their names had nothing to do with Shakti Samanta's film. And Aamir's exclamations of 'Aaila' and Salman's 'Oui maa' were also my idea."
Santoshi says he used to give cues to the actors from behind the camera.
"Even during that sequence where Salman is fed julaab (laxative) and his love-confessions are repeatedly interrupted by his rumbling stomach, that 'gud-gud-gud' sound was being given by me from behind the camera. Salman didn't know when the sound would come in. That added to the scene's unpredictability," he says.
There were many firsts in Andaz Apna Apna.
"I was doing comedy for the first time. Salman and Aamir came together for the first time. Until then, Paresh Rawal was a screen villain. We gave him a comic image. We revived the 'Ajit-Robert' jokes with Ajit's son playing his father's carbon-copy. Raveena and Karisma Kapoor were brought together, and they exchanged names on screen. Raveena was named Karisma while Karisma was named Raveena," Santoshi says.
Curiously, Andaz Apna Apna got a lukewarm response from the audience when it was released on April 11 ,1994.
"It was very badly marketed and distributed. Nobody knew the film was coming. We got a below-average opening. But over the years, it has acquired a cult status. People remember each and every dialogue of Andaz Apna Apna, just as they remember every dialogue of Mughal-e-Azam and Sholay," says Santoshi.
Santoshi is now planning a sequel, thanks to public demand.
"I don't believe in creating a franchise by doing sequels or building my own brand. But the demand for a sequel to Andaz Apna Apna is unbelievable. If I don't do it, someone else will. I won't allow that. I have ideas for two sequels. One of them is about Amar and Prem married and their life thereafter," Santoshi says.
However, it is unlikely that the sequel will bring back Aamir and Salman. "Firstly, the economic logistics of bringing Aamir and Salman together in the same film are mindboggling. Secondly, their working methods are very different, even though they're good friends in real life," he says.
Santoshi wants to make the sequel with younger actors. "The world has moved on in 20 years. I see a lot of filmmakers and actors doing an Andaz Apna Apna. I would like to see where the characters have gone after so long."