There is absolutely nothing in the world a capable PR machinery can't achieve...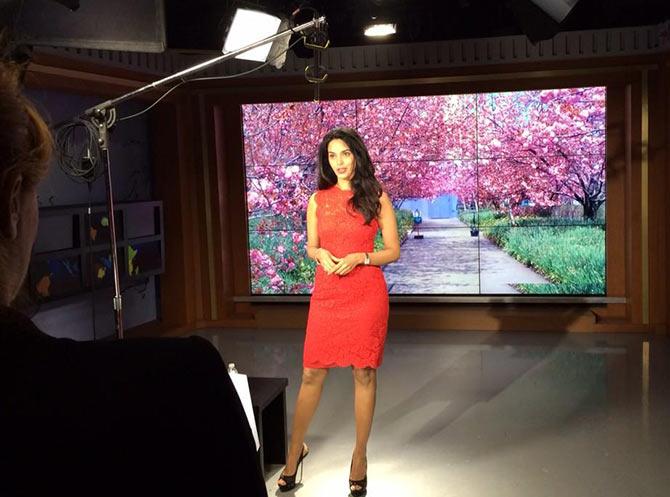 Image: Mallika Sherawat shoots at UN studios in support of climate change. Photograph: Twitter
Pigs fly, birds swim, and Mallika Sherawat is an invited speaker at a UN roundtable conference on women inequalities.

Just when it looked like Ms Sherawat, Hindi film industry's enfant teribel, was inevitably headed towards oblivion after a (very sketchy) decade in the limelight, this latest development comes as a rude rejoinder of publicity stunts she is capable of.

You don't have to have proper insight into and knowledge of social issues like gender equality to talk about them (on a platform like the UN, no less) -- you just need to be Mallika Sherawat with a PR machinery to boot.

All said and done though, the flippant attitude the global media assumes while reporting on all things India -- Mallika Sherawat is a prominent Bollywood star because she tells them she is -- is to be partly blamed for this gross error of judgement on the UN's part.

Want to know more about Mallika Sherawat's PR shenanigans ever since she joined Bollywood? Read on...

Some of her stunts may lack the finesse we expect from celebrity of certain stature but such details are probably inconsequential to Mallika.

It was like icing on cake for Mallika (and her PR guys) when they realised that Narendra Modi's birthday coincided with the run-up to India's 16th Lok Sabha elections.

Out came an awkward video of her serenading Modi with the birthday song that was more cringeworthy than sexy but it did send her naysayers on social media platforms into overdrive.

New achievement of publicity-mongering was hence achieved.


Image: Mallika Sherawat with Antonio Banderas. Photograph: Twitter
Another recent (also, the most laughable) of Mallika's publicity-mongering exercises has been her catching hold of Hollywood celebrities during her LA jaunts and presumably pestering them to pose for pictures with her.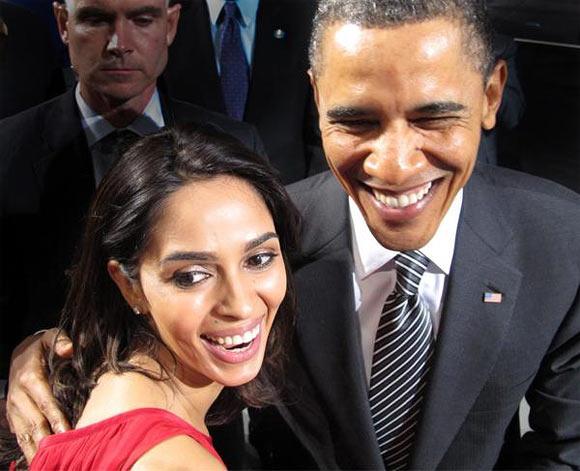 Image: Mallika Sherawat with Barack Obama. Photograph: Twitter
Said star posers subsequently became Mallika's 'good friends', acquaintances to her friends and fans in India while the invariably dazed faces of said celebrities narrated a different story altogether.

She even went so far as to claim that she was on good terms with US President Barack Obama.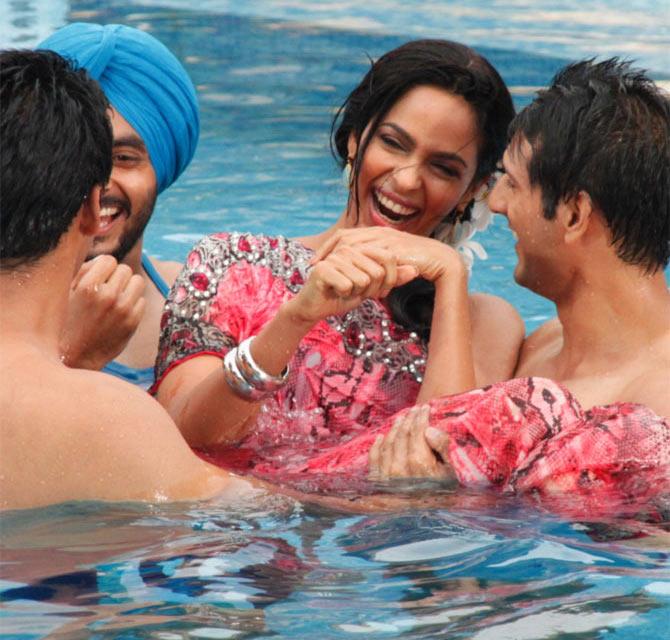 Image: Mallika Sherawat with her suitors on The Bachelorette India
Then there was the Indian The Bachelorette, that Mallika self-admittedly did, because she was lonely and looking for love.

Quite a sane move since a sex symbol would totally find a suitable match among starstruck admirers and fans on a show that packs in controlled doses of drama and theatrics in each episode.

Yes. You got us. Again.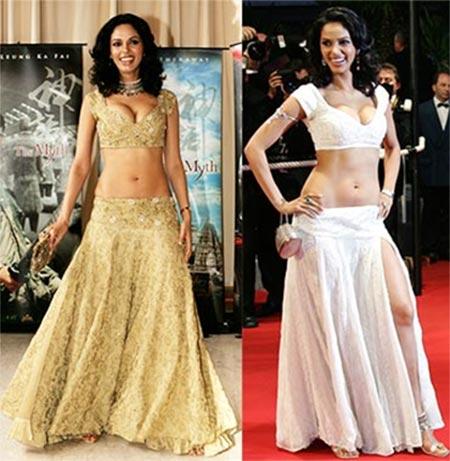 Image: Mallika Sherawat in Cannes to promote The Myth
In hindsight, Jackie Chan starrer The Myth was arguably the most ironically titled film of recent times, if our memory serves us right.

For Ms Sherawat breathlessly waxed eloquent about her 'first international project' and pranced all over the Cannes red carpet in bizarre fusion fashion.

It was only much later that we were to realise that she had but a blink-and-you-miss part in the film.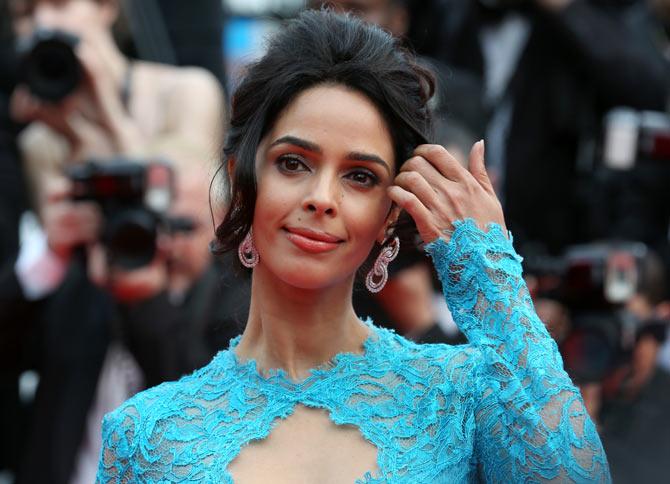 Image: Mallika Sherawat in Cannes. Photograph:

Tim P Whitby/Getty Images
Speaking of Cannes, there was another incident not too far back in the past, where Mallika Sherawat made a faux paus of sorts when she claiming to be the first Indian actress to wear a bikini and kiss on screen.

While many argued (cheekily) that Sharmila Tagore and Devika Rani must have slipped from her mind, it'd have done her better if she didn't get carried away, like she so often does, on a global platform.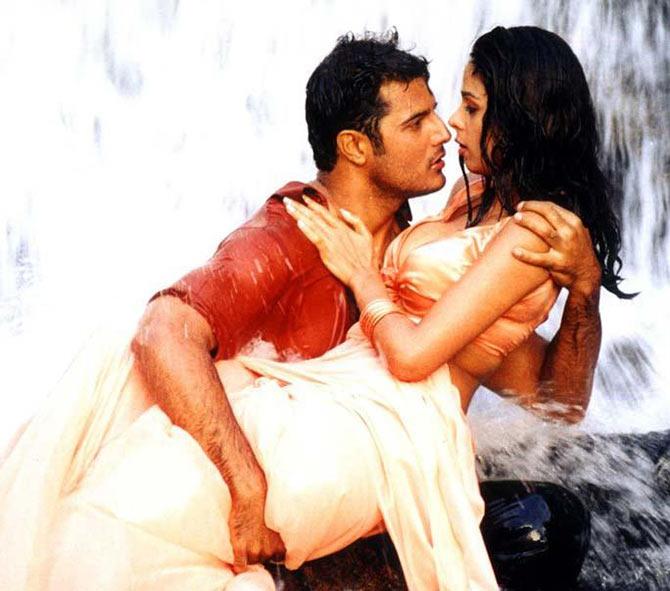 Image: Mallika Sherawat and Himanshu Mallik in Khwahish
The first and the biggest stunt this feisty Jat girl pulled on us, was a textbook backstory of an underdog coming to a big city and fighting all odds to become a huge star.

So according to the story she weaved for us, she was from a strictly patriarchal family from a village in Haryana and was disowned by her father for joining films.

When a journalist went digging around, she found that Mallika had never lived in a village and had, in fact, acquired education at one of the premiere Indian colleges -- Miranda House of the Delhi University.

Also, her father was more amused by her lies and antics than furious, in his own words.

Her first film Khwashish -- a Hindi remake of Love Story -- was more talked about excessive skin show and 17 lip locks than anything else.