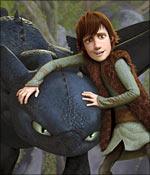 Despite solid reviews and huge publicity, the delightful and life-affirming animated 3- D film How to Train Your Dragon from Stephen Spielberg's production stable could only muster a decent but unspectacular opening in North America. It opened with a $41 million gross at number one.
The story of a young boy in the very old Viking age befriending a smart dragon from the enemy camp and building a bond with it, the film also received an A grade from moviegoers. The survey was taken by the organisation CinemaScore which carries out exit interviews every week.
This is the second film from the writing and directing team Dean DeBlois and Chris Sanders, behind Lilo & Stitch, the much praised animation hit, released over eight years ago.
Although set in ancient Norway, their new film has a very contemporary theme, many reviewers argued.
'How to Train Your Dragon has taken the age-old story of a teenage boy sorting through his fundamental life issues -- fit in, figure out self, get the girl, don't disappoint Dad -- set it in ancient Viking times and still managed to give it a thoroughly modern spin,' wrote Betsy Sharkey in The Los Angeles Time.
'A millennium later and this kid would head an Internet start-up or have a reality show on cable. For now, he's just a misfit... Ingenious.'
Last year, Spielberg's DreamWorks released the animation hit Monsters Vs Aliens to a $59-million weekend. There is no doubt that Dragon, which cost $160 million, will be profitable given the huge market for animation films abroad, and the spring holidays in North America will give it a nice two-week run.
And yet there could be a tad disappointment if it does not fly beyond the $50- million opening weekend expectations. The new film will also face major competition this week as Clash of the Titans, another expensive 3-D film, opens across the country.
In the Warner Bros film Titans, the mortal son of the god Zeus embarks on a journey to stop the underworld and its inhabitants from spreading their evil to Earth as well as the heavens.
The movie, unlike Dragon, has a strong array of artists whose voices are used. Among them are Sam Worthington (Avatar) who plays Perseus; Liam Neeson, (Taken and The Chronicles of Narnia) as Zeus, and Ralph Fiennes, (The Hurt Locker and Harry Potter and the Order of Phoenix) as Hades.
Despite competition from Titans, which will also be shown on IMAX, Dragon could have a very good sophomore session if the word of mouth is strong.
Unlike in India and many countries where it is unthinkable (because of the tighter budgets) that two big movies could be doing roaring business the same week, in America, Canada and Europe there is no surprise in two or three hits running at the same time.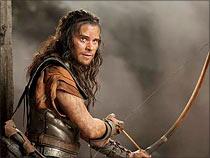 One reason the new movie did not do spectacular business is because Disney's Alice in Wonderland, which dropped to number two on the chart after being at the top for three weeks, is still doing strong business. Although it was down by about 49 percent over the weekend thanks in part to losing many of its IMAX screens to Dragon, it still managed to gross $17 million.
Dragon did solid but, again unspectacular business outside America and Canada, earning an estimated $31 million in 54 territories, for a cumulative total of $42 million in 10 days.
But in those territories Tim Burton's Alice still retained the crown, grossing about $46 million and taking its worldwide total gross so far to a spectacular $650 million, and plenty to come.
It became one of only two films -- the other was Avatar which remained at the top outside North America for 12 weeks -- to occupy the top spot at the overseas box office during the first three months of the year for four weeks straight.
Still a film to be reckoned with, Avatar is headed for a phenomenal $2.75 billion finish around the globe. It would add some more millions when it is re-released later this year in IMAX theatres with some 10 minutes of deleted scenes added.
Alice certainly received mixed reviews but it has more things in its favour than Dragon. For one thing, the name of Tim Burton, and the cast led by Johnny Depp.
It has become the highest grossing film for director Burton, a maverick craftsman, overtaking his Charlie and the Chocolate Factory, which grossed over $500 million five years ago.