Every film that Sriram Raghavan makes is a compendium of ideas and sensations that tickle him.
Trying to remake a Sriram Raghavan film is like getting excited by somebody else's goosebumps, observes Sreehari Nair.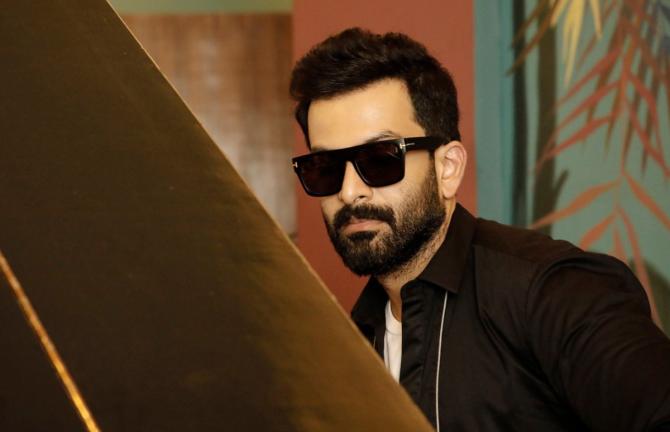 Ravi K Chandran's Bhramam is drab, but it's also drab in a weird sort of way. In this official Malayalam remake of Sriram Raghavan's Andhadhun, every moment that has been plucked from the original film feels like a cheap imitation, and, every diversion from the original film feels like an unnecessary distraction.
For a while at least, I pitied the brains behind the project. Imagine taking on something that seems cursed by the very muses that inspired its conception!
I pitied for a while and then it hit me, but of course, that's the thing about Sriram Raghavan. He's a special blend, of which you don't just try to become 'a version'.
The personal particulars are important. Here's a man who does his vegetable shopping himself and also dreams up vile men and women engaged in vile enterprises. Here's a bachelor who tells us tales of oddballs looking for unusual and impractical ways to settle down.
As with his personal particulars, the very banal and the very grotesque blend in his films to create the Sriram Raghavan touch.
Setting most of the sinful developments in Andhadhun in a ready-for-redevelopment house in Pune was a Sriram Raghavan touch.
Setting a searing revenge drama in the city of Badlapur was a Sriram Raghavan touch, too.
And how about introducing the avenging angel of that movie as a figure trundling through the rain, to the sound of a Marathi Bhavgeet? There you go. There's that touch again.
The murderer in Johnny Gaddaar gets his ideas for concealing a murder he has committed, from Parwana -- of all Amitabh Bachchan movies, Parwana!
Sriram Raghavan is what Mysskin fans believe their idol to be. In Mysskin, however, this blend of the very banal and the very grotesque, this dovetailing of high and low motives, feels like an affectation, a cover for poor technique and terrible sentimentality.
With Raghavan, the blend is the art itself, the very wedge of consciousness that he drives into experience.
This is why it's preposterous, dumb even, to step out of Bhramam and declare, "Oh, Raghavan did it better."
Did it better?
Andhadhun *was* Sriram Raghavan; because every film the man makes is a compendium of ideas and sensations that tickle him. Trying to remake a Sriram Raghavan film is like getting excited by somebody else's goosebumps.
Dear reader of this review, what I am trying to hint at, here, is that we have the narrative of a Sriram Raghavan film to contend with, but without its peculiar disease, without the fever of a Sriram Raghavan film to support it.
So, I thought, instead of foisting on you statements such as 'the story falls flat in the second half', let me try to point out how the style of the original picture had created its morality, how certain casting decisions in it had made all the difference, and why unless you find a way to mimic the spirit of a special film you shouldn't be attempting to speak in its voice.
You wouldn't think too poorly of Mamta Mohandas' turn in Bhramam (as Simi) unless you understand the singular quality that Tabu had brought to the role; that Tabu brings to every role of hers.
What is it?
It's an ability to infuse your characters with your brand of mild and interesting depression, with a longing that hasn't been glossed over by lessons from modern psychiatry (Love yourself; Hug trees; Watch Marvel movies).
Running through Simi 1.0, who opened doors while still in the throes of sex, who faked calls, who faked love, faked status, was Tabu's natural fatalism that became the character's lifeblood.
When Mamta Mohandas's Simi freezes live crabs she seems to be sparing them; in Andhadhun it felt as though the crabs were being anointed with the cook's own doom-and-gloom existence.
It's not enough to classify the hero of Andhadhun as an unreliable narrator; because, he was so much more. He was also an unreliable narrator aiming to prop himself up through the story he was trying to tell. Akash's opening monologue sounded like a raffish guy from a Saul Bellow novel talking about his life's philosophy in lofty yet comic terms.
The opening monologue in Bhramam sounds like catalogue-bits written by a man who has made it -- who has overcome obstacles, and made it! Unsurprisingly, then, this man, Ray Mathew, is played by Prithviraj.
Anil Dhawan in the victim's role is a piece of casting whose power becomes magnified many times over when you watch Bhramam. Our knowledge of the near-obscurity into which Dhawan had been pushed and insertions of those now-obscure songs he once sang with a trembling heart came together to define the sad comedy of his character's arc.
Shankar who dons this role was, despite everyone's best intuitions, a real star. The truth of the actor's one-time success undercuts the delusions and the oversized grandeur of the character he is playing.
Coming out of Radhika Apte, line readings jingle like inspired improvisations. Apte has this wonderful knack of letting a character live through a treacherous experience while suggesting that she knows she's being played. This gift to imply a submissive mind that's tracking itself was critical to bringing Sophie in Andhadhun alive, and to making her seem something more than just Akash's toy.
In Bhramam, Raashii Khanna renders this character 'systematically' (the whole film is systematic to a fault), but saddled with straight translations of dialogues from Raghavan-land (dialogues that don't mesh well with Malayalam intonations), Director Ravi K Chandran has no way to make her section of the screen breathe, except through reaction-shots, through quick cutaways. And that's not the same thing as Apte demonstrating for us in real time what a crumbling psyche feels like.
Manav Vij, who played the unfeeling lover/killer/man-of-law as someone who derived his resourcefulness from his brutality, was another stroke of casting brilliance that reached me only in retrospect. Unni Mukundan in this part comes off as a person with too much feeling inside him that he has no talent for expressing. Again, not the same thing!
When these miscast gems are together in a scene, they don't respond to each other, oh no. They are too loyal to the page, photocopied from a page, into which a genius gagster had once poured out his mind.
There's, however, a big favour that Bhramam performs for us; which is that, it offers us a chance to study intricately the craft of Sriram Raghavan. Beyond the special blend that sets up his sequences, study how he manipulates time within sequences, how he spreads the energy of a sequence across his players.
In the masterly scene in Simi's apartment where the pianist (who was feigning blindness) discovered the murder and saw the disposal of the body, the protagonist's perspective was the anchor, and yet, you got the energy of the whole setting -- the comedy and the practicality and the sadness of it all underscored by the piano sounds.
When this scene is recreated in Bhramam, what do you get? Tight close-ups of Prithviraj's face, and everyone else miniaturised, so that the gasp just flies out of the window and the notes lose their sting.
Forgoing the wet look of Badlapur (the look of fermenting evil, somehow), Raghavan and his cinematographer had, in Andhadhun, opted for a jaunty look, the look of a world in which the softness of lovemaking leapt into a scene of breakfast cooking. And yet, that film had the skilled casualness of the wicked.
Here, the camera either goes overweeningly still as if to discharge sincere sighs, or it darts around with a kind of unnatural vitality as though a moment of irony is being forcefully daubed with mascara.
What can be worse than hacks re-imagining the work of a genius? It's having such a work re-imagined by 'thoroughbred professionals', those with the manner of a studio jock, those who deal only in executive questions such as: Whom do we get to play the femme fatale? Who can play the has-been? Which location in Fort Kochi would be best for a neo-noir? Which cute actress would be good as the female lead? Which major star would help bankroll this project?
Bhramam is a work of thoroughbred professionals, and my fear is that these professionals are taking over the reins of the Malayalam film industry from the artists. And in the midst of the blind praise that's being showered upon the industry as a whole, requisite critical distinctions are not being made.
Some of us had predicted the emergence of the Malayalam New Wave around the time of Maheshinte Prathikaram and Angamaly Diaries. But we knew that the movement took off from the Malayalam films of the 1980s and the 1990s, many of which films were also thought of as 'over-praised' and 'problematic' and hence liable for questioning (Part of the Malayalam New Wave was founded on nostalgia and a good chunk of it on indignation).
We also knew that this Malayalam New Wave, like the French New Wave of the 1960s, would be spearheaded by not more than eight or nine prominent names.
The names of Dileesh Pothan, Lijo Jose Pellissery, and Syam Pushkaran would stand out. In it would be the frustrations of Rajeev Ravi and Aashiq Abu. It would have the impatience of Fahadh Faasil, and the enthusiasms of those nameless actors who might not possess the versatility to play every role but who could play that one role better than anybody in the world.
Hailing the Malayalam film industry is, today, an industry in itself. And numerous dukes and duchesses have discovered that career and intellectual profit can be accrued by doling out indiscriminate praise to a Malayalam film, not for its artistic vision, but, for the simple fact of it being a Malayalam film, or because it sucks up to such dull themes as Brotherhood of Man and Denunciation of Patriarchy.
The result is the celebration of mediocrities like Maalik, Moothon, Jallikattu, Uyare, and the raising of soaps like Drishyam 2 to the level of a great moral fable.
And now, with Bhramam, we seem to have stepped right back into the dark 2000s, when theatres in Kerala were stuffed with unimaginative remakes of Hindi blockbusters.
At this point, what would a lover of good mainstream Malayalam Cinema make of himself or herself?
I know many who feel like those traditional African mask-makers who, upon watching their pieces of heritage adorned with false descriptions on museum walls or flaunted by high-society women at balls, painfully, perhaps mean-spiritedly, and without a sound economic mind, wish that their works of art would return to their provincial past.
But there is, I suppose, no way of returning from universal love. It is on foreign shores that the new wave is destined to dissolve.
Rediff Rating: