Aseem Chhabra gives us the top films that enriched his year.
There was a lot of love in different shades in the films of 2017 that I liked -- from a mute woman falling in love with an alien, to a teenager falling for a slightly older man.
There was a little girl in love with a giant pig and a man in love with a girl in coma, and who was not in love with him anymore.
Then there was a young man who just loved music.
But my list of the top 15 American and other foreign language films also dealt with a lot of heartache.
Many films made me laugh, but they also made me cry.
Year-end movie lists are important not just to share with readers what they believe to be the best. It is also a reminder for critics to revisit all the times they were happy in the year -- when good, intelligent art overcame their senses and reminded them that life can be beautiful.
The Shape Of Water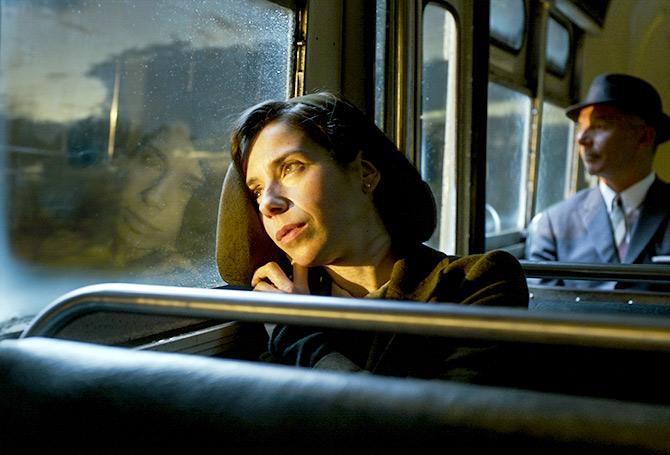 Mexican master director Guillermo del Toro has specialised in so many genres -- from horror to fantasy to superheroes. His films have won him fans across the world. Critics love him as well.
His latest film is a superbly visualised fairy tale for adults that soars as a love story. It is also packed with action, adventure, thrills and the best production design I have seen in a film in a long time.
At its core, The Shape of Water is essentially a romance between an unlikely pair -- a grotesque looking amphibian alien and a lonely mute woman (a superb Sally Hawkins) stuck in a thankless job, cleaning restrooms in a secret science lab in Baltimore.
There is so much beauty in this lovingly told tale.
The Shape of Water is definitely the best film of 2017.
The film won the top Golden Lion at Venice Film Festival and seven Golden Globe nominations.
I see a lot of potential Oscar honours for best film, director, actress, supporting actor (heartfelt performance by Richard Jenkins), cinematography, and, of course, art design.
Best scenes: When Sally Hawkins and the alien float in a flooded bathroom.
When Hawkins returns home from work, she tilts her head against the bus window, while outside tiny ripples of rainwater takes different shapes, merging and then breaking into smaller pieces. It is pure cinematic magic.
Foxtrot
Israeli director Samuel Maoz's first feature -- the Oscar nominated Lebanon -- was a strong anti-war film set inside a tank, during the 1982 Israeli incursion inside Lebanon.
His new film Foxtrot, winner of the Grand Jury Silver Lion at Venice, frees its characters out of a closed tank, but is equally claustrophobic, and a harsh critique of Israel's army.
Set in three parts, the film focuses on a middle-aged couple, who are informed that their son has been killed during military duty, and the impact of that news, including a magical, almost surreal reflection of the young soldier's life in a remote part of the country.
Foxtrot is deeply sad, but it is high art, featuring one of the best film-making in 2017.
Israel's official entry for the Oscars, Foxtrot boasts of strong performances, amazing cinematography and a great soundtrack.
Best scene: The dance sequence at the beginning of the film's second chapter -- a soldier performing the foxtrot in the desert with his gun as his dancing partner -- is worth the ticket price alone.
Call Me By Your Name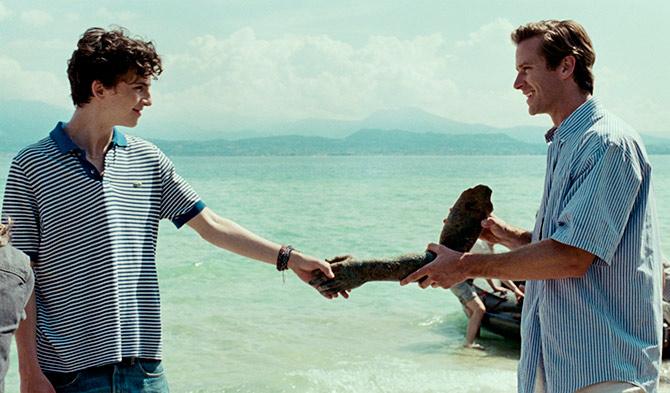 One of the most celebrated films of the year, Call Me By Your Name is based on a script by the 89-year-old James Ivory (perhaps the last great act by a film-maker, who took a trip to India in the early 1960s to make his first feature with Shashi Kapoor called The Householder), and its the original source: A novel by the Egyptian-born writer André Aciman (he is a professor at the City University of New York).
Many film festivals have programmed this heartbreaking story about a gay romance between a 17-year-old bright Italian-American Elio (Timothée Chalamet) and a 24-year old research scholar Oliver (Armie Hammer).
Over the summer in 1983 when Oliver is assisting Elio's father, the two young men develop a friendship, a bond that culminates into romance.
Italian director Luca Guadagnino is known for lush productions, including I Am Love (2010) and A Bigger Splash (2015).
Call Me By Your Name is set in a beautiful Italian town, where the summer days are long, people sit out, eat elaborate meals, talk, swim, get drunk, dance and naturally fall in love. The setting is as spectacular as the narrative.
Call Me By Your Name will surely receive a lot of Oscar notice.
Best scene: The last scene in the film -- a long uncut shot of Chalamet facing the fireplace, tears streaming down his face. It is enough to suggest that this 21-year-old actor is a definite contender for the best actor statuette.
Even Pedro Almodovar has declared Chalamet as the 'revelation of the year.'
BPM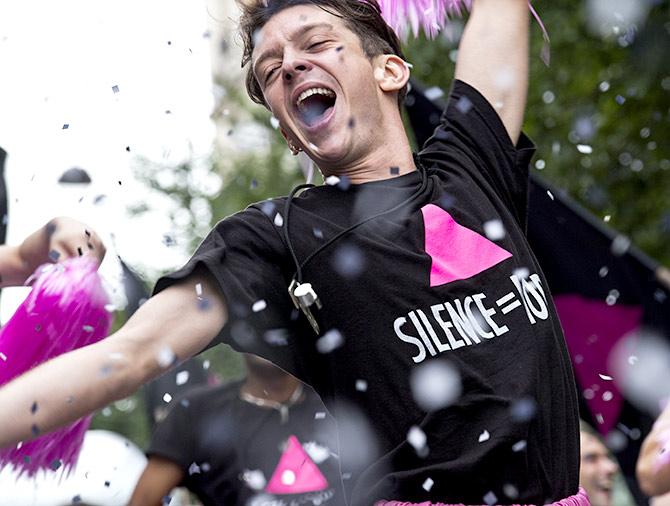 The French official entry for the foreign language Oscar race missed making the recently announced short list (well, no list is perfect), but director Robin Campillo's 1980s drama (his previous film Eastern Boys is available on Netflix) about the anti-AIDS activism in France is an emotional drama.
There have been a quite a few American documentaries on ACT-UP (AIDS Coalition to Unleash Power), an organisation started by playwright Larry Kramer to pressurise the US government and pharmaceutical companies to develop affordable drugs to cure AIDS and the HIV virus.
But Campillo's film is one of the first narratives of the early years of activism.
With a large cast of characters -- men, women, even parents of young gay men -- BPM provides a mosaic of an angry community whose members are threatened with death sentences.
BPM is an important historic document about anti-AIDS activists, the pioneers who struggled through the 1980s.
Best scenes: The most moving part of BPM is how the community mourns death. Unlike cultures where people mourn the loss of the loved ones with loud emotional outbursts, the characters in BPM face the tragedies with silent vigils. There is a lot of hugging towards the end of BPM, and the quiet moments are as heart-wrenching and effective as the desperation of the film's characters as they protest on the streets of Paris and inside the offices of drug companies.
Dunkirk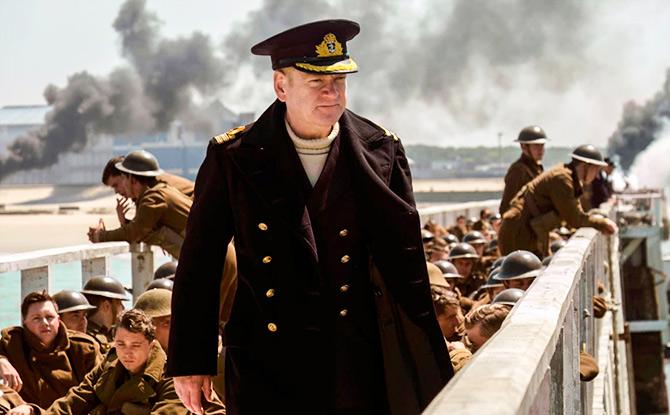 If there is one big Hollywood film I would select in my list of best films of the year, it has to be Christopher Nolan's epic Second World War masterpiece Dunkirk (alas Blade Runner 2049, despite its scale, vision and moody cinematography felt empty and did not make the cut for me).
The fierce battle to rescue allied soldiers -- British first, but also many desperate young Frenchmen -- is one of the best realised screen experience with a huge cast of extras, sweeping shots of the giant beach, some remarkable aerial cinematography, and excellent performances from veterans actors including Mark Rylance (who should definitely get a supporting actor Oscar nomination, even if he will not win), Kenneth Branagh and Tom Hardy, whose face we barely see in most of the film.
But the film also boasts of terrific acting by its younger actors.
Harry Styles of the boy band One Direction gave a surprising performance in his first film role.
Nolan recently said that he cast the singer in a major role because he has 'an old-fashioned face... the kind of face that makes you believe he could have been alive in that period.'
Best scene: Nolan uses the best Hollywood technology to create some exceptional dramatic sequences in the film. But what stood out were the quieter moments -- especially a scene where a French soldier drowning in a sinking boat makes a desperate attempt to hold on to a metal staircase.
Columbus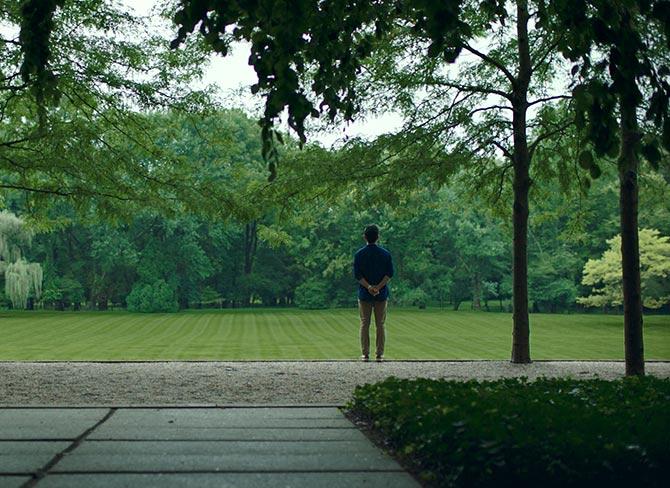 One of the smartest indie films to come out this year, first-time Korean film-maker Kogonada (he was born in Korea, but raised in the US) surprised critics and audience at the Sundance Film Festival with his heartfelt work, a tribute to the filmmaking style of the Japanese master Ozu.
Columbus is set in Columbus, Indiana, a small Midwestern city with a population of less than 45,000.
But the city has of some of the most remarkable modern designed buildings in the US, works by leading architects including I M Pei, Eero Saarinen and Robert Venturi.
Kogonada uses the city's buildings and design as a form of healing for the film's two lost souls -- a Korean writer (a brilliant John Cho, best known for his work in the Harold and Kumar trilogy), who flies in from Seoul after his architect father is hospitalised with a coma, and a young woman (Haley Lu Richardson), a high school graduate, who has postponed plans to go to college as she takes care of her recovering drug-addict mother.
Together, the two walk around the city, exploring its architectural wonders, while also looking deep inside their troubles lives.
Columbus is a quiet meditative film, calming for the senses and a visual delight. Every shot of the film is so beautiful composed which makes the film a pure joy to watch.
The Florida Project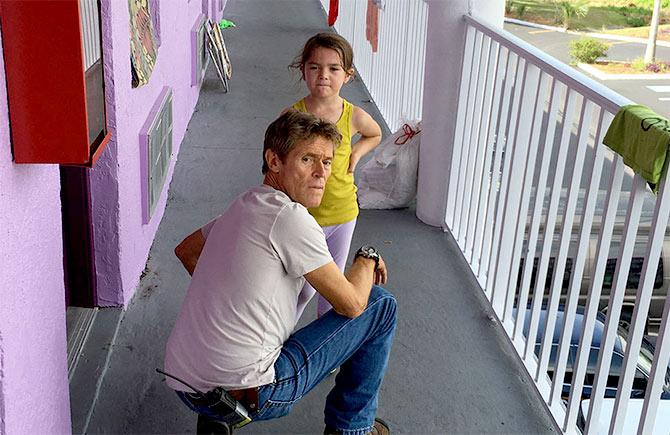 I first discovered New York City-based film-maker Sean Baker when I randomly went to see his 2004 indie film Take Out, the story of a Chinese food delivery guy with a heavy gambling debt.
Over the years, he has surprised us with a wide range of films including Tangerines (2015), shot entirely on iPhone 5S.
In each of the films, Baker tends to show empathy for the underprivileged, sometimes living on the margin of society.
The Florida Projectis set almost entirely in and around a motel that houses poor, struggling Americans living under the shadow of Orlando's Walt Disney World, also referred to as the happiest place on the earth.
The Florida Project explores the lives of a group of adorable kids, but there is nothing happy in their world.
The film's little protagonist Moonee (an incredible performance by seven-year-old Brooklyn Price) lives a carefree life in a dingy motel called Magic Castle, hanging out with her friends, running up and down the flights, much to the annoyance of the establishment's manager (an Oscar-worthy performance by Willem Dafoe), who is a father-like figure for the kids.
Her mother Halley (newcomer Bria Vinaite) spends time selling stolen perfumes to unsuspecting tourists and sometimes, even engages in prostitution.
It is a messy life for children, and yet Moonee and her friends seem to be so happy.
But it is just an illusion.
So when Moonee's world comes crashing down, it is hard for the audience not be moved.
The ending of The Florida Project is so devastating it is impossible not to break into tears.
Lady Bird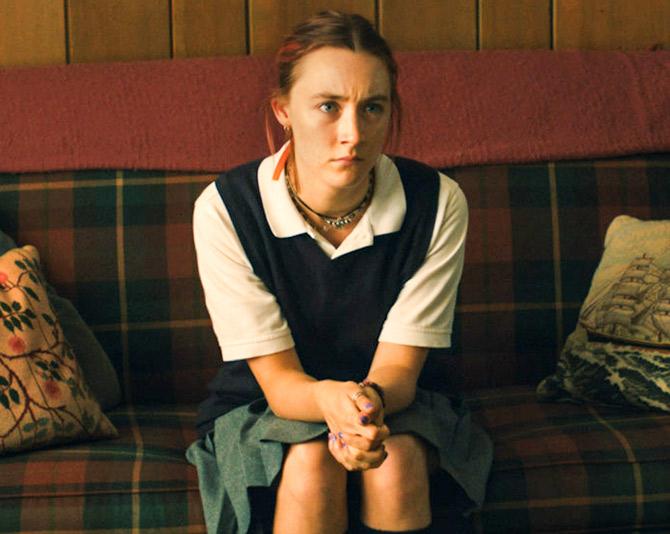 In her directorial debut, Greta Gerwig narrates a hilarious teen-angst ridden story about a high school girl in Sacramento -- Christine 'Lady Bird' McPherson. She has given herself the name Lady Bird and that is how she likes to be addressed.
Lady Bird (Saoirse Ronan, who was nominated for an Oscar for Brooklyn) is unhappy about everything in her life, including her meddling mother (a hilarious and caustic Laurie Metcalf) who she loves and hates.
Lady Bird would like to escape Sacramento (she refers to it as the Midwest of California) and join a liberal arts college, although she knows her parents will not be able to afford the tuition.
Gerwig was also born in Sacramento and has been long trying to escape to a better life with films like Francis Ha and Mistress America (she co-wrote both with director and her partner Noah Baumbach).
But this time working on her own, Gerwig has created a fresh, yet very recognisable world of teenage life in America.
Lady Bird is a delightful film, a comedy, with an extra helping of sarcasm and enough heartache moments, making it a very real and believable movie watching experience.
The Big Sick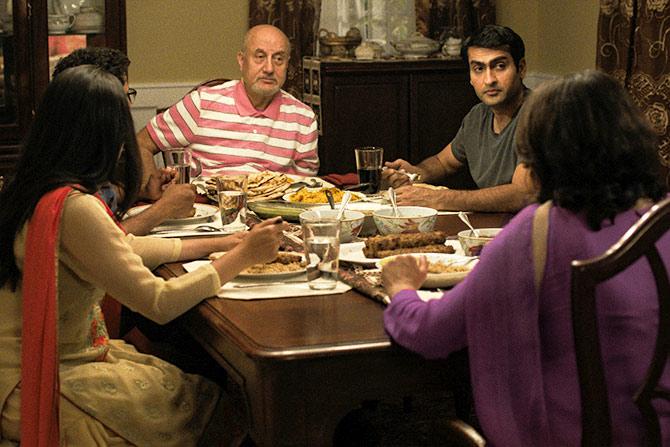 One of the rare representations of South Asian immigrant life in the US, The Big Sick is the best antidote to living in Donald Trump's America.
Directed by Michael Showalter, this autobiographical film is scripted by Pakistani-American comic actor Kumail Nanjiani and his wife Emily Gordon. It celebrates the best of America with a healthy dose of humour and crackling dialogues.
A unique love story -- a man in love with a woman who has lapsed into a coma -- the film is filled with lovely moments and little details between Nanjiani (playing himself) and Zoe Kazan (Gordon).
Best Scenes: The first time the two land in bed, Kazan's Gordon notices small pox vaccination marks on Nanjiani's arm, a reminder that the actor and character he plays were born in Pakistan.
When Ray Romano's Terry, after an argument with his wife Beth (Holly Hunter), sleeps on an air mattress in Nanjiani's bachelor pad. Before they fall asleep, Terry confesses that he had once cheated on his wife. But he could not handle the guilt and ended up telling his wife about his lapse in judgment. He says he was driven to tell the truth because of 'the clarity you get right after an orgasm.'
Both Romano and Hunter give wonderful performances, but the real winner in the film is Anupam Kher who plays Nanjiani's father. It is a lovely performance, and a reminder that Kher is one of the best Indian actors whose talent often gets misplaced in the loud Bollywood films he acts in and the partisan politics he gets involved in India.
Three Billboards Outside Ebbing, Missouri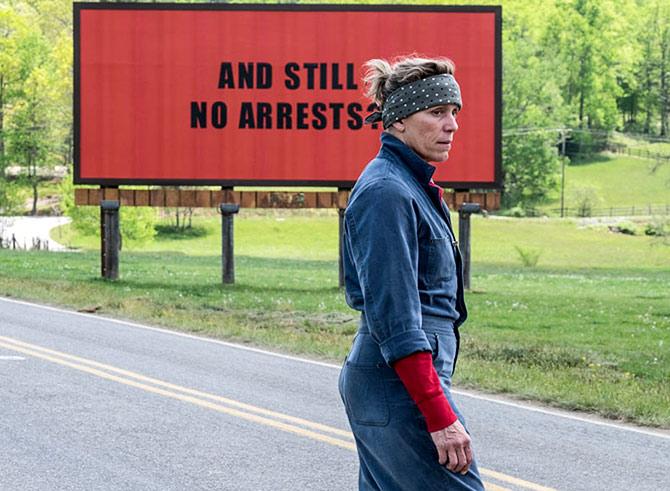 This terrifically entertaining film by Martin McDonagh deserves all the accolades it is receiving -- from best screenplay award at the Venice Film Festival to the all important audience award at the Toronto International Film Festival. Surely, it also deserves an award for one of the cleverest titles.
Francis McDormand stars as a grieving mother who rents three billboards to highlight the police inaction in the case of the rape and murder of her daughter.
Hilarious as well as violent, Three Billboards eventually focuses on forgiveness and even caring for those who may appear to be our adversaries.
McDormand has not been this good since her Oscar-winning performance in Fargo. Her presence, plus the film's violence and black humour, will remind the audience of the Coen Brothers' films (she is married to the older sibling, Joel Coen).
Three Billboards is a definite McDonagh film, whose In Bruges is one of my all time favourite films.
And how wonderful it is to see lively, hearty performances by Woody Harrelson and Sam Rockwell who should get a supporting actor Oscar nomination for this role.
A Ciambra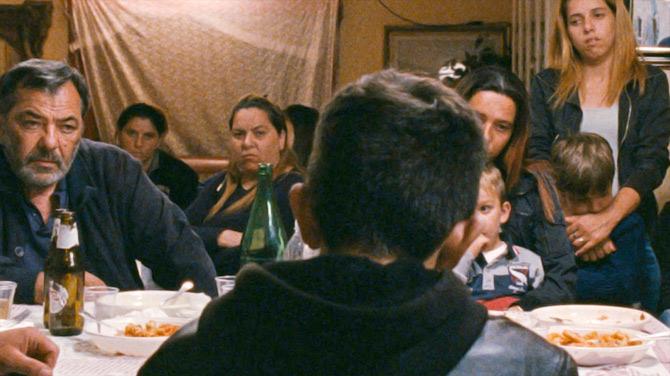 Italian film-maker Jonas Carpignano spent his childhood between Rome and New York City, which perhaps gave him wider perspective of the world.
His second film A Ciambra is a sequel of sorts to his 2015 Cannes winner Mediterranea, a story of African refugees, their harrowing journey across the Sahara desert to a small town in the southern coast of Italy, where they encounter racist attacks by the local Italians and Romanis.
A Ciambra's protagonist Pia Amato (playing himself in the film) had a small role in Mediterranea.
Here, the 14 year old is a fully developed lead, living in a large family of Romanis engaged in crime. Pia drinks, smokes (in fact, kids younger than him often smoke in the film), with little adult supervision, as he tries to prove he is ready to take on the world.
Sespite the outward appearances of a street smart teenager, Pia is a still a child, conflicted over his friendship with the film's African refugees and the crimes that drive his family.
A Ciambra is a gripping film, a tragic account of a teenager living in a world where the adults do not teach him right from wrong. Instead, he is guided by his inner moral compass.
Italy's official entry for the Oscar race, A Ciambra did not make the recently announced short list. But it is a must see film.
Okja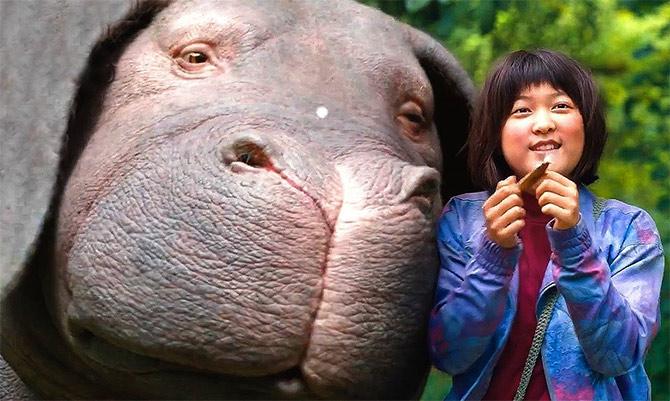 The most creative Korean film-maker of our time, Bong Joon-ho mas made such a diverse range of films, from a gripping mystery of three cops trying to catch a serial killer (Memories of Murder, 2003), to a mother searching for a murderer who framed her son (Mother, 2009), and the last people left on the earth riding a train, broken down into class hierarchy (Snowpiercer, 2013).
In Okja, he takes up what seems like a simple, children's story, but weaves a larger narrative about corporate greed. He makes a strong statement about the foods we eat, that could drive many conflicted meat-eaters to become vegetarians.
At times whimsical and charming like a Wes Anderson piece, Okja is a lot angrier and has a lot to say about who determines our world, the way we live and eat.
Okja was released on Netflix soon after its premiere at the Cannes Film Festival, but it did have a small theatrical release in New York.
I recently watched the film again in a theatre full of Chinese kids in Macao. They loved the film, especially the obvious scenes when Okja, the giant pig, defecates on people trying to capture her, to the number of times the F-word is used in the film.
Okja is a grand adventure, from the remote mountainous regions of Korea to the heart of Manhattan, with amazing use of computer graphics. It is modern day film-making at its best.
Beach Rats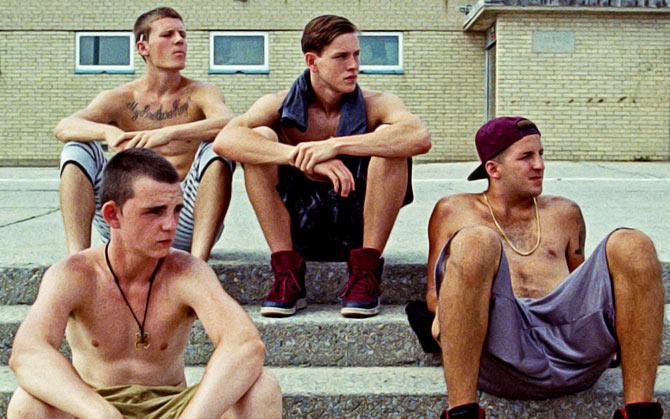 In this year's best director award winning film at the Sundance Film Festival, Beach Rats, a high school teenager in Brooklyn named Frankie spends the summers days with his buddies -- a group of shirtless young men -- and a new girlfriend he's confused about.
But at nights, Frankie goes online where he chats with older gay men and then has random encounters with them in cars and on beaches.
Like last year's Moonlight, Beach Rats is a tough tale of a young man's struggle with his sexuality.
There are other similarities too. In Moonlight, the film's protagonist Chiron has to deal with issues of masculinity within the African American community. Beach Rat's Frankie also has to hide his sexuality as he struts around Brooklyn's beaches, crowded with white working class folk.
What sets the two films apart are the worlds its lead actors inhabit and how they cope with their secrets -- their gay desires.
Harris Dickinson, a British actor with a handsome smooth face, plays Frankie, a complex character, pretending to be straight and hiding his secret. But his face also shows his turmoil and inability to communicate with anyone.
As it becomes harder and harder for him to keep his two worlds separated, Frankie's life starts to fall apart. It does not help that his family life is complicated as well -- his father is dying of cancer.
Director Eliza Hittman's Beach Rats has an ensemble cast of unknown faces, but under her guidance, they create a convincing claustrophobic world on the edge New York City.
A Fantastic Woman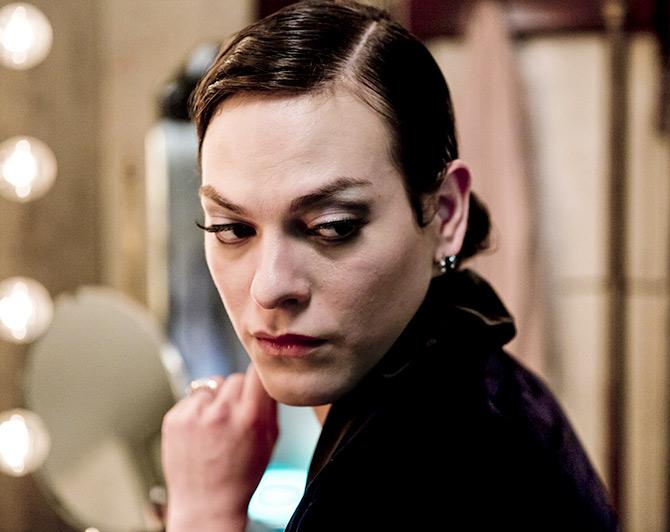 Winner of the Berlinale Silver Bear for best screenplay, this Chilean film is directed by Sebastián Lelio (Gloria).
A Fantastic Woman is the story of a young transwoman Marina (Daniela Vega) who is in a relationship with older man Orlando (Francisco Reyes) -- once married and with an adult son.
Orlando plans to spend the rest of his life with Marina. But his sudden death at the beginning of the film messes up Marina's life as she is left to defend herself against Orlando's angry relatives, including his ex-wife.
Her one concern -- to grieve for her lover -- is ignored by people, who are fearful of her gender.
Vega, a transwoman in her first screen role, gives a raw moving performance as Marina.
Wonderfully crafted, A Fantastic Woman gives dignity and affection to a character who would often be marginalised in our society.
Baby Driver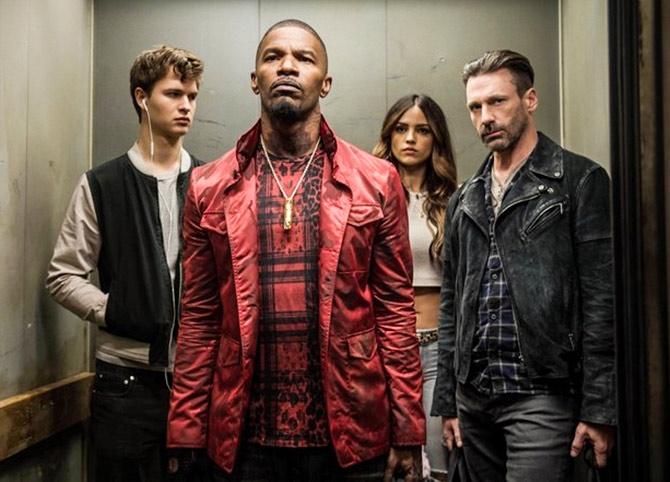 With all that we know now, it is a bit disconcerting to think that Baby Driver's 23-year-old Ansel Elgort's Baby has Doc (ahem, played by Kevin Spacey) as his mentor.
I am glad Baby Driver released in the summer of 2017, much before the sexual harassment scandals broke out. Because for sheer exhilarating movie-going experience, there was nothing quite like Edgar Wright's Baby Driver.
The music, the breathtaking car chases, the editing, the banks heists, the brutal violence -- it had everything.
In fact, I watched the film twice over its opening weekend in India. The second time was even better.
The film stars Spacey, Jon Hamm and Jamie Foxx, but it mostly belongs to the baby-faced Elgort who worships the steering wheel and brings back iPods into fashion, loudly blasting the music so as not to listen to the messy world around him. He does record conversations ever so often, to create his personal re-mixed soundtracks.
If he listens to anyone, it is a young waitress Deborah (Lily James) at a diner he frequents. She sings the 1966 hit song B-A-B-Y and wins over Baby's heart.
In the midst of the car chases and the music (a wide array of songs from my own personal soundtrack like Harlem Shuffle, Simon & Garfunkel's Baby Driver, Dave Brubeck's Unsquare Dance), Baby Driver celebrates romance between Baby and Deborah.
Baby Driver is a blend between the best romantic musicals, say The Umbrellas of Cherbourg and the great American crime thriller French Connection.
And that is how exciting 2017 was.