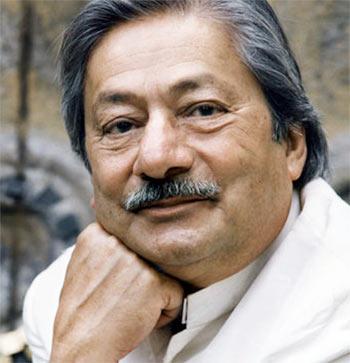 Saeed Jaffrey lives on through his versatile body of work.
Joie de vivre distinguishes the refined, infectious charisma of international actor Saeed Jaffrey.
Whether playing an aristocrat or a shopkeeper, he would impart such vibrant nuances to his characters -- non-existent on paper yet immortal on screen -- it's as though he wasn't merely slipping into a skin but creating one as the scene progressed.
It's like The Independent observed, 'a Dickensian skill for investing self- importance, greed or slyness with a fullness of feeling that makes them sweetly human.'
Born on January 8, 1929 in Punjab's Sangrur district, Jaffrey often said he inherited this talent from his expressive mother. Indeed, his ability to mimic icons he's interacted with, be it Marilyn Monroe or Raj Kapoor, makes his anecdote-rich interviews a delight to view.
Growing up, Jaffrey wasn't inclined towards discovering the marvels of science like his physician father. Instead, he wished to pursue the wondrous world of art and literature.
After graduating from Allahabad University followed a stint at All India Radio, he later gave it up to create a theatre group in Delhi where he met his future wife -- actress and celebrated food author, Madhur Jaffrey nee Bahadur.
Even as Madhur began her acting course in Royal Academy of Dramatic Art in London, Jaffrey made use of his Fulbright scholarship at Catholic University of America in Washington DC. While in US, the duo decided to get married in 1958 and turned parents to three daughters, Meera, Zia and Sakina.
Seven years later, their marriage ended on a bitter note.
Personal turmoil and intermittent work on American television prompted the actor's shift to England. He married casting director Jennifer Sorrell in 1980.
Jaffrey's days of struggle finally got its due on the British television scene (Tandoori Nights, Jewel in the Crown, The Far Pavilion), opening a brand new avenue for roles in Hollywood (Gandhi, The Man Who Would Be King) and, of course, back home (Shatranj Ke Khiladi, Chashme Buddoor).
Be it the prestigious Order of British Empire (first Asian recipient) honour, introducing directors James Ivory and Ismail Merchant to each other leading to the fruitful collaboration Merchant-Ivory Films or saying it as it is in his outspoken autobiography, Saeed: An Actor's Journey, the feathers in Jaffrey's cap are many and multi-hued.
It's hard to believe the vivacious actor is no more. But the memory of his zestful laugh, mischievous eyes and catchy inflections lives on through his versatile body of work.
Glimpses:
Shatranj Ke Khilari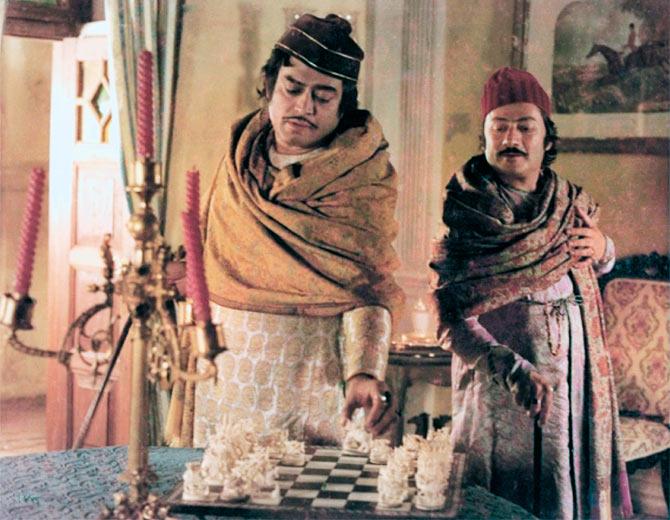 Image Sanjeev Kumar and Saeed Jaffery in Shatranj Ke Khilari
Saeed Jaffrey delivers his career-best performance under Satyajit Ray's exquisite adaptation of Munshi Premchand's story.
As the chess-obsessed nawab engaged in a contest with his fellow nobleman friend (Sanjeev Kumar), which takes precedence over the ensuing chaos around them, Jaffrey is flawlessly sneaky and fixated.
Read more about Shatranj Ke Khilari here
Gandhi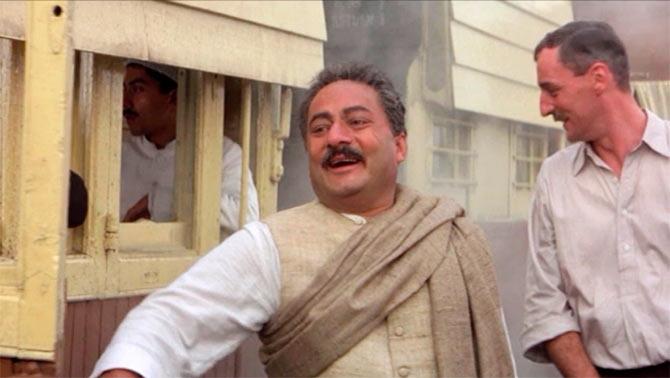 Image: Saeed Jaffery in Gandhi
Assured even around a mob of talented artists, Jaffrey immediately impresses with his sensible appeals as Sardar Patel in Richard Attenborough's Oscar-winning Mahatma Gandhi biopic.
The Man Who Would Be King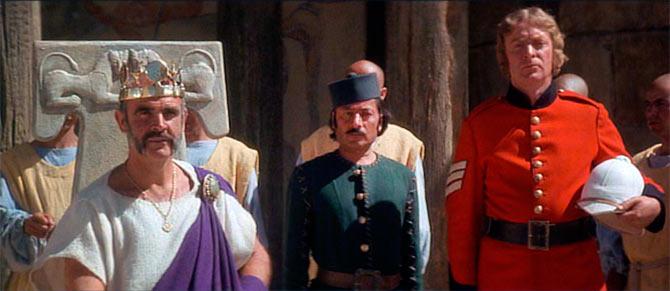 Image: Sean Connery, Saeed Jaffery and Michael Caine in The Man Who Would Be King
Based on Rudyard Kipling's novel, Sean Connery and Michael Caine's English soldiers turned treasure-seekers employ Jaffrey's help for translation and local know-how in John Huston's rollicking colonial experience.
Chashme Buddoor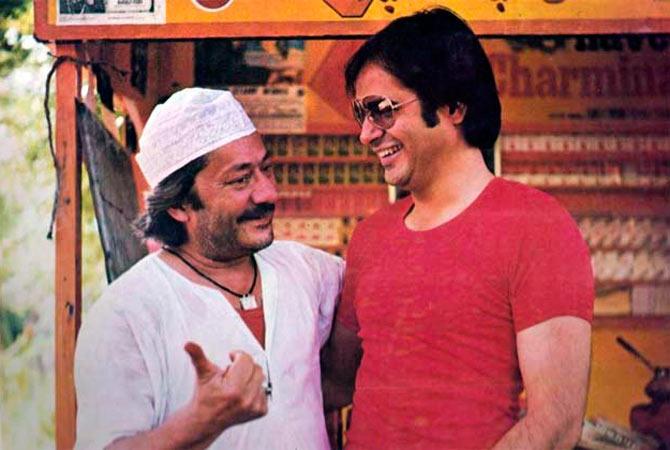 Image: Saeed Jaffery and Farooque Shaikh in Chashme Buddoor
Sai Paranjype's blithe yarn about three Delhi bachelors wouldn't be the same in the absence of Jaffrey's delightful money/cigarette/counsel lending Lallan Miyan and his reliable paan shop.
Read more about Chashme Buddoor here
My Beautiful Laundrette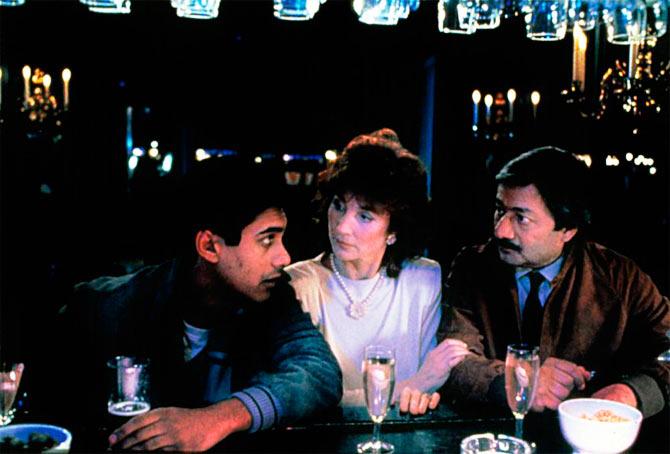 Image: Gordon Warnecke, Shirley Anne Field and Saeed Jaffery in My Beautiful Laundrette
Set against the backdrop of Pakistanis in London, Stephen Frears' My Beautiful Laundrette features Jaffrey as a foxy businessman juggling between a rundown laundry service and a clandestine affair outside his marriage.
A Passage to India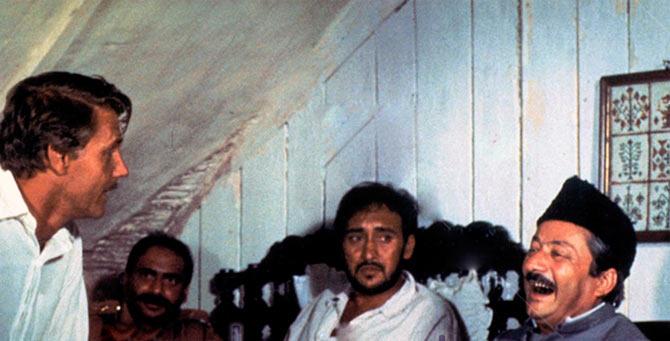 Image: Victor Banerjee and Saeed Jaffery in A Passage to India
Although the mention of David Lean's acclaimed adaptation of E M Forster's novel rankled Jaffrey and his role of an advocate was reduced to a bit part, it's one of his most well-known international efforts.
Ram Teri Ganga Maili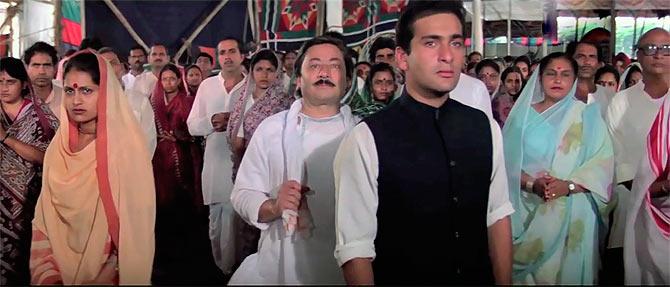 Image: Saeed Jaffery and Rajeev Kapoor in Ram Teri Ganga Maili
Women and wine colour Jaffrey's lifestyle as Rajiv Kapoor's supportive, tradition-rebelling uncle in Raj Kapoor's Ram Teri Ganga Maili best remembered for Mandakini's waterfall rendezvous.
Masoom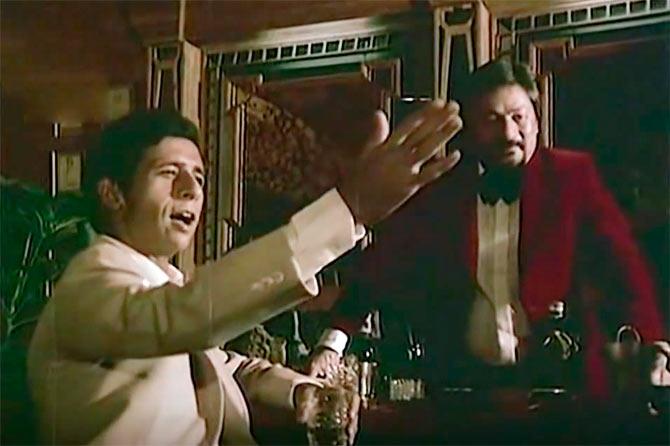 Image: Naseeruddin Shah and Saeed Jaffery in Masoom
Even though it's not a big role, it's an important one.
Jaffrey is effective as Naseeruddin Shah's good-humoured best friend who stands by him through thick and thin without an air of judgement.
Kissi Se Na Kehna
Image: Utpal Dutt and Saeed Jaffery in Kissi Se Na Kehna
Playing to his 'bankable' reputation, Jaffrey comes to Farooq Sheikh and Deepti Naval's rescue by devising a fun plan that'll allow Utpal Dutt to accept their marriage in Hrishikesh Mukerji's breezy Kissi Se Na Kehna.
Henna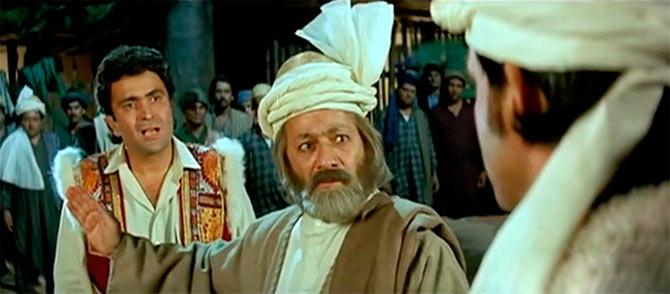 Image: Rishi Kapoor and Saeed Jaffery in Henna
Jaffrey's innate warmth and empathy is tailor-made for the part of a Pakistani villager aiding an amnesia-ridden Rishi Kapoor in Henna.
Aaina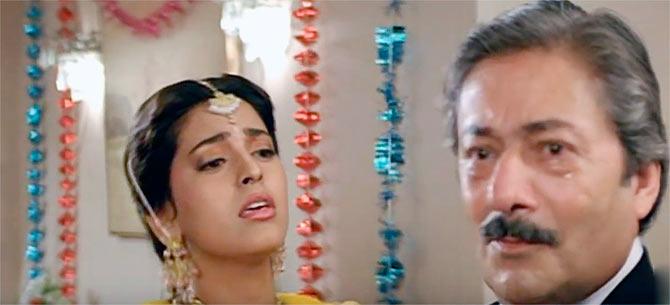 Image: Juhi Chawla and Saeed Jaffery in Aaina
Saeed Jaffrey is most believable as Juhi Chawla's affectionate daddy unable to control his elder daughter Amrita Singh's bullying behaviour towards her shy sister in the Yash Raj Films-produced melodrama, Aaina.
Dil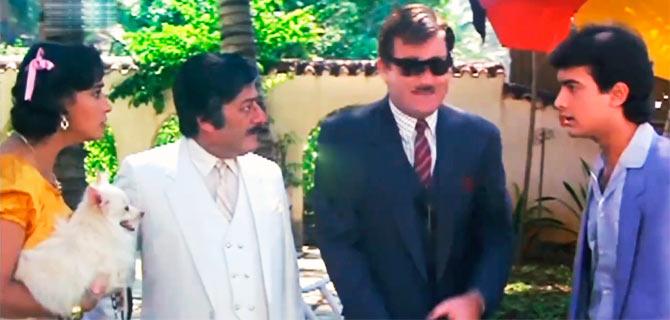 Image: Madhuri Dixit, Saeed Jaffery, Anupam Kher and Aamir Khan in Dil
It's refreshing to see Jaffrey take a break from the routinely sweet fathers to play a disapproving, haughty one to Madhuri Dixit in Indra Kumar's super hit Dil.
Ajooba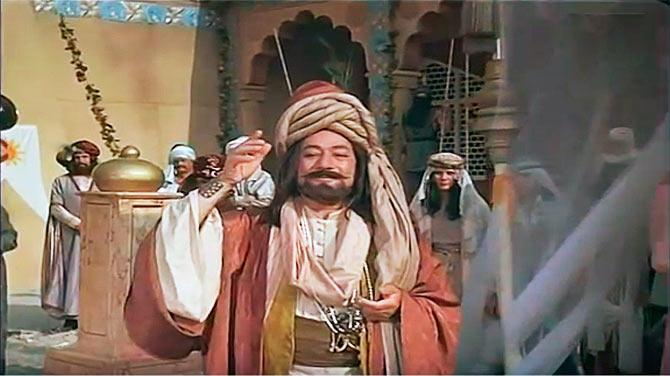 Image: Saeed Jaffery in Ajooba
Even if the Shashi Kapoor-helmed fantasy Ajooba faltered on many counts, Jaffrey's fun magician injects a childlike fervour around the incredulous.
Tacky SFX notwithstanding, his vivacity holds its own.