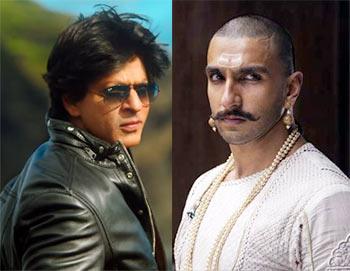 As the release date December 18 draws nearer, the battle between Bajirao Mastani and Dilwale to get more theatres intensifies.
At the moment, it seems Dilwale has wangled the larger number of screens.
According to the latest reports, Shah Rukh Khan has stuck a deal with a major all-India multiplex chain which has consented to allot more screens to his film, Dilwale.
This development puts Bajirao Mastani at a disadvantage.
Says a source close to the development: "The ratio of screens for Dilwale and Bajirao Mastani is 60:40. It was not that way until recently. Eros International, the co-producers of Bajirao Mastani, had booked a majority of screens six months in advance. That was when the Dilwale release date was not announced."
According to this source, director Rohit Shetty was opposed to the idea of releasing his film on the same day as Bajirao.
"Rohit wanted Dilwale to be released on December 25 but Shah Rukh was adamant on December 18. He was sure he would get more screens for his film, and he managed that by taking the owners of a leading multiplex chain into confidence," says the source.