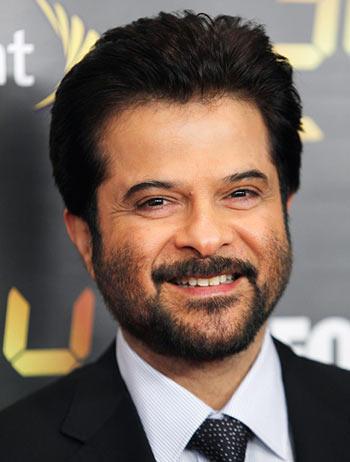 Every year, on her father's death anniversary, Lata Mangeshkar honours distinguished artistes from various walks of life.
This year, the venerated singer will honour actor Anil Kapoor on Pandit Dinanath Mangeshkar's death anniversary on April 24.
Anil was scheduled to fly to Los Angeles, United States on the same day, but later postponed his trip by a day.
"I cannot say no to Lataji. To be honoured by her and that too with an award in her father's name, is a once-in-a-lifetime opportunity.
"I have pushed back my commitment in LA by a day, to the 25th. I will be heading straight to the airport after receiving my award from Lataji," he said.
Anil said the number 24 is significant in his life.
"I was born on December 24. My serial is called 24. And now Lataji will honour me on the 24th."
He was to get the award in the past as well, but was in the US at that time.
"There is no way I will miss it this time," the actor said.
Lata Mangeshkar laughs warmly when told of Anil's enthusiasm about the award.
"He is an actor we wanted to honour for quite a while. I am personally very fond of his work. I enjoy all his performances. I especially liked him in Pukar and Nayak. In fact, I made an appearance in Pukar singing a song composed by A R Rahman," she said.
Lataji liked Anil's public conduct as well as his performances.
"One hears and reads a lot of gossip and scandals about some or the other stars' personal lives. But Anil has never been in any scandal. He is a rare combination of talent and good manners."