'In the whole of my career, some ten-twenty characters might have really satisfied me.'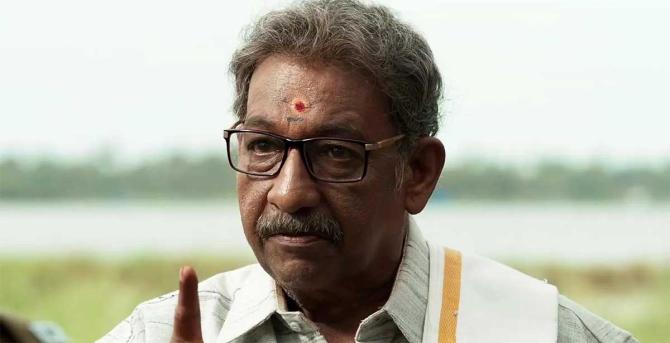 This interview with the legendary actor Nedumudi Venu, who passed into the ages on October 11, 2021, was first published on Rediff.com in July 1998.
Nedumudi Venu needs no introduction to those familiar with quality cinema. One of the finest actors in Indian films, he is believed to have received short shrift from many an award committee.
This, despite him having even national awards in his kitty. He has made his mark in a variety of films, ranging from the trite to the extraordinary, exploring a range far wider than most of his contemporaries have.
Shobha Warrier met him at his residence, Thampu, in Thiruvananthapuram. Incidentally, it was with G Aravindan's Thampu that he first entered films.
Very intelligent, extremely articulate, it was truly an experience talking to him. The second of a multi-part interview with one of India's finest actors: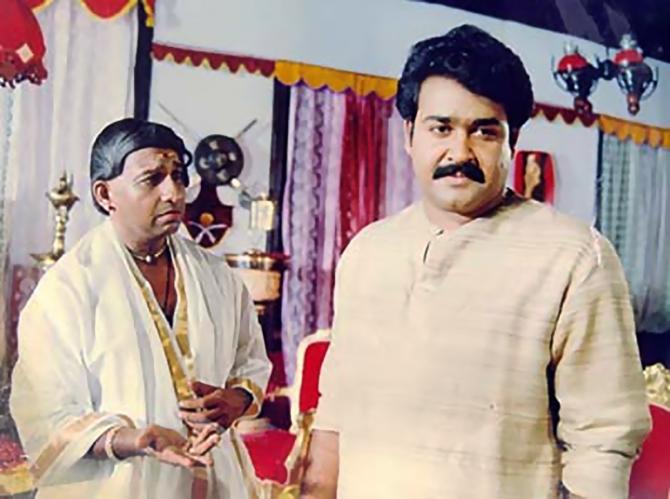 What exactly do you mean by our own culture?
In the old days, we grew up listening to our grandmother's stories. We learnt to sing from them, even before we learnt to read. We recited shlokas and poems along with them, thus learning to pronounce words properly.
Only later did we learn to read. While reading a book, we are also going with the author and creating and visualising a world of our own.
The image of a character may not be the same for two readers. But we have lost the power of imagination, the power of creativity with the advent of television.
Where is the need to create an image when the image is created by somebody else and thrown in front of you? In most houses, television has taken the place of books, thus tampering with the creativity of a child.
Is it the case of a child who lives in a village too? Or, does it happen only in the cities?
Do we see any villages in Kerala now? They have disappeared completely. The difference between a city and a village is diminishing fast....
But you still cherish and memories of your village...
If I were to do a character from a village, some of them come up in my mind. I don't reproduce him as the character, but I incorporate certain mannerisms of that person in the character.
How do you generally prepare yourself? Do you try to understand the character in totality?
The problem with us is that, unlike in Hollywood, we do not have enough to time to prepare ourselves for a particular character.
There, if an actor has to portray a handicapped man, he understands everything about a handicapped man before the shooting itself. Here we lack that kind of time and facilities.
Do you know that nowhere in the world are films are made at this pace? We finish shooting for a film in 20 days and release it the next month. Even art film-makers make films pretty fast.
But you must have taken some time to prepare yourself for at least some characters...
Actually, it is not possible. We come to know of the character only after the script is ready. And most often there won't even be a complete script.
Later, there is a discussion wherein we ourselves create a portrait of the character -- where he was born, whether he is educated or not, whether he is a cultured man or not, what kind of clothes he wear, etc etc...
It may not be necessary for the film, but only if we have a portrait of the character in our mind will we be able to portray him better. This kind of preparation is necessary only very rarely, may be in one or two films out of the 100 that one works in.
Otherwise, it is 'switch off' kind of performance. Most film-makers demand only that much preparation from you and nothing more than that.
Won't the artist in you feel dissatisfied if you have to perform without getting fully involved?
Yes, the artist in me does get dissatisfied. We try to convince ourselves that this is only our profession, our livelihood and nothing more than that.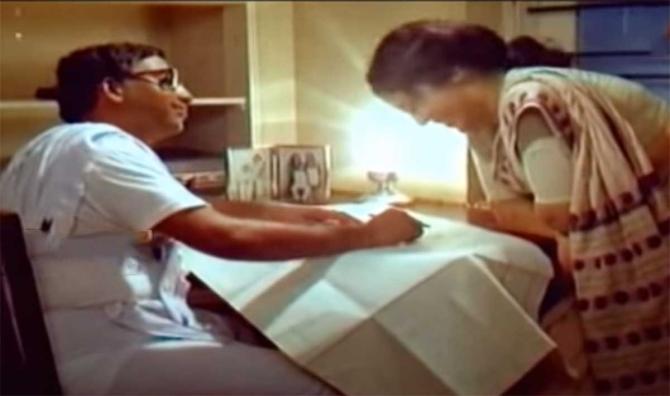 But some characters might have given you some satisfaction in your long career as an actor...
In the whole of my career, some ten-twenty characters might have really satisfied me.
One such character I still remember is Achuvettan of Achuvettante Veedu (the Balachandra Menon film in which Nedumudi acted opposite Rohini Hattangadi).
Achuvettan's agony, the agony of a government servant belonging to a middle class family with two daughters was quite understandable to me.
I also understood the pains of the retired school teacher in Minnaminunginte Nurungu Vattom. I had seen my father going through the same pain during his retirement. So, I could identify with him very well.
You also see several people around you, like the alcoholic Ramanathan in Bharatam.
One gets attached to a particular character due to many reasons. If a character is familiar to you, you get attached to him.
If the character is what you are not in real life, it is a great challenge. Because then you have to create the character totally from your imagination.
So, both remain in your mind.
Feature Presentation: Ashish Narsale/Rediff.com