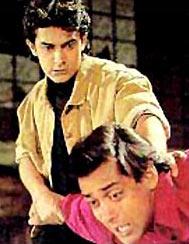 If you witnessed our big Andaz Apna Apna blowout on the cult comedy completing 20 years since its release, you'll love this!

'Gogoji, aapka ghagra.'
'Pilan ke mutabik.'

'Muscle dekha muscle, massal ke rakh dunga.'

Among the madcap story, oddball characters and hammy acting, the dialogues of this Rajkumar Santoshi-directed gem of a film steal the show.

AAA fans quote them often for unadulterated hilarity or just for that tinge of nostalgia every once in a while.

Here then, is our quiz to see if you are the AAA fanatic you've been claiming to be all this while!

Take this quiz and see how big an Andaz Apna Apna fan you REALLY are!