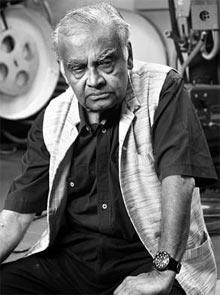 The 13th edition of Mumbai International Film Festival honoured several women documentary filmmakers recently. Noted director Bimal Roy's daughter and documentary filmmaker Rinki Roy Bhattacharya writes.

Documentary filmmaking is born out of deep conviction and passion, and not for commercial gain or greed.

But the road leading to it is strewn with thorns and many hardships and endless struggle to raise funds.

So we celebrated when the Mumbai International Film Festival started nearly 25 years ago. Today, in its 13th edition, MIFF has grown into a beautiful effort. As a film festival for documentaries, short and animation films, it attracts filmmakers from all parts of the world.

Proof of this was the full house at the Tata Theatre, the venue of MIFF recently.

On the opening night of the film festival, noted documentary director Anand Patwardhan was awarded the V Shantaram Lifetime Achievement Award.

One of India's leading dissident filmmaker, Anand's films have had to face the wrath of political parties in power.

He was threatened with jail sentences but that did not deter him. His films are noted for their biting criticism of the establishment.

Equally heartening was the fact that many awards this year went to women filmmakers.
The gifted animator Geetanjali Rao got an award for A True Love Story and Nishtha Jain won the best director trophy for her gutsy Gulabi Gang, inspired by activist Sampat Pal of Bundelkhand.
The audience award went to animator Dhwani Desai. Deepa Dhanraj, the well-known documentary filmmaker from Bangalore, received high praise and a prize for Invoking Justice (her editor, Jabeen Merchant, picked up an award as well).

Three technical awards were instituted for editor, sound and cinematography, which went to excellent teams.
Vikrant Janardan Pawar received an award for best short fiction film for his debut Black Rock.

The Critics' award was given to Shivendra Singh Dungarpur's spectacular work Celluloid Man.
The real celluloid man himself, the creator of the National Film Archive, P K Nair, received a standing ovation.

These documentary works hold up the mirror to truth and expose injustice. They tell us the real story, unlike reel stories manufactured by Bollywood.

Image: P K Nair in Celluloid Man