Thankam delivers an engaging drama that fans of crime-solving tales will enjoy, recommends Mayur Sanap.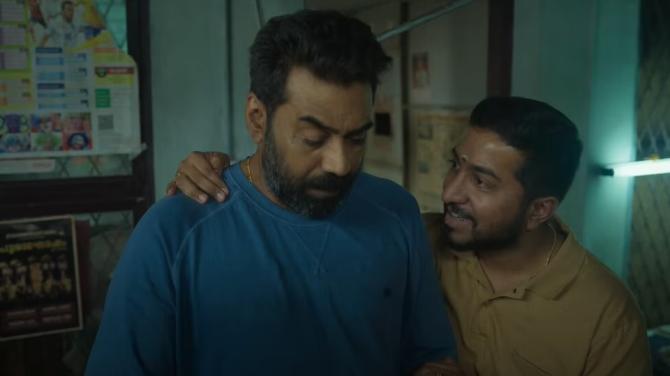 Thankam, co-produced by Malayalam cinema's blue-eyed boy Fahadh Faasil, shimmers.
Thankam, which means gold in Malayalam, showcases the gritty world of gold smuggling with a tragedy at its centre. For all the right reasons, the film is yet another display of Kerala's penchant for realism in cinema.
The film tells the story of friendship between Muthu (Biju Menon), Bijoy (Vineeth Thattil David) and Kannan (Vineeth Sreenivasan), who run a gold smuggling business in Thrissur.
The film takes a dark turn when one of them mysteriously dies in Mumbai during accepting the consignment of gold. What follows is a no-frills procedural by the Mumbai police officer Jayanth Sakhalkar (Girish Kulkarni) and his Marathi-speaking team, who travel to Kerala to crack the case of murder.
Director Saheed Arafath smartly meets the demands of the genre by revealing just enough to keep you engrossed. The film may not break new ground in procedural storytelling, but stays refreshingly true to the raw authenticity of its world which is very much rooted in its appeal.
The slow-burn narrative style allows the viewers to be a part of the mystery right alongside the cops who are investigating the case.
Syam Pushkaran's screenplay doesn't rely on shocking twists, but the drama mainly works due to its focused writing.
Every time we feel like we have figured things out, the story takes a detour and we are taken by surprise.
The film moves in mysterious, murky, tics embossed by Gautham Sankar's shadowy but sleek cinematography and Bijibal's apt score.
In spite of being slow-paced, Thankam keeps one hooked till the thought-provoking conclusion.
While a few elements may look and feel familiar, it is done in a gripping enough manner which proves to be a satisfying thriller.
Although it's a Malayalam film, the characters speak Marathi, Tamil, English and Hindi. It is heartening to see the makers have incorporated all these languages in the script instead of forcing non-Malayali actors like Girish Kulkarni and the Tamil actors to speak or dub Malayalam.
The acting by the awesome cast, spearheaded by the tender and sensitive Biju Menon and the enigmatic Vineeth Sreenivasan, is a treat to watch.
Sreenivasan's unusually cold and unwavering Kannan feels like a solemn take on his character from last year's Mukundan Unni Associates and he shines yet again.
Aparna Balamurali (Soorarai Pottru) plays Kannan's wife and lets her eyes express the emotional turmoil she is going through.
But for a talent like Balamurali, I wish there was more heft in her character to leave her mark.
Making his Malayalam debut here, Marathi film veteran Girish Kulkarni transitions from comedy to seriousness with great precision and becomes a show-stealer.
This talented bunch of actors play off each other with ease as you relish watching them navigate the intense situations they find themselves in.
Ultimately, Thankam is an old-school procedural thriller, one that allows its grim atmosphere and slowly unfolding story to take centre stage.
While it's not the most action-packed, it delivers an engaging drama that fans of good crime-solving tales will enjoy.
Thankam streams on Amazon Prime Video.
Thankam Review Rediff Rating: