'All you people who feel like there's no mirror for you, that your life is not reflected, the Academy has your back, the ACLU has your back, we have your back, and for the next four years, we will not leave you alone, we will not forget you.'
The 89th Annual Academy Awards saw some touching speeches.
Here's a look at some of the best ones.
Mahershala Ali, Best Supporting Actor for Moonlight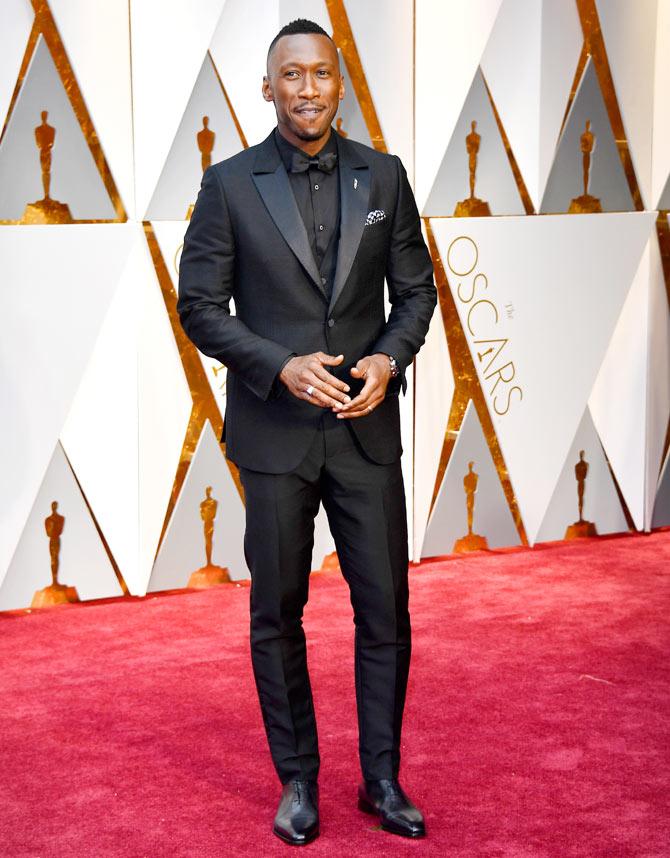 IMAGE: Mahershala Ali. Frazer Harrison /Getty Images.
Wow, I want to thank my teachers, my professors -- I had so many wonderful teachers and one thing that they consistently told me is that it's not about you. It's about these characters.
You are in service to these stories and these characters, and I'm so blessed to have had an opportunity.
It was about Juan, it was about Chiron, it was about Paula, cast and crew, this was such a wonderful experience.
Thank you Barry Jenkins, Tarell McCraney, Adele Romanski who forced Barry to cast me. It is such a wonderful experience and I have got so many people to thank who have got me here.
My manager Carolyn Govers, who I've been with for 10 years, just thank you so much.
The rest of the work who did wonderful work, anyone could be up here right now holding the trophy.
Such a gift getting to work with you and getting inspired by you and the performances that you all offered up. Thank you the Academy, really appreciate this. And lastly, I want to thank my wife, who was in her third trimester during the awards season. We just had a daughter four days ago. I just want to thank her for being such a soldier through this process, and really carrying me through it all.
So thank you, I really appreciate it. Peace and blessings.
Viola Davis, Best Supporting Actress for Fences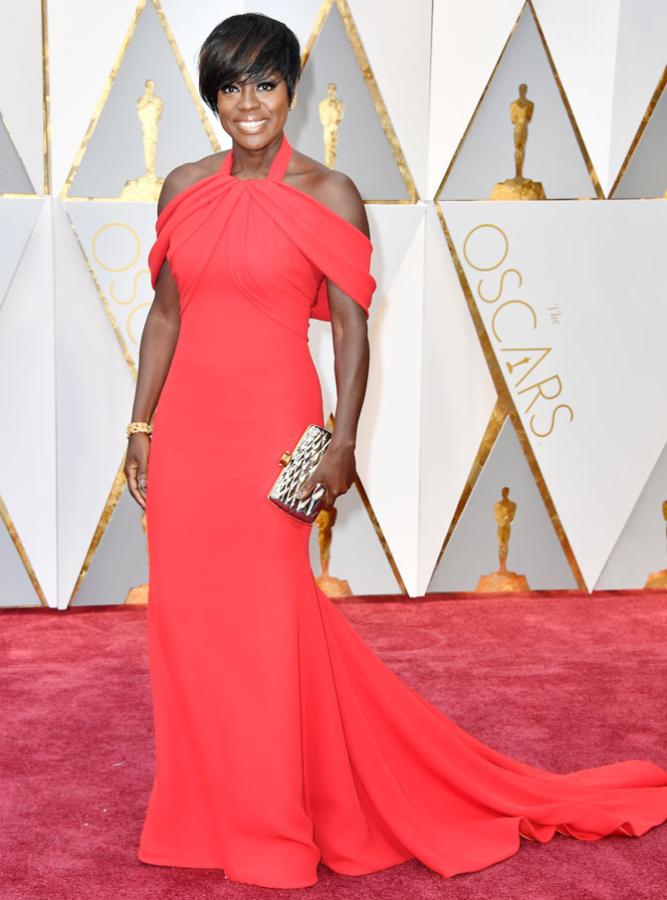 IMAGE: Viola Davis. Frazer Harrison /Getty Images.
You know, there is one place that all the people with the greatest potential are gathered. One place, and that's the graveyard.
People ask me all the time -- what kind of stories do you want to tell, Viola?
And I say exhume those bodies.
Exhume those stories -- the stories of the people who dreamed big and never saw those dreams to fruition, people who fell in love and lost.
I became an artist and thank God I did. She continued because we are the only profession that celebrates what it means to live a life. So here's to August Wilson, who exhumed and exalted the ordinary people.
And to Bron Pictures, Paramount, Macro, Todd Black, Molly Allen for being the cheerleaders for a movie that is about people, and words, and life and forgiveness and grace.
And to Michael T Williamson, Stephen McKinley Henderson, Russell Hornsby, Jovan Adepo, Saniyya Sidney for being the most wonderful artists I've ever worked with.
And oh captain, my captain, Denzel Washington. Thank you for putting two entities in the driving seat: August and God. And they served you well.
And to Dan and Mary Alice Davis, who were and are the center of my universe, the people who taught me good or bad, how to fail, how to love, how to hold an award, how to lose.
My parents? I'm so thankful that God chose you to bring me into this world.
To my sisters, my sister Dolores, we were rich white women in the tea party games. Thank you for the imagination.
And to my husband and my daughter. My heart, you and Genesis. You teach me every day how to live, how to love, I'm so glad that you are the foundation of my life.
Thank you to the Academy. Thank you.
Asghar Farhadi, Best Foreign Language Film for The Salesman
IMAGE: NASA scientist Firouz Naderi and engineer/astronaut Anousheh Ansari. Frazer Harrison /Getty Images.
Farhadi, who has boycotted the ceremony, had two Iranian-American's represent him. He had sent a statement, which was read by Anousheh Ansari. The statement said:
It's a great honour to be receiving this valuable award for the second time. I would like to thank the members of the academy, my crew in Iran, my producer Alexandre Mallet-Guy Cohen Media, Amazon and my fellow nominees in the foreign-film category.
I'm sorry I'm not with you tonight. My absence is out of respect for the people of my country and those of other six nations who have been disrespected by the inhumane law that bans entry of immigrants to the US.
Dividing the world into the 'us' and 'our enemies' categories creates fears, a deceitful justification for aggression and war. These wars prevent democracy and human rights in countries which have themselves been victims of aggression.
Filmmakers can turn their cameras to capture, shared human qualities and break stereotypes of various nationalities and religions. They create empathy between us and others, an empathy which we need today more than ever. Thank you.
Composer Justin Hurwitz, lyricist Benj Pasek, Original Song for City of Stars from La La Land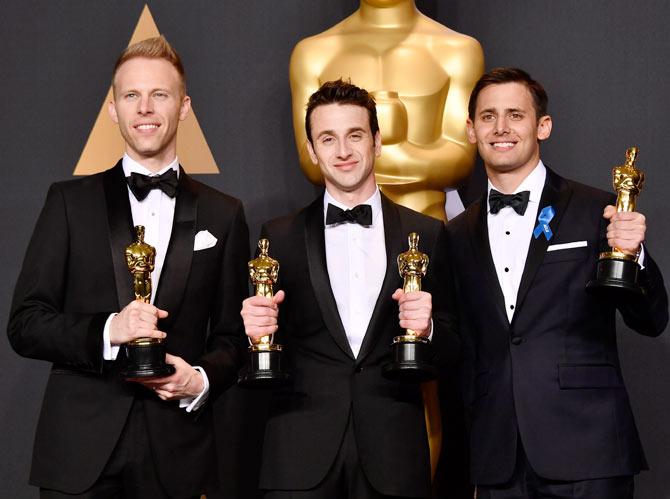 IMAGE: Justin Paul, Justin Hurwitz and Benj Pasek. Frazer Harrison /Getty Images.
Justin Paul: Thank you to Justin for your beautiful and glorious music. Thank you to Damien, you inspired every single word that we wrote.
For me, I want to thank my wife, my little girl at home.
I was educated in public schools, where arts and culture were valued and recognized and resourced and I'm so grateful for all my teachers, who taught so much and gave so much to us.
Benj Pasek: I want to thank our producers Marc, Fred and Jordan.
Oh my God, I am actually freaking out right now.
I want to thank my mom who is amazing and my date tonight and she let me quit the JCC soccer league to be in a school musical. So this is dedicated to all the kids who sing in the rain, and all the moms who let them. Thank you very much, I love you mom.

Barry Jenkins, Tarell Alvin McCraney, Writing Adapted Screenplay for Moonlight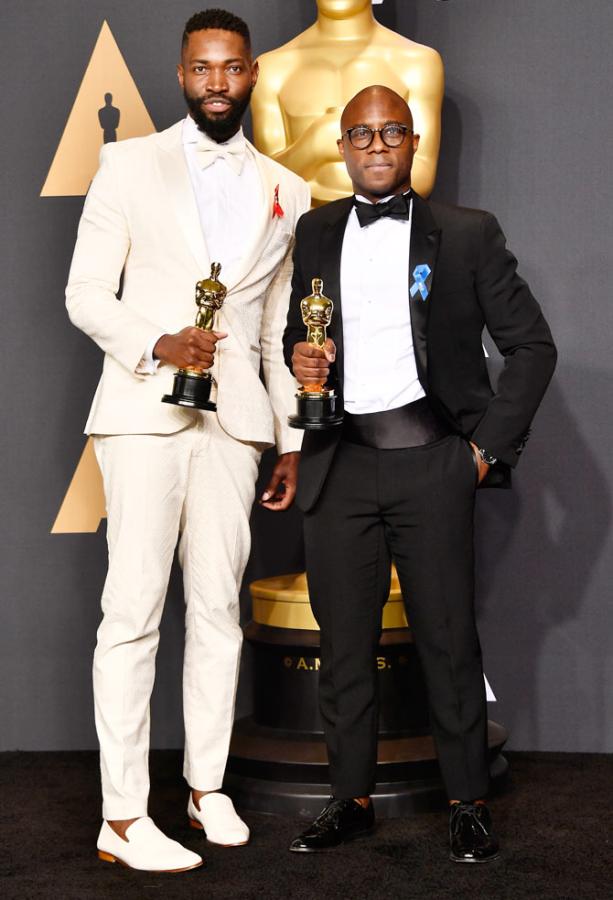 IMAGE: Tarell Alvin McCraney and writer-director Barry Jenkins. Frazer Harrison /Getty Images.
Barry: Thank you to the Academy. Thank you, A24. Thank you Plan B. Thank you to our amazing cast. Thank you, my mom, my sister, everybody in Miami.
I want to thank my reps, three amigos, Jay Baker at CAA, Joel Ross and Jamie Feldman.
And two women in particular, my publicist, Paula Woods and Paula Seacrest. Thank you for taking care of me.
I told my students, be in love with the process, not the result. I really wanted this result.
All you people who feel like there's no mirror for you, that your life is not reflected, the Academy has your back, the ACLU has your back, we have your back, and for the next four years, we will not leave you alone, we will not forget you.
Tarell: Amen, brother. I just want to echo everything he just said but I want to say thank God for my mother, who proved to me through her struggles and the struggles that Naomie Harris portrayed for all of you, that we can be somebody.
Two boys from Liberty City up here representing 305. This goes out to all those black and brown boys and girls and nongender conforming who don't see themselves, we're trying to show you, you, and us. Thank you, thank you. This is for you.