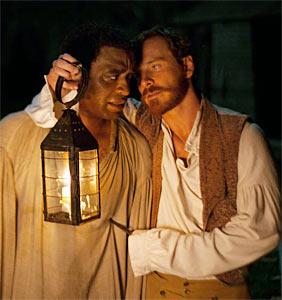 Gems from Toronto: Gender conflict in India, revisiting American slavery, and the fount of the Arab spring.

A freed slave, who is also a gifted violinist living in a New York city with his wife and children is lured to Washington, DC under a pretext and kidnapped to Louisiana where he is enslaved for 12 years. He has to survive using his wits and keeping his hope and courage alive.

The movie 12 Years a Slave, based on an autobiographical account which was recently rediscovered, received a standing ovation from the critics and audiences at the recent Toronto International Film Festival, which screened over 200 feature films from more than 70 countries. The stirring and moving film, mounted with brisk speed and endowed with great performances, boosted its Oscar chances by winning the People's Choice award at Toronto.

Directed by British filmmaker Steve McQueen, it chronicles the little-known tale of Solomon Northup, a 19th-century African-American man. The star-studded cast includes Chiwetel Ejiofor who plays Northup, Michael Fassbender, Brad Pitt, Paul Giamatti, Alfre Woodard and Benedict Cumberbatch.

At Toronto, the best Asian film award went to Anup Singh's Qissa, a riveting drama of cruel gender bias and concomitant duplicity forced on a family.

Recipients of the festival's audience-voted award have enjoyed recognition at other awards events including the Golden Globes and the Oscars. Slave, which will be shown soon at the New York Film Festival, is being distributed by Fox Searchlight which has had huge success with other TIFF favourites including Slumdog Millionaire in recent years.

Slumdog Millionaire and The King's Speech are among recent Toronto People's Choice winners that have subsequently won the Oscar. Last year's victor, Silver Linings Playbook, was nominated for best picture and saw Jennifer Lawrence named best actress.

'At a festival that has shown so many brilliant films, I cannot be more thrilled to receive this award,' said Slave's director Steve McQueen. In a message sent from Amsterdam, the British director said it was 'a fantastic honor' and that he was 'deeply grateful.'
'I'd like to thank the Toronto audience, who have supported my work ever since I was fortunate enough to show my first film there.'
His previous films Hunger and Shame were well received at TIFF; they were minor box office hits.
12 Years a Slave is expected to gross at least $60 million in America even without a best film Oscar, per industry sources.
The film was co-produced by actor Brad Pitt's company for about $35 million. Pitt makes a strong cameo appearance in the film, helping the black man win freedom again.
The People's Choice documentary award went to The Square, a record of the protests that have been taking place in Cairo's Tahrir Square since 2011. Its Egyptian director, Jehane Noujaim, told the BBC that the honor was 'a wonderful award for the film to win.'
'This is the only kind of award that really means anything to the team back in Cairo and to everybody who's been fighting on the streets,' she continued. 'To understand that people internationally care about the struggle and relate to it is crucially important.'
The Square also won an audience award at the Sundance Film Festival in January, and will play at the New York Film Festival next month.
A different kind of slavery is the subject of Qissa, a disturbing but compellingly engaging and stirring film by Anup Singh. It tells the story of Umber Singh (Irrfan Khan) who thinks he has cheated destiny as he starts a new life in post-Partition India. Having already fathered daughters, Singh desperately wants a son. When his next child is born he celebrates his wish come true, but the baby is in fact a girl. He sets out to cheat destiny again by bringing up his daughter as a son, calling her Kanwar. When Umber marries Kanwar to Neeli, a girl of lower caste, the long looming tragedy begins devouring everyone on its path.
"Beautiful, timeless, and touching the deepest of human impulses," said Cameron Bailey, the artistic director of TIFF who is a big champion of offbeat films from India, about Qissa. "It is both deeper and broader than any one moment. As this eerie family drama progresses, it cuts to the heart of eternal desires for honour, empathy, and love. Part of a new generation of directors with feet firmly planted in India and far beyond, Singh has delivered a film immediately accessible to anyone sensitive to the conflicts that drive classic stories: fear versus hubris, individual need versus social codes. Qissa is a Punjabi story for the whole world."