'Just the fact that the biggest language at the box office was Telugu and not Hindi is startling.' Vanita Kohli-Khandekar analyses.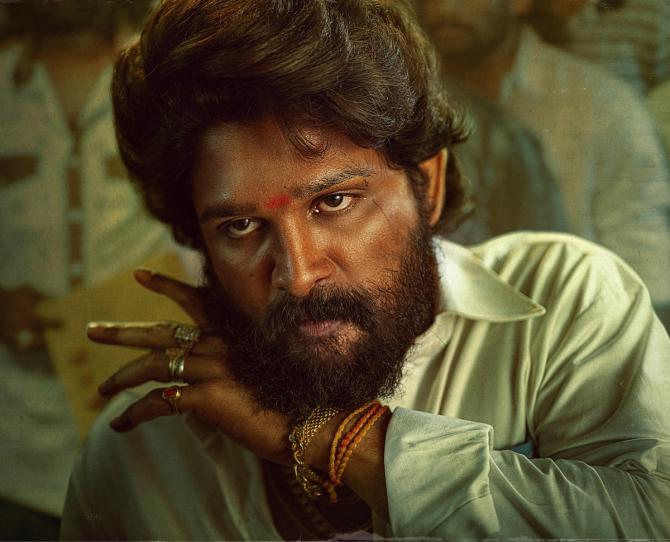 Telugu cinema has zoomed through the pandemic, doing better business at the box office than any other cinema in India.
The Allu Arjun-starrer Pushpa (Telugu) is the highest-grossing film of 2020 and 2021 after Tanhaji: The Unsung Warrior (Hindi).
Telugu cinema's share in box office revenues has risen to 29 per cent, higher than Hindi's 27 per cent and Tamil cinema's 17 per cent share, according to the Ormax Box Office Report 2020 and 2021, shared exclusively with Business Standard.
The combined contribution of the four south Indian languages -- Tamil, Telugu, Malayalam, and Kannada -- to the domestic box office soared to 59 per cent in 2020-21 from 36 per cent in 2019 while Hindi's fell from 44 per cent to just 27 per cent.
As theatres, which bring in over two-thirds of a film's revenue, remained shut for large periods during the pandemic, the business crashed.
The cumulative gross box office of 2020 and 2021 is just Rs 5,757 crore (Rs 57.57 billion), as against Rs 11,000 crore (Rs 110 billion) in 2019 alone.
Mumbai-based Ormax Media is among the few firms that analyse the entertainment business from both a content and business perspective.
Its annual box office report is compiled using estimates from industry sources such as producers, distributors, exhibitors, and trade analysts.
The figures are estimates, which may vary from actuals by up to 5 per cent for Hindi, Hollywood, Telugu, and Tamil films. For other languages, the variation could be up to 10 per cent.
"Just the fact that the biggest language at the box office was Telugu and not Hindi is startling," said Shailesh Kapoor, CEO, Ormax Media.
The reasons are not hard to find, say analysts.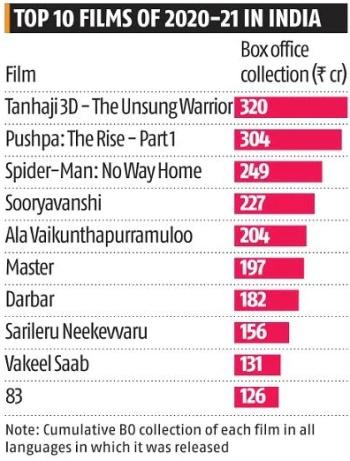 One, Hindi is spoken and watched by roughly 8-10 times more people than any other language.
So, a Hindi release needs many states to be in line while a Telugu or Tamil release needs only one or two states to be open.
That made releasing Hindi films next to impossible for much of the pandemic since not all states were open at the same time.
Two, the southern markets are largely dependent on single screens while Hindi has become multiplex-oriented, more realistic cinema in the last decade or so.
This changes the creative focus of the two kinds of cinema.
The massy, spectacle films that single screens love are rarely made in Hindi now.
The southern cinema still has its finger on the pulse of its audiences.
So every time cinemas opened in 2020 and 2021, Tamil (Master) and Telugu films (Vakeel Saab, Uppena) did great business.
"What is common to all these films that have broken through (in theatres) is that the characters are larger than life. Pushpa walks and talks like no one else, his world is different," said Ajit Thakur, CEO, Aha, a Telugu language OTT.
"There were several windows/opportunities when films were releasing, but for Hindi (cinema), it all came down to when Sooryavanshi was releasing," said Kapoor.
That is probably because it was the only massy film that would draw people to the theatre a la Master or Spiderman.
The rise of the 'single-screen, massy entertainer' also means that average ticket prices have gone down from Rs 106 in 2019 to Rs 87 in 2021, according to the Ormax data.

Three, in Andhra Pradesh and Telangana, many single screens are also owned by big producers.
Hence, their ability to hold onto their films and release at the best possible moment is way better than the studios which depend on multiplex chains or of standalone producers in other languages.
Note that Malayalam, which is a more edgy sort of cinema, does not feature on the list of big hits.
But Malayalam films such as Minnal Murali, Joji or Drishyam and Hindi ones such as Ludo, Sardar Udham did well on OTT.
In 2021, all the top 10 direct-to-OTT films on subscription-driven streaming services were Hindi, going by Ormax's list.
Feature Presentation: Rajesh Alva/Rediff.com