'Movie tickets cost Rs 500, 600 on weekends. Why would someone want to watch Ananth Mahadevan and Saurabh Shukla in Staying Alive instead of Shah Rukh Khan for Rs 300 in Happy New Year?'
'It's a very tricky and dangerous ground for good and progressive cinema.'
'Today, only mainstream, star-studded extravagances run.'
'People watch it and then call it the 'shittiest film' they have ever seen, but they have ended given up Rs 500 to the Rs 5,000 crore kitty.'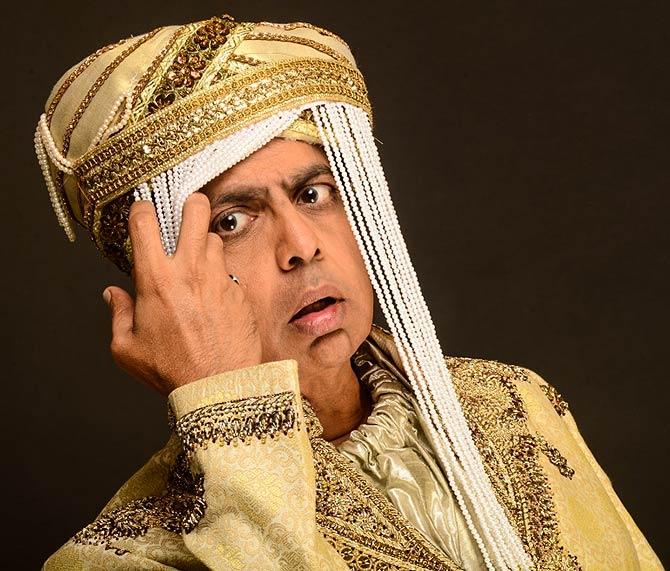 IMAGE: Ananth Mahadevan in Blame It On Yashraj.
Ananth Mahadevan has been a part of the film industry for over three decades, but he still calls himself the "biggest struggler."
Amid the hustle-bustle of the Mehboob Studio in Bandra, north-west Mumbai, close to where two of Bollywood's biggest stars live, sits a man, dressed casually, sipping green tea.
Ananth Mahadevan introduces himself to Rediff.com's Jahnavi Patel and the location for this interview moves from a chaotic film set, where Aksar 2 is being shot, to his quiet vanity van.
He maintains eye contact, listens to the questions attentively and gives precise answers.
He is witty at certain moments and blunt when it's required.
How did this Tam-Bram make Bollywood his career? Find out...
Your play Blame It On Yashraj has completed 100 shows. When a play hits a century, how do you feel?
It's strange because (producer) Ashvin Gidwani had asked me to do this play and he had arbitrarily said, 'I'll give you 100 shows'.
I smiled and thought it's good to have that kind of a drive in a producer and it's good to do 100 shows, so why not?
I wasn't sure that would happen, but it did in a short span of time.
It's not often that original English plays in India do 100 shows. Most of the plays are inspired by Broadway productions and American playwrights.
I am happy for (playwright and actor) Bharat Dabholkar because the humour he has brought out and the way he has taken off on Indian weddings is really funny.
Was the response the kind you were expecting?
Absolutely not. Before the first performance at the Tata Theatre on January 26 four years ago, I was sceptical. I wasn't sure it would be funny.
I was hoping we wouldn't end up making fools of ourselves.
I was totally wrong.
The first line elicited so much laughter and then it went on and on... I realised I had underestimated Bharat Dabholkar's script.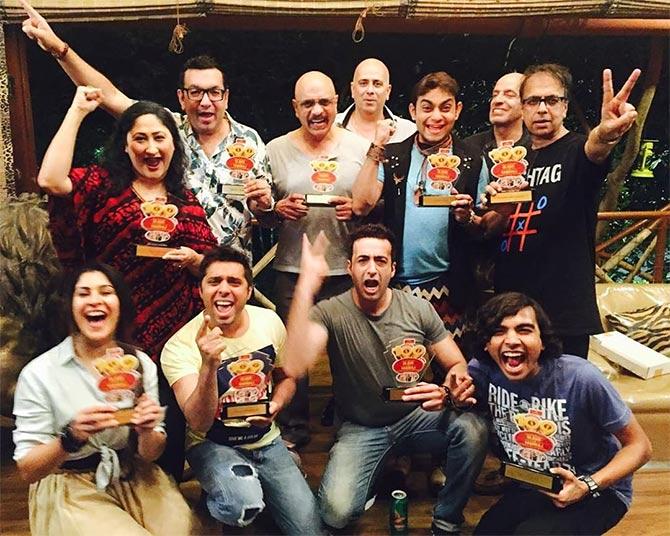 IMAGE: The Blame It On Yashraj team celebrating 100 shows. Photograph: Kind courtesy Ananth Mahadevan/Instagram
Once upon a time, weddings were a day-long occasion. Today, the celebrations last a week and Bollywood may have contributed to that. But why blame it on Yashraj?
Yashraj is a metaphor. It could be Rajshri or Bollywood.
When we went to South Africa, we called it Blame It On Bollywood because Yashraj is not as well known abroad.
Cinema is larger than life, the characters are larger than life.
If you start behaving like them, you are asking for trouble.
If you're going to have weddings as large as those (in films), you are asking for more trouble because like you correctly said, before they were one-day rituals. There would be a lot of sanctity, peace and harmony.
If I get married, I would want to get married in a church because you just have two people walking down the aisle and becoming man and wife after a prayer.
Then there's gaiety, laughter, dance, lunch or dinner and that's it.
It's strange that life has started imitating art. I thought it was the other way around.
You haven't gotten married...
I'd like to do everything that I am not on screen, in theatre or on television.
I am not a killer, so I played one in Khiladi.
I am not Shah Rukh Khan's father, so I played that in Baazigar.
I keep playing roles which I am not because it invokes the actor in me to see if I am worth my salt as an actor.
For me, it is very important to do something which I am not.
The emotions that the daughter in the play evokes in me... I have always imagined, what if I had a daughter and what if she goes away and I have to say goodbye to her... just imagining that on stage brings tears to my eyes.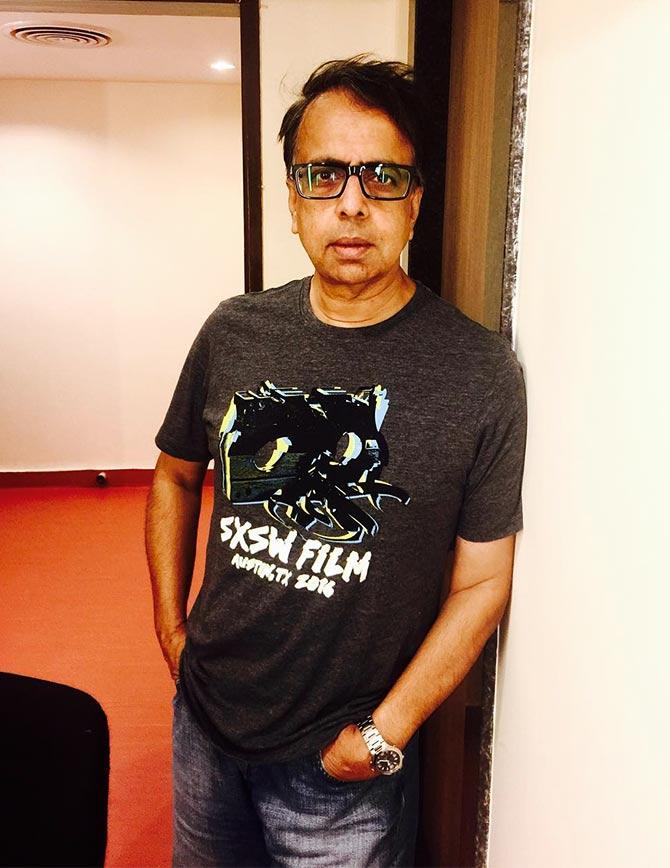 Photograph: Kind courtesy Ananth Mahadevan/Instagram
Let's go back in time to when it all began.
When, The Big Bang? (smiles)
How did acting happen for you?
I wasn't lucky to come from a film family, and when that happens, your parents look at you and say, 'Oh-oh, what's going on?'
And then, 'Alright, as long as it is restricted to theatre in school and college, nothing more.'
My mother used to play the veena, that was my only connect with the arts. That probably explains my love for music.
As an actor, yes, I guess I have let my parents down very badly.
Why do you say that?
Because they probably expected me to be a scientist, an engineer, a doctor... They disowned me and I don't blame them.
Was there a struggle before you got your first film?
I am still the biggest struggler in this industry. And I'm not saying this for effect.
I still feel I haven't achieved what I set out to achieve.
I haven't achieved what I think is my potential. I haven't really become the fraternity.
I am a film person and yet, not a part of the film industry. It's very ironical.
Initially, theatre helped me a lot. I revelled in theatre.
My first role was something anyone would give their right arm for -- three scenes with the great Peter O'Toole in Kim.
It started off very well and I have been busy over the past 35 years.
I haven't faded away, so I guess there must be something in me that keeps me going -- either talent or perseverance.
I hope to see more of myself the way I want to see myself.
Fortunately, with my last four or five films, I have been improving, at least as a director, in my own eyes.
A good director needs a new producer. Period. Somebody who believes in you and the kind of subject and product you want to make.
But the problem is that here, people don't allow you to do what you want to.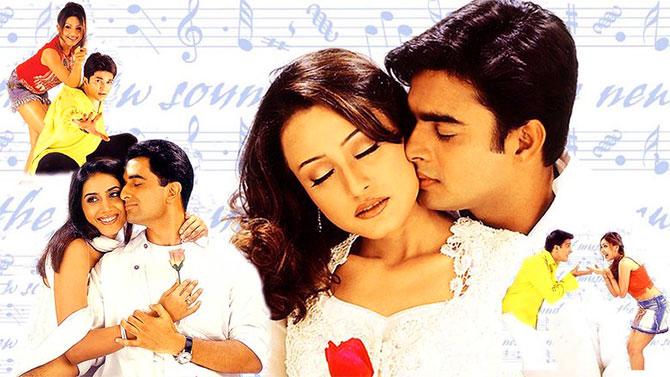 IMAGE: The Dil Vil Pyar Vyar poster.
Was it difficult to get a producer for your first film Dil Vil Pyar Vyar?
I did a lot of television, waiting for my first film to happen.
Ghar Jamai had a star cast like R Madhavan, Satish Shah, Sadhana Singh, Mandira Bedi and Gracy Singh. Then I did Chamatkar and Alvida Darling with Farooque Shaikh.
Hera Pheri probably had the biggest cast ever assembled for a comedy on Indian television (Shekhar Suman, Rakhee Tandon, Rohit Roy, Bhavana Balsavar, Asrani and Hemant Pandey).
After that, I landed my first film Dil Vil Pyar Vyar. It wasn't easy to get it.
I still remember I was watching M Night Shyamalan's Unbreakable in a theatre and his name flashed across the screen: 'Directed by M Night Shyamalan'.
I thought, 'Here is a South Indian who has landed up in the US and doing so well for himself. When will my name flash across that screen?'
I saw it at Regal (theatre, south Mumbai). When you see your name there, it's a lovely feeling.
I pushed myself there without a godfather. It's been a self-made journey.
Baazigar and Gardish got you noticed. How did they help your career?
They remain my best roles.
Khiladi, Baazigar, Baadshah, Gardish, Ishq... I got noticed in these films, yes. They were very different kinds of roles.
I did not get typecast, so that helped a lot. Or maybe it did not because if you are typecast as a comedian, you end up doing 20 films as a comedian.
If you're not, it's difficult for someone to take Ananth Mahadevan and say, 'Let's give him this part.'
That's why I say hats off to Abbas-Mustan for thinking of me in a killer's role in Khiladi or as Shah Rukh's sympathetic father in Baazigar or as a funny man in Baadshah. They gave me varied roles.
It's the director who shapes an actor's career. So I am very thankful to them.
You are a director and actor. Does being behind the camera and in front of it sometimes influence the other?
When I cast for my films, the actors know I am more of a colleague than a director.
It's very important that you know your job -- unless you do, you cannot be the boss and tell them 'I want this and that.'
Actors leave themselves in my hands and have confidence in me. That has really helped because a lot of people have told me that I am good with actors.
Did you want to be an actor or a director?
I started with theatre, then I got into television as an actor, then as a director.
Then I got into films as an actor, and then as a director.
So here I am. I haven't broken the queue.
I have followed all the rules and have graduated properly.
IMAGE: A scene from Mee Sindhutai Sapkal.
Which films did you enjoy making as a director?
The second half of my filmography -- not that I am ashamed of those (earlier) films.
They were the films that helped me to do what I wanted to like Dil Vil Pyar Vyar, Dil Maange More, Aksar, Aggar...
Even films like Anamika, which was an adaptation of Rebecca.
But after that, the real cinema, the cinema that I wanted to do, started.
Like I did an experimental film, Staying Alive. Saurabh Shukla and I played the lead parts.
Then I did a film on the Naxal movement in India. It was a true story about this farmer, played by Suniel Shetty. Red Alert: The War Within. He got his first Best Actor award in New York for that.
My satisfying film Mee Sindhutai Sapkal got me four National Awards. It was my first Marathi film.
Let me tell you how I made it. My lead actress Jyoti Chandekar did not have a passport.
I wanted to shoot in San Francisco, so we managed to get her passport. She went to the US embassy and squealed like a little kid, 'I am going to film!'
They said, 'Sit aside, we are not giving you a visa.'
I didn't know what to do.
The producer had already reached San Francisco. He said, 'Let's cancel the shoot.'
I said no. I went there.
I got an Indian woman and made her wear the same sari that Sindhutai used to wear. I shot all the shots from the back, her entry at San Francisco airport, exiting, everything.
Then on the San Francisco bridge, where people were supposed to talk to her, I kept an empty chair and shot that sequence.
We came back, and did that scene against a green background. We put Jyoti Chandekar on that. You watch the film and feel she is in San Francisco.
Everyone wondered how I would shoot the film without the lead actor, but we actually did.
Then I did another biopic on a freedom fighter named Gour Hari Das, who fought for 30 years to get a freedom fighter's certificate. Gour Hari Dastaan: The Freedom File.
I have just completed my third biopic on India's first practicing doctor, Dr Rakhmabai. She lived in British India. She was the first person who fought for divorce in those days.
She went to England to become a doctor only to discover that the country she wanted to work in ostracised her because she had left her husband.
The great fight against gender discrimination was flagged off by this lady.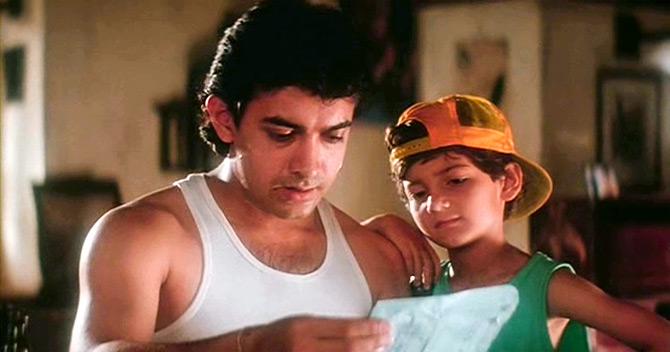 IMAGE: Aamir Khan and Adil in Akele Hum Akele Tum.
You worked with Aamir Khan in a couple of movies.
I did a small part in Akele Hum Akele Tum. Most of the time we spent playing chess.
After that, we did Mann.
Aamir and I share a nice rapport. I haven't seen the perfectionist in him, but I have seen him working around a lot of things.
He is very hardworking person and obsessed with cinema. I guess that shows.
The audience wants content along with entertainment. It has evolved over the years. Do you agree?
No. There was a time in the 1960s, 1970s and mid-1980s when filmmakers like Bimal Roy, Hrishikesh Mukherjee, Basu Chatterjee, Gulzar and Basu Bhattacharya ran their films ran alongside mainstream directors like Manmohan Desai, Ramesh Sippy, Nasir Hussain and Bhappi Sonie. There was an audience for every kind of film.
I enjoyed Amar Akhar Anthony as much as Angoor. So the mind was open.
There was a time when there were just 21 shows in a week, three shows a day in a theatre.
Today, with multiplexes, you have 21 shows of a film in one day, in one theatre.
In spite of that, cinema that is supposed to be seen and exhibited does not get screens and shows.
Tickets cost Rs 500, 600 on weekends. Why would someone want to watch Ananth Mahadevan and Saurabh Shukla in Staying Alive instead of Shah Rukh Khan for Rs 300 in Happy New Year?
I understand why people will not come on weekends for films like Staying Alive. They want to catch the Tuesday show because it is cheaper. But by that time, the shows (for films like Staying Alive) are gone, cancelled.
It's a very tricky and dangerous ground for good and progressive cinema.
Today, only mainstream, star-studded extravagances run.
And people watch it and then call it the 'shittiest film' they have ever seen, but they have ended given up Rs 500 to the Rs 5,000 crore kitty.
This is the irony of today's audience.
I don't think they have evolved.
What is the reason for this?
The thinking of the entire generation has changed overnight.
Youngsters want to go and watch a star prancing around, whether it is one of those off-repeated marriage films or rom-coms.
They don't mind seeing that, but they don't want to sit and watch Gour Hari Dastaan. Even though that is the kind of cinema the world is looking at.
The world has changed and gone ahead, they are speaking another language and we haven't even learnt the ABC of cinema here.
The same thing is happening to television.
What we considered amateurish television looks like classics today.
All those shows in the 1980s and '90s, before the daily soaps came in seem like classics.
This is what consumerism and sponsorship has done to us.
So women who are watching television, watching the same old regressive stuff, think this is what life is all about.
Television has become mindless trash and has damaged our audiences.
Why is regional cinema so strong?
It's because they try to make movies that are regional and they get their audiences.
On a bigger, national level, we are struggling to find an audience for films like that.
There is no medium you haven't explored. Are you open to a Web series too?
There is a notion amongst the makers of web series that since there is no censorship you can get away with everything.
Web series should be explored intelligently, but again, whom are you addressing? The same ignorant audience!
Web series has still not come out of the cocoon.
We have to wait and watch to see how each season will fare and what will attract people without any publicity.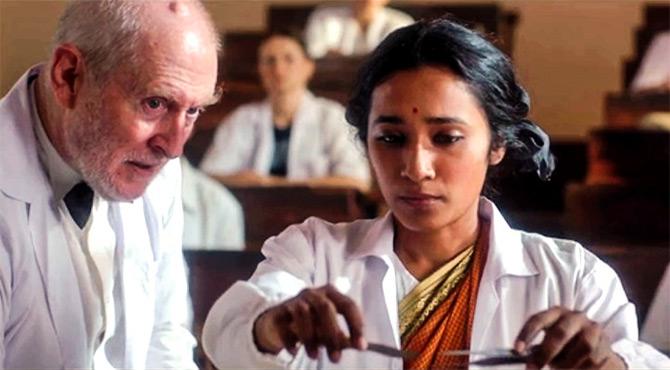 IMAGE: Tom Alter and Tannishtha Chatterjee in Doctor Rakhmabai.
Which is the toughest film you've made?
Doctor Rakhmabai.
We had to get into that period -- the 1880s -- and I don't like to shoot on sets. I want real locations.
Fortunately, Rakhmabai used to stay in (south) Mumbai, in Girgaum.
I went into those areas. Places like Khotachiwadi village still have an engraving from 1838. So I know I am in the right time space.
But where does one get those grills and lamp posts? So I would shoot there and do a lot of post-production work.
I had to get the ship that she sailed to London in 1890. Where would I get that ship?
We went to London, found it in a dock and shot there.
The kind of research I have put into Doctor Rakhmabai made it the most difficult film to make.
Which film did you enjoy working in as an actor?
I enjoyed the television series The Sword of Tipu Sultan. I played Purnaiya Pandit, which was the longest part and the most difficult. I had to play from 20 to 70 years.
That was the most challenging rrole and I enjoyed doing that.
Any film you wish you hadn't done?
Victoria No 203: Diamonds Are Forever.
Remakes are a trap, a catch-22 situation. Kamal Sadanah had come to me to remake it.
Victoria No 203 was one of the big cult hits of the 1970s, who wouldn't want to make it? So I said yes.
If you remake the same film, it would look outdated. So I decided to bring back the Victoria that went missing after the interval in the original.
Then people turned around and said this is not Victoria 203, it's something else.
I will never make a remake again even if I am paid a fortune.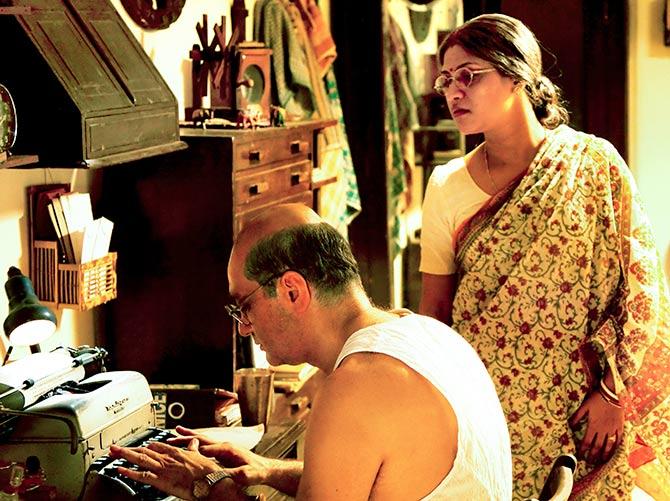 IMAGE: Vinay Pathak and Konkona Sensharma in Gour Hari Dastaan.
You've made a film like The Xpose on one hand and Gour Hari Dastaan on the other. What is really your kind of cinema?
Gour Hari Dastaan, please don't be confused. ((Laughs.)
This is not to bring down any of my producers, but in all these films, I ended up paying money for the kind of cinema I want to do.
I end up not getting paid.
So when a Himesh Reshammiya comes with Xpose or someone comes with Aksar, I treat them with as much respect as the other producer because if they feel I am qualified to make a sleek, stylish entertainer, then I should respect the person. And at least that will pay my bills.
An interesting anecdote from Baazigar?
There's a scene where I get a heart attack and die. It's raining heavily.
Raakhee (who plays his wife) picks me up, puts me on a handcart and tries to take me to a doctor.
Then the handcart hits a pothole and I topple over.
I made the biggest mistake of not putting cotton in my ears. It was pouring and my ears went numb for the next one-and-a-half months. I couldn't do anything about it. That was one hell of an experience.
Which actors did you love working with?
R Madhavan. There's something about him that is very magical and charismatic.
I miss Farooque Shaikh a lot. We had great camaraderie.
There have been others like Shahid (Kapoor) and Emraan (Hashmi). All of them are professional and nice.
Amongst the actresses, there's Tannishtha Chatterjee who has worked with me in three films -- Rough Book, Gour Hari Dastaan and now Doctor Rakhmabai. She is brilliant.
Also, Tejaswani Pandit, who played Sindhutai Sapkal.
Do you watch your films when they are shown on television?
No, they are ruthlessly massacred.
I actually call up people and say Red Alert is on television, do not watch.
After the Censor Board has a go at it, who are you to further cut it down and say this violence is not to be shown?
If you watch Red Alert, you will think this is the worst director ever.
The way it has been cut looks like the director doesn't know his job.
So I don't enjoy watching my films on television.
Also, films aren't meant for the small screen.
Cinema should be watched only on the big screen.
When you play a character, how much of impact does it leave on you?
You portrayed a rapist and child abuser on the 1998 television series Bhanwar.
It was tough. I really didn't know how to approach that part.
I am glad you brought that up because it was one of my favourite parts even though it was one episode.
How does a child molester feel? I played it rather coldly.
I didn't do it with a venomous or a villainous approach because you don't know a child molester from a normal person. It isn't written on their face.
I played it with such a calm demeanour that it became very menacing -- I just sit there and watch the child, that's all. It's so frightening.
Child molestation and that kind of evil is certainly not a part of me, so it doesn't affect me as an actor.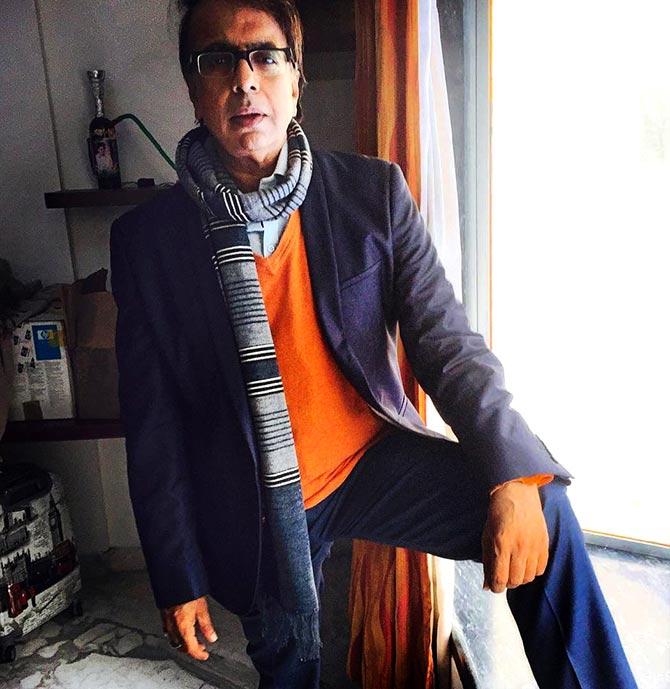 Photograph: Kind courtesy Ananth Mahadevan/Instagram
Which is the toughest role you've played?
I played a 90-year-old man when I was 23 years old in Arthur Miller's play, The Price. It was about two brothers who had fallen out with each other and were selling their dead father's property.
The 90-year-old man is a broker who tries to broker the deal.
I had to do my own makeup. I put a lot of tissues on my face and put gum on then to get the wrinkles right.
I put a bald wig on my head. People thought I was not mature enough to play a 90 year old. So I took that up as a challenge. I changed my voice and made a cracking sore voice.
Your upcoming films?
Besides Doctor Rakhmabai, I am working on some exciting scripts.
One is an original story by Satyajit Ray, The Storyteller.
Then there's a biopic on Laxman Gaikwad, who wrote the Sahitya Akademi award-winning book Uchalaya.
It's about a tribe that is branded criminals. Even an unborn child is branded a criminal.
How the man managed to break that stigma and make a success of himself is what the film is about.