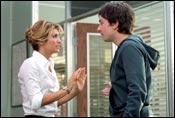 The rising fortunes of the affable Queen Latifah get rudely derailed as Taxi, her first film with top billing, takes too many wrong turns.
The mirthless crime comedy that opened to mostly negative reviews, stood at fourth place in the box office.
The movie opened in about 600 theatres and expanded to over 3,000 theatres last Friday, with distributor Fox hoping for a minor miracle.
It offered American television comedian Jimmy Fallon a starring role but the script does not provide him with meaty situations, and his big screen debut is certainly inauspicious.
The crime comedy is centered on a single mother and pizza deliverer, Belle (Latifah), who decides to use her talent for making speedy deliveries elsewhere. She becomes a cabbie hoping to make better money than in her previous job. She has no trouble flying at 125 miles per hour. Her talent catches the attention of a young cop (Fallon) who asks her to help him catch a gang of beautiful female bank robbers.


Among the three new films in wide release, the Universal football drama Friday Night Lights seems to be the best.
The third new release of the week, the Hilary Duff music school drama, Raise Your Voice, is aimed at younger women.

Friday Night Lights, helmed by Peter Berg, features Billy Bob Thornton as a high school football coach. The film, based on the book about high school American football by H G Bissinger, recreates the excitement and tension in the small city of Odessa, Texas.
Its characters -- football players, coaches, parents, cheerleaders and fans -- also undergo varieties of personal conflicts even as players and coaches work to win the state championship. Deftly directed in many crucial scenes, the film has a raft of engaging performances and emotion packed scenes.
It is also one of the better-reviewed films in recent weeks. You don't have to be a football player or fan to enjoy its plot that becomes quite upbeat towards the end.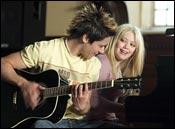 The bland and colourless Raise Your Voice (right) tells the story of a teenage girl, who, following the death of her brother in a car accident, spends the summer in Los Angeles studying at a performing arts school. The small-town girl is suddenly exposed to a new universe vastly different from her seemingly cozy small town.


Among the weekend's limited releases, Lions Gate's Stage Beauty focuses on a male actor famous for playing female roles -- as was the tradition in 17th century England. The movie opens on three screens in New York and Los Angeles, and will be expanding to more cities and theaters gradually.
It was one of the more successful films with the audiences at the recent Toronto International Film Festival. It stars Billy Crudup as the male actor who just does not know what to do when the British monarch suddenly lifts the ban on female actresses. The film also stars Claire Danes whose romantic entanglements with Crudup led the latter to give up on his pregnant girlfriend, actress Mary-Louise Parker.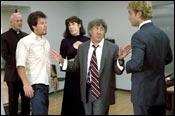 The philosophical comedy I Heart Huckabees (left), which opened on four theatres last week amidst mixed reviews but with a strong box office gross, will expand to 44 screens on Friday. Its real test will come when it expands to more than 1,000 theatres.
Focus will expand its The Motorcycle Diaries, which received some of the best reviews in recent months, showing it in more than a hundred theatres. The film chronicles a momentum journey the youthful Ernesto 'Che' Guevara took, nudging him towards a revolutionary cause.