Un-Indian is a romantic comedy, slated for release this year.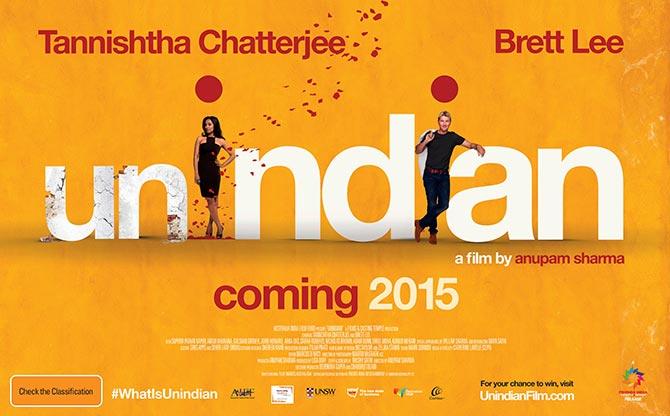 Actress Tannishtha Chatterjee has been cast in a film called Un-Indian with Australian cricketer Brett Lee.
A romantic film, it has been directed by Australian director of Indian origin, Anupam Sharma.
She calls Brett Lee 'a gem of a person, a thorough professional with a great sense of humour'.
"I had a great time working with the entire team," Tannishtha says. "Martin Mcgarth, who shot the path-breaking film Muriel's Wedding, was the director of photography. Anupam is a fab director and a great team leader. All the people of the Australia India Film Fund were really wonderful."
Tannishtha has been seen in films like Brick Lane and the recent Bhopal: A Prayer For Rain. She was also seen in the Hollywood film, Anna Karenina, starring Keira Knightly and Jude Law.
Tannishtha's other film Parched is being shot by Russell Carpenter, the cinematographer of James Cameron's Titanic. It is co-produced by accomplished Indian cinematographer, Aseem Bajaj, who shot Ajay Devgn's Golmaal films, and Devgn himself. His wife Leena Yadav, who directed Ben Kingsley and Amitabh Bachchan in Teen Patti, is the director.
Parched is set in Rajasthan and is being made as two separate films, in English and Hindi.
Tannishtha says it is frustrating to work in films that do not get properly released, like her award-winning festival film Dekh Indian Circus.
"You give your soul to a film and then you discover hardly anyone has seen it. That can be infuriating. I am happy a star of Ajay Devgn's stature is producing Parched. He'll make sure it gets properly released," she says.
Parched is Tannishtha's fourth film to be shot in Jaisalmer. "All the local drivers and coordinators know me as a regular now. I guess I was born in Jaisalmer in my last life," she says.
Tannishtha promises that Jaisalmer will be seen like never before. "The way Russell Carpenter is shooting it has to be seen to be believed. This is going to be the Titanic of the deserts," she says.