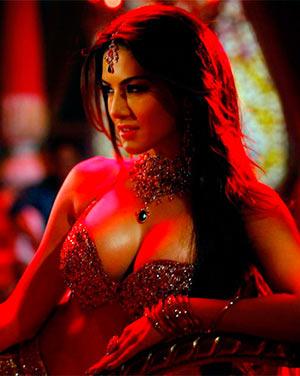 Vote and decide for yourself!
It's not a golden period in Bollywood music right now. Looks like the British Special Forces feel the same way. And quite strongly too.
Recent reports reveal how they're using the services of un-Islamic Hindi film songs to rile and hunt down Islamic State terrorists in Libya.
Mediocrity was never this advantageous. Instead of explosives, the British troops, at the suggestion of a Pakistan intelligence officer, dropped two cars blasting off Bollywood numbers, compelling the tormented IS members to complain about it on radio and unwittingly disclosing their whereabouts.
While we may not have access to the official playlist they picked for this mission, here's our proposed assortment of ones that sound audacious/awful/ blasphemous enough to qualify. Vote for the worst offender.
Laila from Shootout At Wadala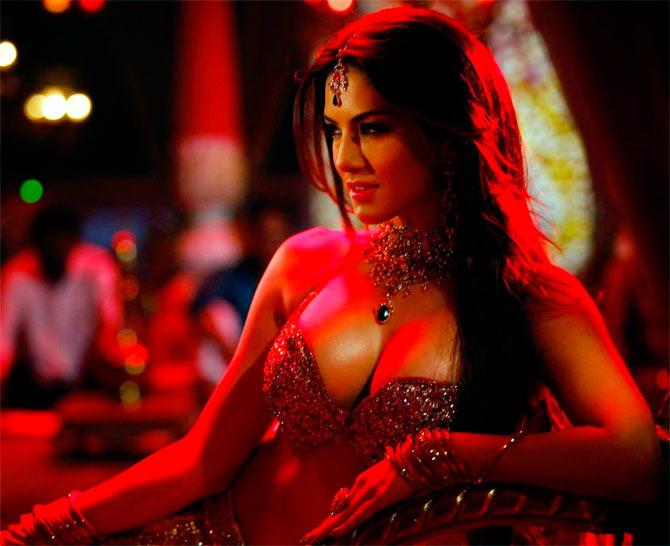 IMAGE: Sunny Leone in the song Laila, Shootout At Wadala.
Fundamentalists will find ample things to frown and fume about in the lewd sentiments of Laila teri loot legi, picturised on a voluptuous Sunny Leone at her titillating best.
Char botal vodka from Ragini MMS 2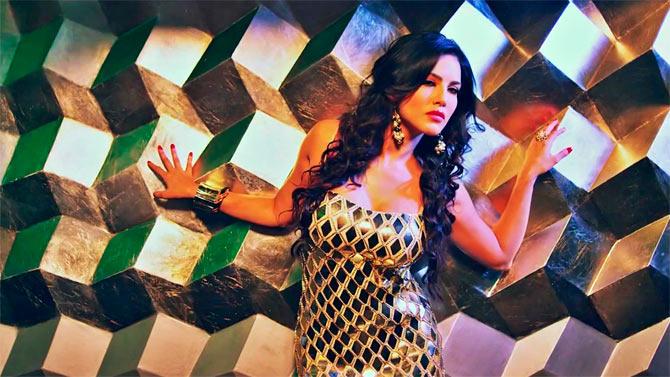 IMAGE: Sunny Leone in the song Char botal vodka, Ragini MMS 2.
For those subscribing to the Sharia law, alcohol is strictly taboo. There's no way they'll warm up to Honey Singh's infuriatingly insistent chant of Char botal vodka, even if the endorsement comes in the form of the curvy Ms Leone herself.
Fevicol se from Dabanng 2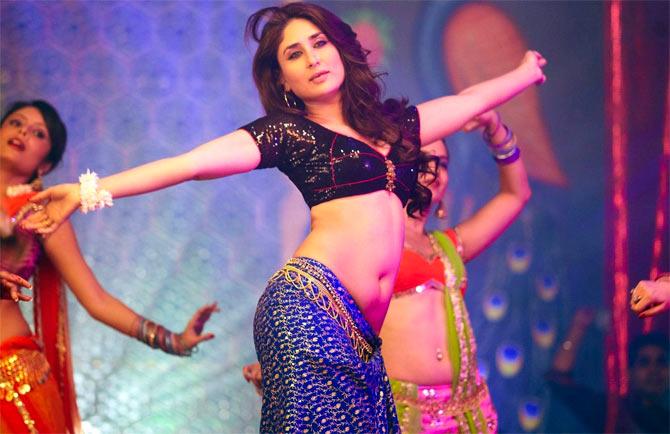 IMAGE: Kareena Kapoor in the song Fevicol se, Dabanng 2.
Even sensible folk have a hard time stomaching bilge like 'Main to tandoori murgi hoon yaar gatkale saiyan alcohol se." There's no way the IS will stay unmoved.
Cinema dekhe mamma from Singh Is Bliing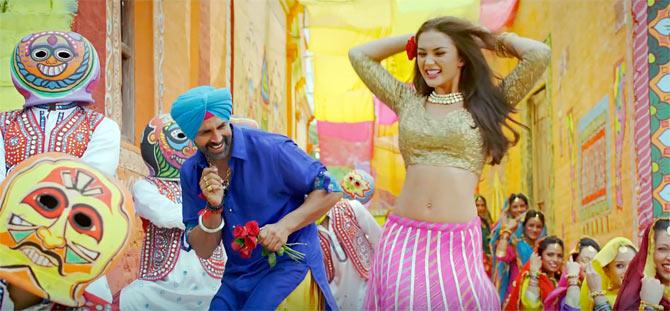 IMAGE: Akshay Kumar and Amy Jackson in the song Cinema dekhe mamma, Singh Is Bliing.
When nuisance parades as melody, what you get is Singh is Bliing's super annoying Cinema dekhe mamma, designed solely to exasperate with its daft lyrics and clumsy North meets South mash-up.
Afghan jalebi from Phantom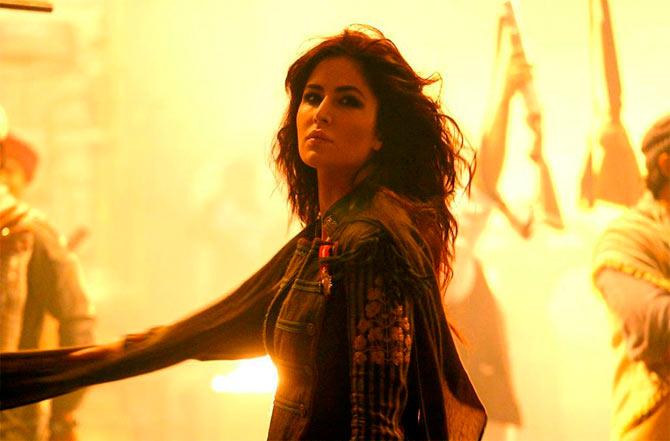 IMAGE: Katrina Kaif in the song Afghan jalebi, Phantom.
Songs alluding to women hailing from Islamic nations as sweetmeats are definitely not going to go down well with the middle-eastern terror outfit. Also, it doesn't help how dissonant and drooping Phantom's supposedly fiery number sounds.
Jumme ki raat hai from Kick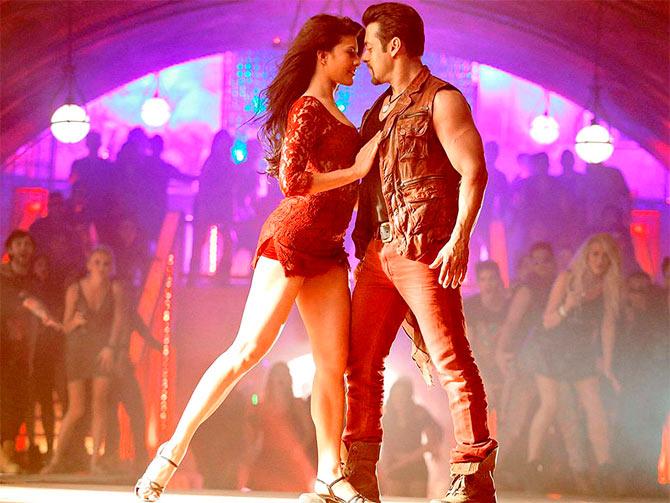 IMAGE: Jacqueline Fernandez and Salman Khan in the song Jumme ki raat hai, Kick.
Any mention of Jumma and chumma in the same breath is known to stir a hornet's nest among the moral police. Doubt the IS will make an exception for Salman Khan and Jacqueline Fernandez's cozy dance-off.
Sunny sunny from Yaariyan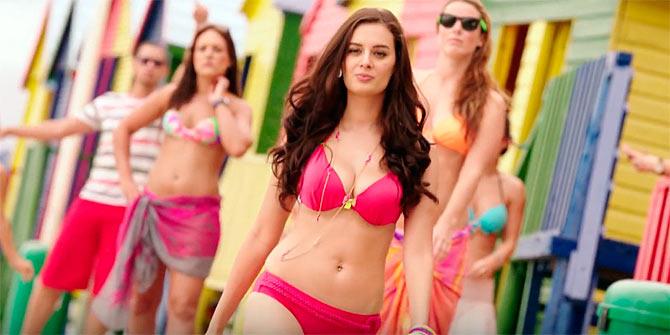 IMAGE: Evelyn Sharma in the song Sunny sunny, Yaariyan.
The Yo Yo Honey Singh composed monstrosity carries enough ammunition (read irritation) to single-handedly badger one's senses and eardrums with its never-ending stock of words like 'paani' and 'sunny', till ruthless terrorists turn into pleading minions.
Jhalak dikhla jaa from Aksar
IMAGE: Emraan Hashmi and Udita Goswami in the song Jhalak dikhla jaa from Aksar.
Who knew Himesh Reshammiya's trademark nasal singing could be used for the greater good of mankind? Simply play Jhalak dikhla jaa with its endless Ek baar aaja aaja aaja aaja aaa jaaa on loop to screaming speakers and no terrorist gets off scot-free.
DK Bose from Delhi Belly
IMAGE: Imran Khan and Vir Das in the song DK Bose, Delhi Belly.
Cussing was never this catchy (or clever) but the offensives doled out at in great speed and regular supply in Delhi Belly's notorious song is sure to induce a desirably maddening effect.
Choli ke peeche kya hai from Khalnayak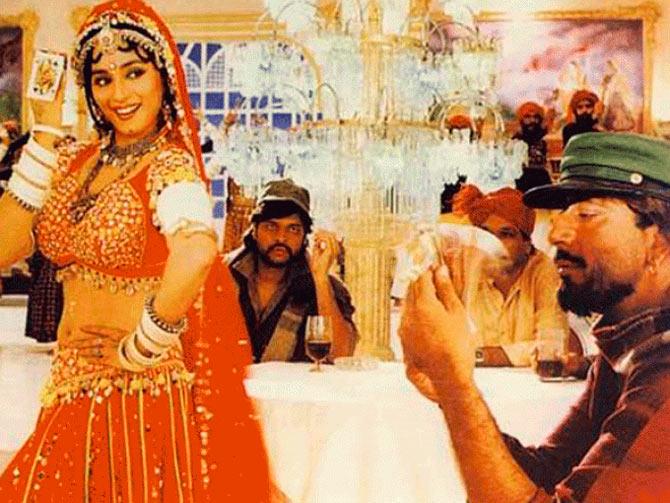 IMAGE: Madhuri Dixit and Sanjay Dutt in the song Choli ke peeche kya hai from Khalnayak.
The pioneer of Bollywood's vulgar song wave, Choli ke peeche asks pressing questions in a manner so randy and risqué that you can love or hate it, but you simply cannot ignore it.