Tagore and Victoria Ocampo met during Gurudev's visit to Argentina in 1924, and kept in touch until his death in 1941.
Thinking Of Him reveals a little known part of the great writer's life.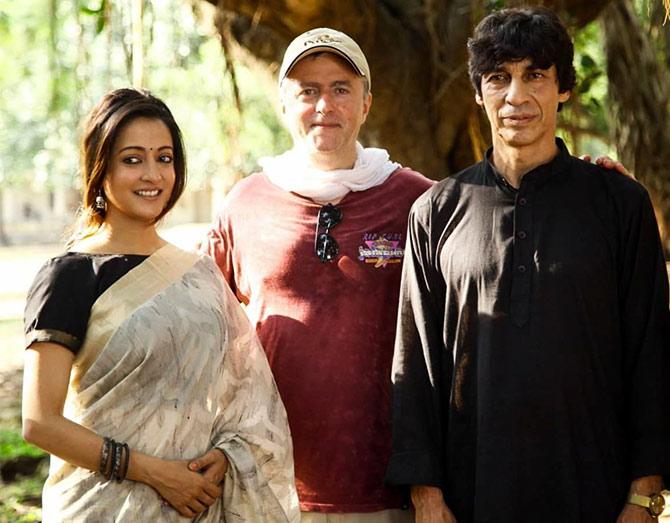 IMAGE: Raima Sen, Pablo Cesar and Hector Borodoni on the sets of Thinking Of Him. Photograph: Kind courtesy Raima Sen/Instagram
Rabindranath Tagore's bond with Argentinian writer Victoria Ocampo has been explored in the film Thinking Of Him, directed by Argentine director Pablo Cesar.
The film was screened at the end of the International Film Festival Of India on November 28.
Tagore and Ocampo met during Gurudev's visit to Argentina in 1924, and kept in touch through letters until his death in 1941.
Victor Banerjee plays Tagore while Argentinian actress Eleonora Wexner plays Victoria.
A parallel story runs in the film, set in today's times, when an Argentine history professor named Felix (Hector Borodoni) meets Kamali (Raima Sen), a girl from Santiniketan, during his quest to discover Tagore.
In an e-mail interview, Cesar tells Rediff.com's Patcy N what attracted him to the Tagore-Ocampo story, and what he discovered during the film's making.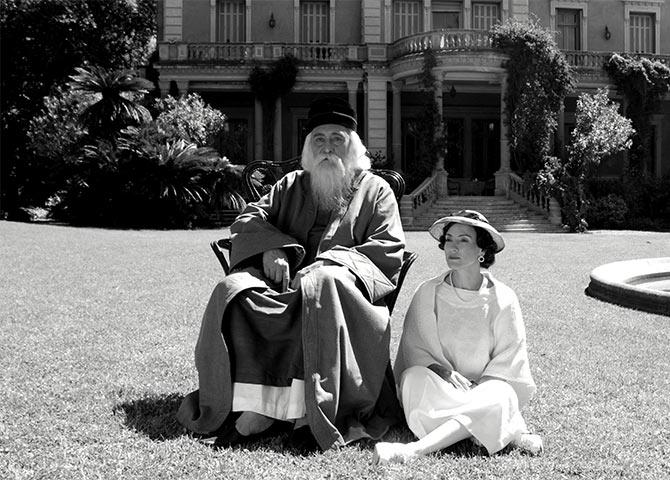 IMAGE: Victor Banerjee's Tagore and Eleonora Wexner's Ocampo in Thinking Of Him.
At what age did you get acquainted with Tagore?
I was 25 when I read a book of Kabir's poems, translated by Tagore.
I was very close to Sufi poetry and have made some feature films on the subject.
Then I read Purabi and loved it so much.
At the age of 30, I read Gitanjali.
How did you decide on making a film on Tagore and Ocampo?
In 2008, I met Indian Ambassador R Viswanathan in Argentina, who knew my films.
He told me it would be important to have a feature film on the meeting between Tagore and Victoria Ocampo in 1924.
I loved the proposal.
What kind of research went into the film?
I met with Jerónimo Toubes, an Argentine scriptwriter. We began to study together. Jeronimo made a trip to India in 2009 to investigate the subject.
In four years, Jerónimo made a deep study. We also contacted specialists such as Professor Gustavo Canzobre in Argentina and Professor Shamu Ganguly in India.
We loved Ketaki Kushari Dyson's book, In Your Blossoming Flower-Garden. That is a deep work on the relation between Tagore and Victoria Ocampo.
We read the books concerning the educational work of Tagore in Bolpur, Santiniketan, since the focus of the film -- although it is the relationship between Tagore and Ocampo -- is the fascination of Victoria in the vision of a man on the education of the human soul.
I believe that a change in the methods of education is necessary -- motivate the freedom, the imagination and construct a world without prejudices or imaginary torments. On the contrary, (make) a world full of freedom and respect.
In 2015, I stayed in Santiniketan for some days with the Indian co-producer of Thinking of Him, Suraj Kumar. We had a beautiful experience there.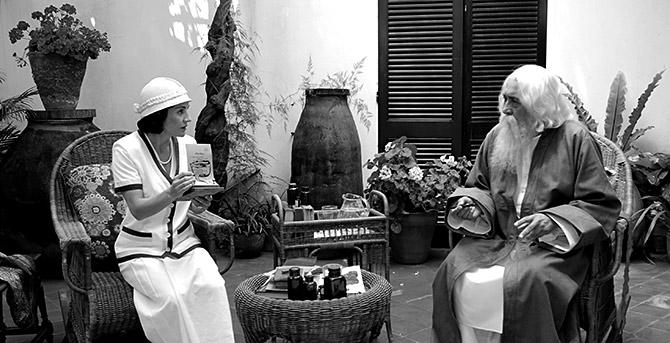 IMAGE: 'Victoria and Tagore had mutual admiration and respect for each other.'
During your research, what new things did you discover about Tagore and Victoria?
During the research, Jerónimo and me realised that the relationship between Victoria and Tagore was one of mutual admiration and respect.
Victoria was a woman of good economic position in Argentina, but she was not a millionaire. In order to rent a house for the stay of Tagore and his British assistant, Mr Leonard Elmhirst, Victoria had to sell a jewel she had in store.
The house was very beautiful and it was called Miralrio (Look at the River).
Tagore fondly addressed Victoria as Bijoya and dedicated some poems in his book Purabi to her.. They exchanged letters till his death in 1941. Can you tell us more about this?
The first thing I proposed to Jerónimo and myself was to work only on real facts about the meeting between Victoria and Tagore.
In no way would it have occurred to me to construct scenes that did not exist or that have not been told in the letters or Victoria's book.
Everything in the film is what publicly exists in books, letters and other publications.
It is a delicate and a great responsibility to make a film of this magnitude precisely because of what you mention: They are both icons in their respective countries.
The work of Tagore is huge and I have all my respects to this. Through the poems dedicated to Victoria in Purabi, Tagore expresses his authentic affection, a love of souls.
(It was) A meeting of writers who respect and fall in love with life itself. Through the letters, you can see the desire of both to meet again. And this happens in 1930 in France. We have included this in the film.
You have a parallel track with Raima Sen. Is this part of the story fictional?
The parallel story is the encounter between Professor Felix, a frustrated man, and the beautiful Kamali, in Santiniketan, who will be a key for Felix to face his reality and take a path.
Which part of Tagore's life -- besides the Victoria-Tagore relationship -- will you capture?
I am interested in the school model that Tagore created in Santiniketan. This is found in the film in the story of Felix and Kamali.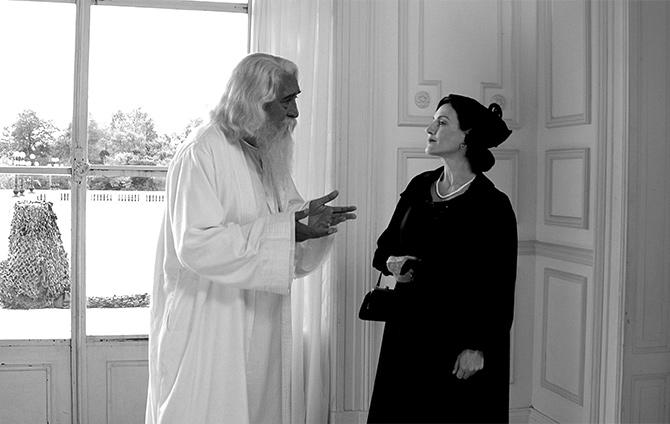 IMAGE: 'Victor gave me a lot of confidence to doing the complex job of interpreting Tagore.'
Is it true that you wanted to cast Amitabh Bachchan and had also approached Naseeruddin Shah before zeroing on Victor Banerjee?
Yes. It is very important to mention that I had the joy of getting a co-producer in India who was interested in making this film.
Being a film industry mainly of musical style, it was not easy to find someone who would be interested in making a film that did not obey this style of film music.
I met Suraj Kumar, CEO of Johnsons-Suraj Films International, in 2014. We signed the co-production contract in 2015. That is how the film was made.
It was Suraj who suggested Naseeruddin Shah, and we went to see him at his home in Mumbai. I gladly agreed to go see this actor because he is very talented. Issues of filming dates, fees, etc make a person participate in a movie or not.
Then, the idea of Victor Banerjee came up. My meeting with Victor Banerjee, also a very good suggestion from Suraj Kumar, was wonderful. I went to see him at his home in Mussoorie.
The first thing that surprised me was Victor's passion for Argentine literature.
After drinking some tea, Victor gave me a beautiful version of Gitanjali, which is a facsimile of the original manuscript.
Everything indicated, from that first encounter, that Victor was undoubtedly the person to interpret Tagore.
Victor gave me a lot of confidence to doing the complex job of interpreting Tagore.
Once I had the man, I had to find the woman.
Returning to Argentina, I thought about the wonderful actress Eleonora Wexler. She had played in my film Grey Fire; she had a small role in it.
Eleonora is a very famous actress in Argentina now. The audience loves her and follows all her work that Eleonora makes with huge capacity and talent.
We had a beautiful meeting and we talked about the project, the history of Tagore and Victoria.
Eleonora dedicated months investigating all the details about Victoria, she did an exemplary job.
In how many languages do you plan to release the film?
I would like to screen only the original version with subtitles in many languages. But I know sometimes distributors want dubbed versions. That is not good for me, but I understand.
In the film, the characters speak in languages as in reality, according to each situation.
Victoria and Tagore spoke in English. Tagore spoke in English with his secretary Elmhirst. Victoria spoke in Spanish with her assistant Fani.
Felix speaks English with Kamali when he arrives in India -- a very basic English that an impromptu traveler can speak -- and then he learns some words in the Bengali language.
Victoria also says a word in Bengali to Tagore.
All this has a cultural richness that should be maintained. A version dubbed into another language may ruin part of this search for 'cultural rescue'.
How was your experience working with Raima Sen and Victor Banerjee?
It was a beautiful experience. I wish I could have them back with me in another movie.
I met Raima at her home in Kolkata. I went to see her with Suraj Kumar. We proposed an exchange of impressions about the character of Kamali.
Working with Raima, Victor, Eleonora and Hector was a huge pleasure for me.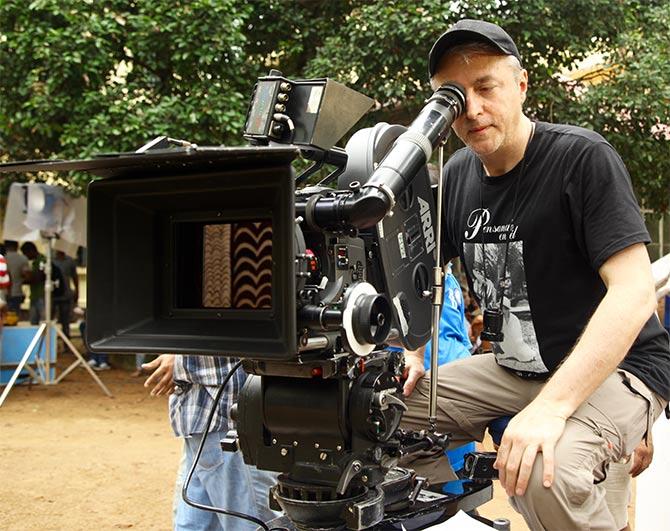 IMAGE: Director Pablo Cesar at work.
You came to India first in 1996, and then you shot your film in India. What difference do you find then and now?
I first came to India for IFFI in 1994. It was in Kolkata then.
In 1996, I directed Unicorn (The Garden Of Fruits), which I filmed entirely in Rajasthan. It was a feature film on Sufi poetry.
On that occasion, I met a young director from Kerala, Murali Nair. It was a beautiful experience.
I am writing a book on the two films I made in India and the experiences of the co-productions that I made -- and still do -- on the African continent.
What do you like, and dislike, about India?
I could write pages of everything I love about India.
From millenary works such as the Mahabharata, the Ramayana, Satyajit Ray's cinema, the immeasurable work of Rabindranath Tagore, the example of Mahatma Gandhi's life, the food, the mysteries that still preserve the ancient writings of India, the people, the lasting smile in the population...
Indian cuisine is my favourite in the world.
What I do not like -- unfortunately, this happens in many parts of the world -- is the imperative need to respect the free choice of women, of equality.
There are rapes of women even today.
I believe in freedom above all things.
The free choice of what each one does with their life is a natural right.