'The films that I have done haven't been the drab, boring kind. Whether it was Chandni Bar or Astitva, I was very clear about choosing films that I knew had commercial elements in it.'
'Salman is like family to me. He has changed a lot in the past few years. He was totally different when I shot with him for Jai Ho. He has mellowed down, but I don't like him like this.'
In the first part of an interesting chat, Tabu gives Rediff.com's Savera R Someshwar and Sonil Dedhia an insight into her life.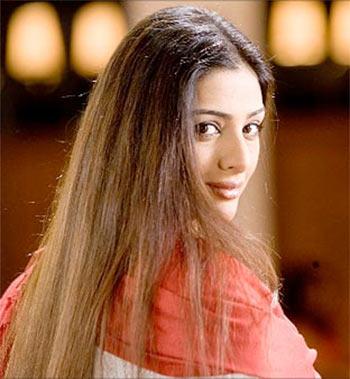 Meera Deshmukh in Driysham.
Ghazala Meer in Haider.
Panna in Hu Tu Tu.
Or even Nimmi in Maqbool.
Tabassum Hashmi, or Tabu as we know her, is nothing like these characters.
In fact, Tabu's got an unexpected streak of humour that creeps up on you when you least expect it.
She's not grim. Or serious.
She is, if one were to describe her in a movie-goer's term, the kind of person who'd like to sit in one of the front row seats of a movie theatre, chomping on popcorn and samosas, and whistling each time there was a dhamakedar moment on the screen, Tabu absolutely loves, loves, loves commercial cinema.
"I totally love it," she says yet again. "As a viewer, I will go and watch only commercial films. I think the films that I have done haven't been the drab, boring kind. Whether it was Chandni Bar or Astitva, I was very clear about choosing films that I knew had commercial elements in it."
When she picks up a script, she says, she wants to be "entertained. By this, I don't mean that I just want to laugh. Even when there is drama or suspense, or it is a musical film, it has to engage the audience."
Just like it did for Tabu when she was a child. "I grew up in the seventies and films for us were larger than life, masala entertainers," she laughs. "Films like Shaan, Sholay, Muqaddar Ka Sikander and so many others... they've been a part of my growing up years."
So, if she's signed on a film, you can be sure it's one she'd like to watch on the big screen.
"I work for myself," she says firmly. "I do a film because I would love to be a part of it but I also think from the audience's perspective. Our profession survives because of our audience. In the end, what matters is logon ko kaisa lagega (How did the audience like our work)?"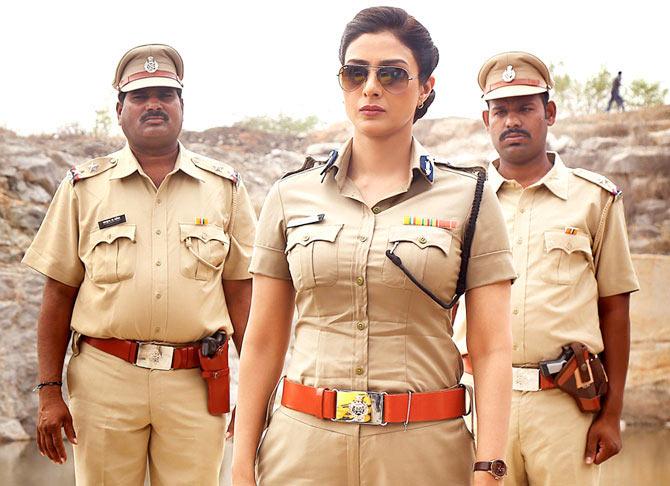 IMAGE: Tabu in Drishyam.
Was that why she agreed to be part of Drishyam?
Incidentally, it's not easy to get Tabu to sign on the dotted line, as the gaps in her career testify.
Ask poor Vishal Bharadwaj.
"He chased me for six months for Haider," she says, a tad guiltily. And then giggles, "I agreed to do Drishyam instantly."
Was the lure of acting with her old friend, Ajay Devgn -- or VD (short for his real name, Vishal Devgn; they've known each other since they were children) as she calls him -- after 18 years that convinced her? Or was it just the fact that it is the remake of a fantastic film, originally made by her "friends" in Malayalam (starring the incomparable Mohanlal) in 2013?
Not really, she says. "There is so much that my character has to do that I was hoping all those things come across."
The fact that film has been remade five times, the latest being Kamal Haasan's Papanasam in Tamil that opened to rave reviews, does not worry her.
"I was aware that Nishi (director Nishikanth Kamath) did not want to change anything in the film," she shrugs, "and, frankly, we could not afford to."
Nor did she worry about comparisons. "The moment a character is done by a different person, it automatically changes. There was no effort to play my character in a different way. I wanted to be true to what the script needed."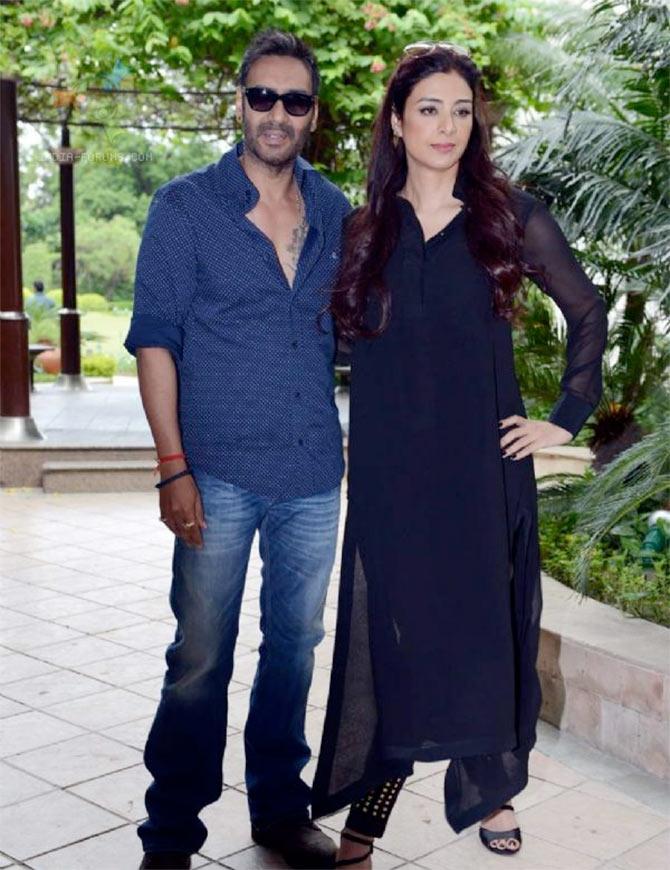 IMAGE: Ajay Devgn and Tabu.
What about that teeny-tiny lure, her old friend, Ajay?
"In all the years that I have known VD," she smiles, "he is still the same. His value systems haven't changed at all and that is the best thing about him. He is a person who thinks with his heart. He will stand up and be there for any of his family and friends whenever they are in need. He has done a lot by giving breaks to new directors. Rohit (Shetty) used to be an assistant director during Haqeeqat (Devgn gave Shetty his first break as director with Zameen, which was an average grosser, but their later collaborations like the Golmaal and Singham series ruled the box office).
Tabu, who admits to being excited about working with Devgn again -- their first film together, Vijaypath (1994) was a hit while their last outing together Takshak (1999) proved a damp squib -- says her friend has matured... just a little :)
"The only obvious change in him is that he has become a family man. He has mellowed down a little. His pranks (on the sets) have reduced."
Tabu's fondness for her buddy -- Devgn says they are just like two boys hanging out together -- is evident on her face.
"I always feel proud about him," she smiles. "He was a big star since the day his first film (Phool Aur Kaante) released (in 1991). He has made such big name in all kinds of cinema. He is one of the few actors who has managed to do so much work and become a big actor."
When it comes to being on the sets, though, it is the masti that matters, isn't it?
Tabu's look says it all.
"Personally, I wouldn't do it so I like being around people who do a lot of masti. That is why I like to work with Ajay, Sanju (Sanjay Dutt), Salman (Khan) who are all mad and fun people. It's always good to maintain a light atmosphere on the sets."
But Salman, she complains, has become too serious (They acted together in last year's Jai Ho and 1999's Hum Saath Saath Hain).
"Salman is like family to me. He has changed a lot in the past few years. He was totally different when I shot with him for Jai Ho. He has mellowed down, but I don't like him like this," she laughs.
But when it comes to romance (of the on-screen variety), neither Ajay nor Salman make the cut.
"I think it was good to romance Irrfan Khan," she says thoughtfully. "I can't think of someone with whom I found romance very difficult."
Tabu admits that, though she does not open up easily, there are relationships she shares in the industry that are not merely professional.
"I try and talk to Santosh Sivan. I share a special bond with Gulzaarsaab. People like (the south Indian film producer who co-produced Drishyam, who is also Mohanlal's brother-in-law) Suresh Balaji, Farah (Khan), VD (Ajay Devgn) and many other friends who I have made in my career."
And then there are her movies... a grand repertoire that spans 24 years. She remembers every aspect from her first film, Coolie No 1 (the Telugu film, starring Venkatesh, released in 1991). "Till today I remember the lyrics of all the songs and all the dialogues."
There are other movies too that are part of her memories of this fantastic journey. "I remember a snake which came on the sets of Kalapaani (the award-winning Malayalam film that released in 1996 and, incidentally, starred Mohanlal) and scared everyone.
"I remember finishing Astitva in 14 days."
"There are other films like Maachis, Maqbool, Chandni Bar which I have many memories of."
"I so strongly bonded with the people who were involved in making these films that they became a part of my personal experiences."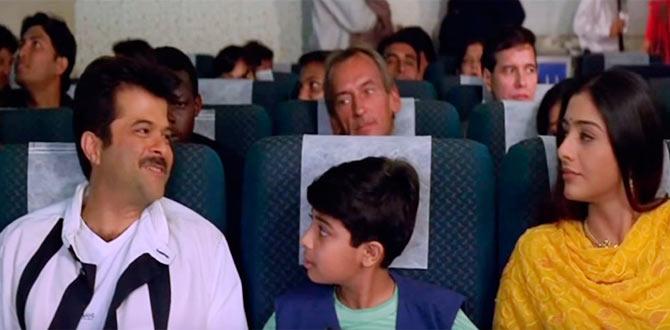 IMAGE: Anil Kapoor and Tabu in Biwi No 1.
So then, if she had to invite three characters she has played in the movies, who would it be?
Aditi Pandit of Astitva?
Veeran of Maachis?
Mumtaz of Chandni Bar?
No, actually :)
"Sadhana of Hum Saath Saath Hai, Nina of Cheeni Kum and Lovely of Biwi No 1," says Tabu with a big smile. "She was such fun, wasn't she?"