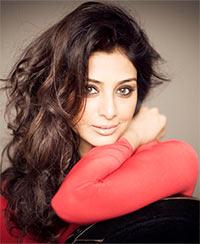 'When I was younger, 15 years or 20 years seemed like a really long time. But, as you journey though life, you don't realise where the years disappear...'
Birthday girl Tabu lets Rediff.com's Savera R Someshwar into her mind.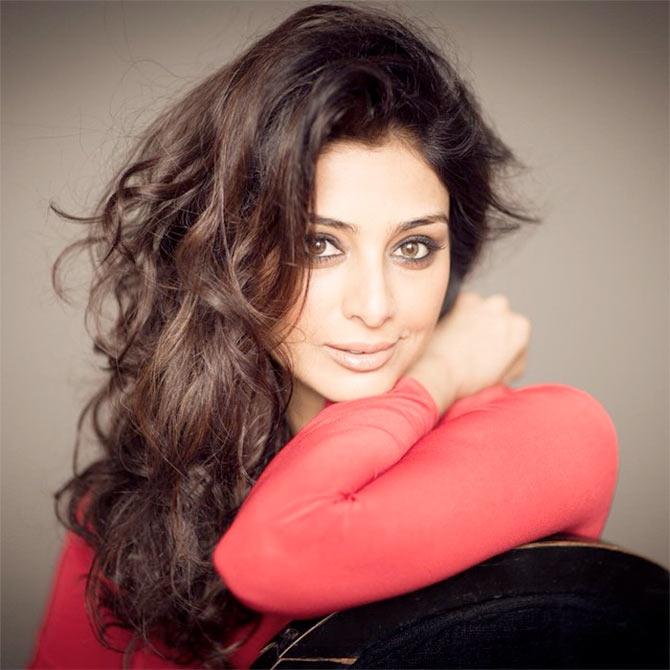 Photograph: Kind courtesy Tabu/Instagram
If there is one thing she does not believe in, it's rules.
So Tabu did what she wanted to. What her heart and gut told her to do. And sometimes, with a mischievous smile, she hints, it was exactly what everyone else thought she should not do.
Not that it bothered Tabu.
In the year 2000, when she was just 29 years old, she greyed her hair and played mother to Sunil Barve, who was five years older than she was. It was not a glamorous role but it was one that sucker-punched you so hard, it left you gasping for breath.
In today's age, where supporting women's equality is sometimes a convenient prop, this gem of a film that was made 15 years ago -- and Tabu's masterful performance -- remains a shining reminder that even an ordinary woman can stand up for her dignity.
That film, a small-budget bi-lingual venture directed by Mahesh Manjrekar, was called Astitva.
But we digress.
It is rules we were talking about. And Tabu.
So, when she realised that her grand debut, Prem -- it was to be a launch pad for Anil Kapoor's younger brother, Sanjay, produced by their older brother Boney -- was taking too long to get off the ground, she signed legendary K Raghavendra Rao's Telugu film, Coolie No 1, opposite the hugely popular Venkatesh Daggubati.
It was her first film as an adult, and her first hit.
By the time Prem released and tanked at the box office, she had three more films under her belt, including one more hit.
But those are not the only rules she'll break. She'll do blink-and-miss appearances -- tell us honestly, how many of you spotted her in best pal Farah Khan's Main Hoon Na? -- and cameos (Saathiya, Talvar) along with more robust roles (Maqbool, Haider).
She'll play a sacrificing bahu (Hum Saath-Saath Hain) because she wants to act in a Sooraj Barjatya film or, after Madhuri Dixit, become the muse for the legendary M F Husain (Meenaxi: The Tale Of Three Cities).
She'll curl your blood in Maqbool and make you fall in love with her in Cheeni Kum.
Her career is studded with both gems and wince-worthy fare. She would, in the same year (2001), deliver films like Chandni Bar and Aamdani Atthanni Kharcha Rupaiya. And she is equally proud of both.
Each film, each character has been a step in helping her reach where is today, honing both her sensibility and her craft.
Oh, and she really does not consider herself a trendsetter.
Yet, like her aunt, Shabana Azmi and her good friend Irrfan Khan, she has made her mark in Hollywood by acting in two incredible films, The Namesake (2006) and Life Of Pi (2012), without much fanfare.
At 45 -- it's her birthday today, November 4 -- she has, according to the Internet Film Database, 80 films to her credit.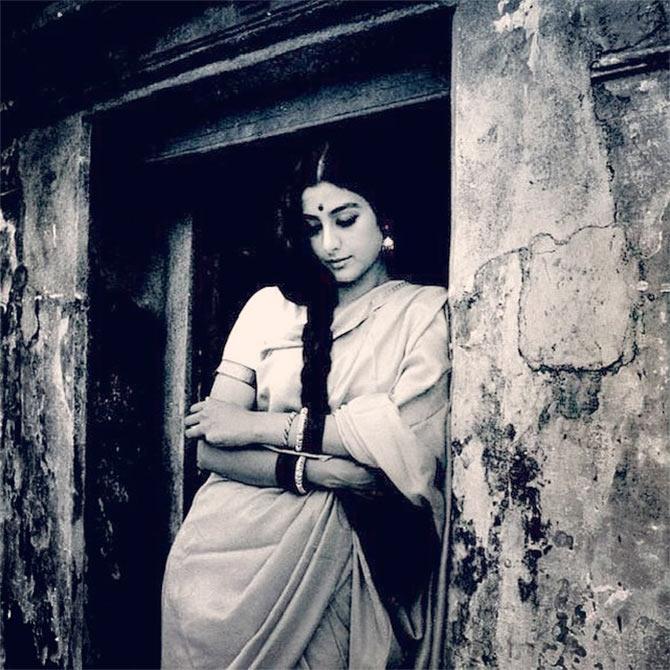 IMAGE: Tabu in Iruvar. Photograph: Kind courtesy Tabu/Instagram
And she has completed -- take your pick -- 34 years in the industry if you consider her uncredited appearance in Bazaar (1982), 31 years if you consider Dev Anand's Hum Naujawan (1985) and 24 years if you consider her debut as an adult in the Telugu film, Coolie No 1 (1991).
"Bus, khatam abhi (It's all over)," she laughs, before turning a serious note. "I could have done much more I think."
Much more than two national awards and national and international acclaim for her talent? More importantly, would she have been happy if she had been churning film after film after film?
"Probably na?" asks the actress who's not thought twice before taking regular breaks in her career.
But now, she feels ambitious.
"I want to complete 100 films."
A dream, she is not confident will be fulfilled.
"Fewer films are being made now, na? In the nineties, we used to do so many films."
Suddenly, time is racing by for Tabu. "I don't even feel it has been so long, you know. When I was younger, 15 years or 20 years seemed like a really long time. But, as you journey though life, you don't realise where the years disappear... Pachhees saal ho gaye, pandhra saal ho gaye, kuch lagta hi nahi (25 years have passed by before you realise it)."
So, has she reached the aunty stage -- when random strangers slot you in that category? "Aunty hogi teri maa (Call your mother aunty)," she says instantly, sotto voce. And giggles. And instantly, the years melt.
And a journey begins. A journey that has seen her ford huge distances, lonely deserts, emotional voids and find her own way across each yawning chasm.
"Looking back, I feel I have really crossed a whole deep ocean, you know, a very turbulent ocean. While doing it, we don't realise it but when you come to the shore and when you can really, in retrospect, look at your journey, I understand that actually, really I was so alone in everything. In my own struggles, in my own journey, in my own decisions, in my own path, I was completely alone."
"Of course, I had the support of all my co-stars, those who worked with me, who gave me these brilliant chances... But the thing is that, I never wanted to be here in the first place, you know. That was, I think, my biggest struggle."
The fact that she felt she was doing something she had not set out to do. That constant thorny feeling that she wanted to, that she should explore what she could have done if she had not stepped into the arclights.
"There are people who have always aspired to be actors. They do everything full-heartedly. You do anything and everything to reach your goal. But my approach was so totally different. That is why I think people could not understand me; they could not place me. Yeh hai kya, isko chahiye kya (What kind of person is she, what does she want)? My managers were always at a loss to understand me."
"Despite all this, I was lucky. I have associated with and aligned with some fantastic people who brought out the best in me -- my co-stars, my directors, my scripts, people like Irrfan (Khan), Ajay (Devgn), Vishal (Bhardwaj), Gulzar-saab, so many friends that I made..."
There was also that little internal challenge that Tabu could never resist: "Whatever I did, I wanted to be the best at it."
But there was so much to learn. Not just about acting. Or choosing a script. Or voicing dialogues. Or make-up. Or clothes. Or presenting the camera with the right angle.
In fact, some of her most important off-camera lessons came from her director K Raghavendra Rao.
'Make your money.'
'Save your money.'
'Your money is your money, not even your boyfriend's.'
'Be on time.'
'Always stand straight.'
'It is very important for an actress to look good. There is no two ways about it. However talented you are, your appearance, your face, your body are your tools, so you have to take care of it. You can't be callous about it.'
She clocks her hand into a gun and triggers at various points on her forehead. "Sab chapp gaya hai. Jaata nahi hai (It's written on my head forever)."
It took her a long while, though, to learn that first lesson. The lesson about money.
But now, she won't be short-changed; not since the last few years anyway. "Now I am very particular about the kind of money I am paid. I am very, very particular."
Earlier, she laughs, "Mujhe bhi waise hi kam paisa dete hain... Chahe kisi aur ko mile ya na mile mujhe toh log aake role sunate hai aur kehte hain hamare paas budget nahi hai. (I'm always paid less. Even if others are paid, people would offer me a role and then say they didn't have the budget to pay me)."
"Sometimes, of course, you compromise on the money because you want to work with a particular director. Sometimes you only do a film for the money and you know that, in this film, money is the only takeaway. Every film has has a different priority."
And she still won't look at the monitor after a shot, even if her co-actors do. "I'm not used to it at all ya. I feel that if I start looking into it, then I will never okay the shot."
There were other unpalatable lessons to be swallowed.
Lessons her profession taught her.
She had to learn how to handle words thrown at her.
Publicity she did not want.
Labels she hated.
"Ice maiden."
"Dumb blonde."
"Reclusive."
Labels she dislikes. Still. Intensely.
"That's where my irritation stems from," she says, brow furrowed, eyes reflecting that never-ending turn of the wheel. "Again, I am going on about it. Again I am talking about it. And I have spoken so much about it that I thought I will never be talking about it but still I am talking about it."
"These journalists use the word reclusive, but they don't even know the meaning of the word when they talk to me about being reclusive."
Mysterious.
Game changer.
These she "doesn't mind... Itne tags ho gaye hain abhi (There are no many labels now)". She shrugs, clearly aware that there is nothing much she can do about it.
But she would like a few other labels to come her way. Like funny. Humorous. Maztibaaz.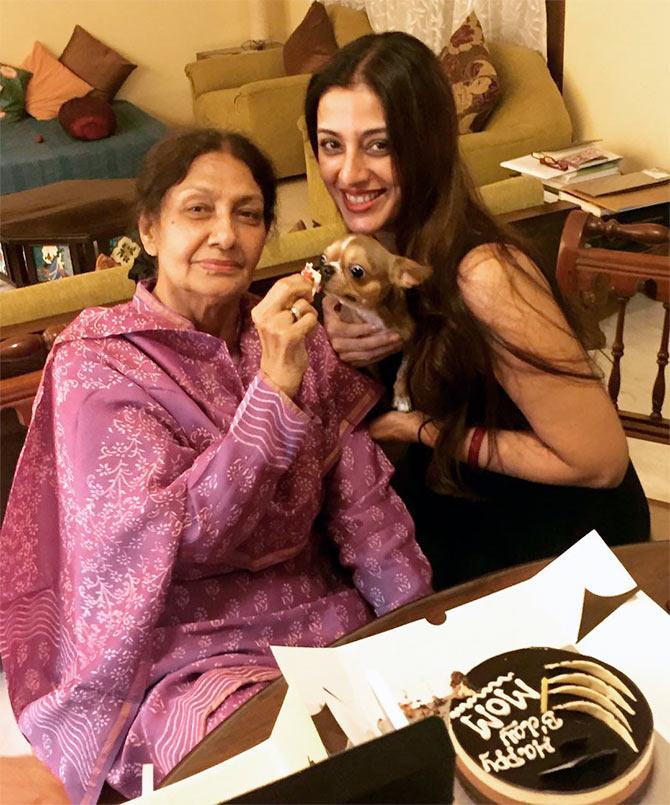 IMAGE: Tabu with her mother Rizwana Hashmi. Photograph: Kind courtesy Tabu/Instagram
"I will die," she confesses solemnly, "if I don't get to laugh or if I am only around serious people I start feeling... sick. My whole family has an amazing sense of humour. I think I get it from them."
Even her mother?
"My mother is brilliant," she says with a huge smile. "My mother, my uncles, my cousins. Matlab amazing... Their take on life and everything. Nobody takes themselves so seriously. I have grown up around people who have a sense of humour. And I like to be around people who are funny."
A need that set a foundation for some close friendships. "That's why Farah Khan, Sajid Khan. I'm a groupie," she laughs. "Sajid kuch bhi bolta hai, main hasti hoon (I laugh at everything Sajid says). Farah always says, 'I think you are the only person who laughs at all of Sajid's jokes, Tabu.' But, really, I find them very funny. I just need an excuse to laugh."
Is that because her life has been a more complex, at times darker than most people's? Tabu has described her character, Begum, in Fitoor, the film that released earlier this year, as 'rich from outside but holding on to a sea of dark emotions and pain'.
Does that resonate with her?
"Ummm," she says, before pausing. "That I am holding a dark sea of emotions?"
Another reflective pause.
"I know I have a high emotional quotient and I know that my ability to feel is very strong and I can identify and feel many emotions and many feelings. I am sure I am maybe holding on to many emotions also.
"Dark? I don't know.
"There are many kinds of emotions, you know."
Like loneliness. Does she feel lonely?
"(sighs) I don't feel lonely because I have a huge network of friends and family and cousins. (A pause) No.
"I feel alone... and I don't know if that is because I'm an actor. A friend of mine keeps saying actors are always alone in their journey, but I feel that is true of every human being."
"I have understood the meaning, the difference between being alone, being lonely, being bored, finding your passion, keeping engaged... You are not always lonely and you are not always happy, nor are you always sad. These are just momentary phases."
And love? A partner? Someone to share life with? Does she miss that?
Or has Life shattered those rose-tinted glasses?
After all, even stars, who live their lives in a rarified microcosm, battle heartache.
"I don't know if I miss love, but I think it is a very nice thing to have in your life. I don't know if my belief in love has ever been shattered, but I really do believe that a love like that exists. That two people can really share each other's lives and be part of each other's lives and still not be... kya bolten hai... not stop each other from growing."
A pause. Words are gathered for thought, important ones, yet to be expressed.
"It's not idealistic at all, this kind of love. I think it is a very achievable thing. I see many couples around me who are like that and are leading really, really normal and good, loving lives with each other."
"It will be a great thing to happen. I think it is always good to have love in your life and I think it is just a natural need, it is just a natural feeling for you to want to have someone in your life you can anchor yourself around, you know. Not like be dependent and be a parasite on each other but really have that sense of home, of belonging to somebody."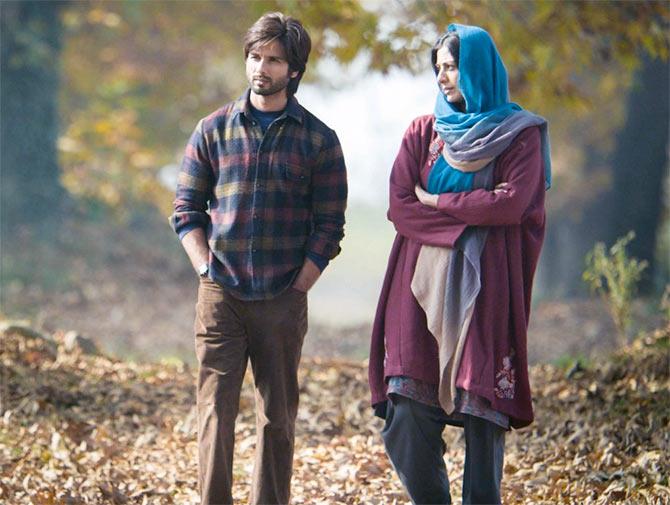 IMAGE: Shahid Kapoor and Tabu in Haider.
Tabu belongs. To her family. Her fans. The camera. Her films. Her immense talent. Her dreams. Her promises. And, most importantly, to herself.
As a professional, that means disappearing. Recharging her batteries so that she can offer her best in front of the camera. Investing the characters she plays on-screen with the believability that filmmakers dream of when they sign her on.
Chasing her other passions.
She's a passionate, private writer.
"I have notebooks with the worst handwriting in the world," she giggles.
But she'd like to be published. Some day.
"I write about different things. Anything that has affected me. Anything that I have liked. Anything that I feel strongly about. Any experience. A place. I wrote a lot in Kashmir (while shooting for Fitoor). I wrote a lot, a lot, when I was in America during The Namesake."
"Different things at different points in my life have affected me and I felt the need to write about them or express them somewhere and to have a record of what I was feeling at that time."
"Even if it is not for the public, it is nice to go back sometimes and revisit what you were thinking and feeling and experiencing at that time. Sometimes, I am amazed at the weight of my thought at a particular time. So much has happened."
She wants to sing. "I want to start my singing seriously. I want to really, really give it time. I think it is a beautiful thing to sing. I think I will be good at it. I think it will be good for me."
She loves old Hindi songs. "They are the best. The best."
She loves music that is light. Melodious. Wants to learn to play the guitar. "Music is the food of life."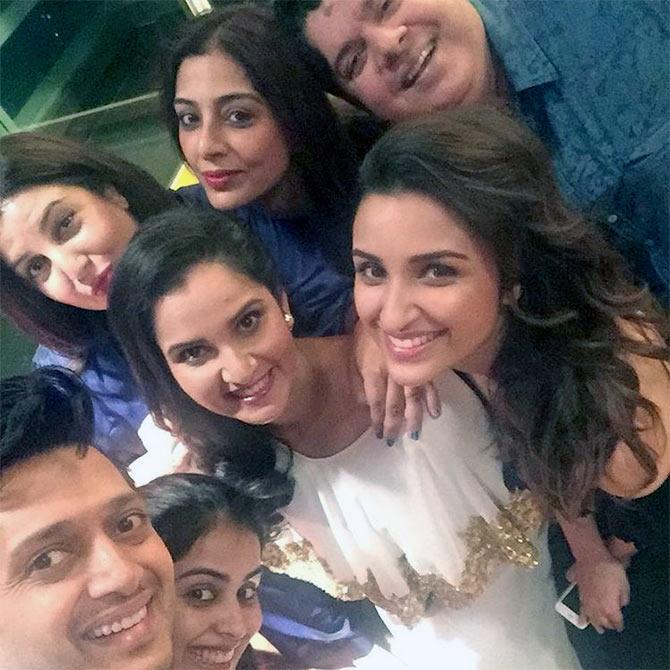 IMAGE: Riteish Deshmukh, Genelia D'Souza Deshmukh, Farah Khan, Sania Mirza, Tabu, Sajid Khan and Parineeti Chopra. Photograph: Kind courtesy Tabu/Instagram
And she wants to travel. To China. Though she loves America ("Lots of cousins there; it's like a second home"). And Egypt. And the Seychelles. And Bangkok.
But now, there are other places that tug at her heart. "I have not been to China. I haven't been to Australia. I haven't been to so many places. I haven't been to Greece. There are so places on my list.
"I love to travel. I want to do India by road, the entire length and breadth. I really want support and company for that. I can't do. India dekna bahut zaroori hai. It's just beautiful. The way the geography changes, the people's features changing, the clothes, the colours, the language, the dialect... oh my god. You need a lifetime for it."
It's a lifetime she has earned. As her good friend, actor Irrfan Khan, told The Economic Times last year, '(Tabu) is self-made and the kind of journey she has gone through and the kind of world she has seen makes her very special. Her sensitivity, her longing, the way she serves her mother, the way she has taken care of things from such an early age, working and making her life. She has been like a man making her own empire.'