'I work a lot because I am greedy for good scripts.'
'I have worked really hard to reach this level, where I can say yes to a good script and it will happen.'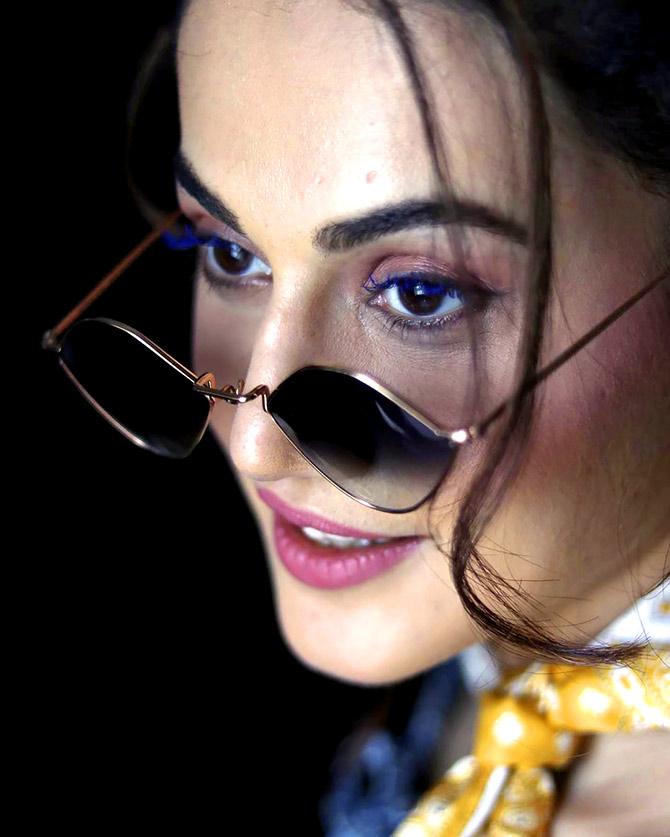 After playing the lead in her recent releases, 32-year-old Taapsee Pannu is aiming to shine in an ensemble cast in Mission Mangal.
Taapsee and her films have been getting a lot of love, and the actress reveals how she chooses her scripts.
"When I greenlight a script, I ask myself if I will be able to show this film to my children. If the answer no, then it's a no. I want to proudly show my filmography to my offspring," she tells Rediff.com Contributor Mohnish Singh.
How do you choose your scripts?
I choose scripts that I feel will emerge as hits.
I choose films from the perspective of the audience.
If I feel a particular film is worth my money and time as an audience, I sign it.
You can earn back the money you spent on tickets but you cannot earn back the time you have devoted to a film while watching it in the theatre.
If I feel I have seen something similar to what has been offered to me, or if it's not engaging, I will not do it.
Also, when I greenlight a script, I ask myself if I will be able to show this film to my children. If the answer is no, then it's a no.
I want to proudly show my filmography to my offspring.
What was your criteria for choosing Mission Mangal?
I wanted it to be a part of my filmography.
You have studied engineering. Did it help while doing a sci-fi film like Mission Mangal?
Yes. There are a number of technical words, terms and theorems which I could pronounce easily.
I did not have to learn them by rote because I had mugged them up during my engineering course.
Did other members of the cast ask you to explain those heavy terms to them?
Even if they did not, I would explain it to everyone just to show off my knowledge (laughs).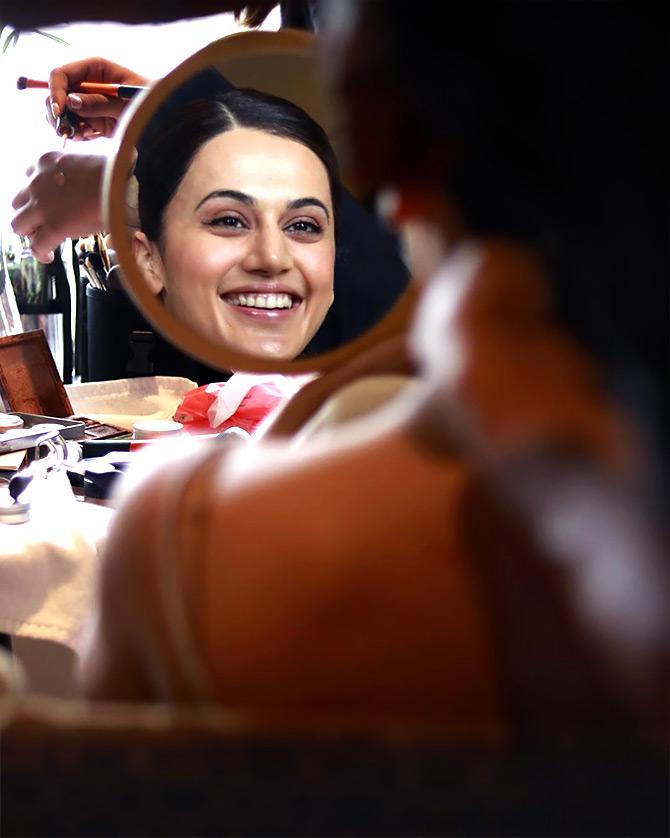 You recently tweeted, 'Making choices... and picking from choices are two different things. Man does the former, woman... latter. Appreciation for the former and 'मजबूरी' for the latter.' What did you mean?
I wrote that to vent my frustration because I saw some messages and tweets which appreciated male actors for the choices they made.
They were like, 'Wow, they have so many options. They could have been the hero but chose this and that.'
But when it comes to an actress, the same people will say that she does this because that is the only thing she can do.
The tweet came from there.
For actresses, it is a compulsion while, for actors, it is a choice.
Strangely, it was a woman who wrote that tweet. She works behind the camera.
Yes, I do appreciate that there are a bunch of male actors who choose good films. But it comes to choosing good scripts, why are men always given the credit?
There are women who try to choose films. Look at Vidya (Balan).
When did that transition happen for you?
That power came to me after PINK because people believed I could do it.
I think it was then that the people in the industry also believed that the audience was ready to see me now.
Before that, I had no option.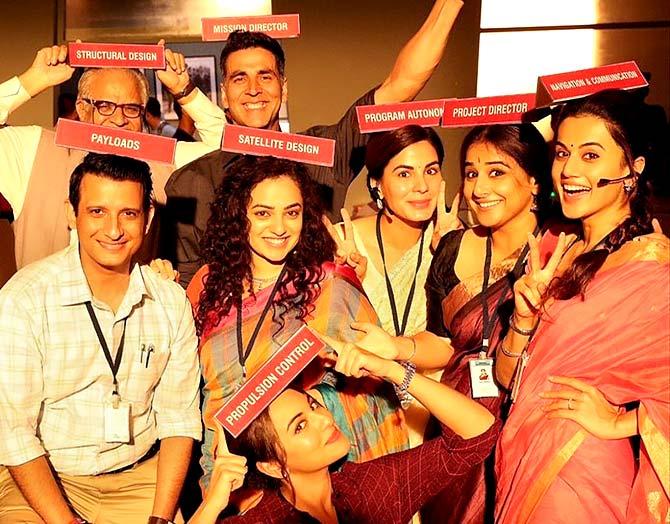 Were you advised not to do certain types of roles?
I get advice all the time.
Let me tell you about a recent advice: Someone said, 'Now you should do a dhinchak film with a dhinchak role. And then you should do a special song in a big film.'
So, yeah, people still advise me.
Do you feel burdened with playing strong characters?
I don't see it as a burden.
I want my audience to expect certain things from me with each film.
I feel you are truly a star when the audience has expectations from you.
When they have expectations from me, I take it as a big compliment because there are so many actresses from whom you don't expect much.
I want my audience to have expectations from me. They should not walk into a theatre with no expectations and just to be entertained.
Entertainment should be there, sure, but you should expect that if I am there in a film, it will be of a certain standard.
That's my driving force.
Do these expectations add pressure?
I don't feel that pressure because I have always selected films like this.
My criteria for selecting films has not changed.
If my selection process had changed, I would not have done a film like Game Over.
It was a niche film and I knew it did not have the capacity to earn a lot of money. But I knew was that whoever watched it would like it.
Mission Mangal is about women empowerment but the narrative is told from the point of view of a male star.
A glass is always half-full or half-empty; it depends on how you decide to view it.
We heard the same thing during PINK. People said that if the film was about girls, what led (Amitabh) Bachchan sir to speak for them?
Had it been the other way around, people would have still found a problem with it.
In Mission Mangal's case, I did not realise it could mean anything wrong.
Akshay sir, being the only male star of the cast, wanted to pay a tribute to women.
Now, why do we have a problem about him taking a backseat?
When his face occupied the maximum space on the film's poster, people had a problem with that.
When he wasn't there in the visual and just giving his voice-over in a song, people had a problem with that.
Why do we find problems in everything?
Why did we even need his voice-over in the song, Yeh sindoor?
I was waiting for this question to be raised and am happy that people noticed it.
Now, I want to know what everyone is doing about it.
As an actress, I am doing my bit by choosing films where I take centrestage.
But, as the audience, you are still not giving me box office collections that equal an Akshay Kumar film.
Who is to be blamed?
You are telling me that his films sell more. If you chuck the five of us out of the film, nothing much will change.
As an Akshay Kumar film, it will still open with good figures.
Our presence makes little difference; it only adds value to the film.
The five of us (actresses) are trying to change this scenario in our capacity but it is the audience that needs to help us in order to ensure that our faces on the poster become bigger, by giving our films equal box office figures.
The people who have a problem with Akshay Kumar's face being shown prominently in the poster are the same people who have the solution.
Putting bigger pictures of us on the poster will not fetch more money for the producer.
The day our films make big money, our faces on the posters will get bigger.
Akshay Kumar is the highest selling point in the film. His films' opening collections are more than all of ours' put together.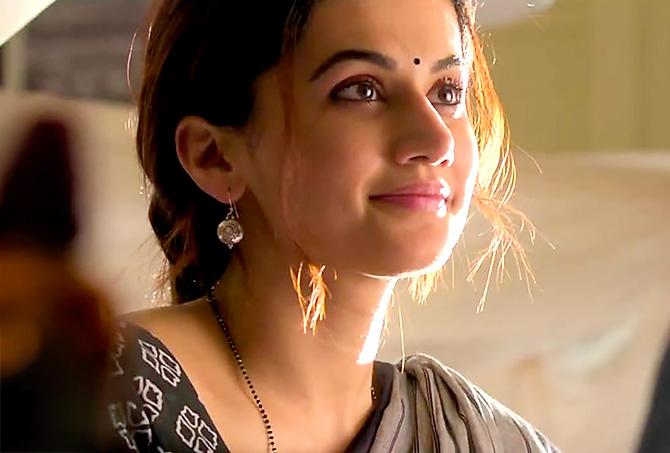 How do you manage to work in four-five films in a year?
I am very inspired by Akshay sir.
He always says that one should keep working.
He is quite inspiring for me because see where he started from and where he is now -- he's the only Indian actor in the Forbes List (of highest paid celebrities) -- and that's inspiring.
Even if I achieve half of what he has achieved, I would be very happy.
His star power is unmatchable.
I work a lot because I am greedy for good scripts.
I have worked really hard to reach this level, where I can say yes to a good script and it will happen.
Earlier, I used to request people to narrate their stories to me and to cast me in their films.
Now the time has arrived where, if I say yes to a film, it will happen.
Do you feel like a star now?
No. The opening collections of my films tell me I am not a star yet.
The day my films start getting a secured opening figure, I will say I am star.
Who do you think is the female star of the industry?
Priyanka Chopra, Deepika Padukone, Alia Bhatt...
Kangana (Ranaut), to an extent because she has been consistently proving that she can guarantee a certain opening figure.
How do you deal with situations where people from the industry target you? For example, Kangana's sister Rangoli Chandel called you a 'sasti (cheap)' copy of her star sister?
I don't want to spend my time and energy on people who don't matter to me.
My blood pressure is very dear to me.
I won't answer (tweets) because you don't matter in my scheme of things; you don't affect me.
If you are spending your time and energy talking about me, that means I matter to you.
Everybody has a different style of bullying.
I know how to answer but there is a certain kind of a vocabulary I haven't learnt yet.
I did not know there was a patent on curly hair and honest opinions.
I will not apologise for my honest opinions.
And I cannot apologise for my curly hair because I was born with it.
I don't know what to say about the 'sasti' copy thing because I don't know what else I have copied.
If I have, then I'll say she (Kangana Ranaut) is a very good actress. To be a copy of a good actress should be a compliment.
Yes, I am not the highest paid actress so, that way, I am a sasti version. I don't know what more to say beyond this.
As far as the reason for her getting irked was that I said that she needed a double filter... well, I stand by my point.
I also need a filter because for having no filter means that you don't have one between your mind and mouth.
I don't see it as a derogatory comment.
My sister tells me every morning, before I leave for work, to keep my filter on because she knows I have foot-in-the-mouth moments all the time.
I don't see that as a negative comment.
So I will not apologise for something I did not say to hurt anyone.