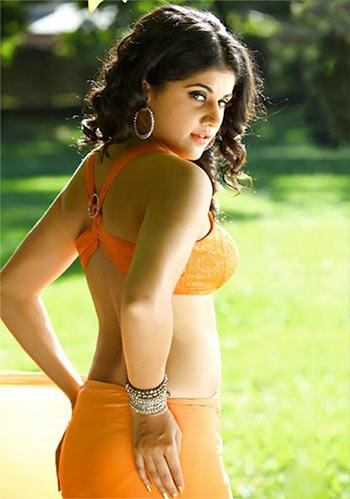 'I will gracefully call it quits when I realise that I am not getting the kind of roles I want to do.'
'There's no such thing as 'being typecast' in South films. There is only one type of role available for heroines
Taapsee Pannu talks future plans and her role in Akshay Kumar starrer Baby.
From playing a bubbly actress in David Dhawan's Chashme Baddoor to doing some high octane action sequences in this week's release Baby, Taapsee Pannu has come a long way and this is just her second Hindi film.
In conversation with Sonil Dedhia/Rediff.com, the young actress explains why she doesn't want to be typecast, how she landed Baby and why she doesn't want to be an actress all her life.
You didn't have a single release in 2014. Will that affect your career?
It does affect me mentally, but a year without a release doesn't affect my career.
In Bollywood, if you don't have a release for an entire year it raises questions in the minds of people. Down south it doesn't matter because my fans and the audiences know that I am doing some work.
I find it strange that none of my films released last year as I was working very hard.
Apart from Baby I also shot for another Hindi film, Runningshaadi.com, and two Tamil films, Muni 3: Ganga and Vai Raja Vai.
I am looking forward to the release of all my four films. I am excited and hope 2015 is a good year for me.
You played a coy girl in Chashme Baddoor and now in Baby you are an undercover agent. Was it a conscious move to avoid being typecast?
After Chashme Baddoor's success I signed Runningshaadi.com which was in the rom-com space as well.
I realised if I keep doing the same work, I will soon be typecast and there is no way I am going to get different roles.
When Baby came along, I literally grabbed it with both hands. Although it is completely out of my comfort zone, it is still the role of a lifetime.
Though I have just half an hour on screen, it's worth it. People will definitely remember my part.
Neeraj Pandey makes films with ensemble casts. So it was the best thing to experiment with.
Is it easier to get typecast in Hindi cinema than in South cinema?
There is nothing called 'typecast' in South films. There is only one type of role available for heroines: you just play the role of a glamorous girl.
There are very few films like my upcoming film Vai Raja Vai where the heroine gets to play a different character.
You can't even think of experimenting or breaking out of an image in South films.
How did you land Baby?
By the grace of God, I have got whatever I wanted. But I had to literally chase the role in Baby.
Chashme Baddoor was produced by Viacom 18 and the CEO was Vikram Malhotra. He later moved to another production house (Crouching Tiger). I met him casually and he mentioned Baby and said the director was searching for a leading lady.
Neeraj found me too coy for the role; he had my Chashme Baddoor image in mind. He rejected me outright.
But I persevered. I met his casting director and then Neeraj asked me to do a live audition where I had to read a few lines, and thankfully he was convinced.
Is it true that you have done some action sequences in the film without the help of a body double?
Yes, it's true. I am adventurous in real life. Performing stunts gave me an adrenaline rush.
I admit I was a bit nervous in the beginning.
I trained myself in the self-defence style known as Krav Maga.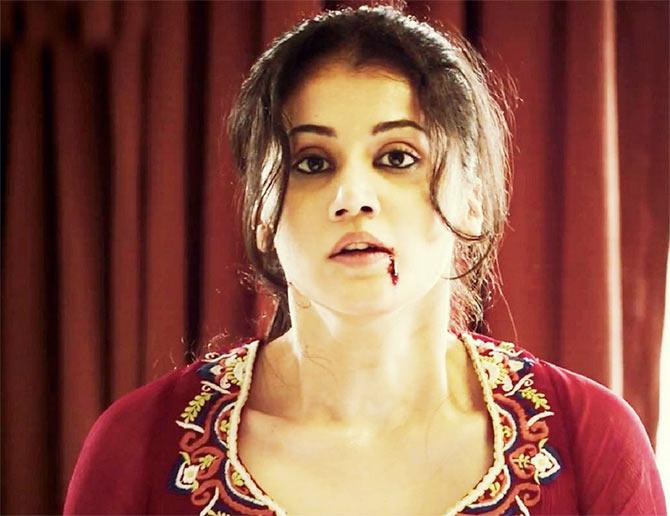 Image: Taapsee Pannu in Baby
Do you agree actresses have shorter careers compared to actors?
Yes. And let me tell you that I will gracefully walk out when I realise that I am not getting the kind of roles I want to do.
I don't want to play the roles of sister or mother or bhabhi (sister-in-law).
I cannot give my entire life to acting. I will do something else when i'm done here.
If not an actor what would you have been?
I would have done my MBA and worked as a freelance marketing person.
What is the most exciting part and the worst part of being an actress?
The most exciting part is that I can live so many lives.
I can play the character of a doctor or an undercover agent or a villain so it's a versatile job.
The bad part of being an actor is that I have to constantly struggle to live up to the expectations of people.
My life is not my life any more. It is open to the public and they are open to judge us.
Actors are dining table discussion for other people and they comment about you for anything and everything.
Did you ever have to clarify what was written about you to your parents?
My parents never asked me to clarify anything.
I didn't plan to become an actor. There were times when I cursed myself for choosing this profession.
But I have realised that criticism comes with the job.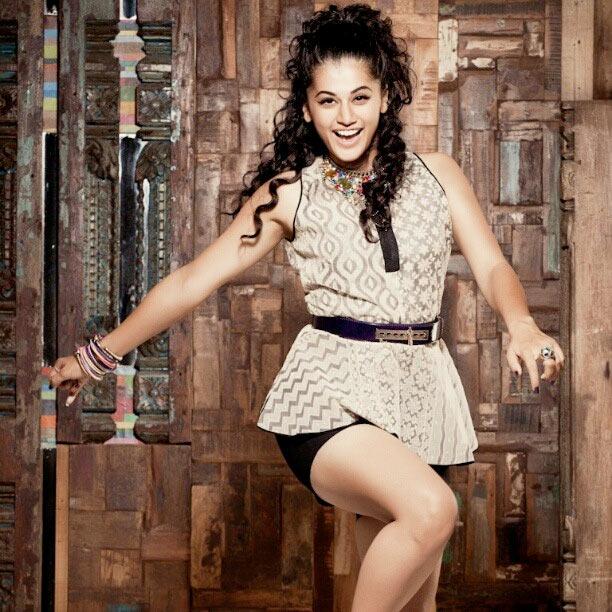 Image: Taapsee Pannu
What do you miss doing that you would otherwise do in normal life?
I miss shopping and eating street food.
I love doing things alone. I love to travel by metro and I miss doing that.
Are there any plans to settle down?
Yes, it will happen at the right time. As I said, I am not going to be in this industry forever.
When I get married I will start a new life and do something else in some other country.
You say 'some other country'. Is that because of your boyfriend Mathais Boe (badminton player from Denmark)?
I don't think I'd like to speak about my personal life.