'It's very expensive for a girl to become an actress.'
'I remember I was nominated at all the award shows for Tanu Weds Manu and conscientiously, like a new actress, I attended all of them and I was bankrupt by the end of it! I had to find a costume stylist, a hair stylist, a makeup stylist...!'
Ronjita Kulkarni/Rediff.com gets inside Swara Bhaskar's mind.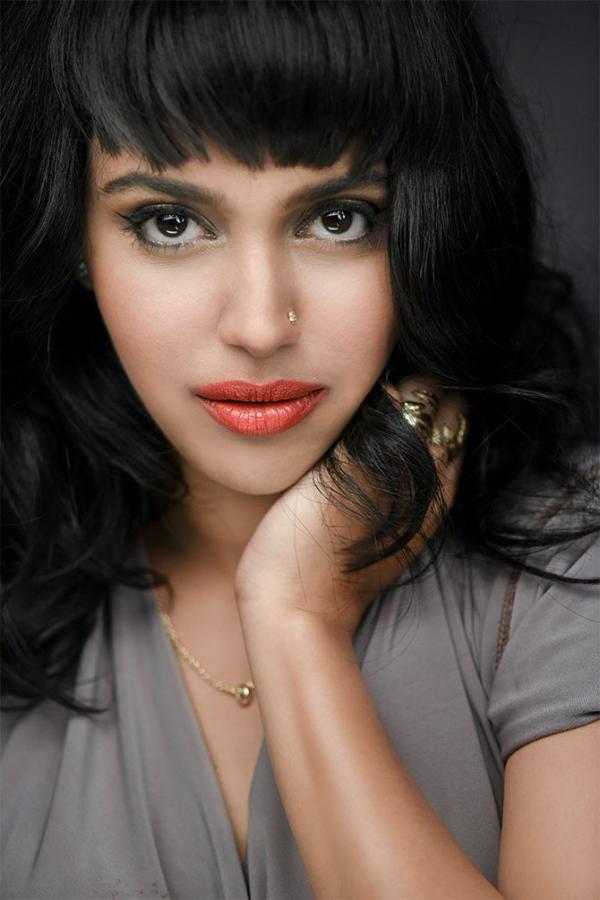 Swara Bhaskar is as likable off screen as she is on screen.
The actress breezes into a cafe near her home in Mumbai's Versova suburb, where she seems to know the staff well.
Her only makeup is an eyeliner. Her curly hair is not fresh-from-the-parlour, and falls stubbornly on her face. She wears a yellow frilly top over jeans, and looks totally fuss-free.
Before she settles down for the interview, Swara orders a banana split waffle, and asks everyone at the table to dig in when it arrives.
"We're celebrating my film," she says happily, referring to her latest release, Nil Battey Sannata, which is getting fantastic reviews.
As Swara spoons in her banana split waffle ("I love eating; I eat a lot!") and wipes the plate clean, she talks about her journey from Delhi to Mumbai, from an "intellectual, feminist, Left-leaning person" to a fashionable being of the glamour industry, from a girl with stars in her eyes to a successful actress.
'My great fantasy was to be in Chitrahaar'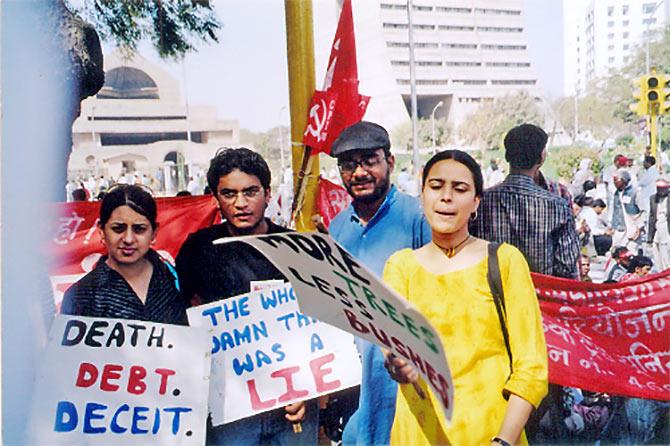 IMAGE: Swara Bhaskar, as a student at JNU, protesting against then US president George W Bush.
"I was an avid Chitrahaar and Superhit Muqqabala watcher," Swara says. "We did not have cable TV for a long time, so that was my only source of entertainment, growing up. My great fantasy was to be in Chitrahaar! In Delhi, autos have pictures of stars in the side panels and it was my great ambition to feature there as well."
But it was Swara's secret fantasy and she soon forgot about it and started doing other things, including getting a master's degree at the Jawaharlal Nehru University where her mother works as a professor of cinema studies, and training with IPTA (Indian People's Theatre Association), and N K Sharma's Act One theatre group.
Then something strange happened.
"I used to have these dreams of being on a set with Shah Rukh Khan and Abhishek Bachchan! It was so pathetic!" Swara laughs. "So I thought I don't want to keep having these dreams my whole life. I should give it a chance."
Swara's parents, including her naval officer dad, were stunned when they heard their daughter's plans.
"I had never articulated that I wanted to try Bollywood," Swara explains. "It was completely out of the blue for them. My dad was really scared! Funnily, the next day of my breaking this news to them, there was a story about a casting couch in the newspaper. I remember my dad cut the article out, wrote with a red pen 'Swara, please read this!' and stuck it on the bathroom mirror! But they never stopped me.'
"My parents are very democratic and liberal people, who made the mistake of being democratic and liberal in the upbringing of their children! And in my case, they are still paying for it!"
"Paying in the literal sense as well."
"The fact that they supported me financially is really what enabled me to spend these six years in Mumbai," Swara says. "I heavily relied on my parents for economic support. It's very expensive for a girl to become an actress. I remember I was nominated (in the Best Supporting Actress category) at all the award shows for Tanu Weds Manu, and conscientiously, like a new actress, I attended all of them and I was bankrupt by the end of it! I had to find a costume stylist, a hair stylist, a makeup stylist...!"
***
'Mumbai is a spider web'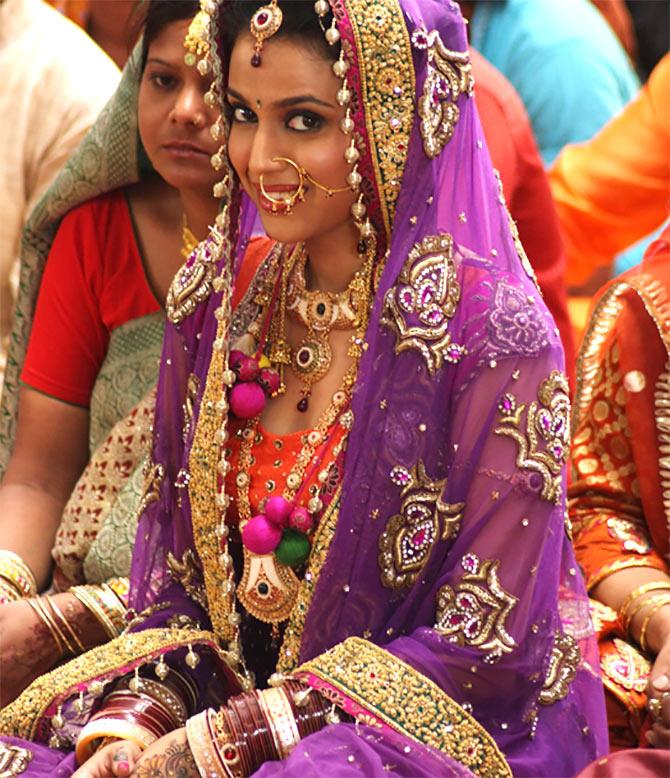 IMAGE: Swara Bhaskar in Tanu Weds Manu.
But Tanu Weds Manu was not Swara's first film. Her struggle towards an acting career started a year before that, in 2010.
"I landed in Mumbai with stars in my eyes. I knew two people -- writer Anjum Rajabali and an AD (assistant director), who has become a director now, Ravinder Randhawa -- and they weren't very fancy contacts to have! I must have met at least 10,000 people in the last six years! I used to just go and meet people -- anybody and everyone. Some of them were so shady!" Swara laughs.
"I gave a lot of auditions, and got my first film after three months of landing here," she adds.
The film was called Niyati, and directed by Pravesh Bhardwaj, but it never released. She also did a music video called Savre Savre with Roop Kumar Rathod.
"Mumbai is a spider web. You do a film, and make 10 connections, and do something else and make 10 more connections. You keep moving like that," she explains.
Some of those connections got her a film called Madholal Keep Walking, which did release but "no one saw it."
Then she did Tanu Weds Manu, which was her big break.
Swara explains the way her connections worked for the film: "The lyricist of Tanu Weds Manu -- Rajshekhar -- was my language coach for Niyati, since I played a girl from Bihar, like I do in most of my films! When he was casting for Tanu Weds Manu, he called me."
Swara auditioned twice, and bagged the role.
She has gone on to form a lasting bond with director Aanand L Rai, and has worked in his films since: Tanu Weds Manu Returns, Ranjhanna and Nil Battey Sannata which he co-produced.
"I don't think Aanand sir wants to be my mentor; he's just become one. I keep telling him we're like Vikram and Betaal -- I'm the Betaal, who flies back to his back after every film! I wouldn't call him a friend because we don't have an equal relationship. I look up to him. I often turn to him for advice," Swara says.
It was he who insisted on Swara doing Nil Battey Sannata though many others warned her against it.
But that story has a more interesting beginning.
***
'Did I look like an aunty?'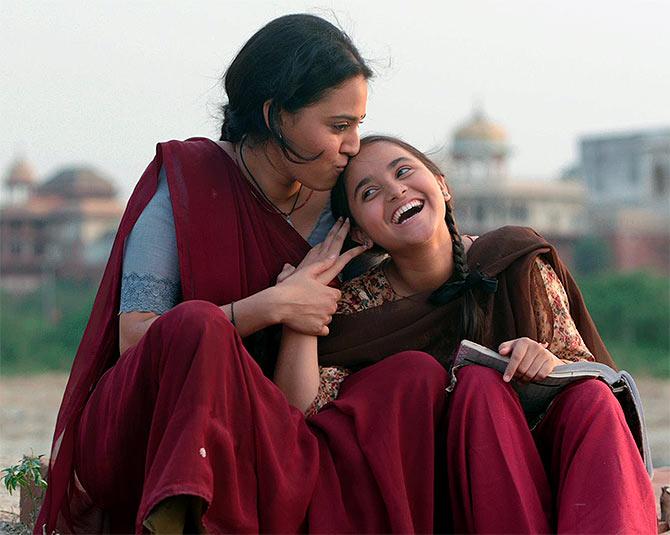 IMAGE: Swara Bhaskar and Ria Shukla in Nil Battey Sannata.
"When Ashwini (Iyer Tiwari, director) offered me Nil Battey Sannata, I assumed that she was giving me the 15-year-old girl's part and I was quite thrilled that she thought I looked so young! But then she said she's giving me the mother's role. I was very offended. I mean, did I look like an aunty to her? That meeting ended very quickly," Swara says.
Swara read the script with the intention of refusing it.
"But it was a beautiful story, brimming with potential," she adds.
The story is indeed beautiful: A mother, who works as a domestic help among other menial jobs, wants her daughter to get a good education and pass her Class 10 examination. The daughter (an impressive Ria Shukla) has no interest in academics, especially Maths, and is content with being a maid when she grows up.
So her mother takes it upon herself to make her daughter educate herself better by enrolling herself in the same school, same class.
"I did not care about the bai (maid) part. I'm an actor, and I don't judge my parts. I didn't judge Bindiya (her brilliant character in Ranjhanna), the girl who cannot even speak in English. My character in my next film (Anarkali Aarahwali) is even more problematic," Swara says, referring to her character of a feisty naach-party singer, who does live shows during weddings or festivities -- "naach-party singers sing very lewd, and sexually explicit songs"
Swara prepared for Nil Battey Sannata in various ways.
"I know maids on a very surface level, from my interaction with my own maid. But I meet them in my world. At the most, I may meet them at a wedding or during Ganesh Chaturthi. But those are festival occasions. I don't know what their daily life is, like what a Mumbai monsoon does to their home. So I went to Agra and befriended a bunch of maids through my father's contacts."
"I would walk to work with them, go back to their homes, eat with them, interview them about their lives and record that... When I came back to Mumbai, I would keep listening to the interviews, and the vocabulary they would use," she says.
Swara even went shopping as Chanda and haggled for the little things she bought: The purse she carries in the film, a mirror, a comb...
Ashwini once asked her how she was preparing for the mother part.
"I told her I had three cats -- Atom, Utpaati (which means havoc creator) and Kulfi -- and I'm quite maternal to them!" Swara says with a laugh.
That was obviously not good enough and Swara was instructed to interview her mother.
"When I interviewed her, there was a long list of complaints as to how horrible I was to her!" Swara exclaims. "Then she started talking to me. My mother is very melodramatic, and my brother Ishaan and I keep calling her filmi."
"But then I realised that when I would come home an hour late from tuitions, she would be beside herself with panic. She would think 'kidnap ho gaya', 'rape ho gaya.' Like, she wouldn't think the tuitions got over late or that I didn't get a bus. She would have these extreme thoughts. We used to mock it at that time, but in talking to her, I realised now that the emotion a mother has for a child is a physical emotion, and they don't have any rational control over it."
"The child can be absolute shit -- as I often was to my mother! -- but a mother will never stop feeling that concern for that child."
"Chanda is like that. She's so focused on her child, she's almost manic! She's a nag! But that's her emotion. In the face of so much opposition, she just will not give up," Swara says.
"I tried my best not to make Chanda's character over saccharal. Bollywood has a very childish and unrealistic way of interpreting the parent-child relationship."
"Only two films have shown it well. One is Taare Zameen Par. I really like the part when the mother opens the door when the child comes home from school, and says, 'Change your uniform.' That's the first thing my mother would say to me. No choochi-choochi stuff. The other film is Aaja Nachley, which showed a beautiful relationship between Madhuri and her child."
Swara says she really prepares hard for her movies.
"I graduated in literature from Miranda House and did my master's in sociology from JNU. Every time I get a script, like a Lit student, I do a textural critique of the script. All my scripts have post-its and notes, like an exam preparation."
"The next approach to my character is to look at it like a sociologist. The first question is who is this character and where does it belong in the social hierarchy of the world in which it is. What is her father? Is he a paanwallah or a rickshawallah? Is her mother a housewife or uneducated? Who is she, where is she educated?"
"I never grudge not being a star child because of my journey so far. I was a student volunteer during the 2002 Gujarat riots. In college, I trained and interned with tribals with an NGO called Pradhan in Madhya Pradesh. I've learnt very young that there is no one India, there are many Indias."
"Your life is just one very privileged India. In my summer holidays after my Class 10, I volunteered in a slum school in Delhi. That was the first time I realised that 'children are angels' is a myth! Children are human beings. They will respond to the situations you put them in. Those kids were doing smack and drinking Corex."
"I have made a conscious effort to reach beyond my own context and that has helped me understand the characters that I play," she explains.
How good is Swara at Maths?
"Not good!" she says with a laugh. "I'm okay in Mental Maths because we had weekly Mental Maths tests in school and my father used to make sure I got it right. I got 85 percent in Maths in Class 10. After that, it was a downward decline. I even failed in my pre-board exams in Class 12."
Swara may have not been good in Maths, but her acting is always above par. And to think she was never formally trained as an actor.
***
'You can be a Rajesh Khanna of some place, but when you come here, you're a c****** struggler'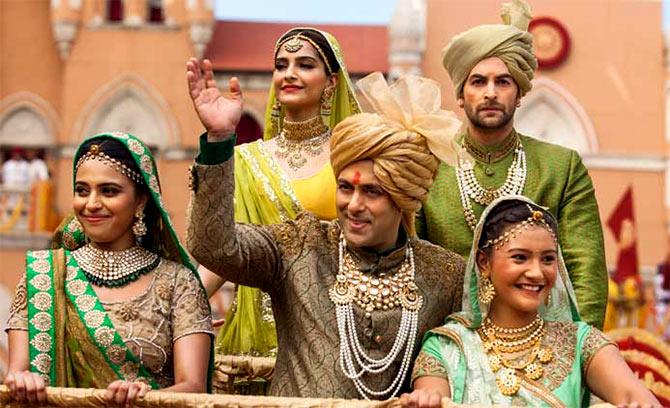 IMAGE: Swara Bhaskar with Sonam Kapoor, Neil Nitin Mukesh, Aashika Bhatia and Salman Khan in Prem Ratan Dhan Payo.
Her formal training has been, in fact, in Bharata Natyam, under the guiding eyes of (former chairperson of the Censor Board) Leela Samson.
Swara learnt dance from the age of seven and did her arangetram at 22.
"The year Leela Samson left to take over as director of Kalakshetra in Chennai is the year I left dancing," Swara says.
"I think I'm instinctively a nautanki, a dramebaaz. As a child, my father used to call me (American dancer) Isadora Duncan because I was always acting! I was a very precocious child. The moment I knew someone was watching me, I would become *that*!" Swara says, widening her eyes and striking a pose.
"I was one of those girls, who would sit in the back of the class, wear torn jeans and kurta, kajal, carry a jhola and think we're the coolest people in the world!" she exclaims. "I would make fun of girls wearing makeup."
All of that changed when she came to Mumbai.
"During my first audition, this person told me it was an audition for actors, not assistant directors. So I said I wanted to become an actor. She asked me, 'Why are you wearing a bedcover?' And those were my best Dilli Haat clothes!" exclaims Swara.
"Mumbai was a culture shock to me. I used to get pimples, so I went to a dermatologist and she put me through a facial. In the auto back home, I started crying. My then boyfriend got so worried, and asked me what happened. I told him that I'd got a facial. He asked, 'So?' And I sobbed, 'I'm just not that person!'
"I think I was too judgmental. I used to think I'm this intellectual, intelligent, feminist, Left-leaning person and then you come to Mumbai -- and it's like you can be a Rajesh Khanna of some place but when you come here, you're a c****** struggler. That's what happened to me."
Swara used to fight it before but now she has realised something important.
"I've realised that you're representing the aspirations of the audience. The audience wants to see you in a certain way on the red carpet. It *is* the glamour world, after all. I hate it, and it's taken me a long time to understand. For example, I did not know there was something called the airport look. I look like this when I go to the airport," Swara says, pointing to her casual look.
"Makeup doesn't come naturally to me when I go for meetings. I mean, it's just a meeting! But the fact is that you have to do it because unfortunately, most people in the industry don't have the imagination to look at you and understand that there will be styling, hair, makeup, costume etc work going to be done on you. I've actually looked at Grazia magazines for tuitions! Now, of course, I have stylists," she says.
'Look, I can't have sex'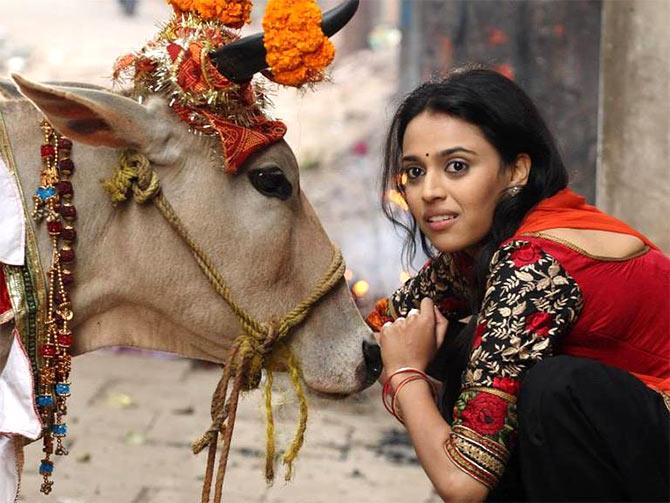 IMAGE: Swara Bhaskar in Ranjhanna.
Like the style tuitions, Swara had to learn Mumbai lingo as well.
"In my first year in Mumbai, I would wonder why no one was soliciting me, why the casting couch wasn't happening. Was I too ugly?" Swara asks. "Then I realised that I wasn't catching the lingo. I thought people would actually say the words: 'We will give you this role if you have sex with me.' But nobody says that. Instead, they ask, 'Do you want to have coffee?' And I would say no, because the meeting would be done."
'Once I met this casting agent in a very shady place, and the conversation went like this:
He: 'What will you do for this role?'
Me: 'I'll make notes.'
He: 'Woh toh sab karte hai, what will you do?'
"I would answer but he kept repeating the question, and finally I was saying stuff like 'I can speak basic Bengali' or 'I can ride a horse.' Then suddenly, I realised what he was asking. So I said, 'Look, I can't have sex.' And he said, 'Of course.' And that meeting ended in five seconds," Swara says with a laugh.
"See, I was coming from a Delhi university background, defence services, steady government jobs. I was studying to take my GRE, do a PhD in Anthropology... I didn't know shit about the glamour world. This was a life that was not meant to be mine. But I love acting so much, I'm willing to play by the rules," she says.
And the rules include acting in a full-blown commercial movie, starring a superstar like Salman Khan, in a film like Prem Ratan Dhan Payo.
"People know me because of my commercial films even though my bigger roles have been in indie films," she reasons. "In Listen Amaya, I was the title part, but no one saw it. If you want longevity in your career, it's very important to break into the commercial mainstream space."
"I liked shooting for Prem Ratan Dhan Payo. I have never worked in that space before. And at the end of the day, I'm a Bollywood brat."
"I love Tanu Weds Manu for the happy experience as well; Nil Battey Sannata and Anarkali Aarahwali for the sheer work," she adds.
"I have never seen Ranjhanna completely. I cannot get through the second half; I always cry. Shooting for the film was very tumultuous for me. It was a life-changing film. Tanu Weds Manu Returns is also not a part of my favourite shooting experiences."
Swara made some lasting friends during the shoots as well.
"I love Sonam (Kapoor). We have a very honest relationship. She's the only famous friend I have. She came for my birthday party in April as well. I was drinking after six months because I had jaundice in December, and I had a lot to drink!"
"I called a Punjabi dholi to my friend's house where we were having the party, and the neighbours complained the next day! Most of my industry friends are writers or music composers or production people," Swara says.
Swara has a fond relationship with Dhanush and R Madhavan but doesn't see them often.
"I love Salman!" she exclaims. "He's an amazing person and full of surprises. He's very involved as an actor. You would think that a superstar of his nature would be indifferent as an actor but he's not. He has great improvisation abilities. He's very funny and very generous."