Senior Bharatiya Janata Party leader and former external affairs minister Sushma Swaraj passed away on Tuesday.
She had struck a chord with Bollywood personalities, and they took to social media to pay their last respects.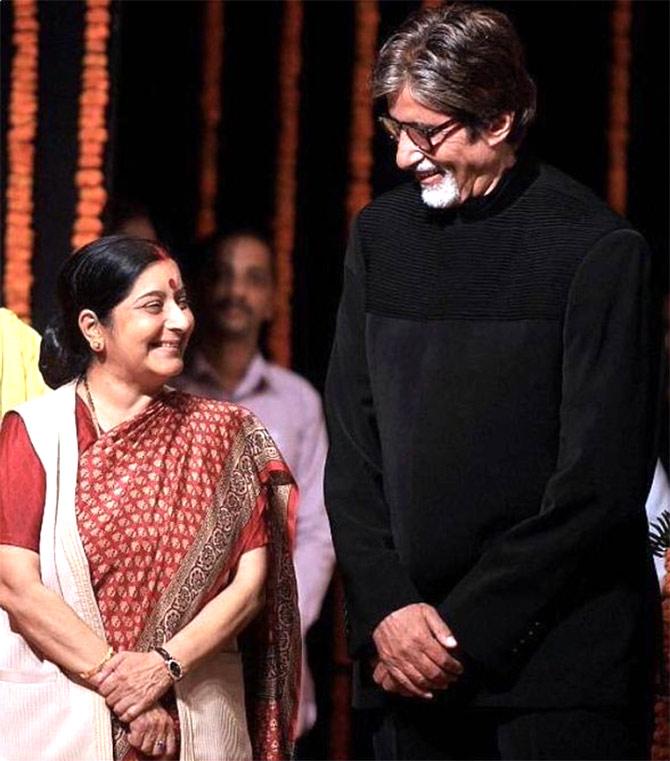 Amitabh Bachchan: एक अत्यंत दुखद समाचार ! एक बहुत ही प्रबल राजनीतिज्ञ, एक मिलनसार व्यक्तिव , एक अद्भुत प्रवक्ता । आत्मा की शांति के लिए , प्रार्थना
Archana Puran Singh: The quintessential great Indian woman, soft yet strong, outspoken yet not loud, upright yet compassionate, firm and of firm beliefs... a leader among men, a lady to respect, admire ... and now to mourn.
I deeply feel your loss as one of the few icons of integrity in the murky corridors of politics. May you shine as bright and stand as tall in the next world... Rest in Peace Sushma Swaraj ji.
You are already missed as a great beacon of hope, integrity and compassion in our country which still needed you, but has to bid you adieu with great grief and regret. There shall be no other like you. #sushmaswarajji #greatlady #thegrandladyofindianpoitics #aakhriamaskar.
Vivek Oberoi: An Iron Lady who was not only a true patriot but an incredible inspiration for each and every one of us. An epitome of women empowerment and leadership.‬ ‪#SushmaSwaraj ji you will be missed and remembered forever. My deepest condolences and prayers to the family.
Jaya Prada: आज देश एक ऐसी बुलंद शख्सियत को अलविदा कहने पर मजबूर है, जो अपने आप में भारत की शसक्त नारी का साक्षात स्वरूप रहीं। बहुत ही दुखी हृदय से आपको विनम्र श्रद्धांजलि अर्पित करती हूं।
Kumar Sanu: Shocked to hear about the sad demise of #sushmaswaraj ji. What an amazing lady she was. We have lost one of the most helpful and endearing politicians of recent times. My condolences to her family and friends. What a loss for India. RIP Madam!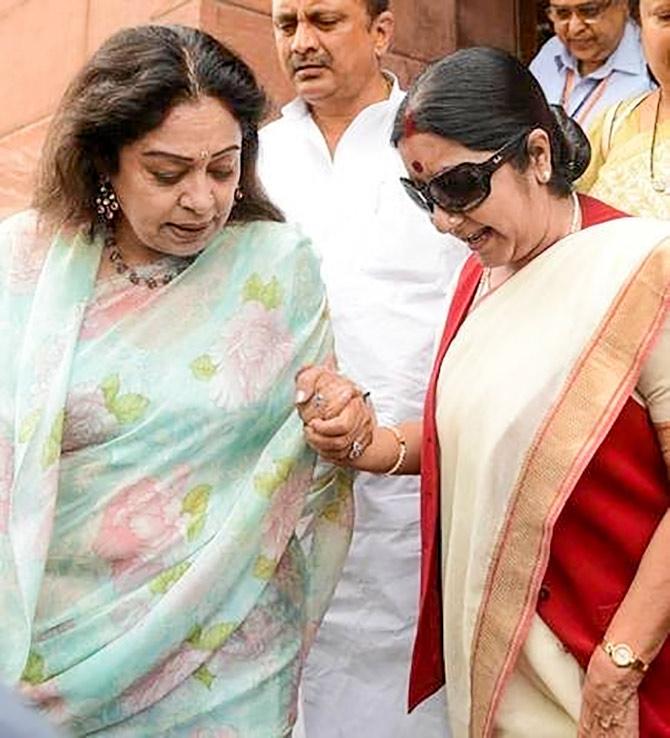 Kirron Kher: Shocked and deeply saddened to hear about Sushma ji. What an amazing leader, orator and minister. My condolences to her family. You will be missed dear Sushmaji. RIP.
Mika Singh: Very sad news to hear for us all..Our respected Sushma Swaraj ji the former BJP foreign minister has sadly passed. She has left us all with her beautiful memories. May God bless her soul, Rest in peace..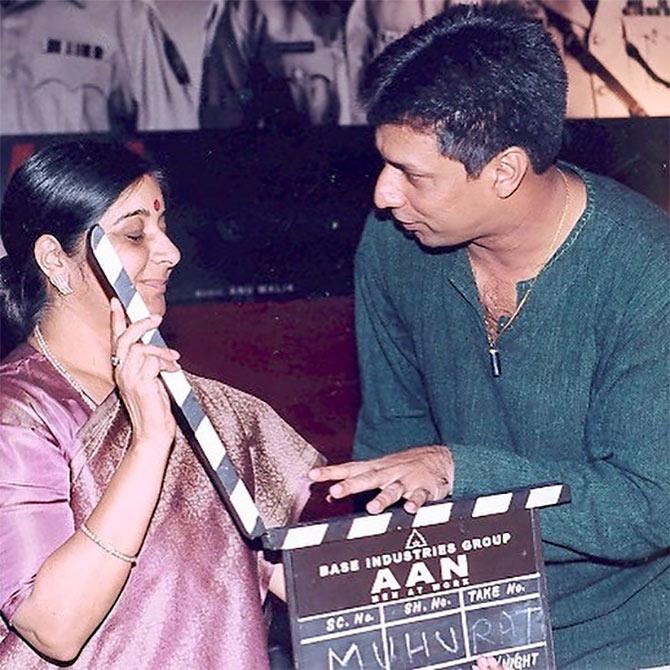 Madhur Bhandarkar: Sharing 2 beautiful fond memories photos with @SushmaSwaraj ji ‬ She blessed us with opening muhurat clap for our film #AANmenatwork in 2002.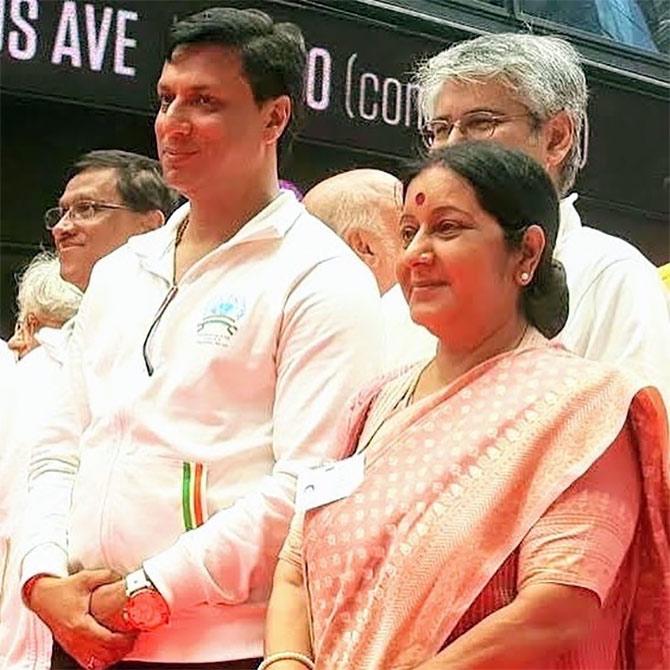 He further added 'Shared dias with her at United Nations for the first #InternationalYogaDay 2015. Irrevocable loss, she will be Missed.
Riteish Deshmukh: You stood tall amongst giants... #SushmaSwaraj ji .. we will miss you #WomanPower #Respect #Rip
He added: 'I had the good fortune of meeting #sushmaswaraj ji (Minister I&B) in 2001 when she visited #RamojiFilmCity where @geneliad & me were shooting for our debut film #TujheMeriKasam-she blessed us & wished us success, as newcomers it energised & encouraged us-ThkYou for your grace mam.'
Dia Mirza: Deeply saddened...#SushmaSwaraj ji is and will always be remembered as one of the most respected and beloved leaders of our country. Her speeches in parliament, her empathy, her spirit, her kindness... what a remarkable and amazing human being.
Sanjay Dutt: RIP Sushma ji. Absolutely shocked and devastated to hear about her passing. She was always close to me and was extremely kind, since the early days. My heartfelt condolences to the family & our entire nation for this great loss.
Javed Akhtar: Deeply saddened by Sushma ji's demise. The Music Fraternity will be indebted to her for magnificent defence of their rights in the Lok Sabha. You were an exceptional person Sushmaji. We will always remain thankful to you.
Lata Mangeshkar: Deeply shocked and saddened to hear about Sushma Swaraj ji's sudden demise. A graceful and honest leader, a sensitive and selfless soul, a keen understanding of music and poetry and a dear friend. Our former external minister will be remembered fondly.
Arjun Kapoor: India has lost its extraordinary leader, minister and personality.. May God bless her soul.
Karan Johar: An amazing leader, orator and minister..... condolences to the family.
Shabana Azmi: Deeply saddened that Sushma Swaraj has passed away. In spite of political differences we had an extremely cordial relationship. I was 1 of her Navratans as she called us during her I and B ministership and she gave industry status to film. Articulate sharp and accessible. RIP.
Boman Irani: A force of nature she was. Too young to go. Saddened to hear this untimely news. A nation's loss.
Rishi Kapoor: RIP. Sushma Swaraj ji.