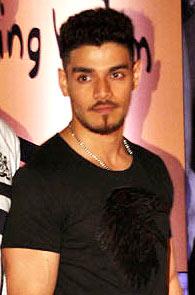 Even as Aditya Pancholi's son Suraj continues to remain in judicial custody in connection with the Jiah Khan suicide case, there is plenty of support for him in the film industry.

Filmmaker Subhash Ghai is not in two minds about casting Suraj in the remake of his 1983 film Hero.

"I am busy shooting Kanchi. The remake of Hero is Salman Khan's call, as he is the producer. I have not talked about it with Salman," Ghai says.

Salman apparently has no reservations about the project.

Reliable sources tell us that Salman and Suneil Shetty -- whose daughter Athiya will debut in the film -- have decided to move full steam ahead.

"The entire team feels Suraj will be even more qualified to play the role lead in Hero once he emerges from his current troubles. Let's not forget the protagonist in Hero is a rebel and an outcast. Suraj's newly-acquired edgy image is perfect for the part," says a source.

One hears the part is now being re-written in a darker shades than the original.
"Suraj will play a darker character than Jackie Shroff did in Hero. Jackie played the flute to show his romantic side. Suraj will be portrayed as a sullen one-man army. No flute, no soft side," says the source.
The current setback in his life has not dampened Suraj's spirit. His enthusiasm for his impending debut remains unflagged. After the early shock, Suraj has returned to a tentative routine in jail.
A member of the Pancholi family, who visited Suraj in prison last week, says, "Suraj has resumed his preparation for his debut. Instead of brooding over his predicament, he is trying to keep fit in prison. He is making every effort to remain on top of his situation."
In the picture: Suraj Pancholi. Photograph: Pradeep Bandekar