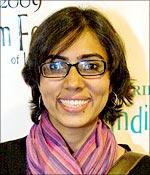 Nearly two years since it was made, the witty, poignant and life-affirming documentary Supermen of Malegaon which has travelled to more than two dozen film festivals is getting a theatrical release.
It is being shown at Big Cinemas Movie City Edison, New Jersey for a week through FilmKaravan, a distributor specialising in offbeat films such as Sita Sings the Blues.
If Edison embraces the film, it could be in more theatres in other American cities. In any event, it is also available on DVD. Though the film has been travelling to film festivals across the globe, it is giving a solid nudge for more recognition, and this time by the public, through FilmKaravan.
Set in the city of Malegaon, full of communal tension and economic slump, the documentary chronicles the life of a handful of cinema enthusiasts who make their own films -- quirky, low budget, socially aware and spoofs of Bollywood films. When their ambition grows, they are ready to take on Hollywood and Superman.
The film, produced and directed by Fazia Ahmad Khan, has received glowing reviews from the likes of Variety and has been shown at an Asian Film Festival at the Museum of Modern Art.
She said the terribly inexpensive films made in Malegaon, some costing just about $5,000 serves as a community builders, though she confesses Hindus living on the other side of a river dividing the textile town came to hear about these ultra low budget films when they heard of the documentary Khan was making.
Khan is also careful to point out that these films, and movies in general, are important part of the people's daily lives in this textile city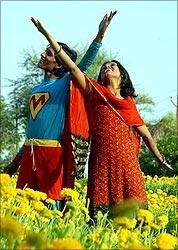 'Working at a loom is an underpaying job involving serious health risks,' she said in an interview discussing the people of Malegaon. 'They work six days a week for about ten hours a day and they're on their feet the whole while. So on a Friday, which is a holiday, they go to a movie to forget the drudgery of their lives. For those 3 hours, they are Shah Rukh Khan running through mustard fields or Abhishek Bachchan chasing a beautiful woman around trees.'
Variety called the Khan film 'An agreeably ramshackle film about the unshakable commitment of an equally rickety group of dirt-poor movie tragics producing a superhero spoof in their Muslim village...Supermen of Malegaon possesses a loopy, energetic charm.'
At the Silverdocs Documentary Film Festival a reviewer declared: 'Faster than a speeding auto rickshaw, Faiza Ahmad Khan's film will steal you away and take you sailing joyously into the skies of India... A terrifically fun story of underdogs who rise to the task of being supermen.'
At a recent screening of the film at a festival, an audience member asked Khan how she went around casting her film. "I did not know how to react," she says with a chuckle. "I though it was obvious it is a documentary."
She was inspired to make the film after reading an article in an Indian publication on the passionate life of the filmwallahs in Malegaon.
She says though she is willing to try her hand at a feature film, for the time being she is happy making the documentaries. Her next will focus on the tribal people and how developmental work affects their lives for better or worse.
(FilmKaravan is run by Pooja Kohli-Taneja who has over ten years' experience in film festival management and programming, and is dedicated to giving voice to the Diaspora of South Asian filmmakers. After beginning her career producing documentaries for Zee TV, she worked as the Managing Director at IFP Market and the Mahindra Indo-American Film Festival Director)