'The amount of work that is happening in the industry today -- whether it is on television, films or the OTT space -- there is ample opportunity for everyone.'
The Family Man 2 has caused quite a stir ever since its premiere on June 4, and fans are already demanding the next season.
Suparn Verma, who directs five episodes in the series, contributed to the screenplay and wrote the dialogues, is thrilled with the love and adulation the seriws has been getting and says it was a huge responsibility not to let down the creators of the show, Raj Nirimoru and Krishna DK.
Suparn tells Rediff.com Contributor Mohnish Singh, "Had it been a bad experience, I would have lost two friends. So the biggest pressure was not how others would react to me as a director, the real pressure was that I had to deliver this baby to the two people I really cared about."
The Family Man 2 has turned out to be a sensational hit.
I feel on top of the world!
It is raining, so I have been dancing and singing in the rain and enjoying the success of the show.
Were you expecting this kind of response?
When we were writing it, we could sense that we had something good on our hands.
While shooting also, we felt we had something good on our hands.
I don't think you can imagine in advance how big, amazing and awesome it was going to be.
We are now deciding to get back to work as soon as possible instead of going nuts with the amazing response.
It also feels nice because the whole team has given their heart and soul over the last two-and-a-half years working on the show through the pandemic and getting it out there.
You wrote and directed the majority of the show. So how did it all come together?
Raj, DK and I have known each other for over a decade now, since they returned to India.
We have worked on a few projects together.
They had finished making the first season of The Family Man and were on edit when they called me to see the first cut.
I really, really, loved what I saw.
I was jumping up and down with ideas.
Suddenly, they asked, 'Would you like to direct the second season?'
I said, 'Yeah.'
So they said, 'Why don't you get involved in writers room first and get the entire season's arch? Get on the screenplay and write the dialogues.'
I said, 'Okay.'
So they started developing the screenplay, which went on for three-four months. I started writing the dialogues.
The process helped me know the characters inside out because seeing is one thing and living them and finding their reality, is a totally different thing.
At the end of the day, I am a writer first and then a director. That's how I started my career.
How was it to work with Raj and DK on this project?
Raj and DK are two of the greatest collaborators.
We are so like-minded.
It is a blessing to work with like-minded people where there is no room for ego.
It is all about how to make the scene better, how to make the episode better, how to make yourself better and raise the bar.
Suman (Kumar, co-writer) had been on board the first season as well. We worked really hard on season 2.
Had it been a bad experience, I would have lost two friends. So the biggest pressure was not how others would react to me as a director, the real pressure was that I had to deliver this baby to the two people I really cared about.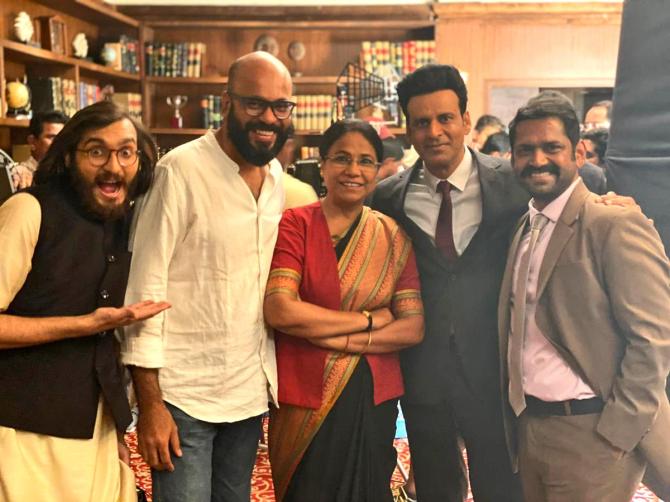 Which is your personal favourite character on the show?
I have so many!
The common answer would, of course, be Srikant Tiwari.
Chellam sir and JK are also my favourites.
In this season, I loved the character of Subu, Bhaskaran's brother, in particular.
I loved the character because of the way it was enacted.
It was so powerful.
I usually tend to leave the monitor aside when I am filming a close-up shot.
Subu was talking to his brother, Bhaskaran. In that shot, the performance was so visceral.
I really connected with Subu. He really left a mark on me.
I love PM Basu's character also. She was fantastic.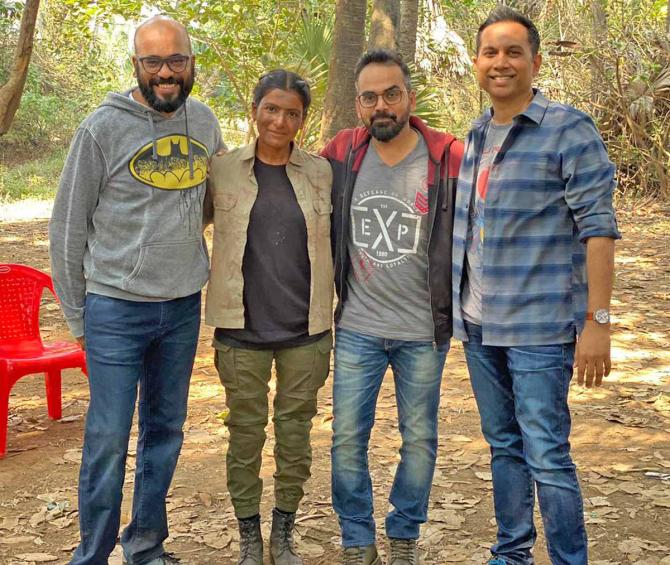 Samantha Akkineni is the latest addition to the cast. How did she come on board?
Raj and DK ensured that proper representation happens as far as the casting was concerned, right from the season one.
The Family Man is a show which is truly pan-India.
India is such a diverse country, with such a great heritage and such talented actors in every nook and corner of the country.
The show had to reflect that in its casting.
When the role of Raji was written, we wanted to cast a Tamil actress, who could also speak Sri Lankan Tamil.
Samantha speaks three languages in the show.
Besides that, she is one of the brilliant living actresses of our generation.
She was our first choice, and when we went to her, she readily agreed to be part of the show.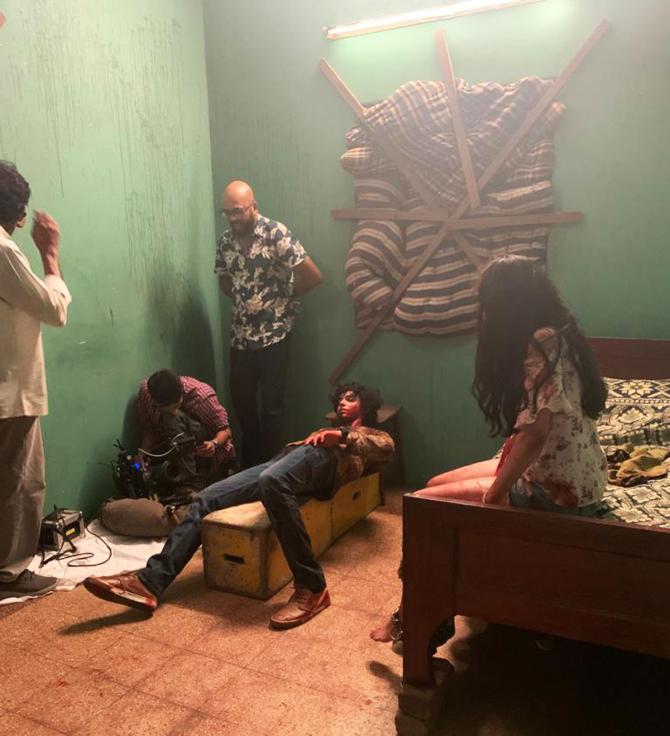 What was the most challenging scene for you to shoot?
The eighth episode was tough because I had to take Ashlesha (Thakur), who plays Dhriti, to a very dark place.
My biggest worry was her being so young, almost a child, doing that (murder) scene.
It was set in a very intense space. The idea was to make her feel safe.
Luckily, Raj and DK and (Mukesh) Chhabra found her in season one. She is a brilliant actor.
To perform like that at that young age is phenomenal.
For me, that was the toughest scene to achieve.
I could do it because I had an actor who was ready to go into that zone and find that emotional depth.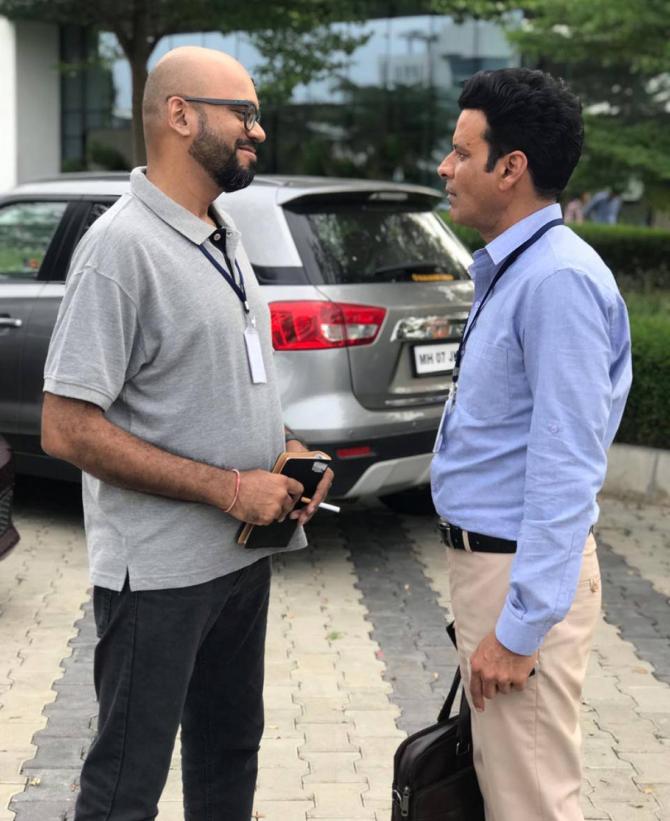 What was it like working with Manoj Bajpayee?
I worked with Manoj Bajpayee many years ago on The Acid Factory. We have been friends for over a decade now.
He is a film school in himself.
As an actor, there is so much to learn from him because he never thinks about his own character; he always thinks about the entire scene.
And in that scene, there will not only be him, but several other actors also. His objective is always about making the scene work.
See, he can make his character work and people would still say, 'Oh, what a great job he has done!' But if the scene does not work, it means something is off.
He is always making that scene work.
Which actress would you think fits the bill as the lady Srikant Tiwari?
Well, The Family Man is Raj and DK's creation, so I should not be answering this question.
But if I am given a choice, I would cast Vidya Balan as The Family Woman because she is a brilliant actor.
I have been privileged to have worked with her on an ad campaign.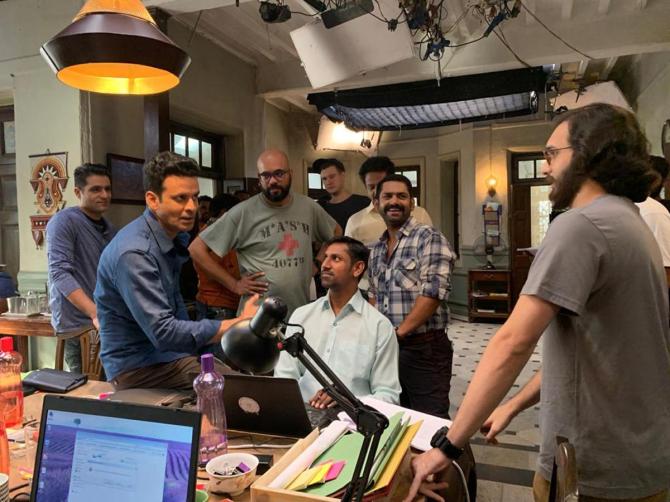 You started your career as a journalist. How did you get into the movie business?
I started my career with Rediff.com and I am blessed to have met some great people there.
I got to interview a great bunch of film-makers and actors.
At the same time, I was running Rediff Chat.
One fine day, I met Ram Gopal Varma. He was mixing a movie called Deyyam when I met him for an interview. We got talking and he offered me a film to write.
I wrote for Ramu for six months and then I moved on because things did not work out.
But the learning that I got while working with him was for a lifetime.
Once, I organised a Rediff Chat with Manoj Bajpayee at Hansal Mehta's house. They were doing a film called Dil Pe Mat Le Yaar.
After the chat, Manoj went home. Hansal and I kept talking.
He asked me, 'Do you want to write a film?'
That is how my journey began which led to Chhal and other movies.
Then Harry Baweja asked me to write Qayamat.
Ajay Devgn liked one of my ideas and put me in touch with Rohit Shetty.
Meanwhile, because of Qayamat, Sanjay Gupta heard my ideas and Karam happened.
I had one script ready with me which was made as Ek Khiladi Ek Haseena.
Then I got a call from Sanjay Gupta's company for the film The Acid Factory.
Later, Kumar Mangat called me. We interacted and that's how Aatma happened.
I also started writing for OTT platforms. I have been writing and directing shows for a while now.
I also wrote a successful show for Voot and then The Family Man happened and my whole world changed completely.
It takes time.
One has to keep their head down and keep polishing their craft. Most importantly, one has to keep themselves sane so that when life throws surprises, you are ready for it.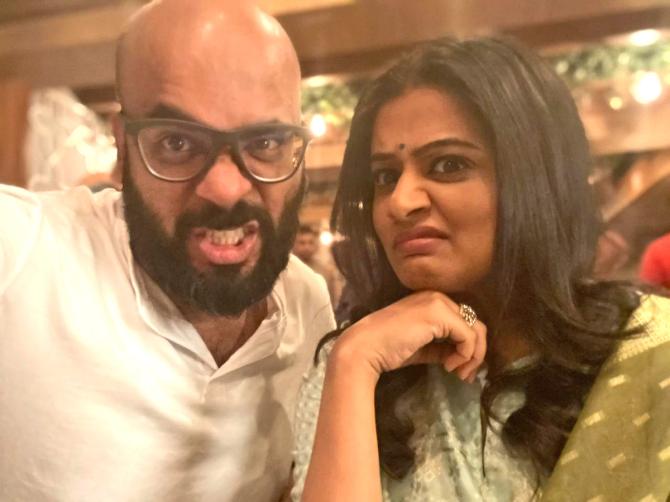 Is there any advantage of coming from a non-film background?
Honestly, it does not make life easy or hard.
In fact, I feel that having connections at times may work against you (laughs).
I mean, when you come fresh, there is no baggage.
Nobody knows you, so you can just prove yourself.
The amount of work that is happening in the industry today -- whether it is on television, films or the OTT space -- there is ample opportunity for everyone.
Everybody is looking for talent.
Everybody is looking for scriptwriters.
Everybody is looking for new scripts.
We are living in the golden age of storytelling.
If you remember, the '80s was the golden age of storytelling. So many great film-makers were doing incredible work on television.
There were brilliant shows like Hum Log, Nukkad, Tamas, Udaan...
It has come down to that again.
It does not matter where do you come from. Raj and DK are from Tirupati and Chittoor respectively.
I am from Mumbai.
I had no contacts when I started out.
Everybody comes from somewhere.
Everybody has a story.
Everybody has worked equally hard.
You might get success early in life or later. But everybody has their own share of struggles.