'I don't understand people who say, "Time is the best healer".'
'I would like to tell them, "Screw you".'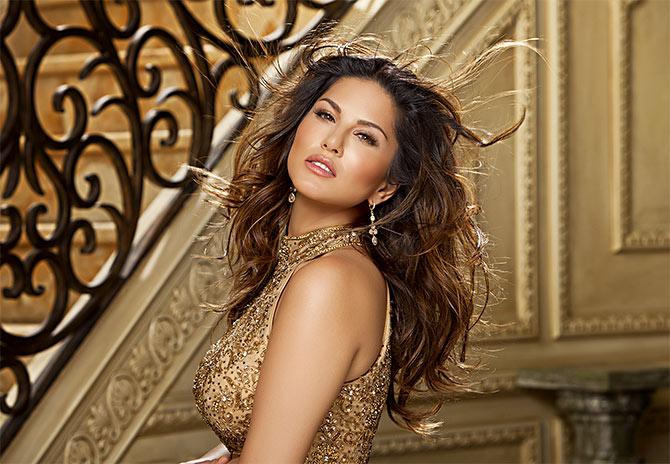 The second season of Sunny Leone's Web series Karanjit Kaur: The Untold Story of Sunny Leone streams on Zee5 from September 18.
The actress is enjoying the current phase in her life -- from her Web series to playing mum in real life to three children: Nisha, Noah and Asher.
Sunny tells Rediff.com contributor Aarush S, "I feel so lucky!"
You are in a great space, both professionally and personally. Is your mind relaxed?
In fact, it has become crazier now!
I don't get time anymore, but I don't see that as a bad thing.
I don't know if 'relaxed' is the right word, but I feel different.
When I look at my boys (Noah and Asher), it feels amazing.
On the other hand, I have Nisha who is an intelligent kid and we see her transform every day.
The amount of information she absorbs is something I haven't seen before.
She had grown up around people who spoke Marathi for almost two years, but she learnt English in less than a year.
With three kids, we are discovering something new every day.
I am also glad that the first season of Karenjit Kaur was received well.
I am also busy with films and television, so overall, it feels great.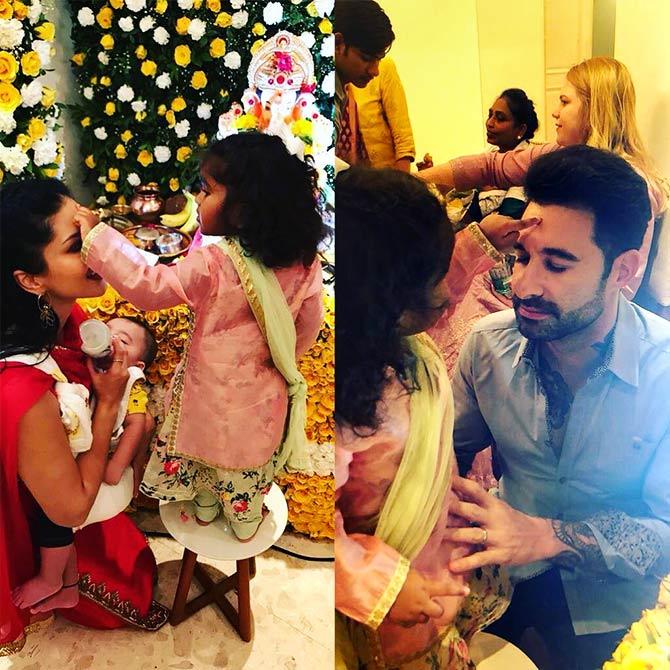 With the arrival of Noah and Asher, how are you moulding Nisha in the big sister role?
You can't force a toddler to like a baby and in our case, there are two!
So what we have done is that we ask her whether she would like to be a part of any activity that we are doing with Noah and Asher, including making them eat food to taking them out on a stroll.
Most of the time, she agrees and at times, she says no and we are fine with it.
Whenever she does something for them, we encourage her, so that she feels positive.
The other day she was mock-feeding them, and it was so cute!
Nisha is the most beautiful little girl, Daniel and I feel so lucky.
I hope she turns out to be a boss sister (laughs).
It will keep the boys safe and secure.
Normally a kid starts feeling ignored when the attention moves towards the younger siblings, but Nisha seems to be in a secure space.
I think I'll take credit for that (laughs).
On a serious note, Daniel and I make sure to spend some time only with her.
It is extremely important for kids of her age not to act jealous.
We don't want to make her feel neglected, so we spend some time during the day only with Nisha, without the twins around, just by taking her for a stroll or doing some painting.
We had also spoken to Nisha about her siblings months before they were born, to mentally prepare her and that helped.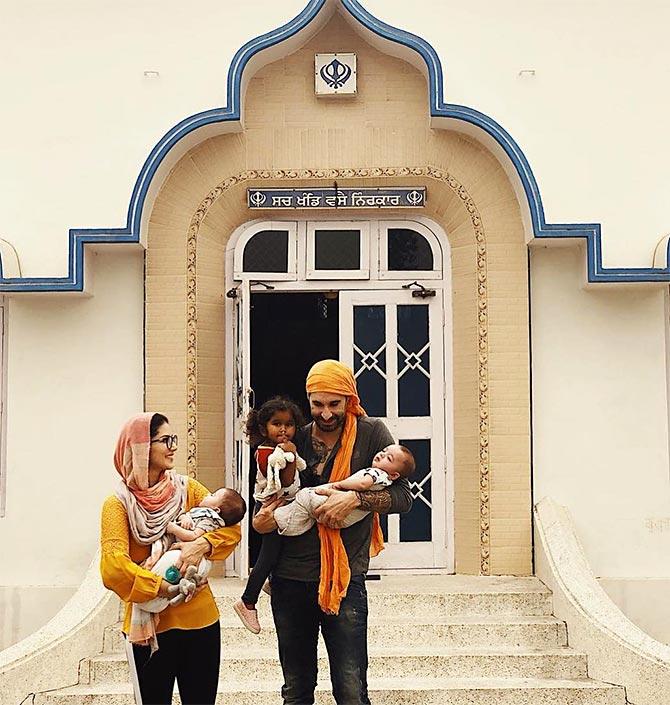 Back home, she must be very pampered.
Yes, totally!
Her grandparents always get a bagful of goodies.
This time, we had to tell them to cut down.
We don't mind them getting clothes, but Daniel and I told them that if they get toys, that's fine, but we would be giving her one at a time.
We want her to learn the importance of earning something.
We want her to be a toddler who has five toys and takes care of them, rather than someone whose cupboard is full with toys, and they aren't valued.
We are still going through last year's presents from her birthday.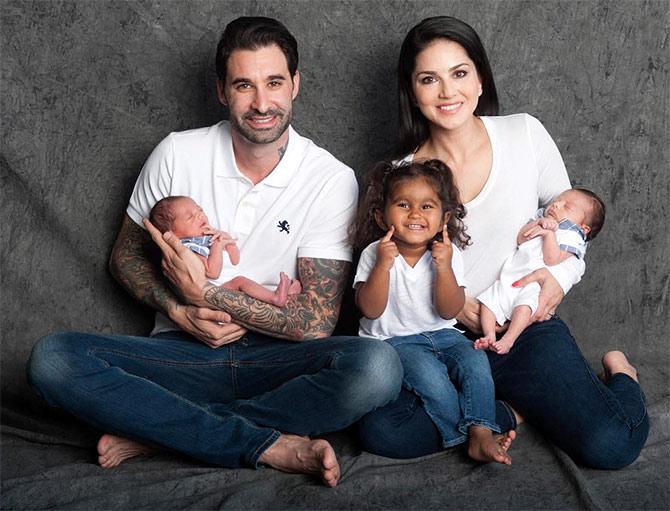 Is parenting twins a different experience?
Nisha spoiled us.
When she came home, she could express herself so we could understand her likes and dislikes.
She would go to bed without us, so we didn't have many issues in understanding what she wanted.
But with Noah and Asher, we realised you don't get any sleep with infants.
Even if they are in deep sleep, we keep waking up, wondering if they are fine or did they just move... the mind is always alert.
Coming to work, you had said it was an emotional journey shooting for Karenjit Kaur since it is your life journey.
Now that the applause is coming your way, have you been able to see what makes Sunny Leone successful?
I wasn't just shooting for another show.
This series opened a Pandora's Box.
We have shown some life-changing moments.
I am well aware of the choices I have made in my life, but I did not know how it affected the people who mattered.
Everytime I speak about the series, I have this feeling of anxiety.
I don't understand people who say, 'Time is the best healer.'
I would like to tell them, 'Screw you.'
Time doesn't heal anyone, the person becomes numb.
I have tried to heal my wounds but when someone opens the wound again, I still feel the pain.
I am acting and watching my life all over again and it is a painful process. As of now, it is really fresh.
So I haven't been able to decode the appreciation because it has been difficult to shoot for the series.
We wrapped up the second season and trust me, it broke my spirit completely.
But I am glad that people love it (smiles).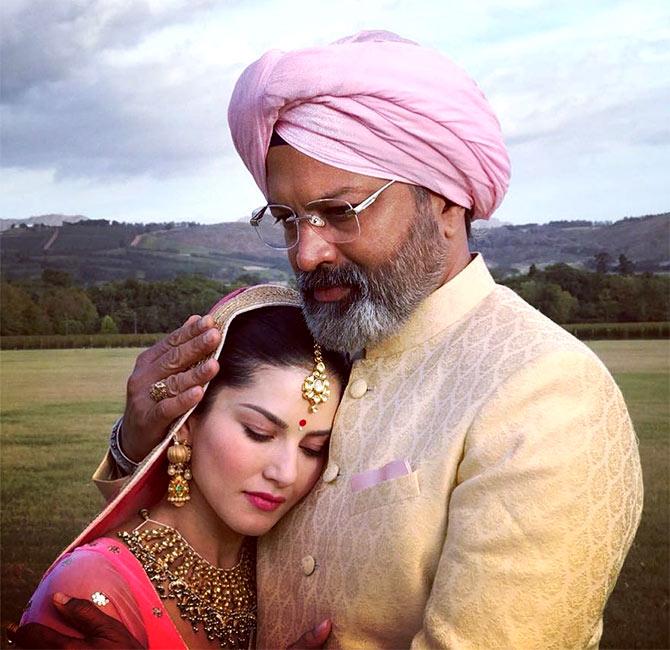 You must have known that you'd go through these emotions again...
Yes. It has been more than a decade and that's why I felt that I was ready for it.
I knew there were going to difficult moments, but I couldn't foresee it would be so tough.
There are moments while shooting where I haven't been able to stop crying and I felt helpless.
There are certain dialogues which were things that I wanted to say back then to my parents but I couldn't.
It was really hard to see my parents' death.
I was aware that it was a show, but to relive those moments of watching my on-screen father suffering from cancer or burying my mother just broke me.
My biggest thing was that I didn't want to make this series looks fake.
Did you discuss with the makers what you'd like to reveal and what you'd like to keep personal?
My deal with the writers and the production house was that I can tell the story my way.
Obviously, I am not a writer so the way the entire series flows and how all the other things work is credited to the writing department.
Also, Adi (Aditya Datt, director) had a clear vision.
He had no intention to make a sleazy, trashy or overtly sexy show.
Also, when Shareen Mantri (from Nammah Films) came up with this idea, I wasn't sure as I had a bitter experience with my documentary (Mostly Sunny).
But as I heard her, I could understand her idea behind telling the story.
It was about exploring the human side, not exploiting my past.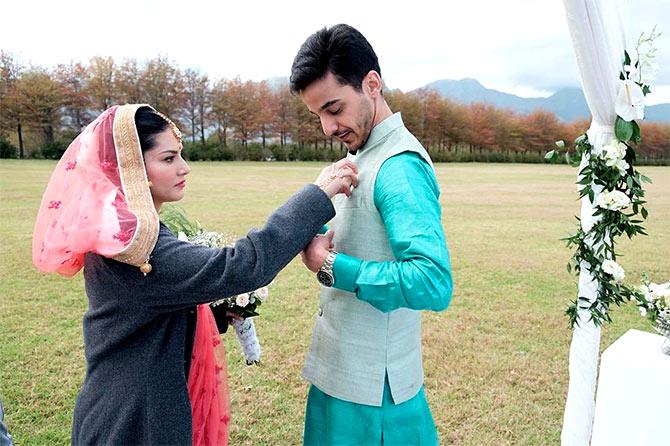 I really liked the Netflix documentary Mostly Sunny. Why didn't you endorse it?
There were some things that were manipulated and the process of how things were done was extremely unprofessional.
The sensitivity towards the subject and the people involved was not done in a good way.
Certain people were interviewed, but the demeanour in which it happened was not correct.
They were trying to find people who would say something odd... in the end, they were trying to make a villain out of me.
It was really disappointing.
I did not even get to see the final edit, so why would I promote something like that?
They didn't bring the truth out and I felt disrespected.
Do you feel better now that your perspective has come out through Karenjit Kaur?
Yes, it is not that I was making a conscious effort to do it.
Also, it is not that what I was saying in the documentary is different from what I am saying in this show.
But I wasn't happy with the other elements.
A lot of people feel you made this series to whitewash your image.
An opinion is an opinion and I can't do anything about it.
But no, that wasn't the intention behind making Karenjit Kaur.
I wanted to share my life story, of course.
Like I said, it was somebody else's idea and they were clear that they wanted to tell the real story, not show what people were expecting.
Everyone should have a right to say what they want to.
I don't see myself as a victim. If you watch the show, we haven't shown me in that manner.
We have told everyone a true story.
My career hasn't been a joyride.
I have had my share of struggle in the industry and people assumed a lot of things about me.
What we have shown is the real Sunny Leone -- the good and bad, this is who I am.
Were my choices right? Maybe not, but in that moment, I believed they were right for me.
I made my own decisions as I didn't want to live somebody else's way.
Shooting for the second season has been very cathartic for me. The series allowed me the opportunity to re-live moments, thus giving me the chance to look at incidents in a new light.