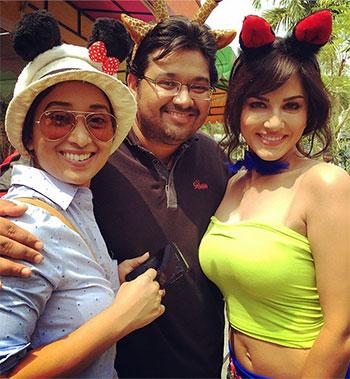 A look at the top tweets from your favourite Bollywood celebrities:

Several Bollywood stars took to Twitter to share their Halloween plans and wish their fans.

Sunny Leone celebrated on the sets of Mastizaade. She posted a picture (left, with producer Rangita Nandy and director Milap Zaveri) and tweeted: 'mini panda, giraffe,&mousy 4Halloween!! Even though I'm not in the states we are still celebrating on set!'

Priyanka Chopra is celebrating in Los Angeles. 'Going to a Halloween party in LA. Any costume recommendations? #PlayDressUpWithPC,' Chopra posted.

Nimrat Kaur wrote: 'Happy Halloween !!! My costume is set for tonight ... Is your's ??!'


First look: Amitabh Bachchan's family pack for Piku
The first look of the Big B's new film Piku is out and director Shoojit Sircar shared it on Twitter.

Piku explores the father and daughter relationship, and also stars Deepika Padukone, Irrfan Khan, Moushumi Chatterjee, and Jishu Sengupta.


Kill Dil on Comedy Nights with Kapil
The cast of Kill Dil recently visited the sets of Comedy Nights With Kapil to promote their film.

Parineeti Chopra shared a picture and tweeted: 'Shot the craziestttt episode of Kapil yesterday!!!!!'

Ranveer Singh added: 'Rollicking RIOT of an episode!! #comedynightswithkapil..EPIC television!!'

Kill Dil will release on November 14.


Neha Dhupia clears the air

It was recently reported that Neha Dhupia has parted ways with her Venezuelan beau James Sylvester.

But the former Miss India denied it and tweeted: 'It's amazing how people know more about my personal life than I do ! #Rumours'

'N I also sometimes wonder who these close friends are ...Caus if they r close enuf they won't talk, n if they talk they re nt close enough!' she added.


Jacqueline Fernandez completes 5 years in Bollywood

Sri Lankan beauty Jacqueline Fernandez, who made her Bollywood debut with the 2009 film Aladin, has completed five years in the film industry.

She shared a collage of her on-screen characters and wrote: 'Jasmine, Tara, Dhanno, Priya, Bobby, Omisha, Shaina and hopefully many more to come!! A big thank you to all those who've been with me on this journey! #5yrsinbollywood'

Fernandez will be seen next in Roy, opposite Ranbir Kapoor.


Bipasha takes time off

Bipasha Basu, who recently injured herself on the sets of horror film Alone, is vacationing in Thailand.

She shared a picture and tweeted: 'Love the sun sea sand! Love to tan:) Blisssssss!'

Directed by Bhushan Patel, Alone also stars Karan Singh Grover.


Ankhon Dekhi opens DIFF

The third Dharamshala International Film Festival kicked off last night with Ankhon Dekhi.

Director Rajat Kapoor tweeted: 'Two wonderful shows of #ankhondekhi last night- at the wonderful Dhramashala international film festival.. happiness :)'

Hansal Mehta wrote: 'Aankhon Dekhi at #DIFFindia. The kind of film we stopped making a long time back. Real, surreal, poetic & moving. Thank you @mrrajatkapoor. Sanjay Mishra has to be India's finest unheralded actor. Must see more of him in more varied roles.'

The four-day festival this year will screen 27 films from various countries, including Hansal Mehta's City Lights.