Sunflower creates intrigue right from the start and lives up to its potential, observes Prateek Sur.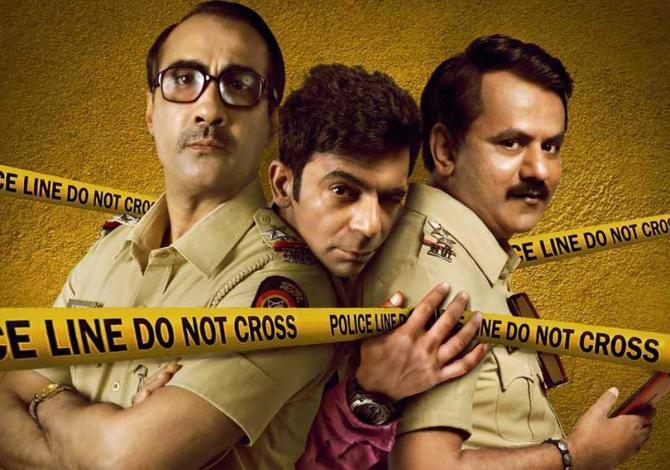 Vikas Bahl makes a terrific return to the writer-director's chair with Sunflower.
The way he has written the murder mystery creates enough thrills to keep you hooked till the end.
The characters that he creates are astounding and so real that you would have met every one of them if you have ever stayed in Mumbai.
From the infuriating neighbour to the strict society chairman to the rebellious daughter to the hot girl-next-door to the shy young girl who has run away from her hometown to become a star in Mumbai to the Mumma's boy who has never had sex even at 35...
Every character is plucked from real life and penned so beautifully that they look effortlessly real.
Among the actors, Sunil Grover as Sonu Singh gives a stellar performance. He brings so much quirkiness into his character.
Even if you watch him for an entire day, you will not get bored. He is funny, his simplicity is endearing and, in the context of the show, seems foolish as well.
The cops -- Ranvir Shorey as Inspector S Digendra, and Girish Kulkarni as Sub Inspector Chetan Tambe -- are terrific. They have strikingly different approaches to the murder case. It seems they were good friends in the past but ended up in a cold war ever since one got promoted ahead of the other.
There is an awesome back and forth banter between them, which you will enjoy.
Mukul Chadha as Mr Ahuja comes up with a nuanced performance, as the grumpy neighbour and even as the person who is the most scared of being convicted. You'll laugh at his stupidities and feel irritated for his ill-treatment of his wife.
Ashish Vidyarthi as Dilip Iyer is the society chairman, we may have faced while renting a house in Mumbai. His performance is so life-like that you will hate him for every tradition that he throws at your face. Vidyarthi plays it so well that every time he comes onscreen, you are left cringing, knowing that he is going to say something irrational.
While I am personally a fan of open endings, to keep the audience hanging in a murder mystery is not something that I was expecting from this Vikas Bahl show.
If you keep the main plot of the story open-ended, it's frustrating for a viewer who has invested time for eight episodes.
To add to that, the editing of the show could have been crisper. There's no need to drag it for eight episodes if you didn't have any intention of giving a conclusion. A lot of unnecessary lengthy scenes could have been cut short to bring it down to a six episode show.
Sunflower creates intrigue right from the start and lives up to its potential.
Even though I would have wanted to have a quintessential ending, the way Vikas Bahl ended it leaves ample scope for a sequel.
Sunil Grover's quirky Sonu Singh demands an entire series!
Sunflower is streaming on ZEE5.
Rediff Rating: