'She was going through a low time and didn't know where her career was going.'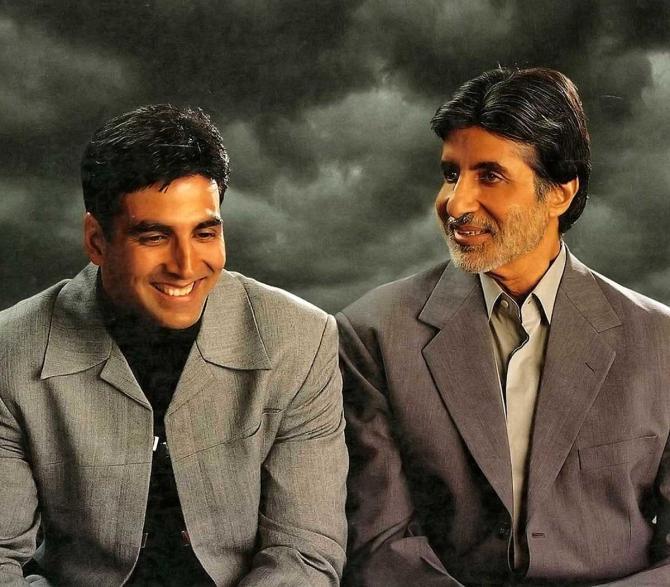 Did you know that Juhi Chawla was pregnant during the filming of Ek Rishta: A Bond Of Love?
Did you know that Raakhee was an avid viewer of Kaun Banega Crorepati?
As Ek Rishta: A Bond Of Love completes 20 years in May, its director Suneel Darshan looks back at the film.
Interestingly, his other film with Akshay Kumar, Andaaz, completes 18 years on May 23.
Darshan, director of Jaanwar, Ajay, Talaash, Dosti, Barsaat, Mere Jeevan Saathi, Lootere, Intaqaam, Haan Maine Bhi Pyaar Kiya, tells Rediff.com Senior Contributor Rajul Hegde, "Whenever I look back, there is grief, hurt and scars, but I prefer to look through them. I have been through the bump and grind and survived."
Ek Rishta: The Bond of Love has completed 20 years. What memories do you have of the film?
Every film-maker is not fortunate enough to get an opportunity to make a film like Ek Rishta.
Twenty years after its theatrical release, it continues to remain fresh in the minds of viewers.
The kind of ratings my films get on various platforms indicate my belief in the cinema I was making then.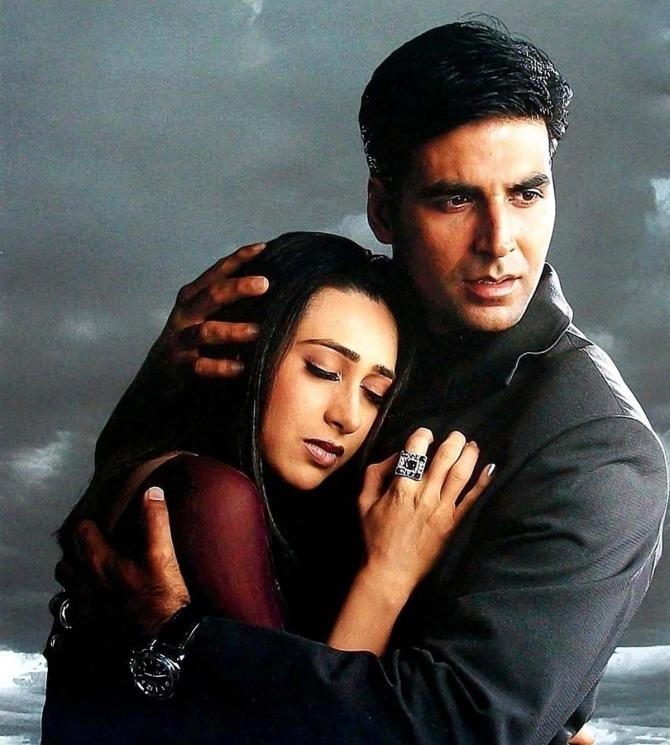 Can you share some anecdotes during the making of the film?
After the success of Jaanwar, Akshay Kumar invited me home for dinner. He asked me what are we going to work on next?
I narrated something that was cooking in my head.
We were seated on two sofas opposite each other and in the process of the narration, I realised that he sank to the carpet.
Akshay looked at me in disbelief that I would want to make such a film after achieving success.
He only asked one question: If he is the son, who is the father?
After two-three days, I got a call from Mr Amitabh Bachchan and he expressed his desire to meet up. We took it forward from there.
Karisma Kapoor was naturally the heroine of the film, as we had a good rapport. We had already worked in Ajay and Jaanwar.
Since I had worked with Juhi Chawla in Lootere, I needed her to play a pivotal role as Akshay's older sister and Mr Bachchan's daughter.
We got Raakhee as the mother.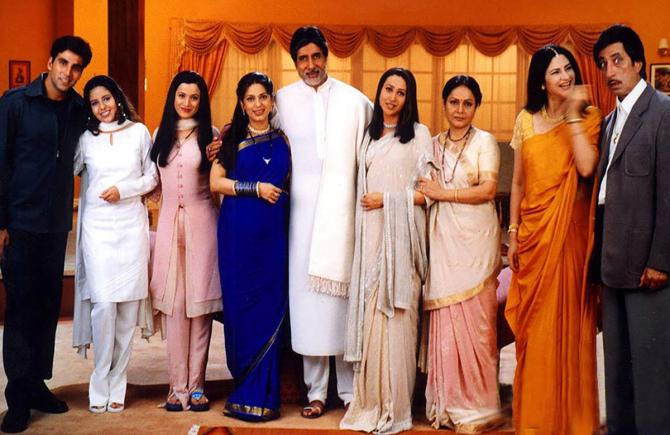 What challenges did you face while making this film?
Just before we started shooting, I learnt that Juhi was pregnant.
I couldn't see any other girl stepping into that role, but the dates of the actors were matched for a certain period.
That meant the film would get postponed by a year.
But then something struck me and I said, why not advance the shooting of the film?
Since I had a good professional equation with Akshay and Karisma, they were ready to work out their dates.
My only concern was how Mr Bachchan would react.
He told me all his dates were with Karan Johar, from 9 am to 6 pm for Kabhi Khushi Kabhie Gham.
He asked if we could start filming from 7 pm to 2 am. That meant that he would be working a double shift.
That is how we made the movie in four months.
When I signed Rakheeji, one of the conditions she had was that she would not shoot between 9 pm to 10 pm.
The reason was she was an avid viewer of Kaun Banega Crorepati!
So Mr Bachchan suggested we install a television in her makeup room.
We would let her off at 8.45 pm and she would join us at 10.15 pm.
You collaborated only once with Amitabh Bachchan. What was it like working with him?
He is an institution in himself, excelling in every faculty.
It was a marvelous experience and I'll treasure it forever.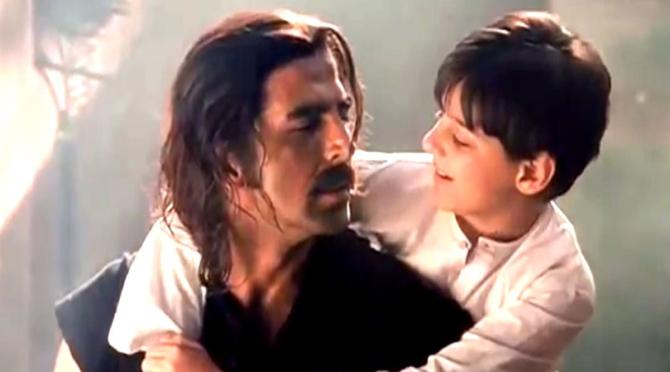 You first teamed up with Akshay Kumar in Jaanwar even though he had a string of flops before that.
Akshay's reputation of being disciplined, being gorgeously handsome, and my instincts were the reasons to cast him in my film.
What bond do you share with Akshay since you have worked with him the most?
Through the seven years that Akshay was with me, the relationship was deeper than that of a film-maker and an actor.
In life, you come together and run a distance together and then go your separate ways.
I choose to remember him with lots of happiness and affection.
I have always wished him a glorious career because he had this agenda when he came into the movies. Today, he has achieved almost all of them.
Any plans of working with him in future?
You never know what happens tomorrow.
If things fall together, compatibility happens.
If it doesn't happen, it's destined to happen with someone else.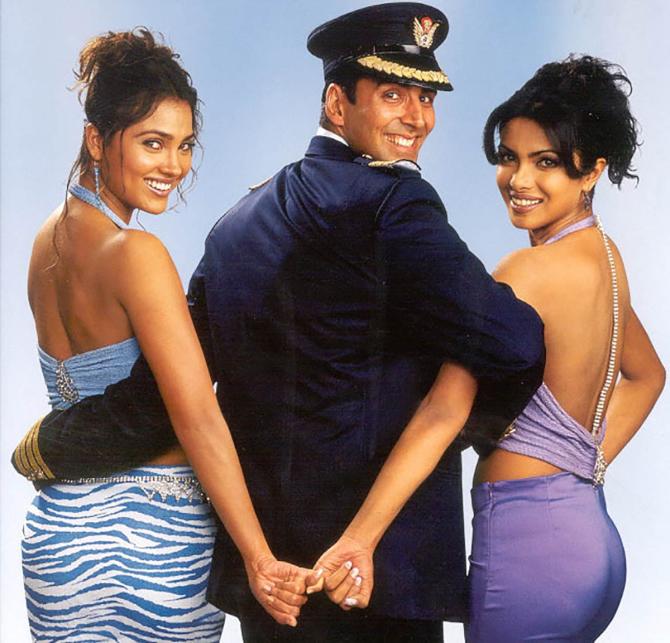 You introduced newcomers like Lara Dutta and Priyanka Chopra in Andaaz.
Initially, the plan was to cast Akshay with two top heroines.
Then I thought that since we were doing a lot of movies with him, why not do something different?
I had seen Lara and Akshay on the cover page of Filmfare magazine, so we called her from Bangalore. She was perfect for the role.
I remember when Priyanka walked into my office, I didn't know if I wanted to meet her because I had another actress in my mind for that role.
Her secretary kept insisting, so I agreed to meet her.
When she walked into my chamber, I felt she was unconventional, unlike the heroines I had worked with in the past.
Within 10 minutes of talking to her, I realised that she had an amazing voice and she knew how to use it.
And I could see the hunger in her belly.
She had signed a few films before, but unfortunately, all of them got dropped.
She was going through a low time and didn't know where her career was going.
I told her career would zoom if she focuses on work.
The two driving factors of Andaaz were the effective marketing and Nadeem-Shravan's remarkable music. All eight songs were smash hits.
How do you look back at your Bollywood journey?
I am an eternal optimist.
Whenever I look back, there is grief, hurt and scars, but I prefer to look through them.
I have been through the bump and grind and survived.
I started as a distributor, became a producer, launched my brother as a director (Dharmesh Darshan), then launched myself as a director, scripted my movies... I launched my music label with Andaaz.
So it's been a long journey.
In the last decade, I have watched a lot of movies.
Nowadays, people work toward content, unlike us. We used to work for the passion of cinema.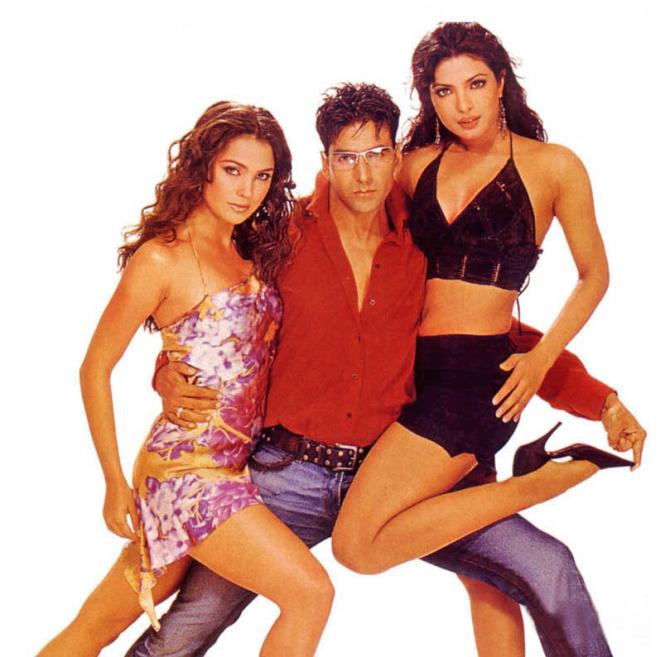 As a film-maker, how do you see the trend of films releasing on OTT during this pandemic?
OTT is welcome.
Even in our cinema, we have changed.
I am a die-hard believer of the large screen.
You watch a movie on the television screen alone, instead of watching it on the big screen where 400-500 people are reacting to it. It is a different experience!
I believe in the institution of a cinema hall, enjoying samosa and popcorn, and reacting to other's reactions.
Do you remember people throwing coins at the screen?
Where has that gone?
I have seen this in my lifetime.
I have nothing against OTT; it's a great technological advancement.
The only thing that needs to be put together is curbing piracy.
Will you make content for the digital space?
I would never make any content for OTT, but I would make cinema for OTT.
I don't like the word content.