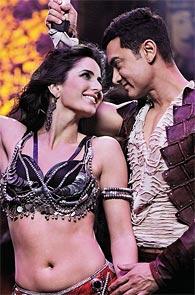 Dhoom 3 continues the tradition of extravagance in adventure and expenditure by roping in the fastidious Aamir Khan as its latest star antagonist, writes Sukanya Verma.

The Dhoom brand has always been about the bad guy. It may not necessarily glorify evil but glamourizing its illegal and implausible actions takes precedence in the Yash Raj produced series.

If Dhoom worked John Abraham's Fast and Furious energy for a renewed take on the classic thieves versus cops theme, Dhoom 2 upped the ante with its scale and a smoking chemistry between Hrithik Roshan and Aishwarya Rai Bachchan.

Dhoom 3 continues the tradition of extravagance in adventure and expenditure by roping in the fastidious Aamir Khan as its latest star antagonist.

Realistically, of course, Dhoom is a fun albeit dumb franchise that is unapologetically nonsensical, intellect proof and relies on the shenanigans of its smooth, superficial villains and their hot pursuit at the hands of police officers -- deadpan Jai (Abhishek Bachchan) and dummy Ali (Uday Chopra).

Only this time Vijay Krishna Acharya (of Tashan fame) takes over Sanjav Gadhvi as director.

Ever since its first promo came out, know-alls drew visual comparisons to The Dark Knight, Now You See Me and The Prestige. They aren't too off the mark.

Let's just say, the crucial plot points/imagery of these fine films left a lasting impression on Acharya and Aditya Chopra, sharing the credits for Dhoom 3's story, which revolves around a circus showman (Aamir Khan) and his dramatic connection to two publically executed bank heists in Chicago.

Filmed extensively on location in the US, Windy City's towering landscape lends Dhoom 3 a unique ambiance, which Acharya cleverly showcases through his mercurial screenplay.
Unlike previous Dhoom devils who burgled for the thrill of it, Aamir Khan's ambitions are driven by one of Hindi cinema's most emotional, most enduring stereotype embodied with appealing emotionality by Jackie Shroff.
High on crackling chases, curious get-ups, transformable bikes, somersaulting vehicles, theatrical flashbacks and Tom and Jerry sensibilities, Dhoom 3 alternates between sentimentality, scheming, spectacular 'song and dance' spectacle and slo-mo effects.
Even though it doesn't dwell on subtext and there's no background provided for any character apart that of Aamir's (with some help from a sparkling Siddharth Nigam as his younger version), Dhoom 3 loads up enough ammo to fire through its nearly three hours long running time.
And this is the part where the 'mostly a dumb brand' remark rings true. The big reveal pops up at interval point. Ten minutes later, it's universal knowledge for pretty much everyone in the movie. Still, the makers choose to extend the (non-existent) suspense with a silly explanation and concoct a few more complications. Or perhaps I am just nit-picking in a film where the cops could have caught the thief in the first reel itself if they only bothered to note down his bike's number plate, where US government calls upon two local Mumbai cops to nab an American robber of Indian origin (and there's no outrage on television), where a chase begins in Chicago and ends in Switzerland and where, oh well, never mind.
There are two vivid reasons I indulge (and enjoyed) this I know-that you know-that I know (classic Abbas-Mastanism) is
a) because of the cunning and conviction in Aamir's delivery.
No matter how much he bares his gym-honed torso, he doesn't have the physicality of John Abraham and Hrithik Roshan. But he has a knack for making even the trivial seem significant. His studious, serious approach works well in the role of a man orchestrating every single event of his life. It's like getting inside his head and eavesdropping on the conversations inside. Talking too much about his role would amount to a spoiler. It also saves him his only criticism.
b) Katrina Kaif. She's the greatest special effect of Dhoom 3. Styled to perfection, the lady moves like silk -- smooth and effortless. Her stupefying acrobatics are highlighted in Vaibhavi Merchant's magnificently choreographed sequences, which include one of the most graceful, yes graceful, stripteases I may have seen on big screen.
Action and humour are the mainstays of the series. Though conspicuously low on the latter (no thanks to Uday Chopra's tired jokes), Dhoom 3 lives up to its title with all the over-the-top daredevilry at display.
Whether it's a BMW bike doing a Batmobile or riding over a thin rope like you thought only Rajinikant can or a groovy jousting moment atop a two-wheeler and that striking, unforeseen (to me at least)) climax at the majestic Verzasca Dam, there's plenty to keep the whistles blowing.
What isn't is Dhoom regulars -- Abhishek Bachchan and Uday Chopra's much jaded jodi in buddy cop mode. Bachchan's sluggish tenacity and Chopra's doddering comedy stands out all the more in this start-to-finish Aamir Khan show. It's absurd to think they had any chance of outwitting Aamir even in their own franchise.
Can't help thinking the final scene is Aamir's idea of blowing a raspberry in their direction, in character or out of Dhoom. Mazaa Le!
Rediff Rating: