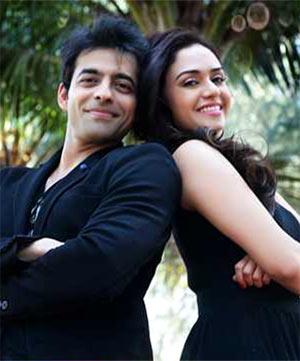 'We are not comfortable doing a show like Bigg Boss. Actually, we are not fond of that show.'
Himanshoo Malhotra and his wife Amruta Khanvilkar love being on Nach Baliye 7!
Actor Himanshoo Malhotra and his actress wife Amruta Khanvilkar have impressed everyone with their chemistry and dance in the ongoing dance reality show Nach Baliye, on Star Plus.
"Fortunately, things have fallen into place. God has been very kind and we are getting applause from the judges. People are appreciating our performances and our personalities individually. What more can we ask for?" says Himanshoo happily.
"I am glad that people find us honest and genuine. Trust and love are two things that can connect you with the audience," he adds.
The two met and fell in love during the reality show Zee Cine Stars Ki Khoj, in 2004. They got married earlier this year.
Himanshoo feels his wife is a fabulous dancer.
"I put in more hours in rehearsals to match up to her. I used to dance only at parties and weddings earlier. I still can't believe that we are doing a big dance reality show barely a week after our wedding," he says.
He says the channel and production house (Balaji Telefilms) could have chosen a more popular couple, "but they were eager to have us on board."
Amruta says nobody can make out that Himanshoo has made a mistake or missed a step.
"He is so happy while dancing that if he misses a step, everybody thinks that I have made a mistake!" she laughs.
She recalls that at her sangeet ceremony, the dancing was crucial.
"We exchanged our rings and in two minutes, he disappeared from the stage. The next moment I see him dancing with his friends and I am alone on stage. He said, 'Photo vito baad mein, phelay dancing.' He was dancing all the time... and he was so happy."
The couple were initially apprehensive of taking part in the reality show because the format had been tweaked for this season (to resemble the Bigg Boss format where couples are locked up in the House).
"We were worried about the 'reality' bit, how much of it they will show. We have always stayed away from controversy and we don't want to do anything that will harm the respect for us. No amount of money or cars can compensate for lost pride," Himanshoo says.
"But they assured us that they will focus on the dance and just 30 per cent will be the reality bit," he continues.
The couple believe all their performances have been good.
"All our performances have been appreciated. It's been a nice journey to date and we are hoping to be in the final. Out of eight performances, we have been the top scorer in six.
"Chetan Bhagat (one of the judges) has been very generous with his compliments to us. He once said this season is made for you both. It's a big compliment," Himanshoo said.
The actor couple insist they are competing with themselves and not with others.
"We were clear from day one that we were here to spend time with each other and give our cent per cent. The best part of this dance show is that when you dance with your partner for those two or three minutes, you feel that you are the king and queen of the show. There is no high as big as that," said an excited Himanshoo.
He admires the young choreographers Pratik and Rishikaysh.
"Amruta treats them like her babies. They keep pushing us on. The pre-show workshop has worked wonders for us. A little pep talk is always needed when you are attempting something big. They know our strengths and weakness and go accordingly," he says.
The couple say that though they have known each other for 11 years, the show has helped them to explore more about each other through the love challenges in the show.
"When I am not around, Amruta behaves like me. Otherwise she is like a child because she knows I am there to protect her," said Himanshoo
He feels they have got their long-awaited due through this show but doesn't know what's next in store for them.
Amruta says she wants to be part of an adventure-based reality show.
"I want to do Khatron Ke Khiladi because it's my kind of show. We are not comfortable doing a show like Bigg Boss," Himanshoo said, and added, "Actually we are not fond of that show."