'Star Wars' fans and the entertainment world lost Hollywood royalty when actress Carrie Fisher died on Tuesday. She was 60.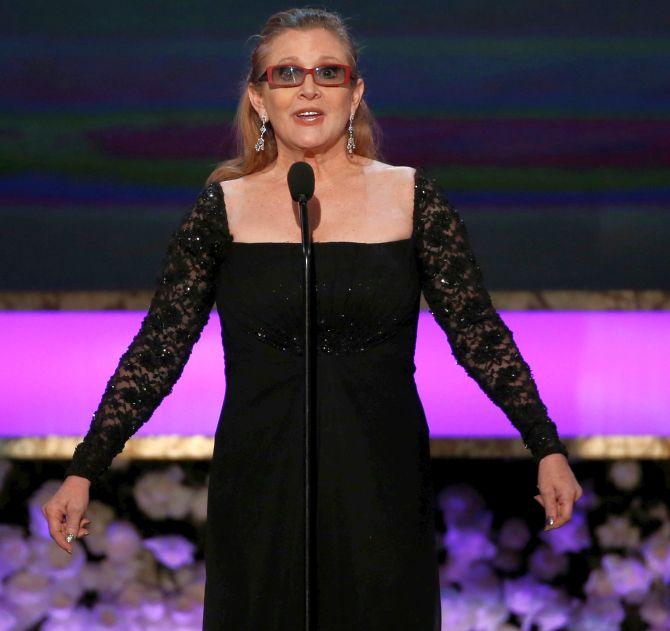 IMAGE: Carrie Fisher was best known for playing Princess Leia Organa in the Star Wars space saga. Photograph: Mario Anzuoni/Reuters
The actress, best known for playing Princess Leia Organa in the massively popular space saga, died four days after suffering a cardiac event on a flight from London.
Her daughter Billie Lourd said the actress passed away on Tuesday morning after being taken ill travelling from London to Los Angeles.
She is survived by her mother, the veteran Hollywood star Debbie Reynolds who has been by her side along with her close family over Christmas.
A spokesman for the family said: "It is with a very deep sadness that Billie Lourd confirms that her beloved mother Carrie Fisher passed away at 8:55 this morning. "She was loved by the world and she will be missed profoundly. Our entire family thanks you for your thoughts and prayers."
IMAGE: Fisher, 60, was in London promoting her new book and was on her way home when she suffered a heart attack four days ago. Photograph: @starwars/Twitter
As news of her death was announced, tributes immediately poured in from actors and admirers. Mark Hamill, who played Luke Skywalker, her on-screen brother, said he was devastated, adding there were "no words".
Harrison Ford said she was "one-of-a-kind" who lived her life "bravely", adding: "My thoughts are with her daughter Billie, her mother Debbie, her brother Todd and her many friends. We will all miss her."
The creator of Star Wars, George Lucas, said: "Carrie and I have been friends most of our adult lives. She was extremely smart; a talented actress, writer and comedienne with a very colourful personality that everyone loved.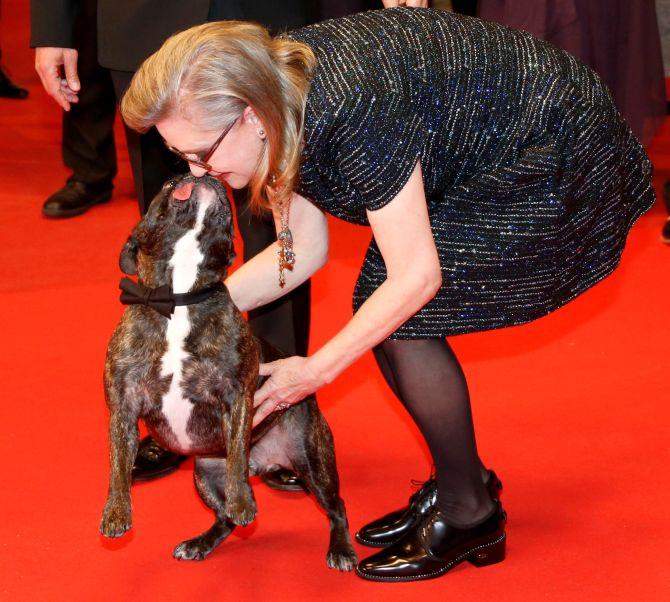 IMAGE: Carrie Fisher kisses her dog on the red carpet. Photograph: Jean-Paul Pelissier/Reuters
"In Star Wars she was our great and powerful princess - feisty, wise and full of hope in a role that was more difficult than most people might think. My heart and prayers are with Billie, Debbie and all Carrie's family, friends and fans. She will be missed by all. George Lucas."
English actress Daisy Ridley, who played Rey in The Force Awakens, says she was "devastated at this monumental loss".
And director of the same film, J J Abrams, posted a handwritten note to Twitter which read: "You didn't need to meet Carrie Fisher to understand her power. She was just as brilliant and beautiful, tough and wonderful, incisive and funny as you could imagine. What an unfair thing to lose her. How lucky to have been blessed with her at all."