With the acquisition of Hotstar, Disney gets immediate access to the OTT market.
Urvi Malvania reports.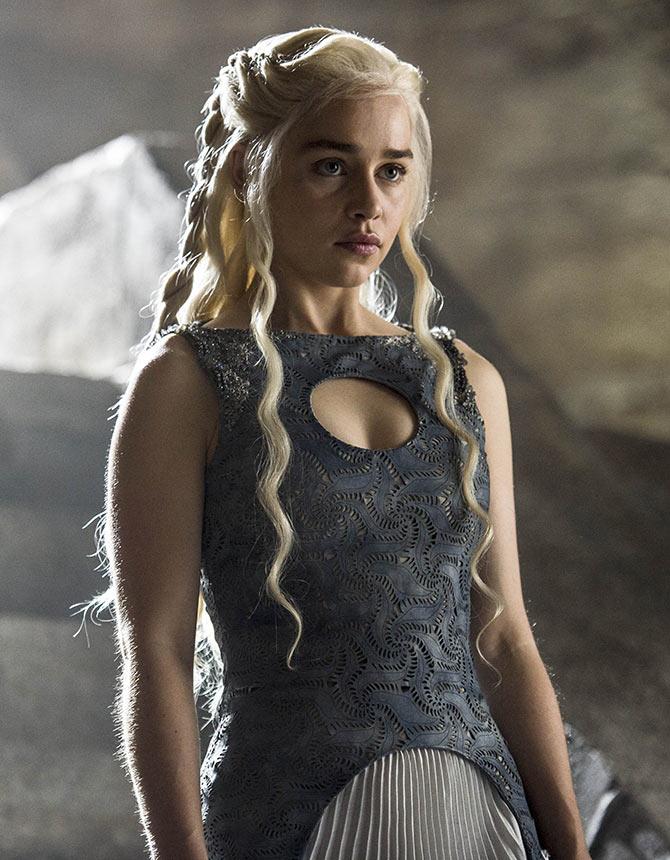 IMAGE: Emilia Clarke as Daenerys Targaryen in Game of Thrones, a series which may now move from Hotstar to Disney.
As STAR India prepares its transition to become part of Disney India, following the acquisition of its parent 21st Century Fox, the domestic over-the-top (OTT) market will go through the first round of consolidation.
All of STAR India's assets, including video-streaming service Hotstar, will move to Disney as part of the deal.
Launched in 2015, Hotstar is among the early entrants in the OTT space, after Sony Pictures Networks' Sony Liv (launched in 2014).
Rival Viacom18 launched VOOT in 2016 while Zee will launch Zee5 in coming weeks.
Disney, known for its kids and youth-focused channels in the country, was largely missing in the OTT space so far. Not any more, though.
With the acquisition of Hotstar, Disney gets immediate access to the OTT market, sector experts said.
While getting Hotstar gives Disney an edge, the company could also launch a Disney-branded video streaming service in addition, they said. This could act as a platform for its entertainment content, leaving sports for Hotstar.
While the exact numbers have never been made public, the media industry pegs Hotstar's premium subscribers (those paying Rs 199 a month to access content behind the pay wall) between 10,000 and 12,000 in India.
Hotstar is home to a number of tournaments, domestic and international, as well as HBO's original TV content. Significant among these are shows such as Game of Thrones.
In August this year, Disney acquired tech company BAMTech in the US, aimed at helping it launch two video streaming services. One of these is an ESPN-branded platform, and the other, a Disney-branded service.
In line with this strategy, Disney is expected to pull out content (under the Disney and Pixar studios) from third-party video streaming platforms like Netflix globally.
Disney's entertainment OTT service is expected to launch in 2019.
In India though, it may not have to wait at all to play in the OTT space.
With Hotstar, it has the market leader in sports streaming. Under the Star umbrella, Hotstar has rights to almost all the major sporting leagues in the nation.
Currently, the portfolio boasts of the Hero Indian Super League, Vivo Pro Kabaddi, Hockey India League, Premier Badminton League, and of course, the recently acquired Indian Premier League.
On the entertainment front, Hotstar already has a bulk of Disney's content (across its various studio brands) through a deal the two struck a few years ago.
The Hotstar-Disney deal also included content from the ABC network giving premium subscribers (of Hotstar) access to US TV shows of the company.
Disney has dabbled in digital as well in the domestic market without an OTT platform of its own.
In May 2016, Disney launched its first Indian Web series -- Girl in the City -- on Facebook's video streaming platform.
The series moved to television, telecast on Disney's youth general entertainment channel Bindaas, before finally appearing on video-sharing platforms such as Youtube.
Branding of its OTT service will be crucial in India, experts said.
While Hotstar commands brand salience among its users, Disney, said experts, will want to harness synergies between it and Hotstar going forward.