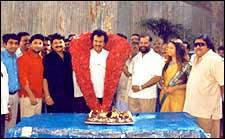 Rajnikanth turned 55 on December 12.
For the last few years, the superstar has been running away from Chennai and his Tamil fans to Bangalore on his birthday. Fans thronging his Poes Garden residence and returning disappointed without a 'darshan' of him was a common sight. This year was no different.
But the previous day, his co-stars in Chandramukhi refused to let him go without cutting a cake. They also presented him with a huge garland of roses. Yes, this time Rajni obliged.
Director P Vasu, and co-star and producer Prabhu, Prabhu's elder brother Ram Kumar, Ram Kumar's son and actor Dushyant and Jyothika, who plays the main role opposite Prabhu, were present.
Since his birthday fell on a holiday, Rajni vanished from Chennai to avoid other birthday related functions. Reportedly, compared to the last few years, the star appears more relaxed this year. His daughter Aishwarya is married and, after a long gap, he is shooting for a film that is progressing well.
The Chandramukhi makeup has also done wonders to him; he looks young and sprightly.
Besides, he's mended fences with longtime foe, Tamil Nadu Chief Minister Jayalalithaa, who had attended his daughter's wedding.
Madhavan's Priya Sakhi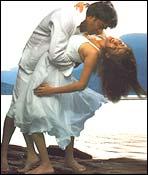 After his rustic character in Mani Ratnam's Aayutha Ezhuthu, Madhavan plays a suave character in his latest film, Priya Sakhi. The love story is directed by KS Adiyaman, and will be launched on December 15.
The promotional stills of Priya Sakhi have the look of Madhavan's first and most successful film Alai Payuthe. Madhavan's sakhi in the film is Mumbai girl Sada, who is also Vikram's heroine in Shankar's Anniyan.
Meanwhile, Madhavan has shot the Hindi version of Nala Damayanthi in London, and a bilingual (Malayalam and English) for the award winning director Rajeev Anchal of Beyond The Soul fame.
Meera Jasmine in Cheran's Kodambakkam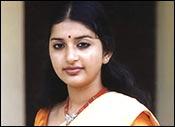 Soon, Malayalam films may have to import heroines from other languages as the top Malayali actresses seem to be busy with Tamil and Telugu films. It was Cheran's Autograph that made Gopika a top heroine.
After Autograph, it is Kodambakkom for Cheran. Kodambakkom is one of the most eagerly awaited Tamil films, and he has roped in this year's National Award winner Meera Jasmine for it.
Meera, who has always been more interested in meaty roles, is seen more in serious cinema these days than commercial ventures. Her recent release Perumazhakkalam is one such film.
Jeyam in remakes
Jeyam Ravi can be renamed 'remake' Ravi.
His first film Jeyam and M Kumaran s/o Mahalakshmy are remakes of hit Telugu films.
His third film, Mazhai, also is a remake of Varsham in Telugu. Another interesting aspect about Mazhai is that it will be produced by noted singer SP Balasubramaniam. For the first time, Jeyam Ravi will act in a banner outside his own. Shriya will play Ravi's heroine. 
His earlier films were produced by father, [editor] Mohan, and directed by his elder brother Jeyam Raja.
Navya Nair in Amirdham
Vedam Puthithu, made in the 1980s, was a landmark in Tamil cinema, having won National Awards for screenplay and dialogues. After the film won acclaim, the man who won the award for best script, Kannan, came to be known as Vedam Puthithu Kannan.
Now, he will pen the script, produce and direct a film called Amirtham.
After acting in Prakashraj's Azhagiya Theeye, Navya Nair will act in Amirtham opposite newcomer Ganesh. Others in the cast include Girish Karnad and Seetha. Amirtham is expected to be as revolutionary as Vedam Puthithu.
SAC's 60th film
SA Chandrasekhar (SAC) has made 59 films so far, and is getting ready for his 60th one.
But now, he is better known as Vijay's father. His son has become so successful that he has eclipsed his father's achievements.
SAC's 60th film is Sukran, starring Ravi Krishna of Selvaraghavan's 7G Rainbow Colony. Of course, Vijay will make a special appearance in the film.